Maggiora, Italy
Motocross of Nations
Motocross of Nations
The Motocross of Nations concept only works in this sport—and we're so much better for it. No other motorsport in the world contains such similar equipment across continents. The gap between NASCAR and Formula One is as wide as the ocean itself, but Cooper Webb and Romain Febvre were on the same track fighting for the same spot on the last lap on Sunday. Jimmie Johnson and Lewis Hamilton will never battle in similar circumstances.
Stick and ball sports have plenty of international affairs—the Olympics, for one—but only this event offers this ultimate combination of being both a team event and one where all the teams compete at once. World Cup soccer? The final is one nation against another. At the 'Nations, every team is out on the pitch at the same time! The only similar comparison would be the Ryder Cup in golf, which pits Europe vs. the United States. (They also have the Presidents Cup, which is International vs. USA.) That was underlined this year, with three teams having a legitimate mathematical shot late in the third moto, and even a fourth one, Belgium, led the points after one moto.
When you combine national pride with a relatively level playing field, you've got a combustible mix. I'm always excited about this, but I like to add one more to the equation: the Motocross of Nations is the only motocross event that offers up real strategy. It's that format that I'm in love with.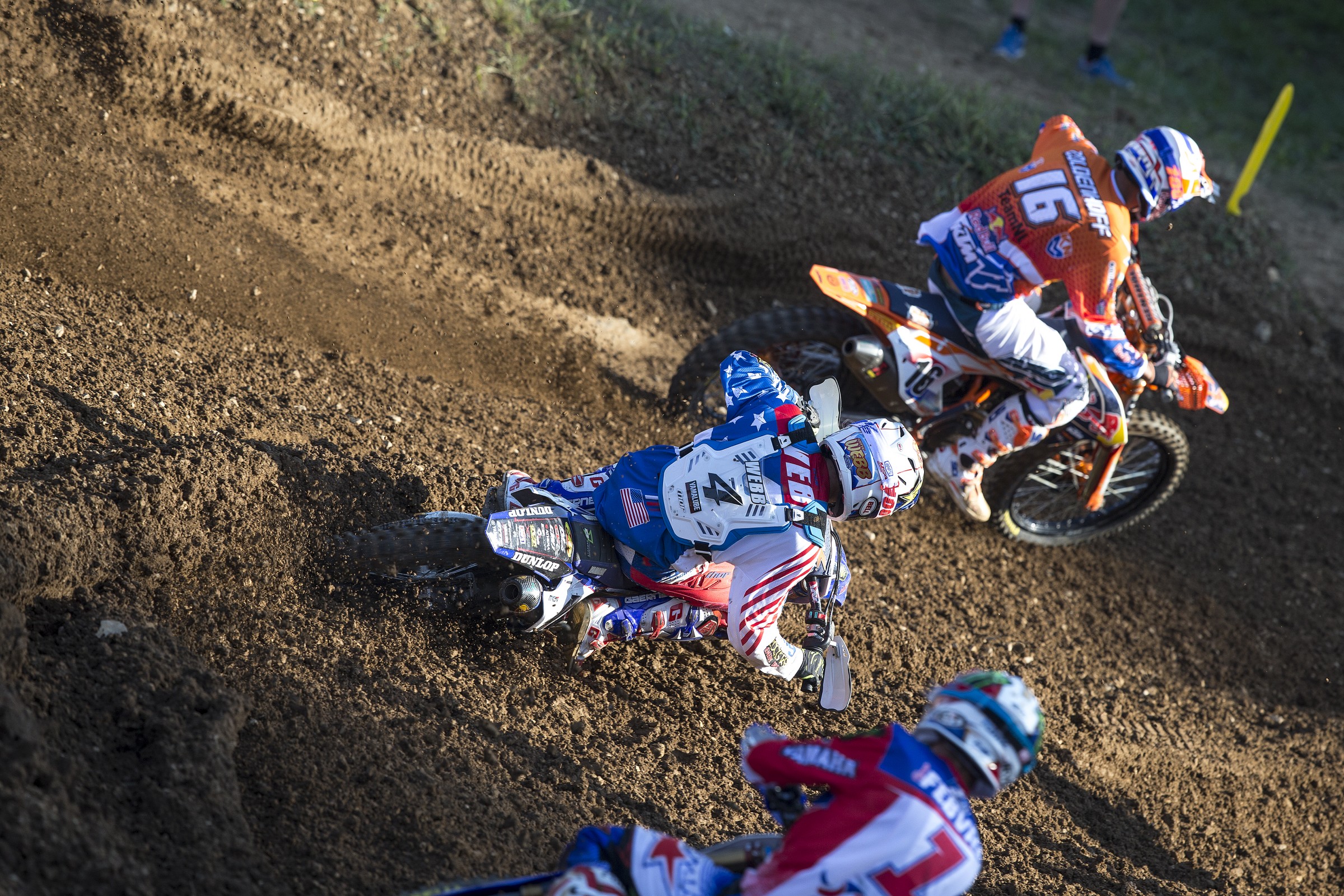 Motocross is not a complex sport. Everyone takes off together and the first rider to reach the finish wins. The races don't even offer up pit stops as an additional strategic point, and while we can argue forever how important bike set up can be, we all know bikes matter less in this game than any other motorsport. It's basically one rider against another, play and repeat.
That's why most of our rudimentary "analysis" of the races breaks down to esoteric things like confidence and momentum. We have to talk about things that you can't even see, because there aren't enough real strategy calls to actually discuss. The gate drops, dudes go out and grip it and rip it. That's pretty much it, bros.
Then one day per year, we get this thing. A team race, with riders in multiple classes racing each other on different sized bikes at the same time. It is glorious.
This is the only race where you need to watch two riders at the same time to understand who is really winning the race. It's fascinatingly more complex than any other race, such as in the first moto, when Romain Febvre is checking out and looking good for France, but his teammate Benoit Paturel is under fire from Alex Martin in 10th place. Eventually Martin passed Paturel and put five positions on him. While Cooper Webb only netted a fourth behind Febvre's moto win, France actually finished the moto behind the Americans, because of battle for 10th between two riders sandwiched around 450s. That's amazing.
"We know the emotions behind this race make it a great one for the heart, but it's a good workout for the head, too."
Only here does the lesser rider make the biggest difference. We all respect the dudes in the main event at a supercross, but the lion's share of the attention goes to the winners and podium guys. We respect, say, a solid rider like Broc Tickle but never does your entire night at the races hinge on him. At the 'Nations, it absolutely does.
Back at Lommel in 2012, Germany locked in great scores with Ken Roczen and Max Nagl then suddenly before the third moto, attention shifted to…Marcus Schiffer! The team needed Schiffer to flirt with the top 10 in order to win the event. In 2010, in Colorado, the team had a shot to win but Nagl DNFed a moto and Schiffer went 14-16, leaving Germany without a shot. In '12 they were in position again, but this time Schiffer delivered with a seventh in the second moto of the day to seal the win. Had he faltered, Nagl and Roczen's efforts wouldn't have resulted in a win.
It helped that Germany had Roczen ruling the 250F class. The MX2 division is vastly underrated in importance. We're so programed to put extra attention on the moto winner, but a moto win doesn't provide any bonuses outside of a tie breaker. The real action happens when the 250 guys fight the 450s. Every rider is scored on his overall, not class, finish, so if a 250 rider can log a hero ride and stuff a bunch of 450s between himself and the other 250s, his team benefits massively. Roczen went 5-4 in his motos in 2012, not even a podium, but he also put a massive 11 points between himself and the second-best MX2 rider, Blake Baggett, who went 14-6.
This year, Jeremy Van Horebeek jumped down to a 250F for Belgium and won MX2 with 5-7 scores. This was a full six spots better than second-place Alex Martin. In MXGP, Antonio Cairoli won the class this year, but only outscored Romain Febvre by one point. Jason Anderson rode the race of his life in the second moto to win it overall, but that gained him one measly point on Jeffrey Herlings in the Open class. MX2 is where huge points are gained and lost—that's why Team USA was nearly untouchable when Ryan Villopoto was winning motos on a 250.
Of course, MX2 can swing massively based on gate picks. There's another strategy call since each team gets two gates and has to choose which rider to put on which one. Do you gamble and put the underpowered 250F guy on the inside gate and hope he gets a huge headstart on his MX2 competition? Belgium had the second and 22nd gate picks this year and chose to give Van Horebeek the good gate, while Alex Martin was buried with the 35th pick. But perhaps Team USA's trade off was worth it since Anderson, given the team's better (15th) gate on his 450, holeshot and won the moto.
How do you play it? What's the best strategy? No other race offers this kind of conjecture.
All of these things add up. Last year, France was lights out amazing and despite a great effort by the American team, their final score of just 14 points was nearly impossible to top. This year, every team struggled. We knew going in that Belgium was in trouble once Clement Desalle had to bow out with a knee injury, leaving them with young 250 rider Brent Van doninck, who had scant 450 experience, in his place. Belgium led the points after moto one, but then Van doninck went 39-18 in his two motos, leaving the team with no chance. France lost Dylan Ferrandis to a broken arm,, and Benoit Paturel became a controversial replacement. If Marvin Musquin were on the team on a 250F, it might have been much easier for France since Paturel went 14-10 for fourth in the MX2 class.
Look at it this way: last year Jeremy Martin went a solid 5-5 but still lost the MX2 overall to Musquin by three positions. This year Alex Martin went 9-9 but it looked comparatively better, because he was only beaten by Van Horebeek, who had a team with no chance of winning. AMart beat the MX2 rider from France and Holland. His 9-9 looks good when seen in that light.
I can go on forever with this kind of math. Last year France won the event with just 14 total points. This year the team won with a 29-point tally, the highest winning score in the history of the event! Team USA looked to have this victory in hand until Anderson got landed on, and then still had a shot in the final moto, but that was based not only on its own strong rides, but other troubles for the other teams. No other event requires this kind of strategy, analysis, thinking and math. We know the emotions behind this race make it a great one for the heart, but it's a good workout for the head, too.