Maggiora, Italy
Motocross of Nations
Motocross of Nations
Well, it's all over here in Maggiora, Italy at the Motocross of Nations. Adam Wheeler's got the blow-by-blow race report coming up for you for those that don't know what happened, but in the meantime here are some tidbits for you to chew on.
The biggest story of the day revolved around Team USA's Jason Anderson, who overcame a broken bone in his foot to holeshot and led every lap of the MX2/Open moto. He had pressure from Holland's Jeffrey Herlings but Herlings lost the rear end, fell and the win was Anderson's. But as Anderson slowed over the finish to celebrate, Japan's Chihiro Notsuka, who was getting lapped, jumped the finish line and landed right on Anderson, and that appeared to knock him out. It was a bizarre, strange scene that was tragic for the USA as Anderson was unable to race the last moto.
Team USA's manager Roger DeCoster was less than impressed with the circumstances behind Anderson's crash. He tells us that the quality of riders at the MXoN varies quite a bit and that sometimes incidents like this happen because some of the riders on the track aren't experienced enough.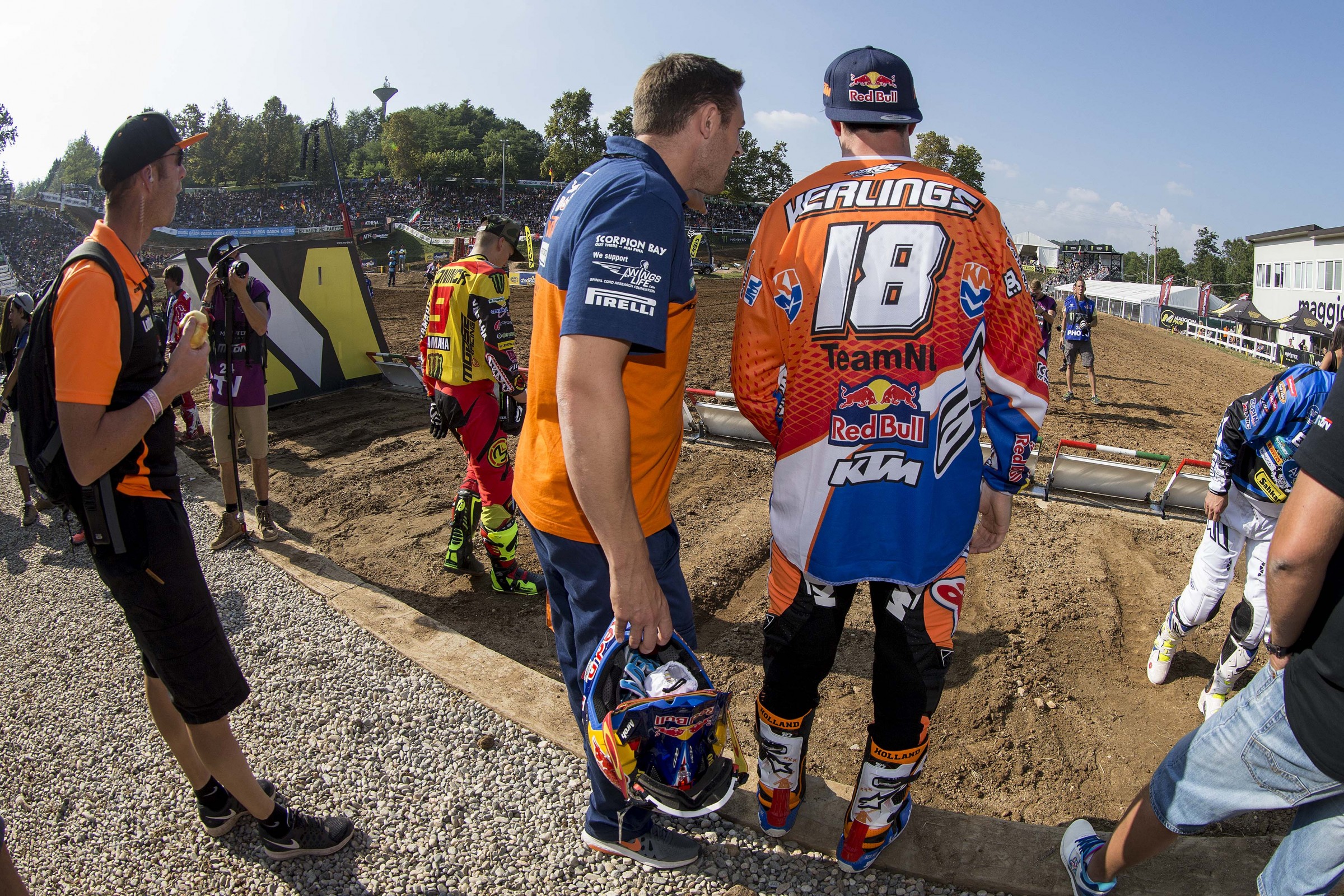 The Dutch had the win in the bag for the first 15 minutes of the last moto. Then Glen Coldenhoff dropped back and somehow the USA was back in control of the win despite being down a rider. But with one and a half laps to go, USA's Cooper Webb crashed and the win was back in the Netherlands' hands. It was only a last lap pass by France's Romain Febvre on Great Britain's Tommy Searle that gave the MXoN win to France yet again. That's three years in a row that France has won.
France looked to be doomed early as both Febvre and Gautier Paulin didn't get great starts. Febvre was impressive ripping through the pack and Paulin did just enough late in the race (his fastest lap of the race was on the last lap) to give the team the win. France's MX2 rider Benoit Paturel was thought to be the weak link in the team but had respectable 14-10 scores for fourth overall in MX2.
Webb was fighting back emotions hard at the post-race press conference and declined to do any interviews after. He said it's tough to know that his crash was the reason Team USA lost but that's racing and he'll learn from it in the future.
Alex Martin said he "couldn't imagine how Cooper feels" after crashing and that he felt they all rode hard and did what they could being down one rider. Martin rode well all day, carding second overall in MX2 with a pair of ninth overall finishes. He could have gotten more in his second moto, but Martin admitted that the quick turnaround in between his motos caught up to him and he was unable to make up any ground on the pack of riders just in front of him. He rode great in the first moto to come from outside the top 20 to an impressive ninth and second MX2 rider.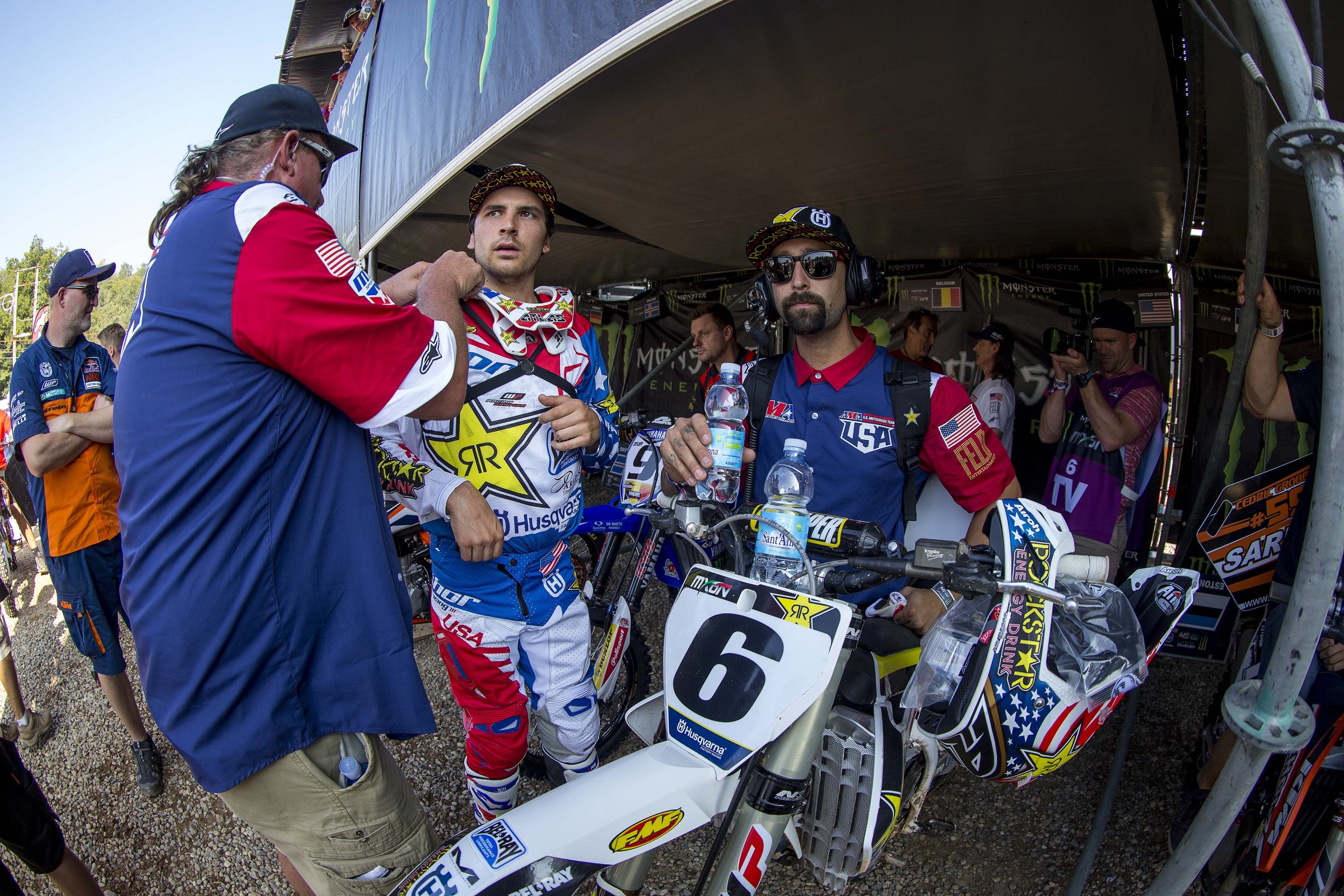 The top MX2 rider was Belgium's Jeremy Van Horebeek, who finished 5-7 on the day. Belgium also had very impressive rides by MXGP rider Kevin Strijbos, who charged from the back to go 3-3 in his class and take third overall in his class. But Belgium was ailing coming into the race due to the loss of Clement Desalle, who was on the team but injured his knee two weeks ago at the Glen Helen USGP. His replacement, Brent Van doninck, who crashed out of moto one and took 18th in moto two. Belgium ended up just off the podium in fourth overall.
Antonio Cairoli's crash yesterday while leading the MXGP qualifier hurt him today as he mentioned his whole body was sore and he was unable to push as hard as he would've liked. In front of his hometown fans he led moto one until a blazing fast Romain Febvre went by and took the lead. In his second moto he was unable to get past Herlings but still took the overall MXGP class win with 2-2 scores for his country.
Great day for Canada with a tenth overall, the country's best finish in over ten years. The team's performance was helped by MXGP rider Kaven Benoit and his 8-12 rides. He got great starts, raced with the leaders and was the rider that had most people wondering who he was out there. Canada now drops 85 numbers for next year's MXoN!