2016 Motocross of Nations Final Pre-Entry List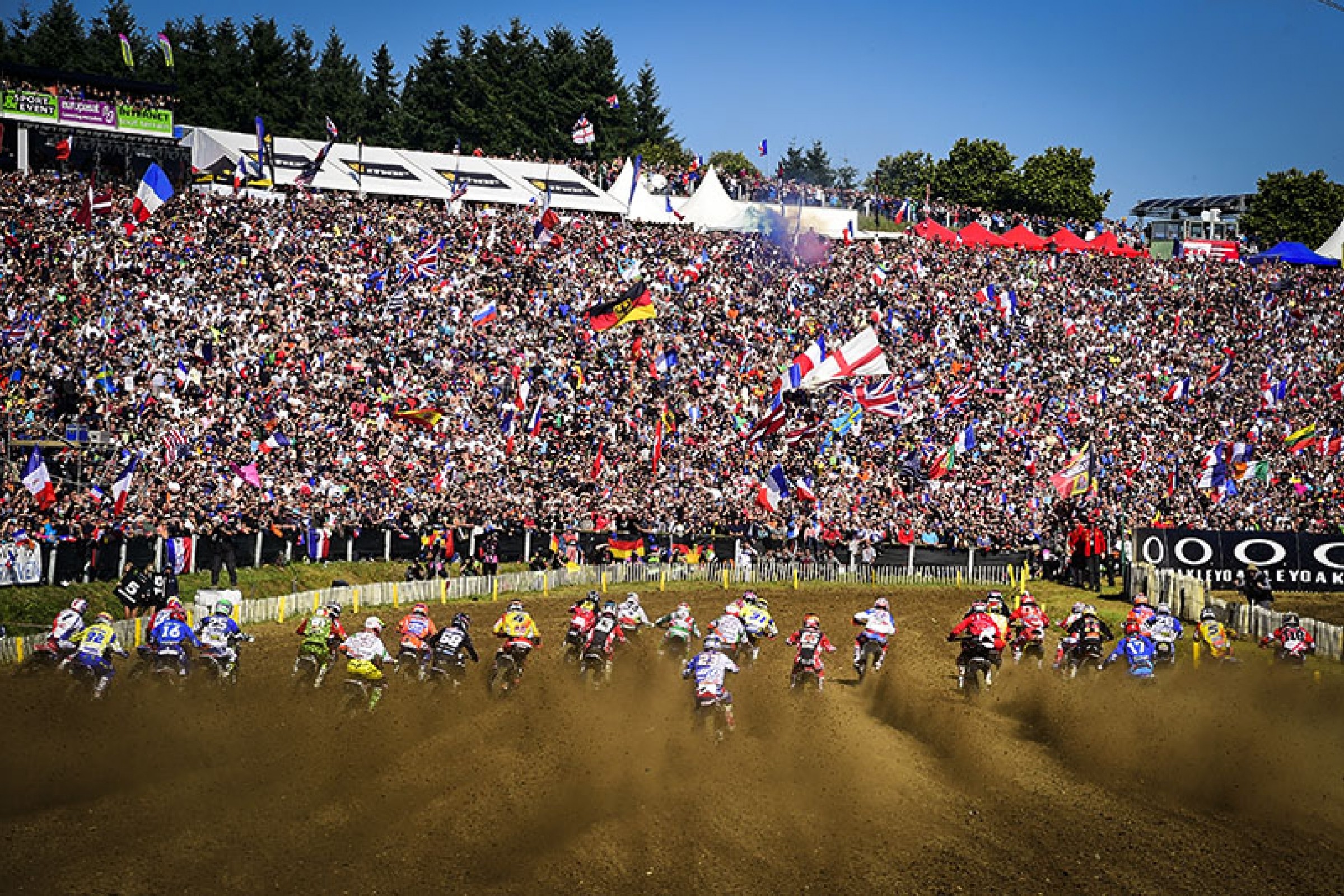 Maggiora Park
Maggiora

,

Italy
Motocross of Nations
Motocross of Nations
Thirty-nine countries are scheduled to compete in the 70th running of the Motocross of Nations this weekend in Maggiora, Italy.
In late August, the FIM and Youthstream released a preliminary pre-entry list for the event. A lot has changed since that time. Below you'll find the official team rosters for all 39 countries. We'll highlight some of the notable changes.
- Clement Desalle is out for Belgium after sustaining a knee injury during the USGP at Glen Helen. He has been replaced by Brent Van doninck.
- 17-year-old Mitchell Evans has replaced Australian MX2 champion Jed Beaton on Team Australia. Beaton sustained a fractured collarbone recently, which will sideline him for the weekend.
- Russia will be without Aleksandr Tonkov. He'll be replaced by Semen Rogozin.
Entry List
COUNTRY
NR
RIDER
CLASS
FMN
BIKE
TEAM MANAGER
1
FRANCE
1
FEBVRE Romain
MXGP
FFM
YAMAHA
FINOT Pascal
2
PATUREL Benoit
MX2
FFM
YAMAHA
3
PAULIN Gautier
OPEN
FFM
HONDA
2
UNITED STATES
4
WEBB Cooper
MXGP
AMA
YAMAHA
DE COSTER Roger
5
MARTIN Alex
MX2
AMA
YAMAHA
6
ANDERSON Jason
OPEN
AMA
HUSQVARNA
3
BELGIUM
7
STRIJBOS Kevin
MXGP
FMB
SUZUKI
SMETS Joel
8
VAN HOREBEEK Jeremy
MX2
FMB
YAMAHA
9
VAN DONNICK Brent
OPEN
FMB
YAMAHA
4
ESTONIA
10
RÄTSEP Priit
MXGP
EMF
HONDA
ROOSIORG Lauri
11
LEOK Tanel
MX2
EMF
KTM
12
KULLAS Harri
OPEN
EMF
KTM
5
SWITZERLAND
13
GUILLOD Valentin
MXGP
FMS
YAMAHA
CLEMENT Diego
14
SEEWER Jeremy
MX2
FMS
SUZUKI
15
TONUS Arnaud
OPEN
AMA
KAWASAKI
6
NETHERLANDS
16
COLDENHOFF Glenn
MXGP
KNMV
KTM
HARTMAN Marcel
17
BOGERS Brian
MX2
KNMV
KTM
18
HERLINGS Jeffrey
OPEN
KNMV
KTM
7
AUSTRALIA
19
WATERS Todd
MXGP
MA
HUSQVARNA
BENN Garry
20
EVANS Mitchell
MX2
MA
YAMAHA
21
FERRIS Dean
OPEN
MA
YAMAHA
8
NEW ZEALAND
22
COOPER Cody
MXGP
MNZ
HONDA
WEAL Bevan
23
NATZKE Josiah
MX2
FMB
KTM
24
HARWOOD Hamish
OPEN
MNZ
KTM
9
GERMANY
25
NAGL Maximilian
MXGP
DMSB
HUSQVARNA
THOMAS Wolfgang
26
JACOBI Henry
MX2
DMSB
HONDA
27
ULLRICH Dennis
OPEN
DMSB
KTM
10
AUSTRIA
28
NEURAUTER Lukas
MXGP
OeAMTC-OSK
KTM
RESCHENEDER Michael
29
SANDNER Michael
MX2
OeAMTC-OSK
KTM
30
RAUCHENECKER Pascal
OPEN
OeAMTC-OSK
HUSQVARNA
11
SPAIN
31
BUTRON Jose Antonio
MXGP
RFME
KTM
ALONSO Josep
32
PRADO Jorge
MX2
RFME
KTM
33
ZARAGOZA Jorge
OPEN
RFME
HONDA
12
RUSSIA
34
ROGOZIN Semen
MXGP
MFR
HUSQVARNA
TONKOV Vitaly
35
BRYLYAKOV Vsevolod
MX2
MFR
KAWASAKI
36
BOBRYSHEV Evgeny
OPEN
MFR
HONDA
13
SWEDEN
37
GOLE Anton
MXGP
SVEMO
HUSQVARNA
ENGDAHL Jonte
38
ÖSTLUND Alvin
MX2
SVEMO
YAMAHA
39
NOREN Fredrik
OPEN
SVEMO
HONDA
14
ITALY
40
CAIROLI Antonio
MXGP
FMI
KTM
TRAVERSINI Thomas
41
BERNARDINI Samuele
MX2
FMI
TM
42
CERVELLIN Michele
OPEN
FMI
HONDA
15
DENMARK
43
LARSEN Nikolaj
MXGP
DMU
KTM
CAPRANI Mikkel
44
OLSEN Thomas
MX2
DMU
HUSQVARNA
45
MEIER Glen
OPEN
DMU
KTM
16
PORTUGAL
46
GONÇALVES Rui
MXGP
FMP
HUSQVARNA
ROSS Riley
47
BASAULA Hugo
MX2
FMP
KAWASAKI
48
ALBERTO Paulo
OPEN
FMP
HONDA
17
IRELAND
49
IRWIN Graeme
MXGP
MCUI
HONDA
McCULLOUGH Philip
50
BARR Martin
MX2
MCUI
HONDA
51
EDMONDS Stuart
OPEN
MCUI
TM
18
GREAT BRITAIN
52
SEARLE Tommy
MXGP
ACU
KAWASAKI
PRINCE Neil
53
ANSTIE Max
MX2
ACU
HUSQVARNA
54
SIMPSON Shaun
OPEN
ACU
KTM
19
LATVIA
55
IVANOV Davis
MXGP
LaMSF
YAMAHA
LAZDOVSKIS Martins
56
SABULIS Karlis
MX2
LaMSF
YAMAHA
57
MACUKS Toms
OPEN
LaMSF
KAWASAKI
20
JAPAN
58
NARITA Akira
MXGP
MFJ
HONDA
SERIZAWA Masaki
59
NOTSUKA Chihiro
MX2
MFJ
HONDA
60
YAMAMOTO Kei
OPEN
MFJ
HONDA
21
SLOVENIA
61
IRT Peter
MXGP
AMZS
HONDA
GAJSER Bogomir
62
PANCAR Jan
MX2
AMZS
YAMAHA
63
IRT Jernej
OPEN
AMZS
YAMAHA
22
CZECH REPUBLIC
64
ROMANCIK Jaromir
MXGP
ACCR
SUZUKI
CEPELAK Jiri
65
NEUGEBAUER Filip
MX2
DMSB
KAWASAKI
66
SMITKA Petr
OPEN
ACCR
KTM
23
POLAND
70
LONKA Lukasz
MXGP
PZM
KTM
STYPA Dariusz
71
STASZKIEWICZ Szymon
MX2
PZM
KTM
72
WYSOCKI Tomasz
OPEN
PZM
KTM
24
LITHUANIA
73
BUCAS Vytautas
MXGP
LMSF
YAMAHA
BENEDIKTAVICIUS Robertas
74
KARKA Dovydas
MX2
LMSF
KTM
75
JASIKONIS Arminas
OPEN
LMSF
SUZUKI
25
SLOVAKIA
76
ŠIMKO Tomáš
MXGP
SMF
HONDA
PREDANOCY Dušan
77
ŠIKYŇA Richard
MX2
SMF
KTM
78
KOHÚT Tomáš
OPEN
SMF
KTM
26
BRAZIL
79
DOS SANTOS Fabio Aparecido
MXGP
CBM
YAMAHA
HERMANO Manuel Carlos
80
ALVES Ramyller
MX2
CBM
YAMAHA
81
RAMOS Jean Carlo
OPEN
CBM
YAMAHA
27
FINLAND
82
MALIN Valtteri
MXGP
SML
KTM
VEHVILÄINEN Jussi
83
SIHVONEN Miro
MX2
SML
KTM
84
SAVASTE Kim
OPEN
SML
KAWASAKI
28
CROATIA
88
KARAS Hrvoje
MXGP
HMS
YAMAHA
BOZIC Danijel
89
CRNKOVIC Luka
MX2
HMS
YAMAHA
90
JAROS Matej
OPEN
HMS
KAWASAKI
29
UKRAINE
91
MOROZOV Roman
MXGP
FMU
KAWASAKI
SHOVSH Oleksandr
92
TARASOV Volodymyr
MX2
FMU
KTM
93
NAUMCHYK Yuriy
OPEN
FMU
YAMAHA
30
GREECE
94
KONTOLETAS Dimitrios
MXGP
AMOTOE
YAMAHA
KOUZIS Dimitrios
95
KRITIKOS Emmanouil
MX2
AMOTOE
YAMAHA
96
KOUZIS Panagiotis
OPEN
OPEN
AMOTOE
HONDA
31
PUERTO RICO
97
ASTUDILLO Jason
MXGP
FMPR
CATALA Gabriel
98
APONTE Gino
MX2
FMPR
99
McCONAHY Noah
OPEN
FMPR
32
LUXEMBOURG
100
TABOURAING Eric
MXGP
MUL
KAWASAKI
TURK Michel
101
FRANK Yves
MX2
MUL
HONDA
102
FRANK Björn
OPEN
MUL
HONDA
33
ISRAEL
106
KARMI Ziv
MXGP
MEMSI
HEYMANN Raz
107
MAYA Dan
MX2
MEMSI
108
HASSON Oren
OPEN
MEMSI
34
SOUTH AFRICA
109
FITZ-GERALD Kerim
MXGP
MSA
KTM
DEN Geoff
110
ADAMS Nicholas
MX2
MSA
HONDA
111
DOCHERTY Michael
OPEN
MSA
KAWASAKI
35
CANADA
112
BENOIT Kaven
MXGP
CMA
KTM
Lloyd KOURTNEY
113
MAFFENBEIER Shawn
MX2
CMA
KTM
114
MEDAGLIA Tyler
OPEN
CMA
KTM
36
HUNGARY
115
HUGYECZ Erik
MXGP
MAMS
KTM
Robert NAGY
116
SZVOBODA Bence
MX2
MAMS
KTM
117
SZOKE Márk
OPEN
MAMS
SUZUKI
37
ICELAND
118
BIRGISSON Ingvi Bjorn
MXGP
MSI
KTM
GUNNLAUGSSON Karl
119
TEYNISSON Eythor
MX2
MSI
KAWASAKI
120
GUDMUNDSSON Andri
OPEN
NMF
KTM
38
SAN MARINO
124
MARINI Thomas
MXGP
FSM
HUSQVARNA
Danilo MARASCA
125
GORINI Andrea
MX2
FSM
SUZUKI
126
TOCCACELI Bryan
OPEN
FSM
YAMAHA