Justin Brayton, Gavin Faith Win Australian Supercross Opener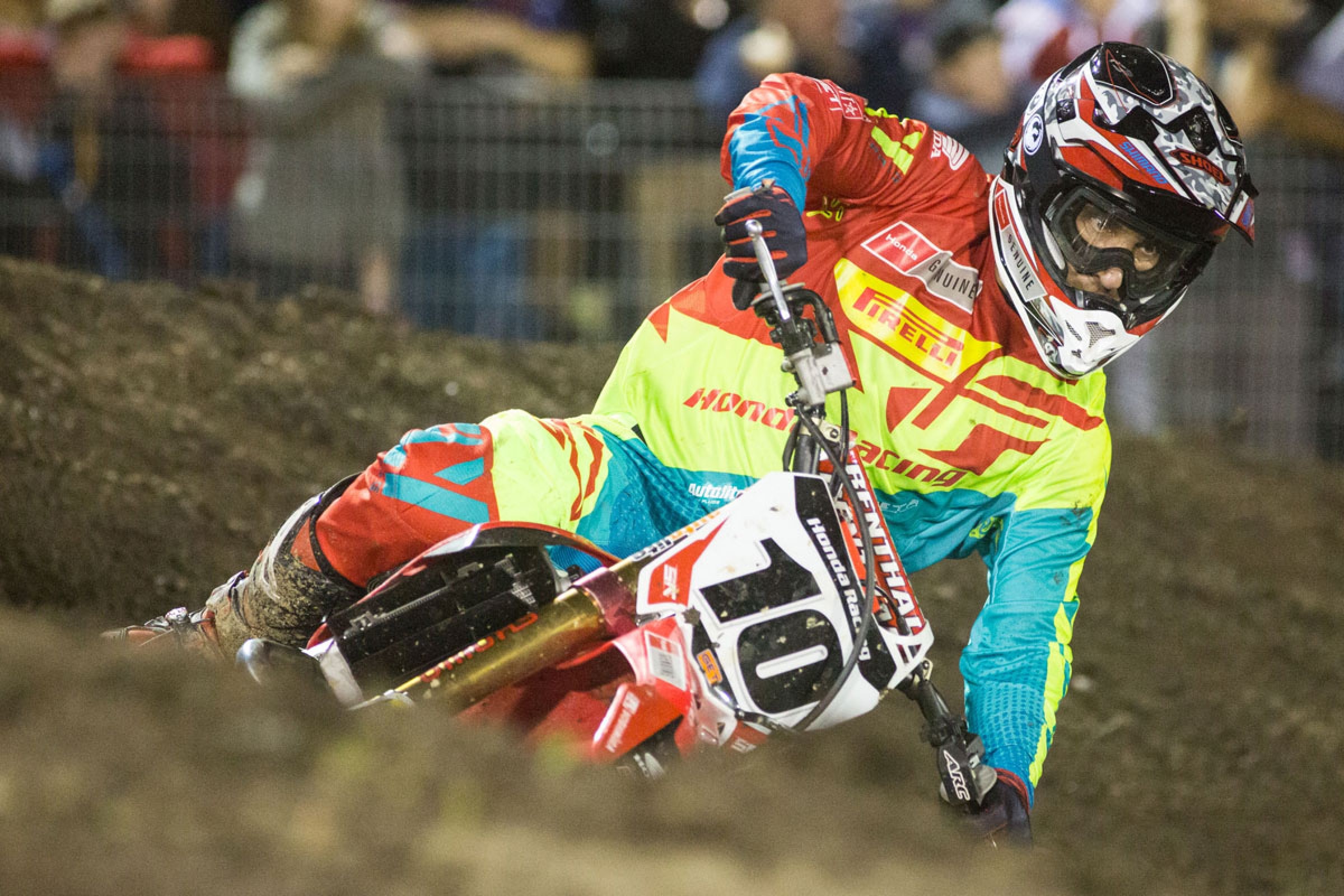 Justin Brayton won the opening round of the Australian Supercross Championship last night at Jimboomba X Stadium in his debut with the Honda Genuine Racing team.
The former BTOSports.com-WPS-KTM rider was pressured by Australian Motocross Champion Dean Ferris, but held on for a 3.6 second win. Dan Reardon finished third.
In his Australian Supercross debut, Will Hahn finished fifth. Adam Enticknap, also of the Honda Genuine Racing team, finished tenth.
In SX2, two-time Australian Supercross Champion Gavin Faith won the opening round by 2.1 seconds over Australian Hayden Mellross. Wade Hunter rounded out the podium.
American Jimmy Decotis, who won the SX2 championship last year, finished seventh.
SX1 Overall
1. Justin Brayton
2. Dean Ferris
3. Dan Reardon
4. Todd Waters
5. Wil Hahn
6. Kade Mosig
7. Luke Wilson
8. Jay Marmont
9. Jay Wilson
10. Adam Enticknap
11. Joel Newton
12. Barry Surawski
13. Boyd Hocking
DNF
Jesse Dobson
Kyle Peters
Lawson Bopping
Nathan Crawford
Jonathon Krusic
Nicholas Bressan
SX2 Overall
1. Gavin Faith
2. Hayden Mellross
3. Wade Hunter
4. Jackson Richardson
5. Geran Stapleton
6. Josh Cachia
7. Jimmy Decotis
8. Lewis Woods
9. Jordan Hill
10. Joel Wightman
11. Aaron Tanti
12. Wade Kirkland
13. Connor Tierney
14. Tomas Ravenhorst
15. Dylan Wills
16. Mitch Evans
DNF
Keiron Hall
Kyle Webster
Jesse Madden
Jayden Rykers
Social Status from the Opening Round
---
Main image: Jeremy Hammer (Foremost Media)