Phil Nicoletti Wins Edge of Summer MX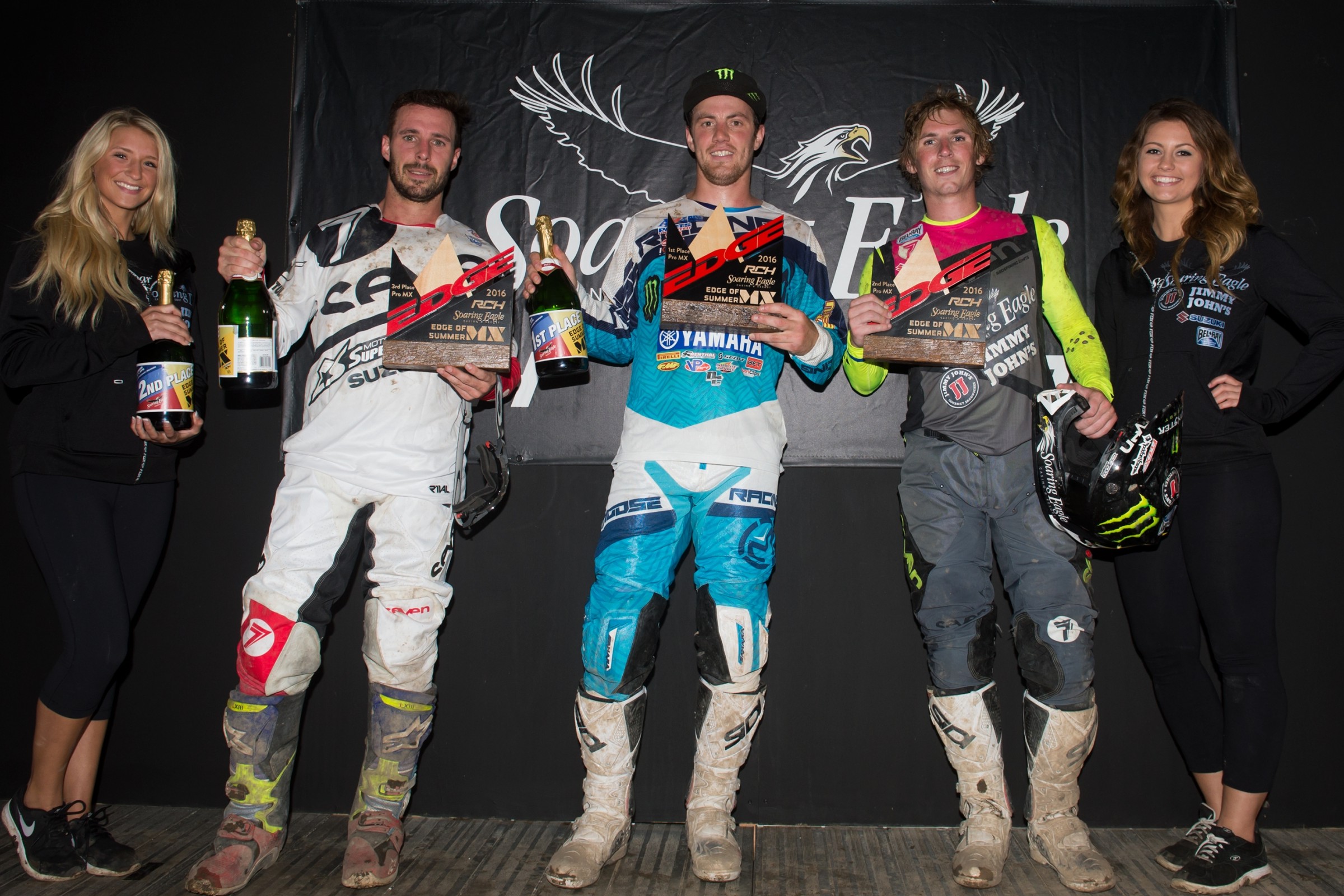 PLEASANT, Mich. – Carrying momentum off a strong outdoor national MX season, New York's Phil Nicoletti took advantage of his holeshot off the start and ran 'er all the way to the checkers to win Saturday's $10,000 purse in the premier Pro class at the third annual RCH Racing/Suzuki Edge of Summer MX at Soaring Eagle Casino & Resort.
Nicoletti was joined on the Pro class podium by Suzuki-mounted Jake Weimer in second, along with Kyle Cunningham in third. All three racers would agree that the start in the race was crucial, and paramount to Nicoletti's wire-to-wire victory under the lights at Soaring Eagle.
"It came down to the start," admitted Nicoletti. "As soon as the two-lap board came out I knew I had it."
Added Weimer: "You had to get the start and I didn't do it."
And Cunningham: "I knew with this track it would come down to the start."
Nearly a washout due to a massive storm that blew though mid-afternoon, Saturday's Edge of Summer MX main events at Soaring Eagle were actually run under very good conditions, thanks much to RedBud MX Tim Ritchie's track crew. The water ran off the track nicely and pooled in between the lanes, and the rich Michigan clay/loam combination rutted up nicely in the corners -- while not too much on the face of the jumps. The end result being a fast main event that saw some passing to make up the podium behind Nicoletti, but not quite enough time for the pack to catch the leader (ten laps and roughly 20 minutes of racing in the Pro main).
Off the start Nicoletti was hounded briefly by Darryn Durham, but quickly broke free from his fellow Yamaha pilot. Weimer would make a quick move to get up to third, with Kyle Chisholm and defending Arenacross champion Gavin Faith rounding out the top five.
Within a lap Nicoletti would put five seconds on the rest of the pack, about the same margin he ended up winning by. Durham would open up a bit of a gap on Weimer by lap five, with Cunningham charging fast (and actually setting the race's fast lap time during that mid-race run), passing Chisholm for fourth on lap six.
With four to go Nicoletti held the lead over Durham, Weimer, Cunningham and Chisholm.
As the battle for second and third heated up with three to go, Weimer got past Durham, then Cunningham got around as well to move into third. Not much changed after the white flag flew, with the checkers signalling Nicoletti in first, Weimer second, Cunningham third, Durham fourth and Chisholm fifth.
"Not many places you can make this much money for 20 minutes of racing," noted Nicoletti from the podium, thanking Soaring Eagle and RedBud.
Overall Name Brand
1 Phil Nicoletti Yamaha
2 Jake Weimer Suzuki
3 Kyle Cunningham Suzuki
4 Darryn Durham Yamaha
5 Kyle Chisholm Honda
6 Jimmy Albertson Suzuki
7 Daniel Herrlein KTM
8 Gared Steinke KTM
9 Nick Wey Kawasaki
10 Josh Osby Suzuki