Crawfordsville, IN
Ironman
Lucas Oil AMA Pro Motocross Championship
AutoTrader.com/Monster Energy/JGR Yamaha's Justin Barcia closed the 2016 Lucas Oil Pro Motocross season at Ironman on Saturday with arguably his best performance of the year, finishing an impressive second overall behind 2-2 moto scores.
After the race, Barcia spoke to the media at the post-race press conference about his season, his day, the Motocross of Nations and more.
Racer X: It seems like you built on last week and were really in the mix there early on. Tell us about those motos.
Justin Barcia: Today was pretty good. I'm happy with it. Practice went good, qualified first. Actually, I thought I wasn't because I jumped on a red flag and it took away my fast time but luckily my second fast time was like exactly the same, so I got lucky there and qualified first. I felt like I was the closest I was to Kenny [Roczen] the first moto so I felt like I kept him honest for a little bit. I wish I could have kept him longer. He's on a roll right now obviously. Dude's riding super good. It's frustrating. Second moto was not better. I made a bike change and I didn't feel as comfortable. You just never know. You kind of go in blind a little bit. I was like, I think this is going to be the right direction but the track changed so much and I kind of miscalculated a little bit I guess. So it was a little struggle. Then I went down and Eli [Tomac] was on me for a while. I pulled away a little bit and just finished out the moto. So it was good. The track turned out to be awesome. I was pretty happy with it. It was rough, rutty, and everything you could ask for in a motocross race.
Specifically what changed between the motos on the track?
The track just dried out a lot. We got down to the base a little bit more. There were some more ruts. There was still a little bit of swamp but not as much as the first moto. The first moto it was kind of like just hanging it out there, steering with the rear a little bit. The second moto it just got way rougher and better lines.
Was that first moto fight your best one all year? You were pretty close the whole time.
Yeah, I would say the first moto was probably one of my better ones here. The most comfortable I've felt, so that was good. It's just been a frustrating year for sure. I had a few mechanicals, had some crashes. It just wasn't my year, unfortunately. I just never felt super comfortable. These last couple of races I've been getting better and better but it's too late. I would have liked to say I would have been more consistent this year and been up there for the championship fight, but I wasn't clearly. So it's super frustrating. We didn't even get a third overall in the championship so no bonus for me.
Was it bike changes there toward the end of the season?
Yeah. I went back to Florida actually and had a local guy down there help me out. Got some video and stuff and really studied the bike as much as I could. I went back to Charlotte and I was like, this is what it's doing and this is what we need to do. I don't know what's inside the suspension so I can't tell them what to do. But I try to communicate as good as I can. Sometimes it's hard to explain. Maybe I feel like the forks are harsh but actually it's super soft. Just so many variables, but we started figuring it out in the last couple races. Everyone's like, oh, your bike was super good last year, but it's hard, bikes change every year and you can't just go back to that.
So does this do anything for next year [in regards to bike changes]?
No. I still have my contract with JGR, I believe we're on Yamahas next year so that should be good. I just want to stay healthy in the off-season. I'd like to have a full supercross season and get the bike really good going in. I heard Austin [Forkner] saying a lot of guys take a lot of time off, but I don't know, I think I get like a week off. When you look at the calendar, I can only take a week off legitimately, and then I start testing for Monster Cup.
What do you have the next couple weeks? I know you're riding Charlotte and Glen Helen?
Charlotte 100 percent. Glen Helen is not for sure yet. I'm going to do Lille. There's been talk about the Manufacturers Cup, I might have to go do that.
Yeah, what off-season?
Yeah, and then I told these guys I did miss a lot of supercross races, so it is what is but I'd definitely like to have some downtime.
It's certainly been a hot topic. Is it too much for you guys?
I would have to think that the 450 guys would say it's too many races. But it is what it is, right?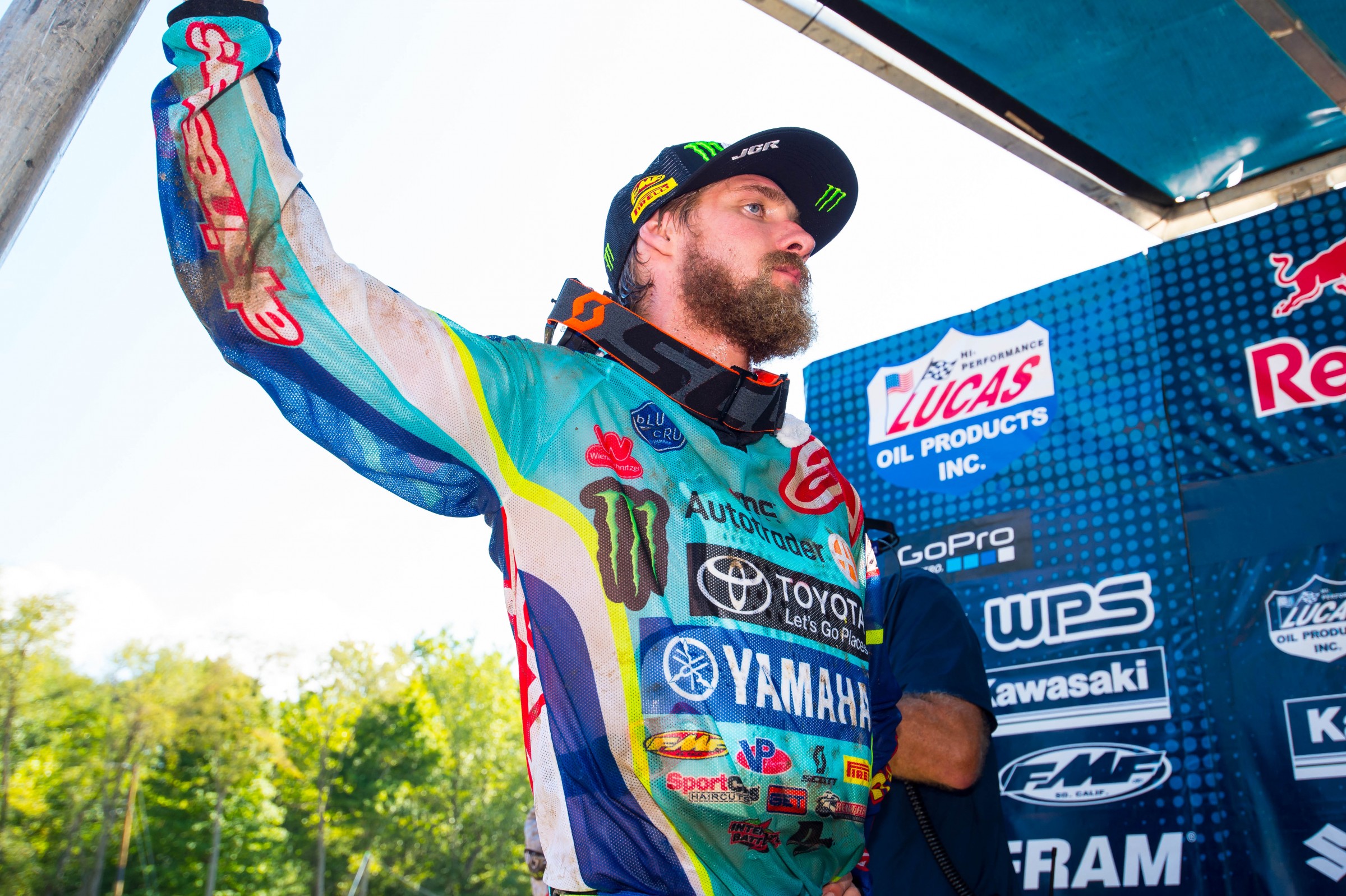 What's the right ratio of supercross versus outdoors?
Man, I don't know. I think the outdoor series is great. I think supercross is really more of a grind. It was nice when I was on a 250. Get some weekends off and stuff. I've heard there may be some changes possibly. I think it's pretty cool… obviously we don't want to go do the MXGP's at Charlotte and Glen Helen but I think that kind of moves in on the turf a little bit and I heard some rumors there might be some changes in the series and stuff like that. I'm sure you guys hear rumors all the time too, especially on Vital and stuff.
The whole off-season races and stuff, I know it's a grind, but I think I saw somebody comment on your Instagram about doing Des Nations and it sounded like you didn't get asked to race it. Are you bummed about that? It's another race but it seems like that's one of those ones that you love.
I would have went if they asked. I would say they should have chose me. But obviously Eli couldn't go. We all have super important things to do, like get our bikes right for supercross and there are more important things. But I think I've done very good there in the past. I won my class there a ton. I've really never dropped the ball; I've always been consistent. I'm not really mad that I didn't get invited. There's a ton of races and stuff but I do enjoy that race. I don't even know who runs the gig anymore, but I didn't get a phone call.
How surprised were you when you heard Anderson…
No. There were rumors for sure. I don't know. I wasn't shocked but it definitely seems crazy. But I hope they do great. I'm American. I told someone I've got an eagle American flag tattoo on my back. I'm in. Good luck to those guys. I hope they do great. I hope they win. We need it bad.