Wey, Weimer and More Confirmed for Edge of Summer MX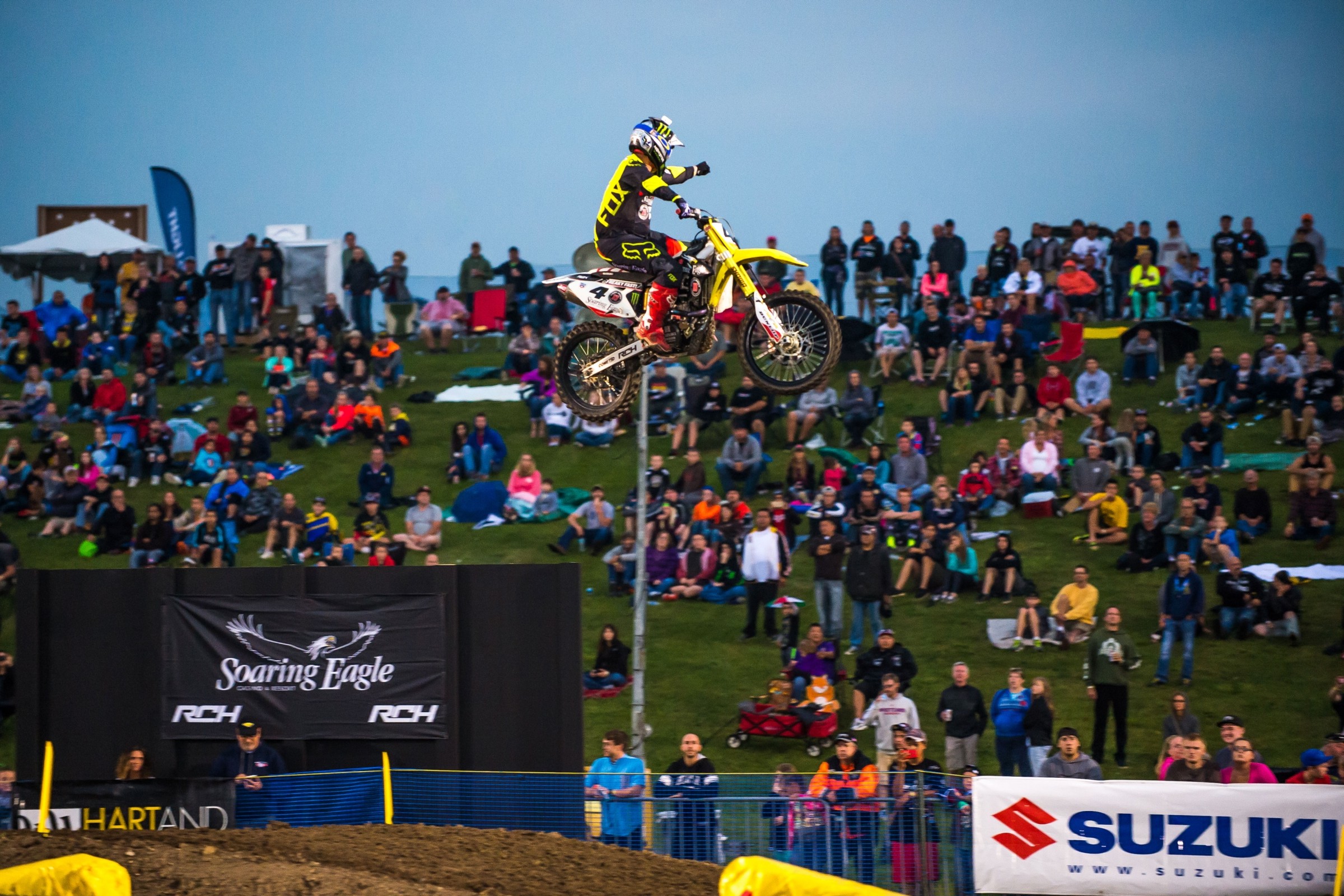 MT. PLEASANT, Mich. – Dirt bikes and ATVs will fly high above the grounds of Soaring Eagle Casino & Resort as the annual Edge of Summer MX event returns to Michigan's No. 1-ranked Favorite Casino (Midwest Gaming & Travel), Sept. 9-11. Professional racers, including Michigan's own Nick Wey (Dewitt), along with Jake Weimer, Ivan Tedesco, Mike Alessi and more will battle bar-to-bar from one end of Soaring Eagle's property to the other in hopes of cashing in on the massive $60K purse.
The field will showcase a full range of classes, including ages four to pro on dirt bikes and eight to pro on the ATVs, all racing on the all-time winningest MX racer Ricky Carmichael-designed track that serpentines across the sprawling Soaring Eagle grounds. Featuring stadium-style seating that allows fans to see nearly the entire course, the Edge of Summer MX event will again rock the central Michigan action sports scene to its core with an entire weekend of motocross racing action, including for the first time the awe-inspiring "Adaptive" class (amputees and partially paralyzed racers) on the Soaring Eagle track.
"It's a show of shows in terms of excitement and value for customers," said Raul Venegas, Director of Marketing and Entertainment at Soaring Eagle. "The Edge of Summer MX event is the biggest outdoor event Soaring Eagle will host this fall. If you haven't seen it, you're in for a real treat. And if you were here last year, we look forward to seeing you again September 9 through the 11."
Teaming up again with Soaring Eagle and RCH Racing to produce the event will be RedBud MX. Host of the nation's No. 1 professional motocross event held annually on Fourth of July weekend in Buchanan, Mich., RedBud MX's staff is on-site to ensure a top quality racetrack, officials and overall smooth-running event program.
As they've been in the past, the pro racers are very approachable at Soaring Eagle's Edge of Summer MX event, signing autographs and posing for photos with the fans. The event also features the "Par for the Cause" RCH Racing celebrity charity golf tournament (more info on that at www.soaringeagle.com), live music and, of course, the best gaming in the Midwest!
Event sponsors include: RCH Racing, Suzuki, RedBud, Musco Lighting, Bel-Ray, Rockford Fosgate, FMF, Dunlop, Fox, Michigan Cat, Bader & Sons Co. and Stevens Sports Center.
What: Soaring Eagle Casino & Resort's Edge of Summer MX event
When: Sept. 9-11
Time: Friday's Pro ATV final motos are at 3 p.m. and 5 p.m.; Saturday's Pro MX (dirt bikes) racing finals begin at 6:30 p.m. Gates open daily at 6 a.m. for amateur practice and racing, beginning at 9 a.m. Friday, 8 a.m. Saturday and Sunday.
Where: Soaring Eagle Casino & Resort, Mt. Pleasant, Mich.
Who: The Midwest's top amateur and nationally-ranked pro motocross and ATV racers battle for a $60,000-plus purse.
Friday Autograph Session: ATV and Dirt Bike pros inside the casino at the Entertainment Hall at 6:30 p.m., following the ATV racing program.
Saturday Autograph Session: Trackside on Saturday from 5-6 p.m. with Nick Wey, Jake Weimer, Ivan Tedesco, Mike Alessi and more!
Tickets: Just $25 per day/$40 for the entire weekend and are available at the gate. Special prices for kids 6-11 and children under five are admitted free!
More information: www.redbudmx.com and www.soaringeaglecasino.com