Budds Creek Motocross Park
Mechanicsville

,

MD
Budds Creek
Lucas Oil AMA Pro Motocross Championship
Ken Roczen is your 2016 Lucas Oil Pro Motocross Champion. It was a dominant season that began with a 1-1 performance at Hangtown. From there he maintained suffocating pressure on the field all summer, never really opening a door or even cracking a window. Even defending champ Ryan Dungey was unable to match the pace that Kenny set, his only win prior to his injury at Thunder Valley coming from an untimely fork malfunction on Kenny's Suzuki at Glen Helen. Kenny didn't win every moto, or even every overall, as Eli Tomac rode to wins at Southwick and Washougal, but even in the wake of those races, the big picture was never blurry. Kenny was in full command and everyone in the sport knew it.
Now, with one race left in the series, Kenny prepares to make another transition. See, two years ago, Kenny was in a similar situation. He was coming off of his first ever 450 title and was leaving the team he had just won with, Red Bull KTM, and heading over to the private team juggernaut that Carey Hart and Ricky Carmichael had dreamt up. His decision came with heavy speculation and left more than a few people scratching their heads. It looked like a very risky move at the time, leaving a proven team and commodity and heading to a promising, if yet unproven team. Kenny believed in the team, though, and he was also going to be reunited with his long lost Suzuki that he grew up riding. Many claimed it wouldn't work and Kenny would regret the move.
The team was undeterred, however, and ready to take the next step. That's not to say there weren't growing pains along the way. A year ago Kenny's father let loose in a scathing interview, shedding light on team division and a lack of cohesiveness. Kenny was going through a tough season, dealing with ankle and back injuries that took him out of the points lead in supercross. That ankle injury grew into a downward spiral that he never really recovered from. All in all, 2015 was fodder for the critics and forgettable for Kenny.
Flash forward to 2016 and things were improving. The team seemed to have figured out a recipe for success and Kenny looked happier. Happy riders typically produce results and although he would lose the supercross title to Ryan Dungey again, he was without a doubt the fastest rider in the last month of the season. He had found his stride, racking up wins and sending a strong message for the summer. As we have seen, that message was loud and clear: he and his team were ready to win. Outside of the previously mentioned fork issue and a couple of settings complaints, it was pretty much sweet harmony between Kenny and his Soaring Eagle/Jimmy John's/RCH team. With so much recent success, surely Kenny would want to keep the momentum rolling, right? Well, maybe not it seems.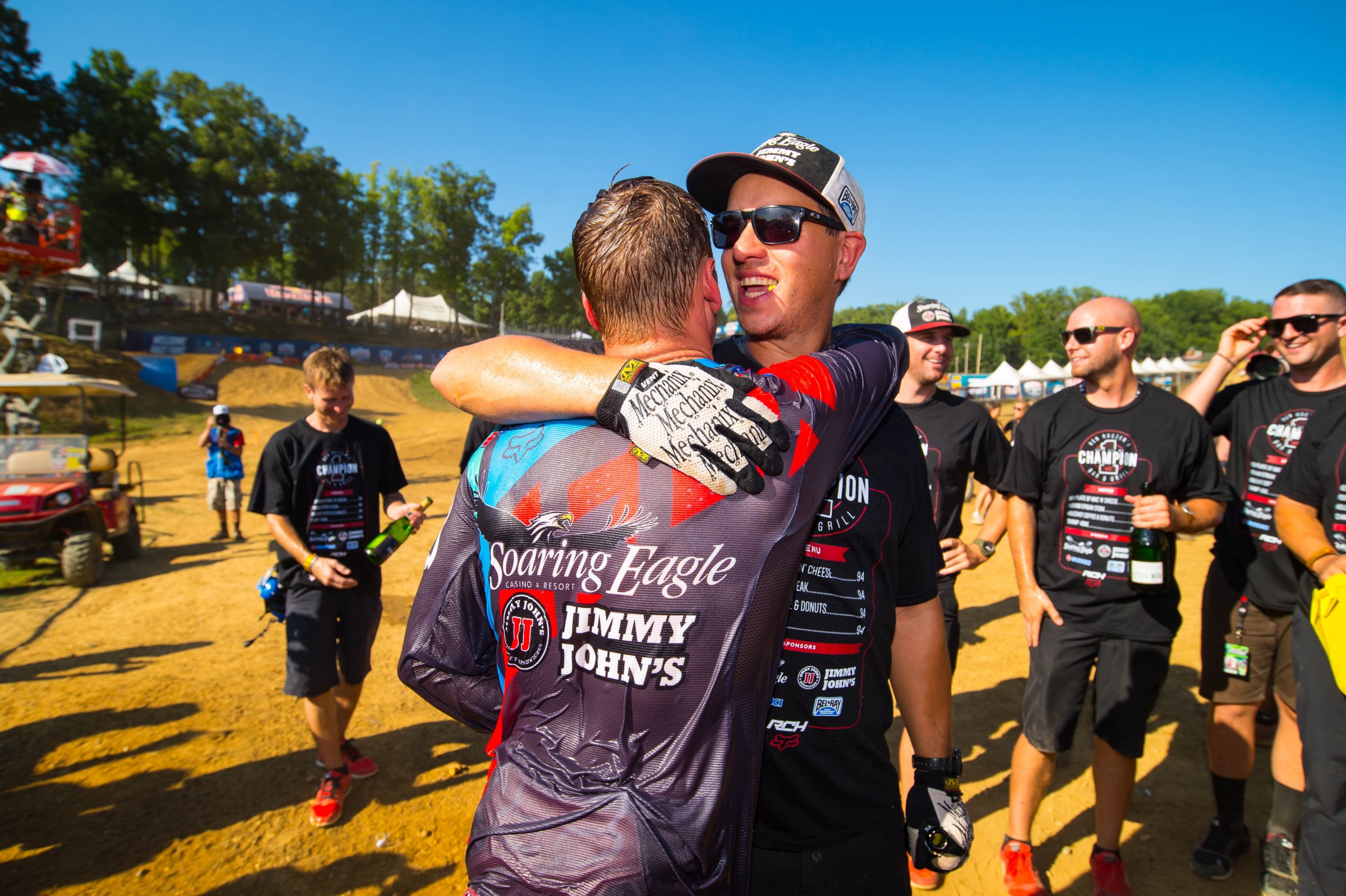 Just when Kenny has everything clicking, he is leaving for HRC Honda.
That's right, just like in 2014, Kenny is winning a title and switching teams. Rumor has Kenny signing a long-term deal that will see him on red for 2017 and well beyond. HRC has been eager to win since they shook things up for the 2015 season. Roczen represents the biggest fish and HRC put all of their bait in the water with a big money, multi-year, full commitment offer. Signing with HRC makes sense on paper for most riders. Honda is the most storied and successful brand in the sport's history. Most riders dream of ending up on factory Honda, like so many of the legends before them. For Kenny, though, the timing is just so interesting. He seemingly has the world right where he wants it and is going to leave a winning situation, where he has proven to be the best rider in his current form, for a completely new-to-him team and bike. Again.
Why would he leave? That's a question I have pondered and examined in depth. I think I know some of the reasons and can speculate at others. I think the decision was made long ago, even if the deal or direction wasn't yet finalized.
When he left KTM in 2014, I was told that he actually had vowed to leave the summer before when things were tense between he and his team. He wasn't happy with how his 250 championship was unfolding and even though he was over a year away from being a free agent, his mind was made up. He would make his decision sometime around February of 2014, long before he would win the 450 championship that summer. Things had obviously improved since his 2013 struggles but he was determined to make a move. An early decision is usually regarded as wise but in this case, maybe it was ill timed.
Around the time he was agreeing to join RCH, the new-era KTM was being unveiled behind the scenes. Since Kenny was leaving, he supposedly wasn't given the chance to ride the new and improved 450. Could the new model that was so well received by seemingly everyone have swayed him to stay? No one, maybe not even Kenny, will be able to answer that.
In any case, all summer long as he won races and the eventual title, everyone knew that he was headed to RCH and the factory Suzuki waiting in the wings. He was taking his #1 plate to another team and going into an unknown situation with high hopes but more questions than answers. Well, it seems that same scenario is playing out again.
This decision to leave for HRC Honda, I believe, was made when things were much less upbeat than now. Remember, during supercross, Dungey was virtually unstoppable for months. He racked up a huge points lead that surely had to leave Kenny frustrated and looking for answers. Much like two years ago, I think that frustration led him to make big changes. Much like two years ago, things have since taken a turn to the positive in the waning months of his current contract. Would he reevaluate his decision if he knew the dominating level he would achieve this summer? That's a question only Kenny can answer but it's an interesting proposition. If he knew that this would be the Summer of Kenny, would he want to change everything again?
Another factor in this is on the technological side. Many regard the Suzuki as "behind" in the race for progress. KTM and Husqvarna have had huge success with their newer models, Yamaha has made huge strides recently, Kawasaki released an all-new bike in 2016 and now Honda has this all-new 2017 model. Suzuki just doesn't seem to be keeping up in development and that opinion is commonplace in the industry. Whether that was a deciding factor was up to Kenny but I would bet it played a role. HRC has long been known as the OEM willing to throw the most resources at winning. To beat the KTM juggernaut that has won three out of the four last championships, I could understand if Kenny wanted the most cutting edge of equipment available.
Kenny will have a busy off-season with his new bike and team. Honda's new 450 has next level technology but is also unproven. The team will be starting from the ground floor on settings and testing. If the new bike is a home run, then that's great for everyone involved. If the bike has kinks to work out, similar to the revolutionary 2009 model, that will be a lot to work through for Roczen and HRC.
According to factory contracts, riders aren't allowed to ride a different brand in the midst of a current deal. But this rule rarely is followed, as prospective teams and riders will usually find a way to hold a secret test in order to make an informed decision. Has Kenny ridden the 2017 Honda? I can't say for sure but I would guess that he has. That's just how these things work. He and HRC will deny it but common sense says otherwise. Signing a long-term contract on a brand new motorcycle without at least riding it would be a very scary situation. I just can't see that being reality, so let's just assume Kenny knows what he is getting into with the 2017 Honda.
All of this leads to the big question: will Kenny take a step forward with this move or will he take a step back?
The last time he switched, it was a mixed bag. He won the 2015 season opener at Anaheim, sending a message that he knew what he was doing. The rest of that season was a struggle, though, with a nagging injury and difficulty finding a comfortable setup that summer. This supercross season featured flashes of brilliance but in the big picture, he was unable to match Dungey's speed and consistency, especially in the first half of the season. Now that the decision has been made, he has gone back to his winning ways all summer. He has set the bar very high for next year. Coming from such a high level that we are witnessing now, anything less than excellence will look like a misstep. HRC is expecting championships and is paying handsomely to get them. Kenny will expect to win after simply owning this 2016 Lucas Oil Pro Motocross Championship.
Will 2017 be a mirror image of 2015 or will he be able to rewrite this familiar script? Only Kenny can decide that. While changing teams after so much success seems like a gamble, we know by now that he loves to bet on himself.