Maggiora Park
Maggiora

,

Italy
Motocross of Nations
Motocross of Nations
It's become an annual tradition—not just picking Team USA for the Motocross of Nations, but the drama of picking Team USA for the Motocross of Nations.
Last year's dream team might have had Eli Tomac and Ryan Dungey, but Dungey bowed out and Tomac got hurt. This year's team could have had them, but Dungey got hurt and Tomac bowed out. The once novel idea of calling Team USA "The B Team" has to die because every team these days is a bit of a scramble. Finding the right riders who are both healthy and willing isn't easy anymore.
"It used to be that way but now it's becoming more and more complicated," team manager Roger DeCoster told us on Saturday at Unadilla. "With the schedule being tighter and tighter and more events in the fall and a lot of pressure on the main guys from their sponsors, from their factories. And then people changing brands. It's definitely a lot of things to consider. Injuries, too."
This is probably the hottest topic in the sport right now—the proliferation of off-season events, and how riders, teams and sponsors are handling it. We'll have more on that later this week, but for the purpose of Team USA, it came down to finding not just the three fastest riders, but three riders who were ready, willing and able, and teams that were willing to back it. The Motocross of Nations never makes sense from a business case for American riders or teams, so finding the right riders and support comes down to timing and pride.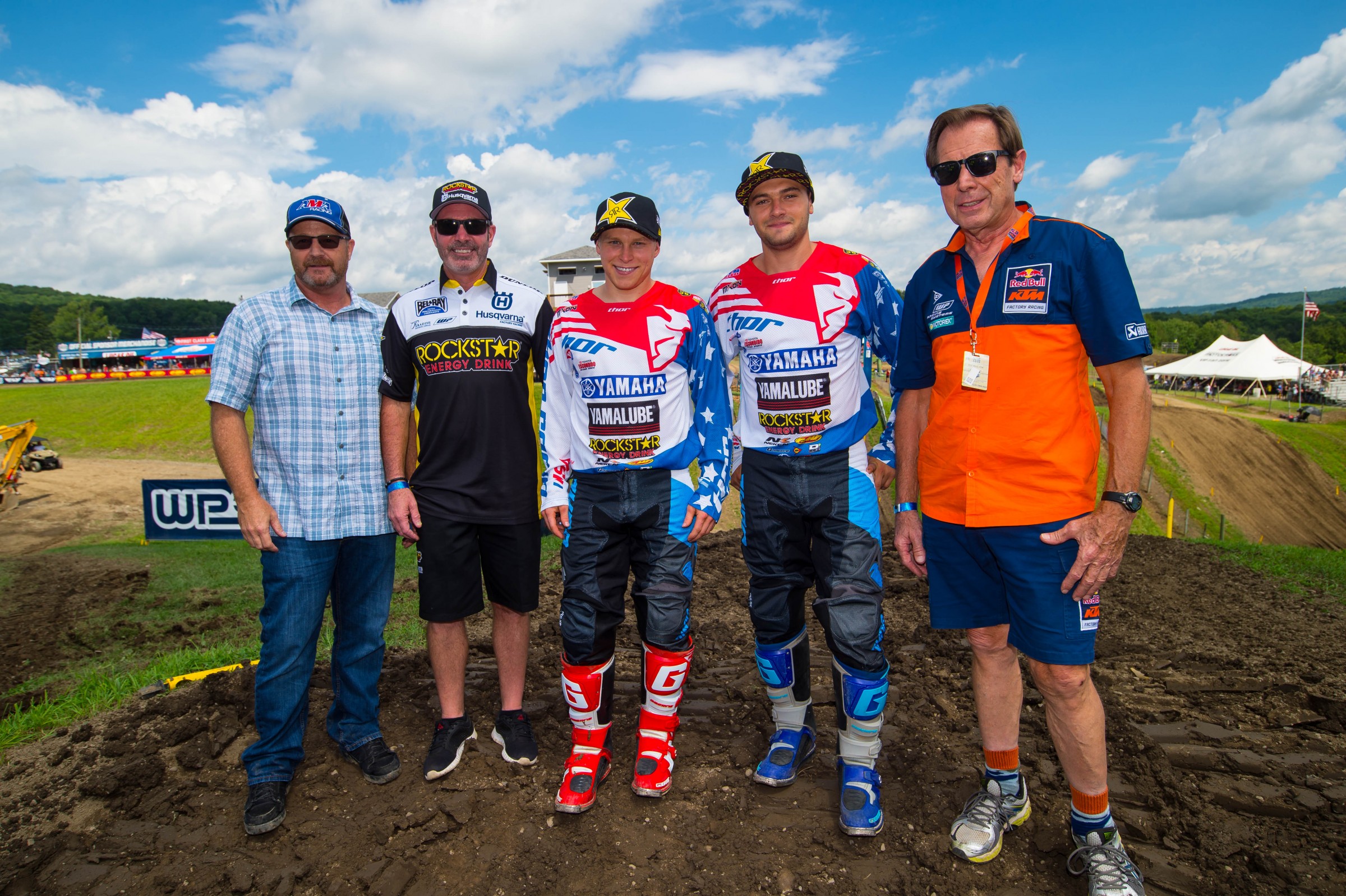 By the way, this isn't the first era of such struggles. Yeah, this year's event will be held in Maggiora, Italy, to celebrate the 30th anniversary of Team USA dominating the event at that track in 1986, and yes that team had hall of famers David Bailey, Ricky Johnson and Johnny O'Mara. But for every 1986, you have years like 1992, which featured the original "B Team" with 125 rider Mike LaRocco jumping to a 250, a young Jeff Emig riding a 125, and American GP competitor Billy Liles on a 500. The top riders of that time—Jeff Stanton, Damon Bradshaw and Mike Kiedrowski—didn't want to be picked, as the pressure of The Streak began to build.
Then you have 2004, when America simply didn't send a team. Heck, the original winning Team USA from 1981 was considered a "B Team".
In the 1990s, the process of picking a team became so difficult that DeCoster eventually begged off of team management.
"At one point, I think it was the year that Bevo [Forti] ran it [1994, which is also the year the streak finally ended] I got so frustrated I said, "If you guys cannot make up your mind then I'm out.'"
So none of this is new, but DeCoster jokes that he's found a new way to cope.
"As I'm getting older, I'm getting more patient, also."
Luckily there is one young American rider who has zero hesitation—Cooper Webb. His spot on the team was assured, and once Eli Tomac asked not to race, Webb raised his hand to move into the MX1 slot, as de facto team captain.
Webb has proven to be an effective 450 rider while still racing the 250 Class. Since he hasn't become a full-time 450 rider yet, he didn't have to race all 17 supercross rounds this year, which Tomac and Dungey have had to do. Ken Roczen also hasn't raced the event in three years. Webb clearly loves to race, but he hasn't hit the full-schedule grind yet, either.
---
Team USA since 2006
Team USA hasn't won the Motocross of Nations since 2011, when a team of Ryan Villopoto, Ryan Dungey and Blake Baggett won. Below is every Team USA result since 2006.
| | | |
| --- | --- | --- |
| Year | Team | Result |
| 2006 | James Stewart, Ryan Villopoto, Ivan Tedesco | Win |
| 2007 | Ricky Carmichael, Ryan Villopoto, Tim Ferry | Win |
| 2008 | James Stewart, Ryan Villopoto, Tim Ferry | Win |
| 2009 | Ryan Dungey, Ivan Tedesco, Jake Weimer | Win |
| 2010 | Ryan Dungey, Andrew Short, Trey Canard | Win |
| 2011 | Ryan Villopoto, Ryan Dungey, Blake Baggett | Win |
| 2012 | Justin Barcia, Blake Baggett, Ryan Dungey | 3rd overall |
| 2013 | Eli Tomac, Justin Barcia, Ryan Dungey | 2nd overall |
| 2014 | Ryan Dungey, Eli Tomac, Jeremy Martin | 3rd overall |
| 2015 | Justin Barcia, Cooper Webb, Jeremy Martin | 2nd overall |
---
With Webb on one 450, and defending 250 National Champion Jeremy Martin out with injury, the MX2 spot would come down to Joey Savatgy or Alex Martin. With Webb coming into power on the team, it made more sense to have Alex alongside him, as they're teammates and both train together under Gareth Swanepoel.
"Yeah, I know they approached me before Washougal, or right after Washougal," Alex Martin told our Steve Matthes. "But obviously the fact that Joey is really fast and I think we've been really close all year long in speed, and if it wasn't for a DNF and a couple bad motos I'd have been right there in points. But after Washougal I was only two down anyways. So I was kind of like, "We're going to have this long break. Who knows if they're going to pick Joey or me?" But obviously I think Cooper wanted me as a teammate maybe a little bit more, especially after that little issue they [Webb and Savatgy] had in the second moto at Washougal.
You can split hairs between Alex Martin and Savatgy—they've been close all season outdoors. But the second 450 slot was the real tough spot. Justin Barcia, who won a moto at the event last year, could have been a pick, but he and Autotrader.com/Monster Energy JGR team manager Jeremy Albrecht told us at Unadilla they were never approached. Would JGR have gone? Possibly, because although the event creates a huge out of pocket expense for team owner Coy Gibbs, Coy tells us he'll usually do whatever his riders want to do.
However, as DeCoster started to run through some ideas, he found the Husqvarna folks in Europe weren't just willing to support Jason Anderson on the team, they were ecstatic about the idea of doing it.
"Eli was going to do it and then he was told he had to do these other events, the two GPs and all that," says DeCoster. "Then him and Kawasaki, they thought it was too much also so they called me and said we would like to step out. And then we started looking at our options and who would get proper support, not just the rider. We even thought about Davi [Millsaps], he's winning Canada. He's doing really good this season. Then we thought about Jason, and then I called Aldon [Baker] and asked him if he thought he could get him 100 percent in shape by then. He thought about it and then he got back to me and he said, "Yeah, we can do it. Jason would like to do it." And then I called Husqvarna in Austria. I said, "If we put him on the team are you 100 percent behind it with 100 percent support?" They were all excited about it. So I know that he will get the best support anyone could get. I talked to Cooper about it also, what he thought as a rider and all that since he has been there and he knows Jason. He was happy to hear, too, that we were thinking about him. And then I called Kevin [Crowther, of the AMA] and then after talking to everybody we went for it."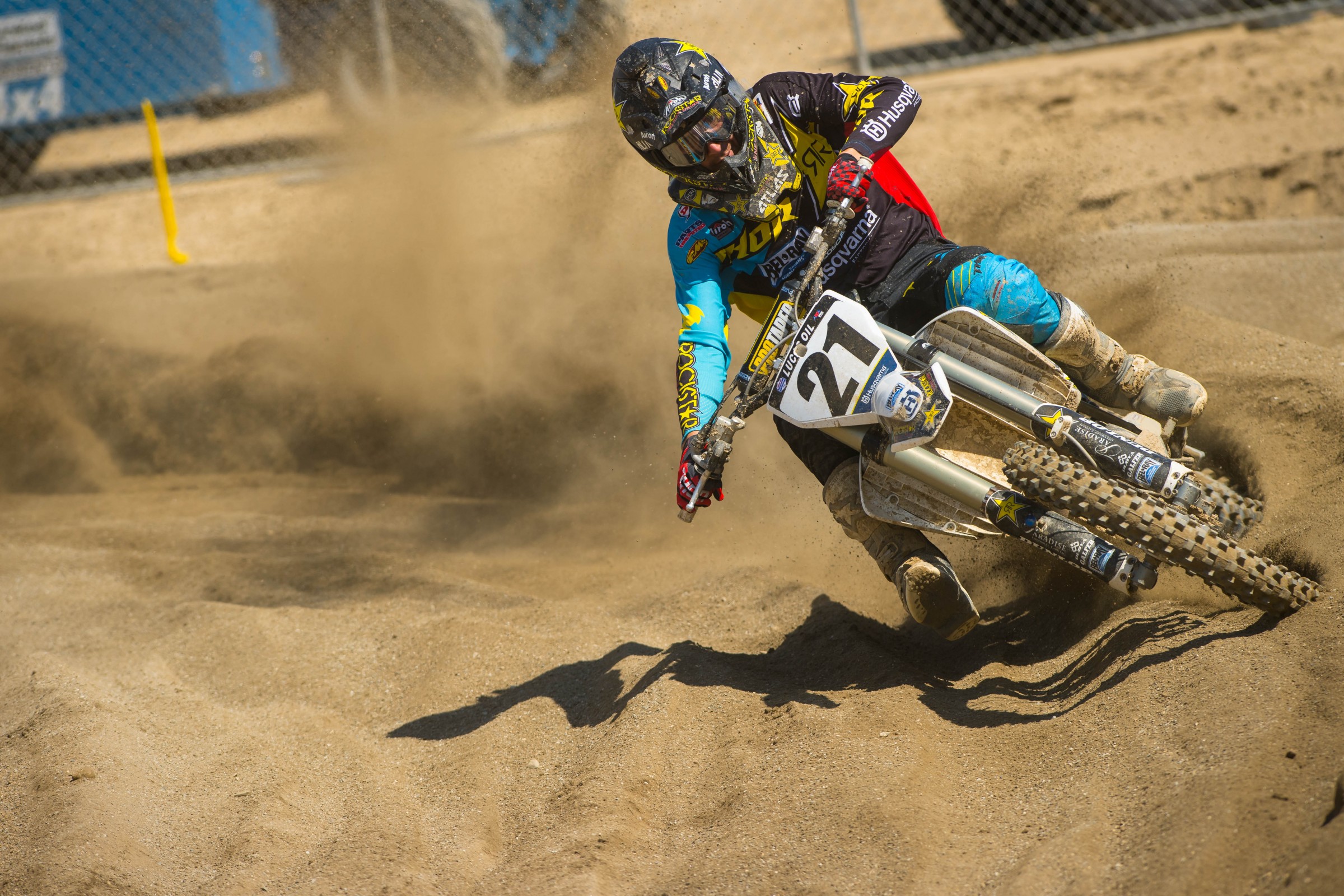 The whole Anderson process came across in just three days, as the team had to be announced at Unadilla. Between Martin and Webb on Yamahas, and Anderson and Husqvarna, the ready, willing and able had been assembled. It was another year of scrambling to make the team, but for Webb, it all comes down to just one part—the willing. These three riders want to go and want to win.
"Like I said, we're hungry," said Webb at Unadilla. "When it comes down to it, if you've got three guys that want to win it's hard to lose, the way I look at it. We're all in shape. We're all grinders. We all do what we need to do. So I think that will be the biggest thing. Obviously you've got to have the lap times and you've got to be consistent. Last year we were as solid as we could be. We had three guys that wanted to win and wanted to do it. It's tough when you have a guy that doesn't really want to do it. It's unfortunate but I understand that there's supercross and motocross and that is what we get paid to do. But Motocross des Nations is just a dream race. When you're a kid that's the one you always wanted to be on and win and represent your country. I understand where those guys [that aren't racing it] are coming from, but at the same time I think you have the whole country behind you. For me it's a pride thing. I don't want to go there and get beat by the Euros. I want to show them that our country's best."