BTO Sports KTM Rig Fire, All-Nighter to Try to Race [Update]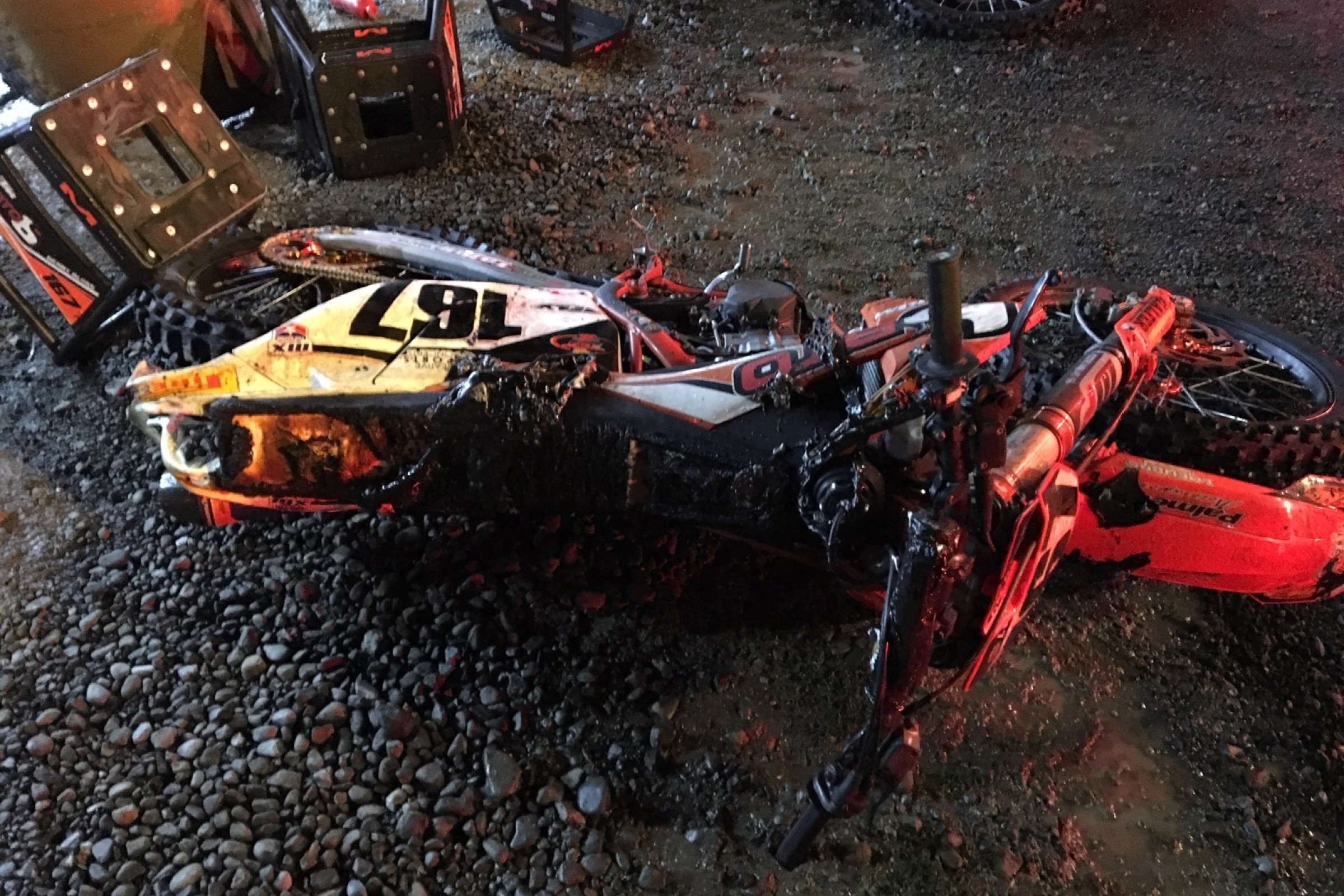 New Berlin, NY
Unadilla
Lucas Oil AMA Pro Motocross Championship
Just around 8 p.m. on Friday night, a fire broke out in BTOSports.com KTM trailer, which was parked in the pits at Unadilla. No one was in the rig so luckily no one was hurt, but the team's bikes, tools, parts and the rider's gear bags (with all of their gear) suffered extensive damage.
The fire was contained and luckily the rig didn't explode, but there were flames coming out from inside the trailer. When the trailer was opened, the inside looked to have taken on extensive smoke damage, and Andrew Short's #29 machine was pretty much toast. Justin Brayton and Benny Bloss' bikes were also seriously damaged.
We happened to be staying at the same hotel as the three team riders and saw them run through the full gamut of emotions, from shock to devastation. But once the fire was contained and it appeared two of the bikes were not completely destroyed, the KTM teams put their heads together to create a plan. Mechanics from the BTO team, as well as the Troy Lee Designs Red Bull KTM team, factory Red Bull KTM team and even the Rockstar Energy Racing Husqvarna team headed back to the track to attempt to built three bikes from the spare parts inside the remaining KTM team trucks.
Work is going on right now under the TLD tent, and it might be an all-nighter for the teams. But there's a good chance they will be able to rally together and salvage the weekend. It will be a long night of teamwork for all of the KTM squads, trying to rebuild after the wrong shade of orange--fire--hovered over the pits this evening.
[Update: Saturday 7:00 a.m. Eastern]
They did it! By about 2:00 a.m. three fresh BTOSports.com KTMs had been built--using parts from the other KTM teams--and Andrew Short, Justin Brayton and Benny Bloss will get to ride today. They will pit out of the factory Red Bull KTM rig. Red Bull KTM mechanic Jade Dungey told us he got the call to head to the track last night at 9 p.m., and by 1:30 a.m. the build was complete. They it was onto some cleanup work around the rigs and the work was done.
Excellent teamwork to get this done. We'll see how the three riders and their bikes perform in practice this morning.