Hurricane Mills, TN
Rocky Mountain ATV/MC AMA Amateur National Motocross Championship (Loretta Lynn's)
Amateur National Motocross Championship
Michael Stryker enjoyed a decent career racing as a pro for a few years, but he certainly didn't carry the profile of some of the other big names entered in this year's +25 class at the Rocky Mountain ATV/MC AMA Amateur National at Loretta Lynn's presented by Amsoil. But that's okay, he wasn't expecting to beat them either.
The class turned out to be crazy, including two motos when the mud was at its worst. First moto winner Austin Stroupe crashed out in moto two, and Robbie Reynard's YZ125 blew up with the title seemingly in hand in the third and final moto. Michael Byrne won the final moto, but a crash late in moto one in the mud cost him a ton of positions, ending his bid for an overall.
Stryker rode very well, showing speed that was not that far off from the big names. He was the most consistent, going 6-2-3 to win a title in the most unlikely of scenarios. Michael is a fun guy to talk to, so we grabbed him after Suzuki presented him with an extra $1000 bonus for winning a title.
Racer X: You were not expecting to win. You were not motoing down all summer?
Michael Stryker: No! I was just hoping to maybe break into the top five. I hadn't been riding prior to this at all and I just was looking to have fun with my family.
Why did you even come racing? If you weren't really training or riding, why did you want to do it?
It started out, my brother-in-law and my father-and-law, we were all going to try to come down and race together. My brother-in-law made it last year in the Two-Stroke class, and my father-in-law was going to try to qualify for the Senior 50. So we were all like, "Let's all go to Loretta's this year." So we went to qualifiers and unfortunately my brother-in-law got hurt and then my father-in-law didn't make it, but I made it and I showed up. I was committed.
It was just a family trip, really?
Family vacation was all it was going to be, and then this is what happened.
Give us an idea of the program you're on. You didn't even have a bike?
Didn't have a bike two weeks ago. My brother-in-law said, "We need to get you a bike!" He traded in his bike and he went and got a new one. Sent the motor out. UPS lost my motor. So I ended up having to ship it to the Sipes' family farm because I was already heading down. The Wednesday before the race we put it in and broke it in, and that was it.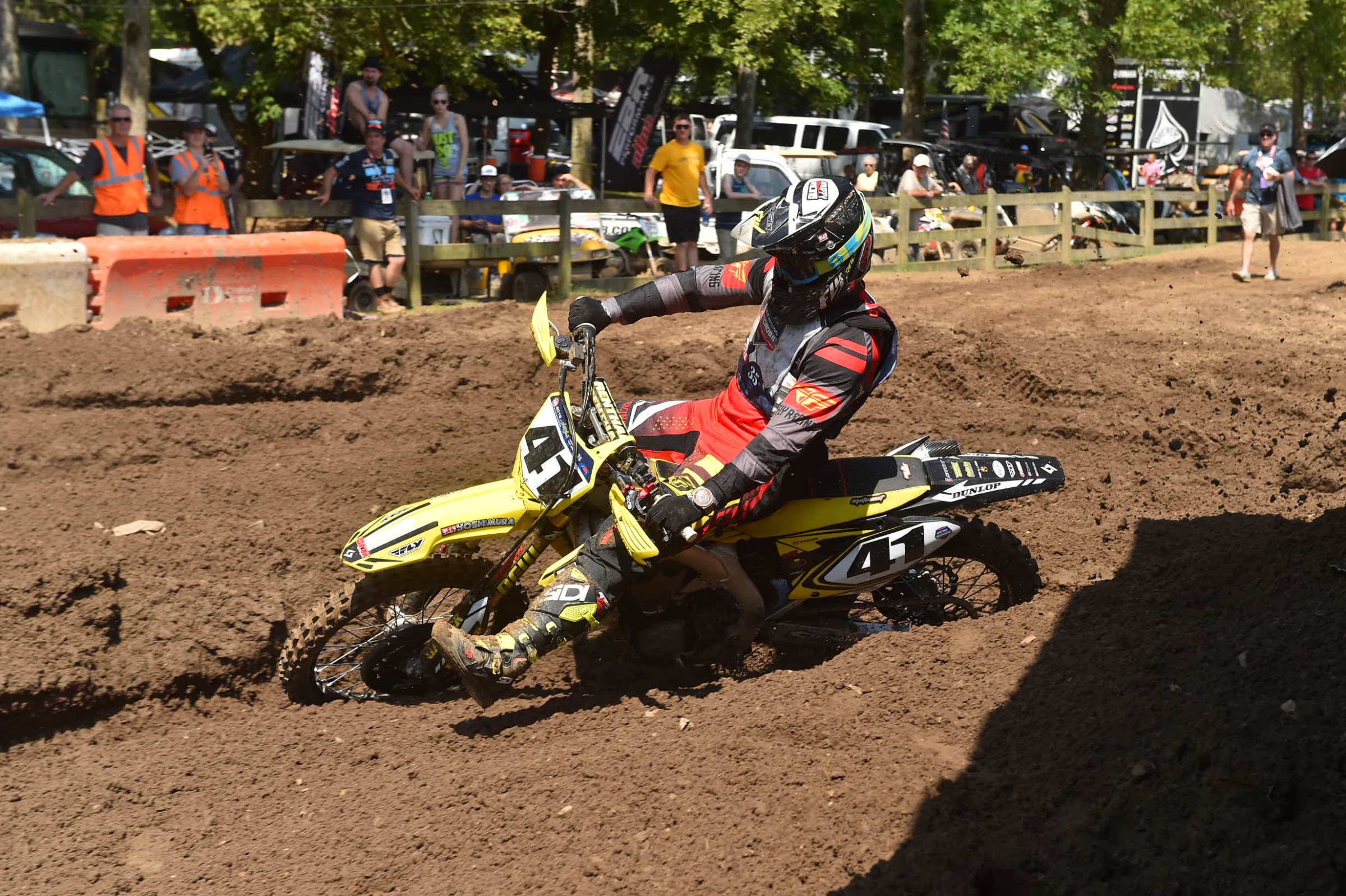 What happened to the bike you had for your qualifiers?
It was just hammered. It was a two-year-old bike that I raced all the Winter Series races on at Broome-Tioga. It was just clapped out.
So in 2014 you were still pro?
Yes, 2014 did the whole supercross and outdoor series. Qualified for every outdoor national. Never scored a point but was close. Hadn't really raced since then.
2015 you didn't do much either?
Yeah in '15 I didn't race. I actually was the mechanic for Ryan Sipes in the GNCC series. That was it. Maybe rode three or four times with him.
What is the connection between you and Sipes? How did you guys become super buds?
Super buds goes back to the GPF [Georgia Practice Facility] days, just training and doing supercross down there. Then we just became good friends and he called me up and said, "I've got a good program going. Do you want to wrench for me?" It sounded like a good opportunity so I took it, became a GNCC mechanic for him.
And you were the mechanic at the ISDE when Ryan won?
I built the bike. Unfortunately I wasn't able to go, because I wasn't a KTM employee. But it was my motorcycle and it was something incredible that an American won that event. It had never been done before!
So then your Sipes' story went full circle because his brother wrenched for you here?
Yeah, Justin Sipes, AKA Pooh Sipes, because nobody really knows his first name. It's just Pooh. So he came along and we've all been just kind of buds forever. He worked for me this week.
"I finally got a sweet, big check. I've always wanted one of these. I feel like Happy Gilmore. Where's my big check?"
Take me through the week. The first moto you got sixth but actually you could have got second or something I think, right?
Yeah, was running second and stalled it going around the billboards then ended up fourth. Then I went to go check the lap time sheet and the board and realized I was put into sixth. I ended up getting docked two positions for supposedly cutting off two people on the start, going wide on the racetrack. But that's neither here nor there. It was just the call they made and you've just got to move on.
So yeah I'm thinking at that point, "Wow, cool, Stryker almost got on a podium. That would have been awesome!" Were you exceeding your expectations already?
By far. I was just like, "Wow, I'm up front running with the guys that I had no business thinking I was going to be running with!" The likes of [Austin] Stroupe and [Michael] Byrne and [Robbie] Reynard and those guys. I was just ecstatic to be up there.
Second moto it started getting more serious?
Second moto I was just like, "All right, I guess you can run the pace." It started raining about 20 minutes before my moto and I was like, okay, this is going to be good. I'm from New York so we do a lot of mud races. I ripped a fat holeshot, pretty much. Led the first couple laps. Got as tight as I've ever got in my life and brought it home to third.
Talk about racing Reynard on the 125.
The 125, he came around me when I was leading and I was like, "All right, he can have this. He's in a whole league of his own right now." I couldn't believe how fast he was going on that bike. Then I got so tight. I was just excited to take that one in for second.
So now you're somewhat in title contention but Reynard had a nice points lead, so what were you thinking going into the last moto? Were you thinking you had a shot?
Thinking I had a shot, but it was a long shot. All I knew was the game plan was to get a good start and just try to win. I just needed to lay it all on the line and try to win the moto. I got a pretty good start. Rode pretty hard to get up front right away and latched onto Byrne for a couple laps and kind of pushed a little too hard and got tired but settled in. Then I just tried to be smart. Stroupe got by me and he actually went down and then he kind of pulled me along a little ways and we had a good gap on fourth. So I just kind of cruised it in for third and I didn't even know when I came over the finish line I had won. It was crazy! I couldn't believe it at all!
So you didn't ride coming into this race. Were you training?
Training was getting home from work at 6:00 and getting in a water truck and watering for an hour and maybe getting a half hour, 45 minutes in before dark once a week.
No other training?
No other training. No bicycling. I was on the road paver on 135-degree black top shoveling pavement, so that was pretty much my heat training.
So that's what you were doing? You work for the state or something?
Working for the county, Tompkins County.
Didn't you get tired?
I didn't really get tired in the mud. The last driest moto we had I got a little tired because the pace was faster, but other than that I was just in the flow.
Does it still seem real?
No! It's not even real. My wife is like, "Why aren't you excited?" I'm like, "It just doesn't seem real!" Just to come down here and think to get a national championship is just crazy.
For good measure, you became Suzuki's poster child. Hooked you up with extra money on the podium.
Yup, they gave me $1000 contingency bonus. I finally got a sweet, big check. I've always wanted one of these. I feel like Happy Gilmore. Where's my big check? I finally got one. It was crazy just to think what seven days of racing can do for you.