The 2016 season has been an up and down world tour for Vermont's Dakota Alix. Moving on from the Orange Brigade KTM team after its merger with Troy Lee Designs/Red Bull KTM, Alix put together his own program for the Monster Energy Supercross 250SX East Region.
With support from KTM and others like Fox and MTF, who stayed with him throughout the process, Alix showed some speed and proved that he could get great starts indoors. After supercross ended, Alix got an offer to race the GPs with the I Fly JK Yamaha Racing team. Once he got over to Europe things didn't quite work out and he decided to head back home after just a few weeks abroad. He regrouped and found a side deal for the Rockstar Canadian Nationals with Jean-Sebastien Roy's Thor/KTM Factory team.
Over the weekend Alix went 1-4 for the overall win at Riverglade MX Park at Round 8 in Moncton. We caught up with Alix on Tuesday to talk about his win, find out how he has been able to get to all of these races, and what's next.
Racer X: How's your summer going?
Dakota Alix: My summer is going really well. I'm up in Vermont right now. This is the first summer I've been up here since I was 14. I'm doing the Canadian Nationals and I'm learning a lot up there. I lived in England for five or six weeks as well. I did a few GPs, got a flight back to Georgia, practiced there for a week, and now I've been hitting all of the East Coast Canadian rounds.
Last time we spoke you hinted that you would be racing a couple rounds of each series. How are you able to have this opportunity right now?
The GP thing started out by getting an offer from a Yamaha team to do a few races. While I was over there I couldn't really practice that much and I had some bike issues. I felt like I could have done better than what I was showing. That's why I decided to come back and do the Canadian Nationals this summer.
Are you doing the Canadian races on your own dime?
KTM is helping me out a lot with parts, bonuses, hotels, and everything is taken care of. I just have to show up and race.
Obviously you aren't officially on the KTM team up there, but do you pit out of their semi at the races?
The JSR KTM team up in Canada is title sponsored by Thor/Parts Unlimited and I wear Fox obviously. I park right next to the semi with an easy up. They do whatever they can to help me though. I'm just not officially on the factory team.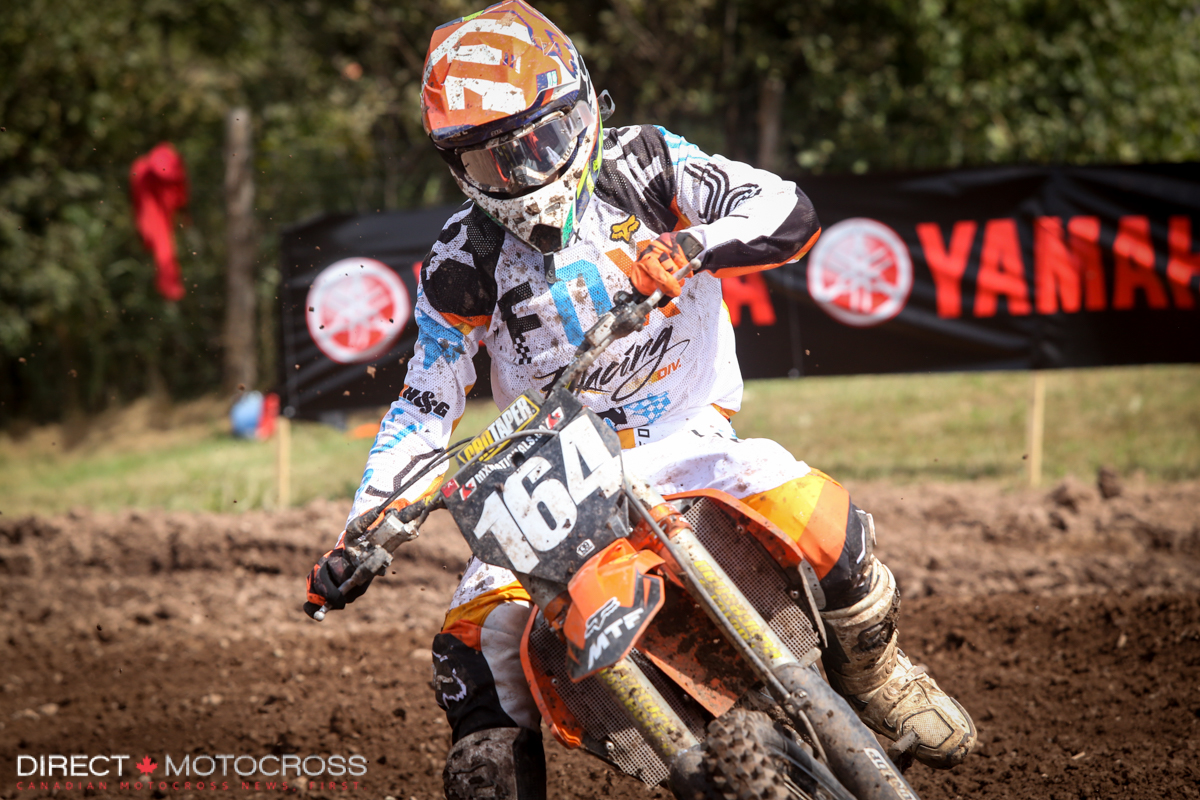 You had a pretty awesome weekend with a 1-4 and the overall win.
It was a really good weekend actually. It started out pretty rough. The first lap of practice a freak accident happened and my gas tank broke somehow. I've never even heard of that happening before. Luckily they had a spare one at the KTM truck. They put it on for me and I got to ride the second practice. I got a really good start in the first moto and I ended up getting the win, which I was really pumped about. I led a lot of laps the past three rounds, but I wasn't able to seal the deal. In the second moto I got off to another great start and halfway through the moto I made a stupid mistake and stalled my bike. Normally it wouldn't be an issue because you just hit the electric start, but for some reason my bike wouldn't start. Finally I just pulled a Usain Bolt and rain my bike up a jump and bump start it down the backside. I ended up fourth and that was good enough for the overall, so I was pumped.
Yeah, I saw your Instagram post with the Bolt reference and I was hoping you would pull that one out for me in the interview.
[Laughs] Luckily it wasn't too steep of a jump. It was midway through the moto and my heart rate was pretty high. I bump started it in a valley and I was just happy to hear it start at that point.
Salvaging the overall in the process made everything better too.
Oh yeah, I knew if I were to stay where I was before my bike stalled that I would get the overall. When I stalled it I didn't know where exactly I was because I had a lot of lappers go by. I wasn't sure where I was when I crossed the finish, but they told me I won and I was just super pumped.
It's a pretty cool story that you've raced three different series this season as it is. It seems like your confidence racing in Canada is pretty high.
For sure, just getting the experience of traveling the world is helping a lot. Just going over to Europe alone and dealing with that over there helped. I've got a good program right now at home in Vermont. I appreciate that a whole lot more after being in Europe. I'm in my own environment and doing what I want to do.
How hard is it to adjust to each series?
It's different than most people think. Most people think its just about racing dirt bikes. The schedule varies a lot between supercross, AMA motocross, GPs, and Canada. The days are spaced out differently. Doing all of these has helped me adapt and my results in Canada have been getting better every week. It is cool to see how everything pans out in each series.
On top of that you've had to adjust to different tracks and terrain as well. That isn't easy either.
Yeah, for sure, in Europe I was riding a lot of hard pack tracks. I didn't get to experience much of the deep sand like Lommel, which I was looking forward to. It's definitely cool to adjust to the different dirt. The biggest thing was going over to Europe for six weeks and riding a completely different bike then coming back to my KTM. That was a big adjustment. That was the toughest thing.
What is next on the schedule for you? You'll finish up the Canadian Nationals and then what?
Yeah, I'll finish up the Canadian races up here with the help of KTM. Then I was thinking about doing the last two Lucas Oil Pro Motocross rounds, but that's up in the air right now. I'm definitely going to get ready for supercross again once the outdoor races are over.
With your success in Canada have you been getting more recognition and more support?
Not really. I had an agreement with JSR and KTM going into the series. They take care of everything on race day. For example, if they weren't' helping me out this past weekend I wouldn't have been able to race with the gas tank issue. If you're going to win then that helps open the doors with everything. I think it's already opening up some doors for next year. It's good to be up here.
It seems like you have a pretty good deal going for you. Sure, Europe didn't go as planned, but Canada is and you're winning.
Yeah, I guess I wouldn't call it winging it this summer. I always wanted to experience the GPs. Literally a day before I went to Europe I had decided to do it. It was last minute, and it was cool to experience that. I'm happy to be home in America and racing in Canada now. I live literally one mile from the Canadian border. I go to Canada four times a week.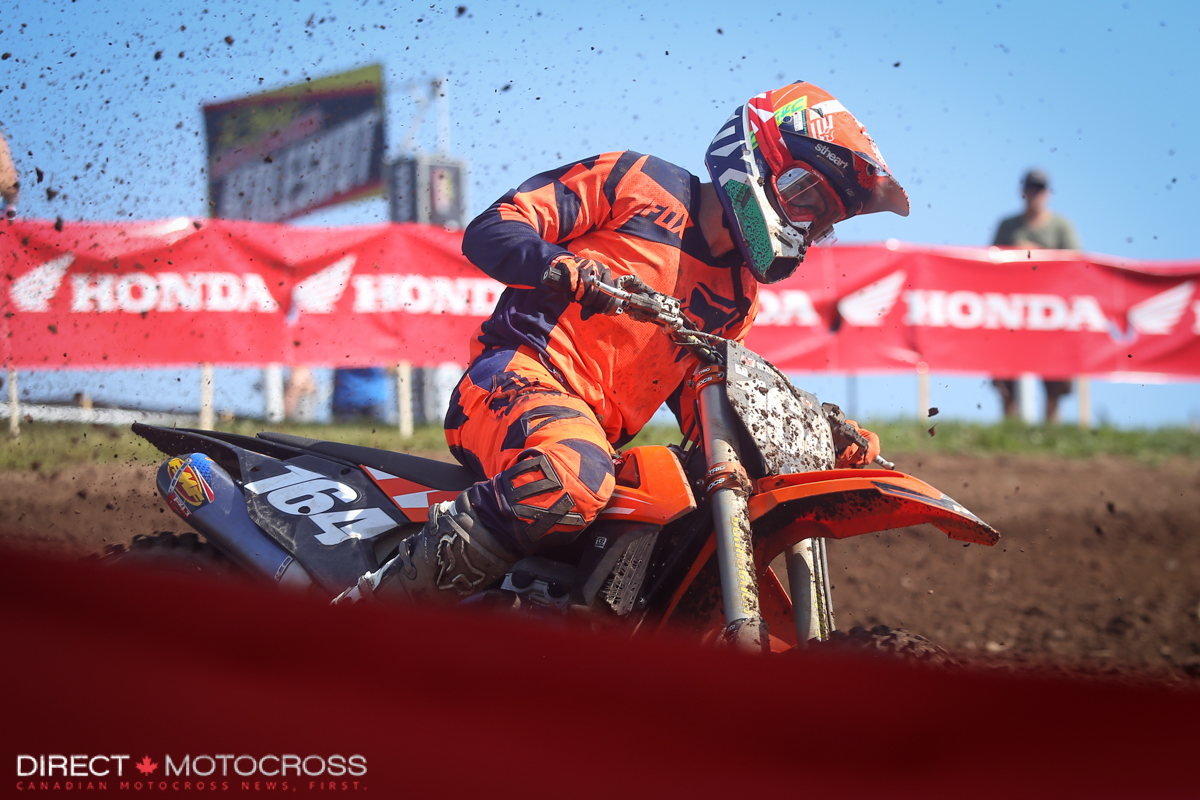 I think a lot of people sleep on your ability as a rider. You have really great flashes of speed. The toughest part has been translating that into standout results.
I was pretty pumped on how I rode in supercross. I came out in Atlanta and got third in the heat race and finished eleventh in the main event after being in last. I passed a lot of guys and my lap times were good. In Daytona I would have had sixth place if I had crashed with two laps to go. I had to take a few weeks off for my collarbone injury, but after I came back I was able to get a couple of top threes in some heat races. I know I'm building and I'm definitely looking forward to next year in supercross. I think I can do pretty well.
You aren't obligated to be anywhere and you can race where you want. You're getting some support, but you're considered a privateer still. That's got to be hard to learn all of this as you go without much guidance.
All in all I feel like everything is a lot better this year than when I was on a team. I can do what I want and do things the way that I want to do them. It's tough without the factory support, but I'm healthy now at least. Hopefully I can kill it next year and get on a factory team in America. I came into supercross underrated and on my own deal. I was able to beat a lot of factory guys and that was a good feeling.
JSR is taking good care of you now then. How much do you know about the Canadian legend?
He rips! I haven't seen him ride but I heard he's still pretty fast. I'm sure he could still be pretty fast. He looks like he's still in good shape!
Out of all of the schedules you've done this year, which has been your favorite?
I like the Canadian schedule. I like that they have time in between their motos. In America you pretty much get undressed for the first moto and you want to eat. Then it's time to head back to the line again. In Canada its not as rushed and I like that aspect of it.