Washougal, WA
Washougal
Lucas Oil AMA Pro Motocross Championship
Making the transition from amateur to pro racing isn't easy. For Thousand Oaks rider, Colton Aeck, it has been downright painful. After a crash-filled rookie season and two knee reconstructions, Colton is finally hitting his stride and proved it by scoring his first national points in the 450 class at Washougal. We caught up with Aeck after the weekend to see how his return to racing went, his time at MotoConcepts and more.
Racer X: Colton, to start things off, you have to help me out: how do I say your last name? I've probably been saying it wrong all along!
Colton Aeck: [Laughs] Don't feel bad, most people get it wrong. Basically just drop the A and sound it out. So it's pronounced Eck (silent A).
Give us a quick background on where you're from and how you got started racing.
Well, I'm 20 years old from Granada Hills, CA. I've been around racing for as long as I can remember. My father and grandfather both raced all their lives and my uncle owns a small motorcycle shop in Simi Valley, CA (The Racers Edge). I started racing when I was about seven and the rest is history. We started getting more serious and traveling to some of the closer amateur nationals. My amateur career was nothing special, we raced a few of the big amateur nationals over the years, but my results were never great. I think my best finish at Loretta's was a 15th or something. After struggling my last few years as an amateur we decided to just go for it and turn pro. It was a big jump but I think that's the best way to learn—to just do it. I raced my first national in 2013.
If I recall, you won the MotoConcepts contest to ride for them, right? Tell us how that went.
Yes, that's right, I got picked up by MotoConcepts in 2014, right after my second supercross ever. It was like a dream come true to get picked up by a team like that. It was something I had dreamed about all my life and I felt like I had finally made it. But to be honest it was a real struggle for me. It was pretty overwhelming to go from being a full privateer with just me and my parents, to racing out of a semi with all this added attention and switching to a new bike and crew. Honestly, I don't think I was ready for the opportunity and the added pressure I put on myself to perform really showed in my riding. I had tons of crashes and dealt with nagging injuries that whole season in supercross. It was kind of the typical rookie thing; I had pretty good speed but I was still learning how to ride supercross and just couldn't keep it off the ground. I had more big crashes that year than I think I've had all my life! [Laughs] I really wish that I had that kind of an opportunity now that I've matured so much as a rider and a person and I think I could really make something out of it if I were given another shot.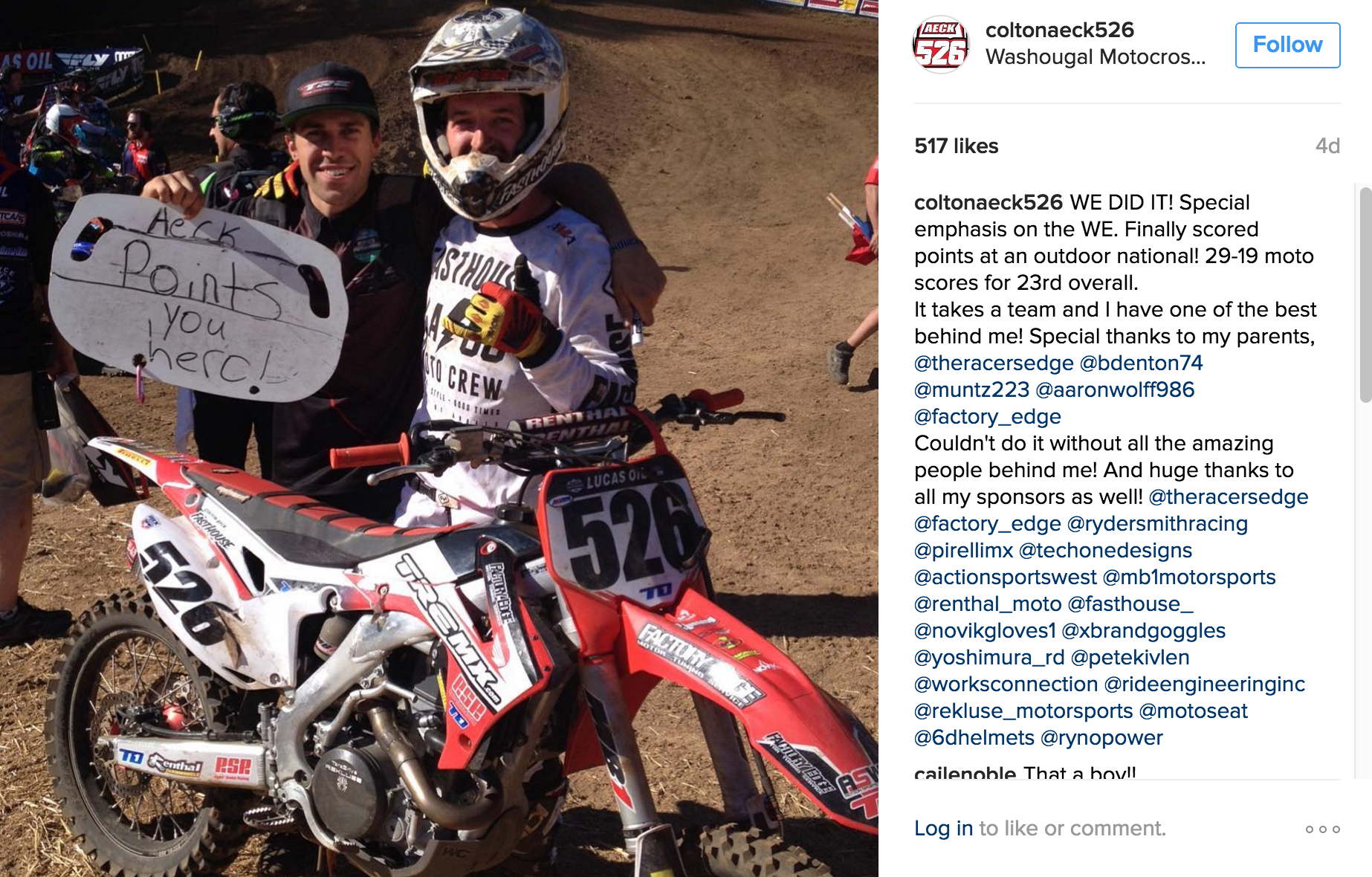 How long have you been racing pro supercross and motocross?
I've been racing professionally since Hangtown 2013. I raced a few nationals that year and then jumped into supercross in 2014 (when I got the ride with MotoConcepts). I raced seven 450 nationals that year as a privateer, with a best finish of 24th overall. In 2015, I raced the first few rounds of 250 West [Region] Supercross before crashing at Houston and tearing my ACL. Then while preparing for supercross this year, I tore the ACL in my opposite knee. It's been a long road rehabbing both my knees and trying to get back to speed after about nine months off the bike this past year. This past weekend at Washougal was my first time racing an outdoor national since 2014.
You were kind enough to haul my 125 up to Washougal for me and you actually hit a milestone up there, right? Am I your good luck charm? Tell us about Washougal.
Yeah, I might have to start bringing you to all the races! [Laughs] Washougal was a great weekend for me. I had 29-19 moto scores for 23rd overall. That second moto was my first time ever scoring points at a national, so I was super stoked! In the past I've always been on the bubble of even qualifying for the motos, so to come back and be battling inside the top 20 was an awesome feeling. I've been working super hard since hurting my knees and I think it's really starting to show. Washougal was a great way to come back after almost two years away from racing!
What's your plans for the rest of the summer and 2017?
I'm planning to race the USGP at Glen Helen in September and I'm also going to try to catch the Monster Energy Cup and hopefully Red Bull Straight Rhythm. And if any European Supercross promotors are reading this, I'd love to go do some of those as well!
As for 2017, I have a couple things in the works, but at this point it looks like it's just going to be me and my parents out of the back of my van. I'll be racing 250 West [Region] SX and hopefully you'll see me at all twelve rounds of 450 outdoors!
I know sponsors are important, especially at the privateer level. Who helps you out?
Without all the awesome people I have behind me, none of this would be possible. I'd like to give a special thanks to: My mom and dad, The Racers Edge, my mechanic Bradley Denton, Chris Muntz, Factory Edge Motors, Ryder Smith Racing, Pirelli, Tech One Designs, Action Sports West, Complete Electric, MB1 Suspension, Rekluse, Renthal, Fasthouse, Novik Gloves, X Brand Goggles, Web Camshafts, Yoshimura, Works Connection, Ride Engineering, Moto Seat, 6D Helmets, Ryno Power, MetalTek, and CryoHeat.