Wheels Up: The Halfway Point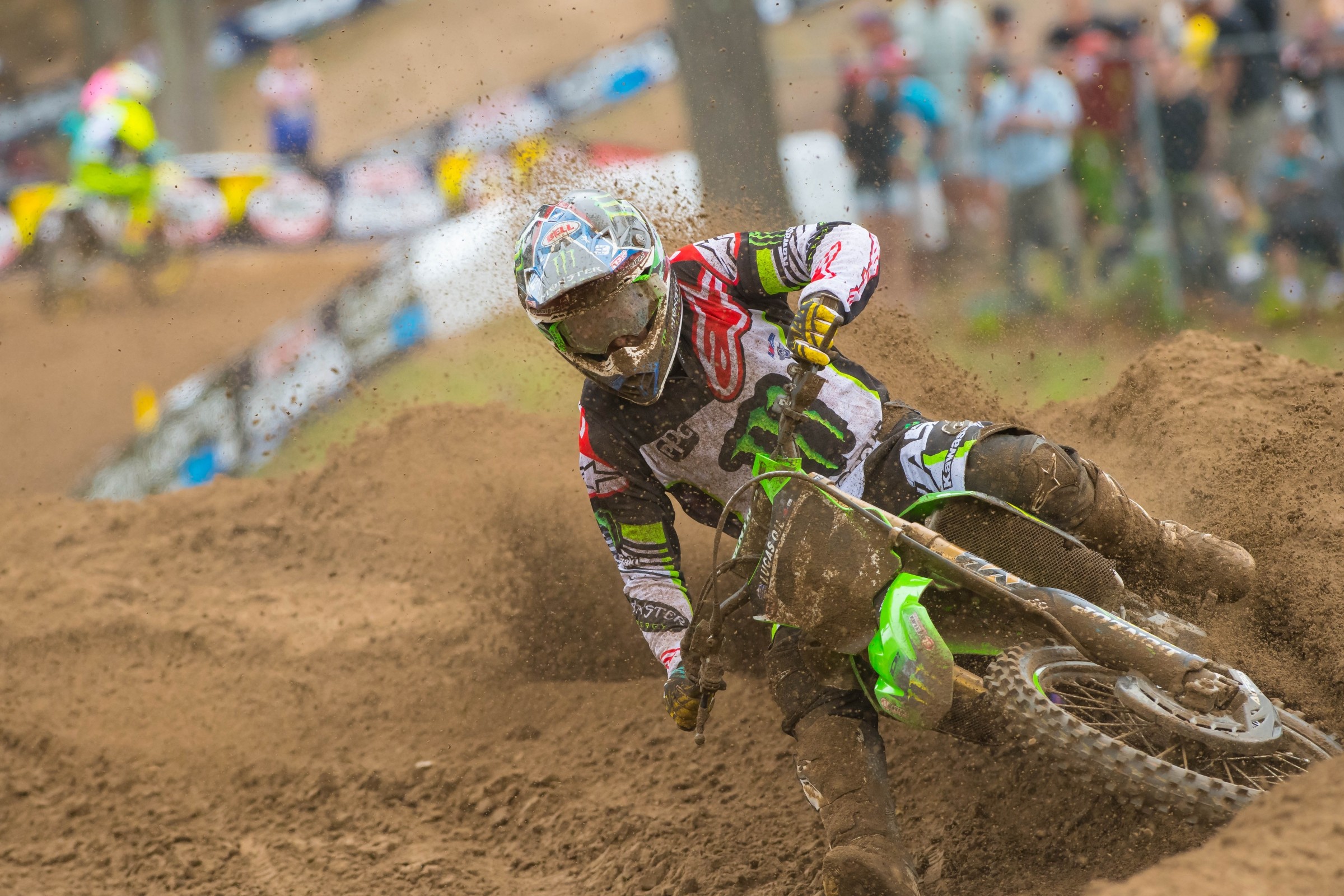 By Jason "Wheels" Todd
It's almost crazy to think that the Fourth of July has come and gone and that the 2016 Lucas Oil Pro Motocross Championship season has already passed the halfway point. Since my last article, four more rounds of Pro Motocross have taken place. Fortunately, I had the opportunity to attend three of the last four rounds, so let's discuss. This is Wheels Up: The Halfway Point.
Quarter number two kicked off at the legendary High Point Raceway in Mt. Morris, Pennsylvania. For those who have not been privileged to attend an event at High Point, allow me to attempt to paint a mental image: You drive along a twisty, curvy, 15 mph road in the middle of the Appalachian Mountains, located about fifteen minutes outside of Morgantown, West Virginia. You reach the top of a hill, the tree coverage breaks and there it is: one of the most historic and picturesque facilities in American motocross.
Upon arriving at High Point, I became engulfed with this feeling that something interesting and special would take place on Saturday. High Point Raceway was celebrating its 40th year on the AMA Pro Motocross schedule, and to commemorate this milestone, officials in nearby Morgantown legally declared the city to be recognized as "Moto-Town" for the duration of the national weekend. And this is the 50th year celebration of Motocross in America, so something special was in the air.
Zach Osborne grew up in Virginia and raced at High Point often as an amateur, and after a number of seasons of trying, where better for the Rockstar Husqvarna rider to earn the first moto win of his career? That is exactly what happened during the first 250 Moto on Saturday.
Unfortunately for the Martin brothers and Star Racing Yamaha, High Point would see action of a different sort, as both Jeremy and Alex would suffer mechanical DNFs. It was as if the same thing happened to both of their bikes late in each moto. Both had sure shots at the overall, only to have their engines melt down. Needless to say, no one was happy about, except for maybe the overall race winner, Monster Energy/Pro Circuit Kawasaki's Joey Savatgy.
Next up was the Tennessee National at Muddy Creek Raceway in Blountville. Riders including Shane McElrath, Jordon Smith, and eventual winner Cooper Webb consider Muddy Creek home event.
Maybe it was the Loretta Lynn's-esque heat and humidity or the home-track-advantage vibe, but riders in both classes were downright sending it all day in Tennessee. One rider who used the home-race vibe to his advantage was Troy Lee Designs/Red Bull KTM's McElrath. In the second 250 moto, he grabbed the holeshot and would lead the majority of the race for what was shaping up to be his first pro win. Every lap, you could hear the fans cheering for their local hero. Unfortunately for Shane, the cheers grew louder, fueled by a freight train named Cooper Webb, who was coming up behind him quickly. The Webb Express would eventually overtake McElrath and go on to win the overall, treating the Muddy Creek fans to a victory by their local boy and a strong runner-up ride for McElrath.
After a not-exactly-close race at High Point—Ken Roczen swept both motos with ease—the 450 Class produced racing with an intensity level of 10 at Muddy Creek. Honda's Cole Seely would have a great start and find himself on the podium in moto 1, Roczen would eventually finish up front, and Monster Energy Kawasaki's Eli Tomac made some late runs to get in the fight. Broc Tickle even treated himself to a slice of podium pie. Ultimately, Roczen would leave Tennessee with the overall, but an admittedly "bad" race for Kenny sure produced great racing for the rest of us.
REDDDDBUUDDDD! Try to name one place better to spend our nation's birthday, and I will argue until my face turns (red, white, and) blue that you are incorrect. This year's RedBud National was uncharacteristically cool, but if you think that slowed the annual shenanigans down, you are sorely mistaken. In my mind, the spectacle that is RedBud cannot justifiably be described; it must be experienced. From the monstrous LaRocco's Leap to the infamous Lot B, one must truly witness this place firsthand.
In addition to the camaraderie of RedBud, this year was extra special, as the founding father of RedBud MX, Gene Ritchie, was honored with a memorial lap prior to the start of Saturday's racing. For a brief moment, there was a calm felt among the facility as Gene's life and hard work were remembered by all.
Finally, during this quarter of Lucas Oil Pro Motocross, we were also privileged to see the return of The Wick 338—Southwick. Yep, the famous Massachusetts sand track found its way back onto the Lucas Oil Pro Motocross Championship circuit. While I wasn't able to attend this race, I did take full advantage of watching every moto via ProMotocross.com's live stream. If you haven't taken the time to check that out, I highly recommend doing so. Even if the races are delayed on TV, they're shown live on the web every weekend and in HD.
A moment ago I had mentioned that Muddy Creek produced an intensity level of 10. While that was absolutely true, The Wick arguably gave us a 12. If you watched last weekend's racing and weren't fired up, contact your physician. During each moto, I'm generally watching the races and updating @ProMotocross's Twitter timeline with play-by-play action of what's going on. However, Saturday I found myself watching the action so intently that I nearly forgot I was supposed to be working. From Cooper Webb unleashing an all-out assault in the first 250 moto in hopes of catching Jeremy Martin to Austin Forkner running second in Moto 2, there was action everywhere in the 250 Class.
As for the 450s, Tomac finally broke through to win an overall. You may recall in my previous article I mentioned that things would eventually "click" for the #3, and that Ken Roczen would surely have his hands full when they did. That's exactly what came to fruition at Southwick. Tomac was able to do what no other rider has done during this championship, and that's beat the red-hot Roczen straight up. As a fan of good racing, this was pretty fun to watch, especially in the second moto when Tomac had a tip-over in a corner and was able to rebound quickly. Now, having gone 1-1 last weekend, has there been a momentum shift in Eli Tomac's direction? I'm going to wager that Spring Creek will be awesome to watch, as Roczen will be hungrier than ever to win and Tomac may now has the confidence he's needed this season.
Roczen is not the only RCH/Jimmy John's/Soaring Eagle Suzuki rider earning podium finishes this season, however. Broc Tickle has finished two of the last four races in third place overall. Hats off to the #20, and here's to more podium finishes in the future.
I would like to quickly extend a get-well-soon to those of our riders who are dealing with injuries. From privateers to factory riders, our sport is not the same when the athletes are out injured.
I'd also like to extend my sincerest condolences to the family of Erv Braun. While I did not know Erv on a personal level, his voice is one I literally grew up hearing ring throughout the confines of supercross stadiums as a young dirt bike fan, and even now as someone who works within the sport. Godspeed, Erv. You will be missed by many.