Southwick, MA
Southwick
Lucas Oil AMA Pro Motocross Championship
Monster Energy Kawasaki's Eli Tomac is on the board in the 2016 Lucas Oil Pro Motocross Championship. After failing to get a moto win through the first six rounds, which included six runner-up finishes, Tomac went 1-1 at the Red Bull Southwick National on Saturday. Following the race, Tomac talked about his day with the media in the post-race press conference.
Racer X: Watching the two motos, did you feel like you had a good read on the track on what it was going to do to know where you should go?
Eli Tomac: Southwick's always ever changing but it was cool to see that the practice was a little bit smooth and then by the end of the second practice it started coming around and drying out a little bit and getting a little bit softer and deeper. In the past this place has had a pretty hard base and I thought today there were some fun sand berms and some cool rollers. So for the most part I just really enjoyed this new direction, or the original direction of it. So I was all about it.
It looked like some of the passes you had to actually set up on the start straight just by opening the throttle on. Was corner transitioning where you think you made up most of your time?
Yeah, in sand it's all about momentum and not burying it somewhere and losing your speed. There were sections where it was a little bit timing. You kind of had to wait for things to come to you. In other sections, like the mechanics area, you're just holding it wide open and praying. That was a pretty gnarly section there as you kind of went over the top of that hill. So it turned into a nasty, nasty track but at the same time pretty fun.
With all the second place finishes you had, obviously 1-1 is big. Did you find the missing piece or did you just finally strike?
This place is so unique and I always enjoy riding in the sand. I came into the day with a positive mindset. I was going to go out there and have fun on my dirt bike. I don't know what else to really say. Any time you go out and you get a win it's good. But we want to keep doing it and try to keep doing better.
Can you explain how the track was different from 2013 and the direction it ran this year? What was the major difference between the two?
I thought some of the hills flowed a little bit better with some of the rollers and some of the turns. They tightened up some sections. There were different corners. I enjoyed it. I say keep it that way. The sketchiest part is the start but it wasn't too bad.
And this track changes from practice to moto to moto. What were the major differences between the first and second moto?
Between moto one and moto two it was just bigger bumps. Some of the outsides were gone. The first moto there were still some dozer berms there. We could go out there and rail them. But it just keeps getting pushed out and a little blown out so you've got to start tightening up stuff and you'll use a couple insides.
That pass on Kenny in the second moto, did you know that line was there? Did you see it and set it up or was it kind of instinct?
I think I might have actually been on the outside line, but I honestly thought it was pretty cool we could kind of go wherever we wanted here. There were a whole lot of times where you could make passes if you wanted to. So all around it was good.
Take us through how you went down and what was your mindset when you did tip over. What was going on?
Yeah, I slid out. That corner had a little small inside rut and my front end just missed the start of it so it just pushed off the hard-pack base there and tipped over. I tried to pop up as fast as I can. At that point your heart rate kind of spikes and you're kind of freaking out. So luckily I was able to get it back there.
How important is this for your confidence just for the rest of the season?
It's big. I think anybody can win so we'll take it.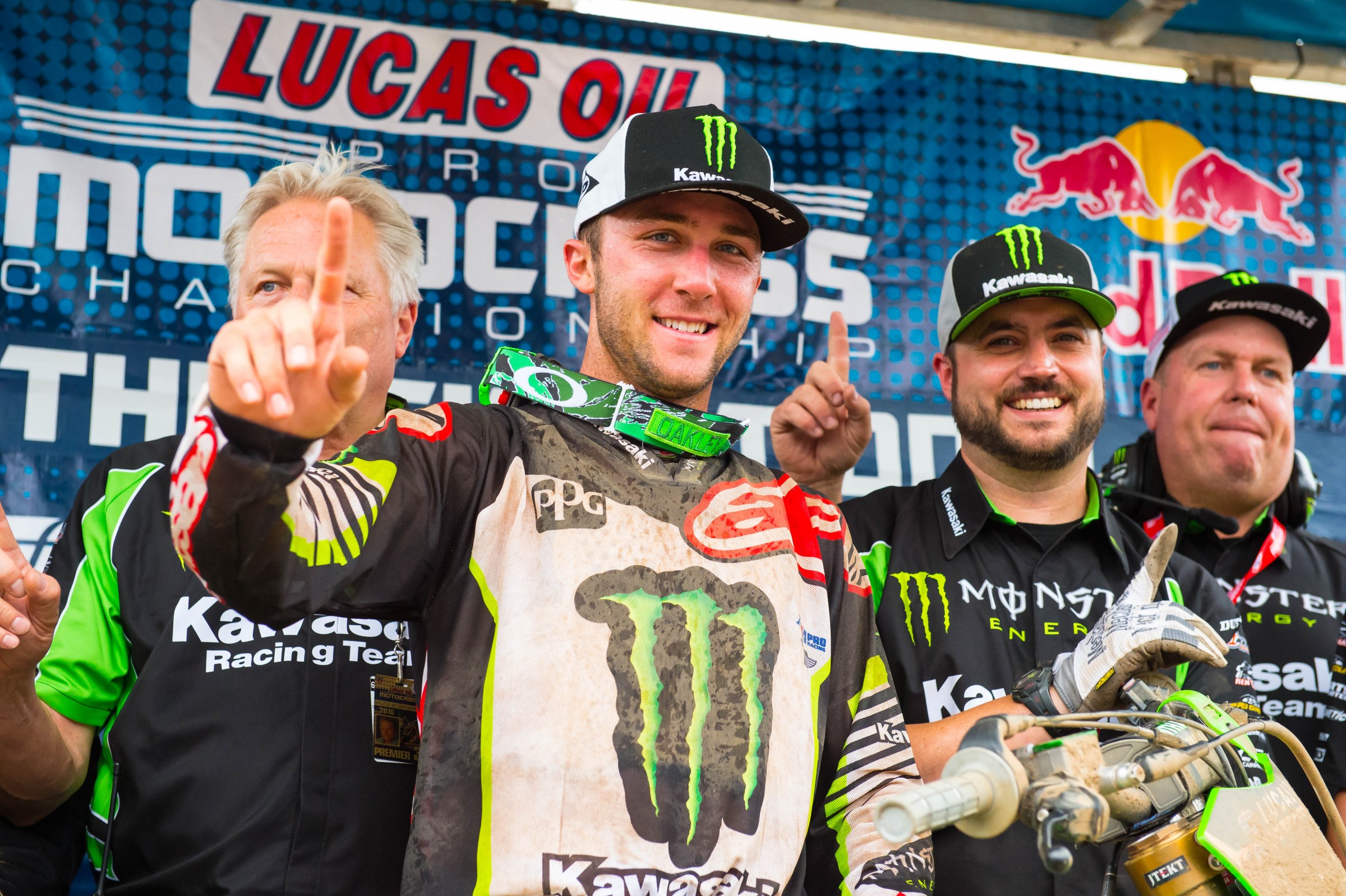 In the second moto, you were able to get up and have Kenny right on you. How much pressure were you feeling towards the end of that second moto with Kenny right there?
I was riding on the edge, you could say that. I think we both had some pretty good moments out there. It was pushing the edge the whole way. It was just a battle literally until the end. Some of the lappers kind of came into play again a little bit here and there. Everyone had to go through them. But sometimes they're bad.
Kenny's had a lot of 1-1's starting the first half of the season. You started the second half of the season with a 1-1. Do you believe that you can pull in some of these back to back, 1-1's like Kenny did the first half of the season?
You hope you can. We're going to do our best to do it again. But we'll keep improving and at least we made it to the top step today.
Do you actually practice on some sand tracks or were you flat tracking this past week? It was awesome watching you in some of those turns.
Honestly my track at home when we till it up and grip it up it gets really sandy. So it's not too far off from my track at home.
How good is it to get out of that no man's land you've been for a while? I think you've had some lonely races and to be able to get in there and dice like you guys did, how is that?
Yeah, it was fun. It was just a battle, like I said earlier. It was intense and we both fought all the way to the end. It was good, clean racing. It was a gnarly one.