Southwick MX Park
Southwick

,

MA
Southwick
Lucas Oil AMA Pro Motocross Championship
Yamalube/Star Racing Yamaha's Cooper Webb is catching fire at the right time. Following a 2-1 performance, which featured an amazing charge to second in the first moto, at the Red Bull Southwick National on Saturday, Webb has taken a commanding 37-point lead over Joey Savatgy. He spoke with the media about his day at the post-race press conference.
Racer X: Tell us about your day. Did you feel confident going in? You said on the podium that you did, but the start in eighth place or so in moto one, that can be a little detrimental to the confidence.
Cooper Webb: Yeah, I felt good all day. Qualifying I was right there so usually if you're in the top five that's good. But all day I felt good. The first moto I had my work cut out for me with that bad start, but put my head down and got into second and really put on a charge. So I was stoked on that and I was able to catch Jeremy [Martin]. Even though I wasn't able to pass him it was still cool. I've never done that before, so that was cool. And then second moto I got a holeshot and that was nice, clear track. With sand it's always nice to have clear vision. Austin [Forkner] was riding really good. He was right there and it was good. I had a really good flow and felt like I had some good lines. I love the sand, so it's definitely a man's track out there.
One of the things I noticed a lot of the guys that would be passing up towards the front consistently did it in certain corners. Like Jeremy had one corner he could always pull a pass. Did you feel you had a corner or was it pretty much you could pass wherever you could?
You definitely had to pick your spots. It was a little hard to pass, especially first moto when it wasn't quite as rough. Everybody was pretty much doing the same line. Second moto it was a little bit easier because we had to move around to miss the bumps. But even in 2013, this track's a little hard to pass with the berms. Everything kind of files into one. So you just had to be smart and pick your lines and had to be careful, especially when you're in a pack. Some guys are cutting down and you want to cut in, and this and that. So kind of just got to be smart and pick your places. The main thing is if you get too close you just get blasted with sand and rip a tear-off. So the first moto I actually had to be careful with how many I was really ripping because I got low towards the end. But you definitely had to pick your places. But overall I feel like the second moto the track kind of opened up a bit.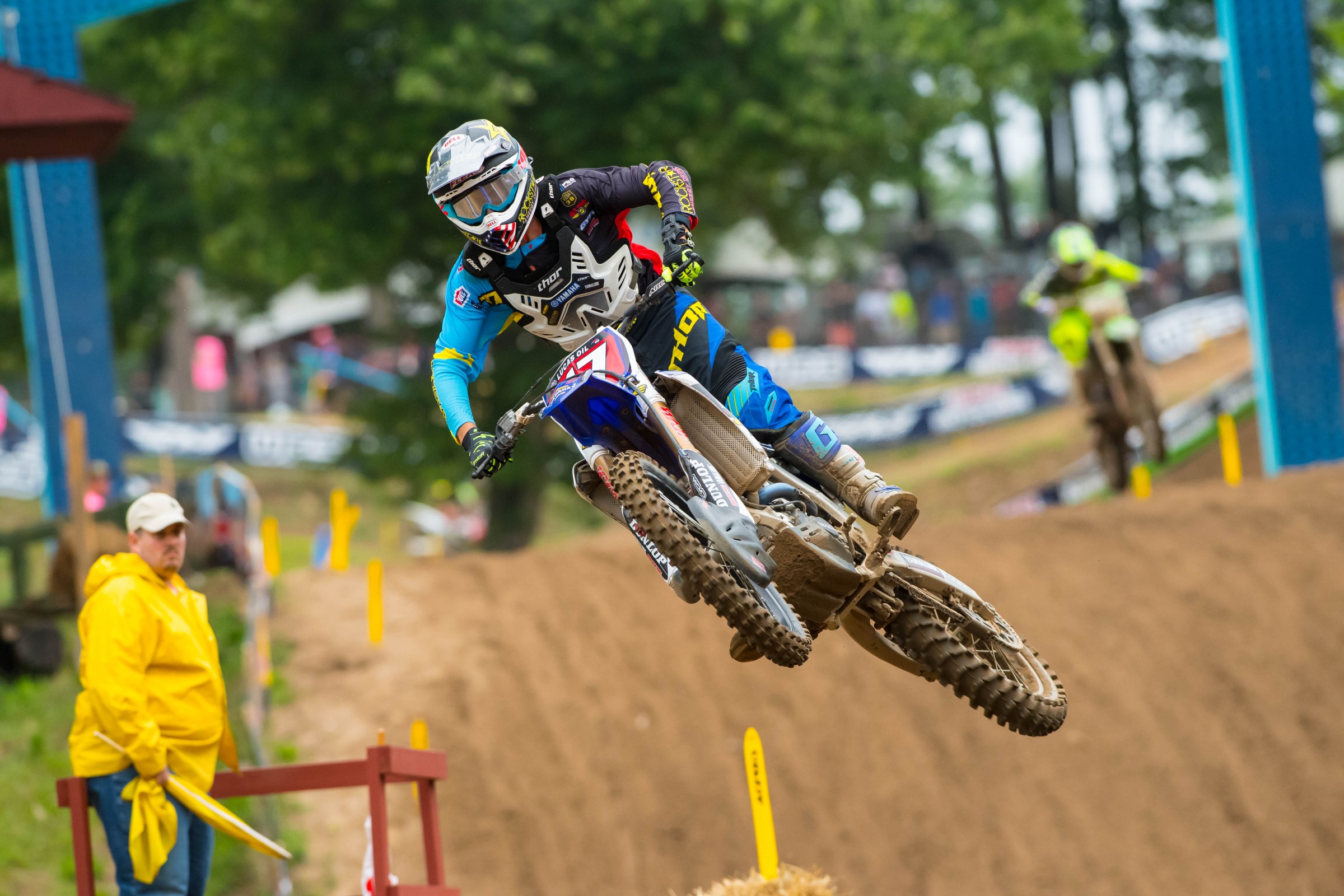 What a turnaround over the last couple weeks championship-wise.
Oh, absolutely. I'm not sure what the points gap is now but I know it's probably pretty good. It's awesome. Like we've been talking about, to be able to come in the way it happened and everything like that. I feel really good right now. I feel like I'm just really getting going, so that's nice. We're at the halfway mark and there are two tracks that I really like coming up. So the ball's rolling and when you're going good it's hard to let anything bug you.
The other thing is it seems like you really, really enjoyed that on the podium, the crowd and everything.
Yeah, I know a lot of people from New England just from racing up here. I used to just load up in my van and do some money races and a lot of them were up here. So it's cool to see these guys. They don't give a damn, that's for sure. It's cool to see them and they're one of a kind, to say the least.
Today was one of the weekends that the 250's ran second after the 450's. How rough did the track get out there today after the 450's rode?
It was rough but I really prefer being second. I think it kind of slows us down. The 250's are always wide open and just going for it. So the rougher the track it kind of slows everybody down. I think it's a little better, but it was gnarly. This track always gets gnarly but especially that second moto. You had to pick your lines and there was holes everywhere. There was really no escaping it. But I really enjoy it when the tracks get like that. I think that really separates the good riders and makes your technique really shine.
I know it didn't show because of your overall result, but was there any extra pressure running the red plate for the first time?
It was nice. We're not behind; we're in front. So for me that's a refresher. In supercross I've been able to run the red plate. To me it's always nice because you do have, whether it's one point or not, you still have the advantage. So I feel comfortable. Plus it looks really good.
Whenever Kenny was up here he was talking about a tire change, especially over to the paddle the second moto. You actually ripped the holeshot second moto. Where'd that come from? Did you make any changes tire selection-wise that may have helped out?
No. We made a change in practice. We tried a different tire and it didn't work out, but throughout the day we didn't make anything but I think just some clicker changes here and there. I felt really good. I had a really good setting. I've come in and we rode some pretty gnarly sand tracks this week so I felt good. That track just is tough because the track is really fast but you know it's going to be nothing like the race. You don't want to set your bike up after practice, you really want it to work good in the race. So that's where I felt we had the advantage today.
In that first moto, I think it was like five laps to go, you were like eight seconds back. Did you know where you were and did you think you even had a chance at the win or even to catch him?
I knew where I was and I knew it was going to be tough. I felt like I could catch him but to catch somebody is one thing, to pass him is another. I just kind of said in the back of my head, just go for it. Even though it was lappers or if he makes a mistake, you never know. So I just put my head down and was going for it. I got a lot of heat for kind of settling before, so I didn't want to get bitched at.
What is it about these late charges? This is becoming common now.
I don't know. It's definitely nice to be able to do it that way than to start good and go backwards. That's nice. But I felt like that second moto I got a good start and was able to get in a groove right away. That was nice. It's tough, especially here in the sand with everybody so tight in the first couple of laps to get in your groove. You kind of have to follow. And I just…when it comes to the end that's what I really like and I thrive kind of in that situation. I've been in that situation plenty of times so I think I'm just pretty comfortable with it.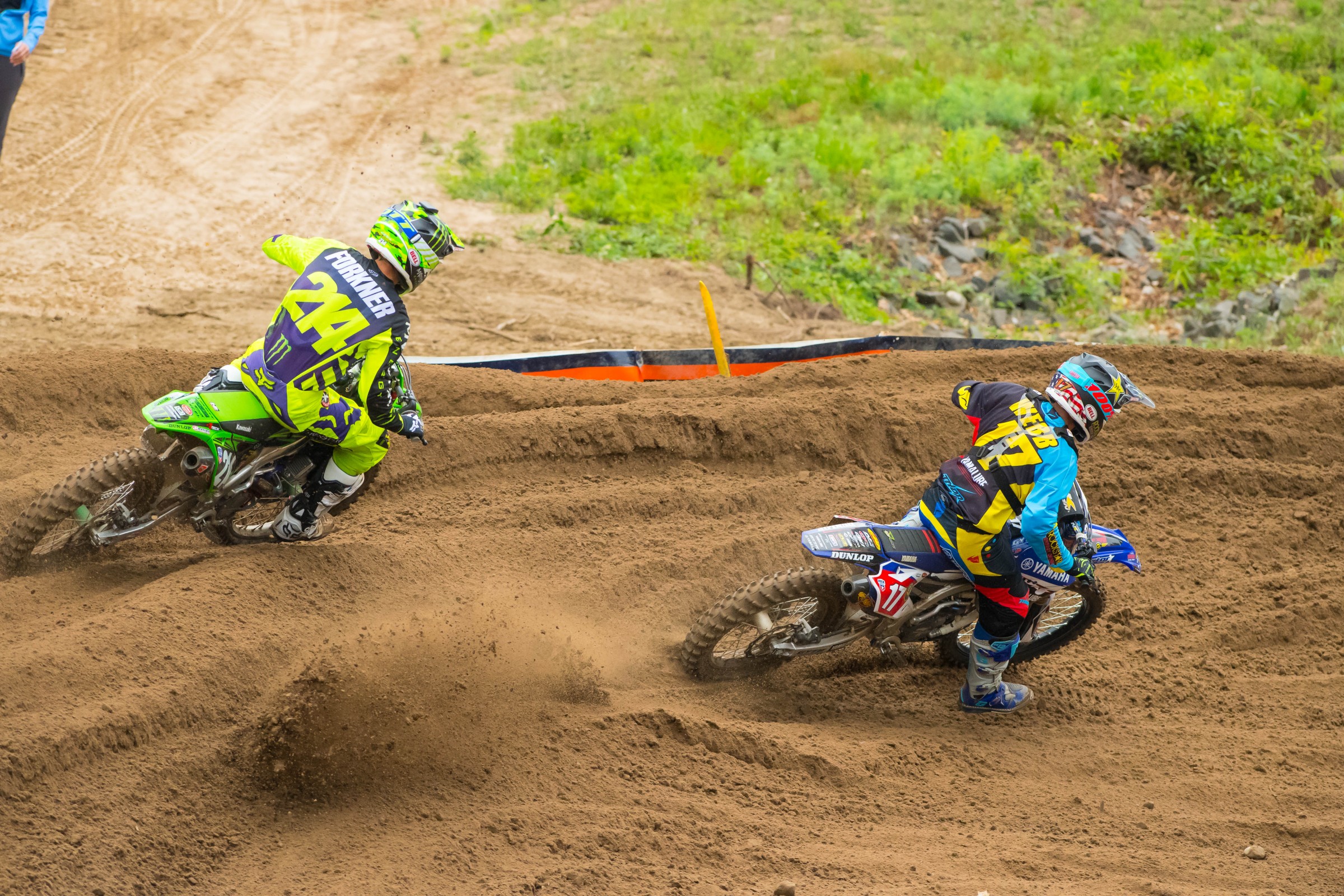 I would assume you used a lot of energy in that first moto. How important was it to get out front and have an open track for pretty much the whole time?
It was nice. It was huge. I haven't been able to really do that so far. So it made it somewhat enjoyable, not having to eat roost. It was good. But I had pressure the first couple laps and I had to get going. I knew Jeremy, I could kind of see him and the gap. I knew he was going to be strong. I know he's got a fire. He has to get points. So it was unfortunate to see him go down, but it definitely made my life a little easier.
Did Austin kind of catch you off-guard? It seemed like you were stretching a little lead and then he came kind of out of nowhere and then you stretched it back out?
Yeah, he did for sure. It's tough because you don't want to go too hard. At least for me it's tough because if you go out and you do three or four sprints and then you're tired, that's all you really have, then it's going to be a long race for you. I feel like my pace was good. Maybe it could have been half a second a little quicker. But I feel like I can knock that every lap. Definitely caught me off guard and once I kind of saw he was there that's when I felt like I wicked it up and I was able to get a comfortable gap just to increase with every lap.
Does preparation change? This week and even maybe next week as far as for the sand track and then obviously after?
Yeah, we rode sand all week. I think that's pretty generic for everybody. And we'll do press day there at Millville. It's kind of the same thing. Everything we're doing seems to be good. So just having fun and working hard and actually enjoying it.