High Point Raceway
Mt. Morris

,

PA
High Point
Lucas Oil AMA Pro Motocross Championship
RJ Hampshire. Jordon Smith. Jordon Hampshire. RJ Smith. The two GEICO Honda riders often confused with each other are also linked at the hip under the team's awning. Their careers have run parallel with each other. Both turned with GEICO Honda around the same time (Hampshire three races at the end of 2014, Smith made his debut the next year), both have front running speed on certain days, they're both from the same amateur class and most importantly, they both have the potential to be stars in the sport. Both have recently re-signed with the team.
GEICO Honda is hoping that one, if not both, of them will break out this summer or in 2017 and reward the team for its patience. The funny thing about these two friends is that at one time, they had a bitter rivalry.
"He didn't like me at all!" laughs Hampshire. "It was mainly just because, well, I got a GEICO ride in amateurs and we were racing each other full-time. He never beat me once I got the ride. So it wasn't good until, I think, our first supercross together. But we're really tight now—every weekend we're together. We both have the same struggles so we relate to each other pretty well."
"It was one of those things where I think it was the first time that GEICO had two amateurs in the same class," says Smith about the initial "issues" the two had. "We were two guys who were fast, had the same bikes and wanted to go to the same place. It was a competition."
On the outside, the similarities are easy to see: both have the ability to go very, very fast at times but have a hard time keeping those results consistent. Both riders have hit the box in 250SX, both riders have led races and have a plethora of top tens to their name.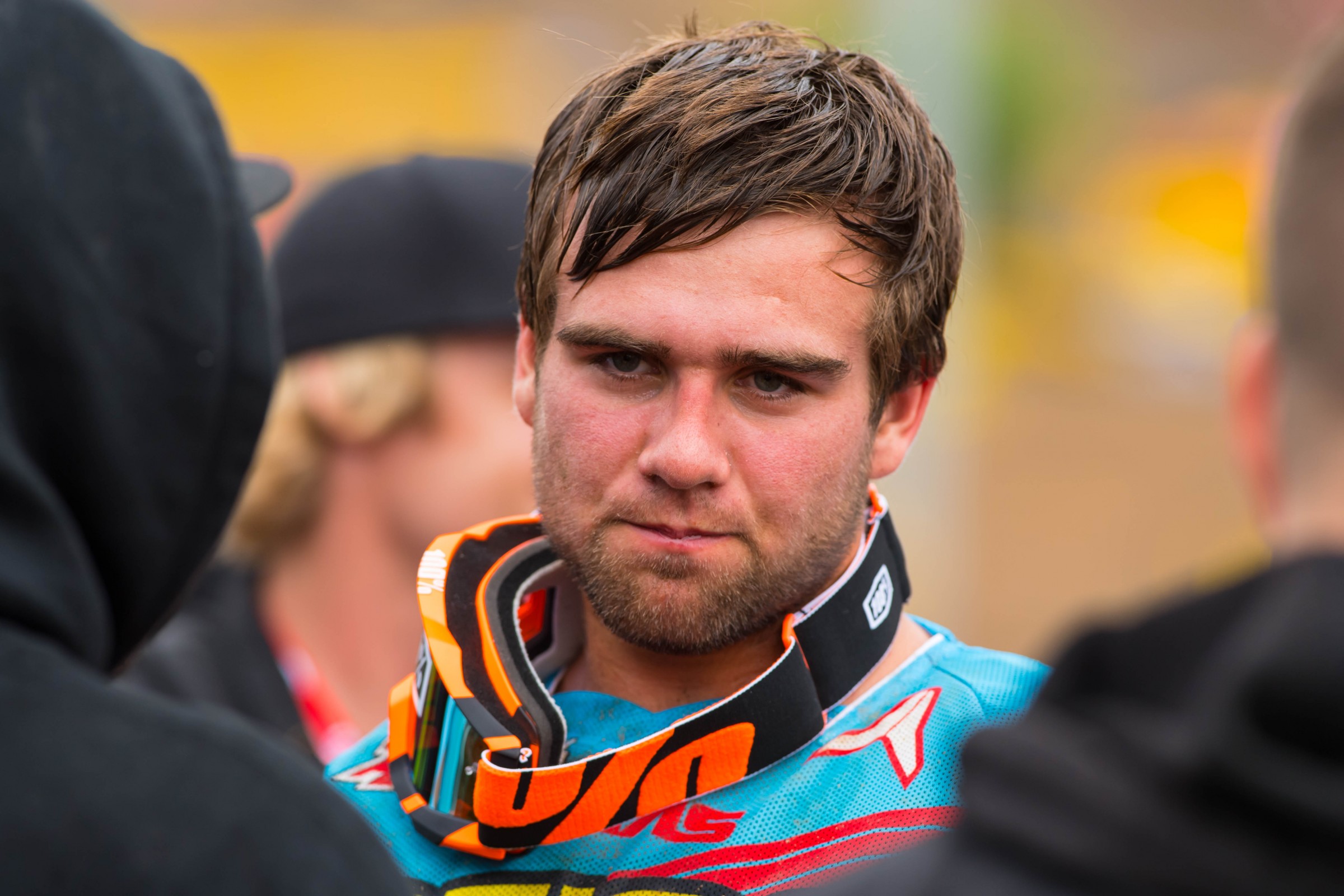 Smith's capable of reaching another level that Hampshire can't get to, but he's got a hard time keeping it on two wheels. Hampshire is steadier and produces more consistent finishes. Both riders have also dealt with injuries. At the Red Bull Straight Rhythm event last year, Hampshire knocked himself out and was a question mark for the Monster Energy Supercross season. He recovered and had a good year.
Patience
GEICO has shown patience with riders over the years. Whether it was Wil Hahn (who was injured then rewarded the team with a 250SX title) or even recently with Justin Bogle where the team, despite initially trying to get out of 450 racing, put Bogle on a 450 Honda after he was unable to land a ride with another team. They've now decided to put some of their faith into Hampshire and Smith for a couple more years.
"They've shown the speed. They do some work and it just seems like, for lack of a better word, they haven't got a break yet," GEICO Honda team manager Mike LaRocco said. "It's too many weeks in a row where those guys really have a hard time riding and training because of injuries. Even though they're not race-sidelining injuries per se they're just enough to kind of keep the momentum down.
"I think they both have the speed, it's just a matter of building up some confidence and getting all that stuff behind them. A lot of guys went through that and it seems like they're a little bit longer in that area."
When it comes to Smith, LaRocoo, known as a rider that could wear you out by going the same speed for the entire race but didn't wow you with pure, raw speed, is impressed with Jordon's, well, pure, raw speed.
"I tell you what, the one thing that I'm kind of amazed with Jordon is just his willingness to go out there and pin it every time," he says. "I'd look at him sometimes in supercross and having crashed so many times in the whoops, he's still just willing to go for it. That takes a lot. So I think that says a lot about Jordon and hopefully that will mean something more later."
And what about Hamphire's strengths?
"RJ's strengths—it's a lot of the same. I don't know RJ to make the—I don't have the whoops story for RJ as much as I do Jordon," says LaRocco. "I feel like they both have that willingness to hang it out. I think that's hard to find. To have somebody that's just willing to go out there—even though it hasn't been working out."
"It's just one of those things where I've learned in the time that I've been here that some guys mature and get things at different times."
This is the problem with the two young stars. They can't figure out the speed without making mistakes. But if you ask any team manager, it's easier to hope a guy can figure out when to back it down then trying to get them to turn it up.
Both Smith and Hampshire nod in agreement with LaRocco's assessments.
"I've had some breakthrough rides this year. I had a podium in supercross," said Smith. "Unfortunately I got hurt soon after that. Got a second at Hangtown and another top five so I just got to learn how to do that every race and put two motos together in the outdoors and show up for every race and not have those big mistakes where I don't get many points in. I just got to put myself in the hunt every time and not make those mistakes."
Hampshire agrees that his career has been a rollercoaster at Coney Island-type of thing but without the cotton candy. "It's just so up and down. It feels like when I'm about to have a breakout and then something crazy happens. It feels like that's what it's been like since the beginning. It's just more like adapting to everything. It's just so much different than anything like I've experienced."
The Rock
For young pros like RJ and Jordon, being around a motocross legend like LaRocco, who's got a gruff exterior and a no B.S attitude about this sport, must be a bit intimidating, right? Well, not exactly. If you get inside the team and get to know the man known as "The Rock" you begin to see that he's not a screamer and yeller that you might think he is.
"Our relationship this year is a lot better than what it has been before," says Hampshire. "He helped me out a lot more than what I expected, actually. He's helping on the bike, off the bike, my bike setup, everything. Rock is a huge part in what goes on. A lot of people don't see it either but he controls a lot throughout the week, Monday through Friday. He's in the shop figuring out ways to better us."
"The first couple years it was hard for me to talk to him (LaRocco)," said Smith. "I was a little scared. You've got to kind of peel him back like an onion, I guess you could say. But it's good now. We talk a lot and I feel comfortable with him. I trust him in making decisions. Whenever I tell him my feedback that I'm feeling on the track I trust him to help me with decisions on my bike and my setup, and trust that it's going to be the right decision."
And in perhaps the biggest bombshell in this interview Smith says, "I've never seen him yell."
Staying Put
Both riders had other teams inquire about their services for next year but each said that GEICO was the place for them. Smith says he never thought about going anywhere else and wants to reward the team. Hampshire echoed a similar sentiment.
"I had a few phone calls but GEICO is the only place I want to be right now. So it was no question," says Hampshire. "We had a good offer from the beginning from them. I knew where I wanted to go. I think GEICO's the best team for me."
"We look at the past and we've stuck with the guys that we think are committed to winning," says GEICO co-owner Jeff Majkrzak. "And we think that both Jordon and RJ are going along that same path as others in our program. They're committed and so are we."
Both riders agree that 2017 will be a big year for them.
"I think that I'm still learning a lot in supercross, especially as far as bike setup goes," says Smith. "I think that we got that down really good at the end of this year. I was starting to really feel comfortable out there, even though I was riding through an injury. So I'm really looking forward to supercross next year."
"I know what I'm capable of and I know my speed's a lot better than what we've shown," says Hampshire. "It's just putting the whole weekend together. If it was easy everyone could do it. The ones that are doing it know how hard it is but everyone that's just watching they don't see what goes into it."
"It's just one of those things where I've learned in the time that I've been here that some guys mature and get things at different times," says LaRocco. "They have a lot of the tools that you can't teach. So if you look at what your options are you got to kind of just keep all that stuff in mind. We're just hoping that maybe next year they get it figured out."