Lakewood, CO
Thunder Valley
Lucas Oil AMA Pro Motocross Championship
Lakewood, Colorado, is host to round three of the Lucas Oil Pro Motocross Championship. In the shadows of Denver's hustle and bustle, Thunder Valley MX has been on the calendar for eleven years now. It is arguably the most convenient race of the year, with restaurants, hotels and main access roads right alongside the track itself. Its layout makes for great viewing and with the combination of typically great weather, this round is simply hard to beat.
The Thunder Valley course is one that I had mixed results on but when the dirt gets softened from its hard-packed tendency, it can provide great traction. Elevation is the most notable feature of this venue and every bike on the track will be struggling for oxygen all weekend long. The engine tuners who have the ability to turn up the horsepower and torque numbers will have a huge advantage on Saturday. The loamy, uphill start will require first gear and a sheer power showdown all the way to the top. This is the only race all season where the factory 450 riders will want more power in every portion of the power curve.
This race has seen some vast differences over the years in how it's shaped up. The early years were marked by intense heat and a rough, treacherous track. Then we had the 2008 and 2009 races under the lights. With mobile lighting, deep ruts and shadows, those two races were some of the scariest I have ever been in. The track crew did the smart thing and kept the track silky smooth to help decrease shadows but the increased speeds were a tradeoff at best. I did enjoy the night schedule but the visibility issues and increased overhead costs proved to be prohibitive. In 2012 we saw a nasty storm blow through, leaving scattered awnings and EZ-UP's in its wake. The races were delayed and at one point, I thought they might actually cancel it due to the wind and lightning. The track held up though, and racing found a way. So, as you can see, this race has provided a little bit of everything in its decade of existence. Colorado in early June is a crapshoot but luckily this year looks to be near perfect with a high of 80 on Saturday under a sunny sky.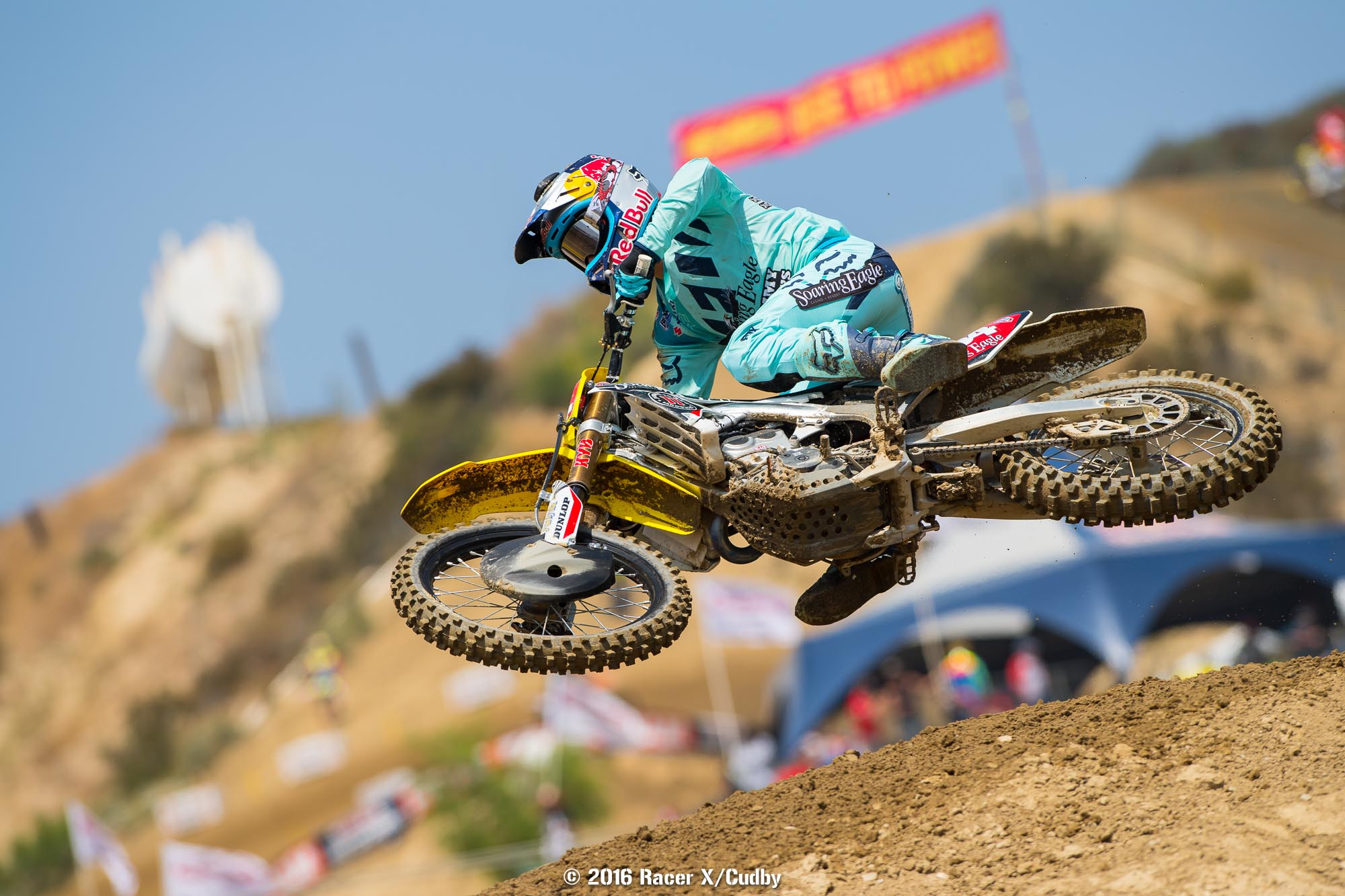 Getting back to recent times, last year Thunder Valley was the site of a huge shift in the series. The previous rounds had seen Eli Tomac run away with four straight motos. Tomac had easily been the fastest rider up until that point and in the first moto, showed everyone his speed once again. The second moto, he was off to the races again until disaster struck. In one of the most horrific crashes of the season, Tomac buried himself on the same downhill that claimed James Stewart, and his title hopes, during the 2012 race. He destroyed his shoulder, requiring complete reconstruction. Ryan Dungey was waiting in the wings and took firm control of the points from there on. It really was the end of the 450MX championship as far as real suspense is concerned. The scenario is the same as we enter Lakewood this weekend, only Ken Roczen and Tomac have switched roles. Roczen is in firm command, Dungey is the clear cut second-best at the moment, and Tomac is on the outside looking in. What will it look like as we leave?
Who's Hot
Ken Roczen, duh. He got robbed in that first moto last weekend but he has easily been the best of the best. He has the points lead but should be much further ahead.
Alex Martin won Glen Helen! I never expected to write that but it feels good to do so. He has been great thus far and knows what a long season will bring. I don't have him winning the title but I think he will be top three in points.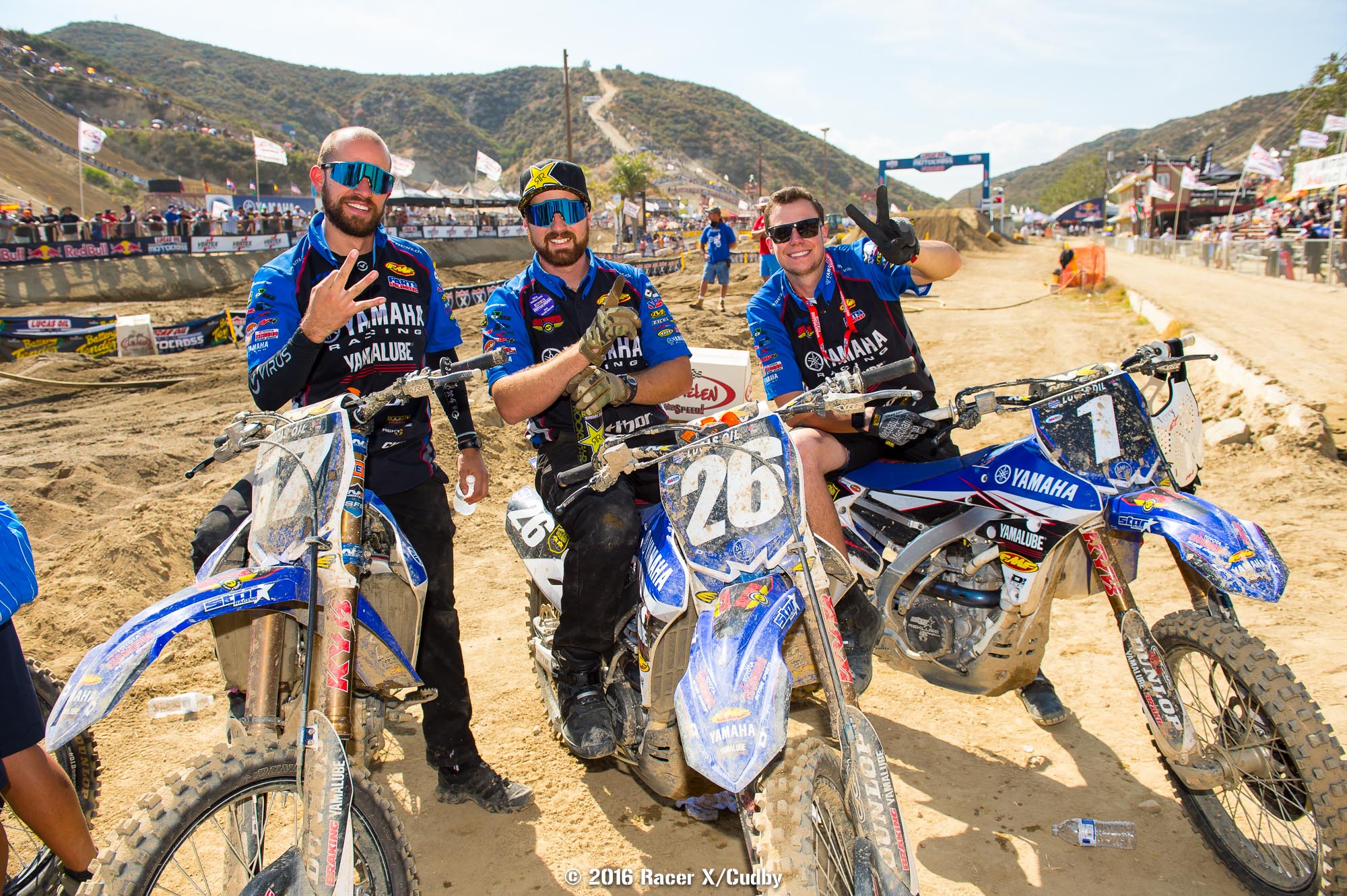 Jeremy Martin won the second moto and sits just outside the points lead. He looked to find his groove in that moto and I would expect him to win more motos than not from here on out. He is the two-time defending champ for a reason, people.
Ryan Dungey may not have been quite as good as Kenny in the first two rounds but he still won the overall last weekend. He is in this for the long run and is incredibly tough to best over twelve weekends.
Austin Forkner is learning, folks. He looked a bit out of sync in his first moto at Hangtown but he has sorted out those bugs and is ready to do battle. I think he will have a bad day now and again as he learns, but he is going to have lots and lots of good ones too.
Who's Not
GEICO Honda had a horrific weekend at Glen Helen. Almost the entire team went down to injury in some fashion. Some will be back this summer and some won't, but one thing's for sure, GEICO was paying a few insurance claims on Monday morning.
The Blue Buffalo/Slater Skins/Yamaha/Herrera Ranch team had a rough weekend. I am just going to leave that there.
Yoshimura Suzuki's triage unit tried to regroup for Glen Helen but was unable to finish the day. Kudos to both of them for giving it a go, but man, it seemed like a bad idea from the get-go.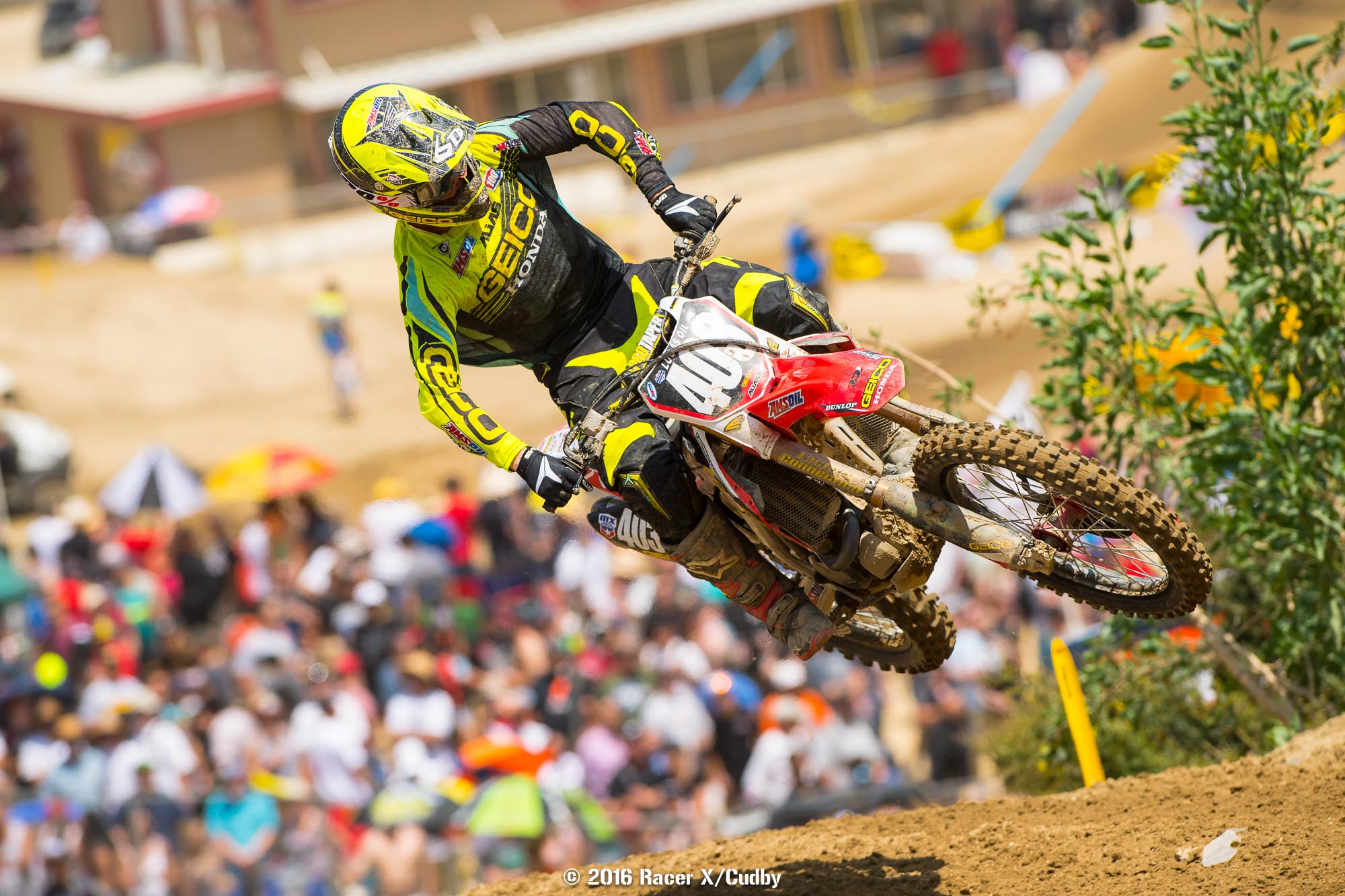 Marvin Musquin was brilliant last summer but hasn't found that magic thus far on the 450 this summer. He is better than ninth overall, methinks.
Bold Predictions
Not to be outdone by Glen Helen's jumps of death, Thunder Valley track builders concoct a river gorge with alligators, saber-toothed tigers, and Hillary Clinton all waiting at the bottom for those who come up short.
Cooper Webb and Jeremy Martin split moto wins.
To really show his bike who's boss after Glen Helen's epic tumble, Anthony Rodriguez pours 5 gallons of VP on his Kawi during opening ceremonies and sets that b*t** ablaze.
Kenny keeps the ball rolling, taking the overall win.
Steve Matthes has high hopes for a Bob Costas tandem in Rio after a great Starting Gate performance. Instead, NBC execs send him a contract to commentate the Extreme Ironing World Championships.
My Picks
250
Jeremy Martin
Cooper Webb
Joey Savatgy
450
Ken Roczen
Ryan Dungey
Eli Tomac