Lakewood, CO
Thunder Valley
Lucas Oil AMA Pro Motocross Championship
Our crack staff weighs in on big topics for the week. Add your thoughts below--just make them smart!
1. Alex Martin is the points leader?!
Jason Thomas: I feel that both the question mark and exclamation point are valid and warranted. No one—and I mean no one—predicted Alex Martin to be the points leader after two rounds. He has been sensational, and other than his first moto, he really hasn't given anyone a reason to doubt why he has the red plate. He's been solid, and what I like about both Alex and Jeremy is that they adapt to any and all conditions. Mud? Let me refer you to their 1-2 performance at Budds Creek a year ago. Sand? Let me refer you to their sand skills honed over years of riding at their family's track, Spring Creek. Heat? Let me refer you to their endless days of humidity at RC's farm (Jeremy) and Club MX (Alex). They have all of the tools and experience to make this a one-two punch all the way down the stretch.
Steve Matthes: Yeah, bro! Who would've ever thought? Weege and I always used to joke about Filthy Phil Nicoletti and Alex Martin being the easiest interviews to get after the races because they usually just hung out together and talked about how shitty their day went—or they just complained about each other. Well that was then, this is now. Filthy has gone top-ten in the first two 450 races, and Alex has won and is the 250 points leader! What kind of bizarro world are win in where these two are, you know, good and stuff? Seriously though, like JT said, why CAN'T Alex hold onto that red plate and keep this going? He's got a solid program on and off the bike, and that's half the battle. The kid works hard, and he's always got something to prove since he's been written off more than a few times. Great, great story, and I'm happy for Alex. And I also think he's very much for real.
Jason Weigandt: I just can't even believe it. This is awesome on so many levels. For Alex it's great because he's a good guy and works hard, and after a rough supercross season he was probably going to stress a little about locking in another good ride for 2017. I think he's good now! An even bigger picture is what this means to everyone else. Alex is in his eighth full professional season. He entered the sport unheralded from the amateur ranks and toiled forever as a privateer. He is living proof that if you don't give up and you believe in yourself, work hard, and all those other clichés, you can achieve your dreams. 'Merica! I'd like to put title talk aside and just celebrate this moment him and all the other blue-collar-style riders out there. Even if he doesn't have the points lead at the end of the year, having it for just one week (and an overall win) is something he'll look back on fondly forever. After the race, Alex said he tried to keep his emotions in check because he knows it's a long season and he wants to repeat this weekly. But I want this moment to stick out! He doesn't have to win the title. This one race win and this start to the season is something he and many others can look to for inspiration.
2. Look at that Forkner kid go! Is he ... a title contender?
Thomas: Forkner has been great. Better than I expected, really, but I don't see him being a serious title threat. J-Mart will be too strong in the tough conditions, and Alex has elevated his game to new levels this season. I expect Savatgy to be the title threat from the Monster Energy/Pro Circuit team, but I also expect Forkner to shine sporadically. He will have a few bad motos here and there, pushing him out of legitimate title consideration.
Matthes: It's not that I was down on Forkner before the Nationals, but JT and Weege had seen him way more than I had, so I kind of went off their reactions. He'll be fast, but he's not going to make podiums or anything like that against this tough field. Well, that's exactly what he's done here to start the year. I think there's a bit of a "I've been riding my nuts off outdoors for months while you other guys have not" (AC does hurt this theory of mine, though), and the other dudes will catch up, but for now, very impressive. And come supercross next year, from what I saw at the Monster Energy Cup, this kid will win races and be right there for the title.
Weigandt: Yeah, I didn't expect him to be this good, this soon. That's not a knock on his talent—I heard his lap times during the week matched up with some very fast riders. But the whole industry is putting way too much pressure and hype on these kids, expecting them to actually show up on race day and replicate that speed against dudes who have been doing it forever, on tracks they've raced on in pro national conditions a million times. I expected Austin to be a solid but just off the radar, maybe fifth to tenth. At Glen Helen, he wasn't far off from battling for the win!
As for the title, you'd think, "Well, if he's this good in two races, just wait until he's raced a few more!" but it often goes the opposite way. The week-to-week grind usually catches up to the rookies, and we've got a huge variety of tracks coming up. Plus, as Matthes said, he has a head start on outdoor mode compared to his competitors who are coming off of supercross. There's a chance he totally catches fire and does the amazing, but I think the safer bet is just a summer filled with several solid finishes. In fact, I bet anyone in his camp reading this right now would say, "Jeez, guys, we're two races in. Please chill out on the title talk!"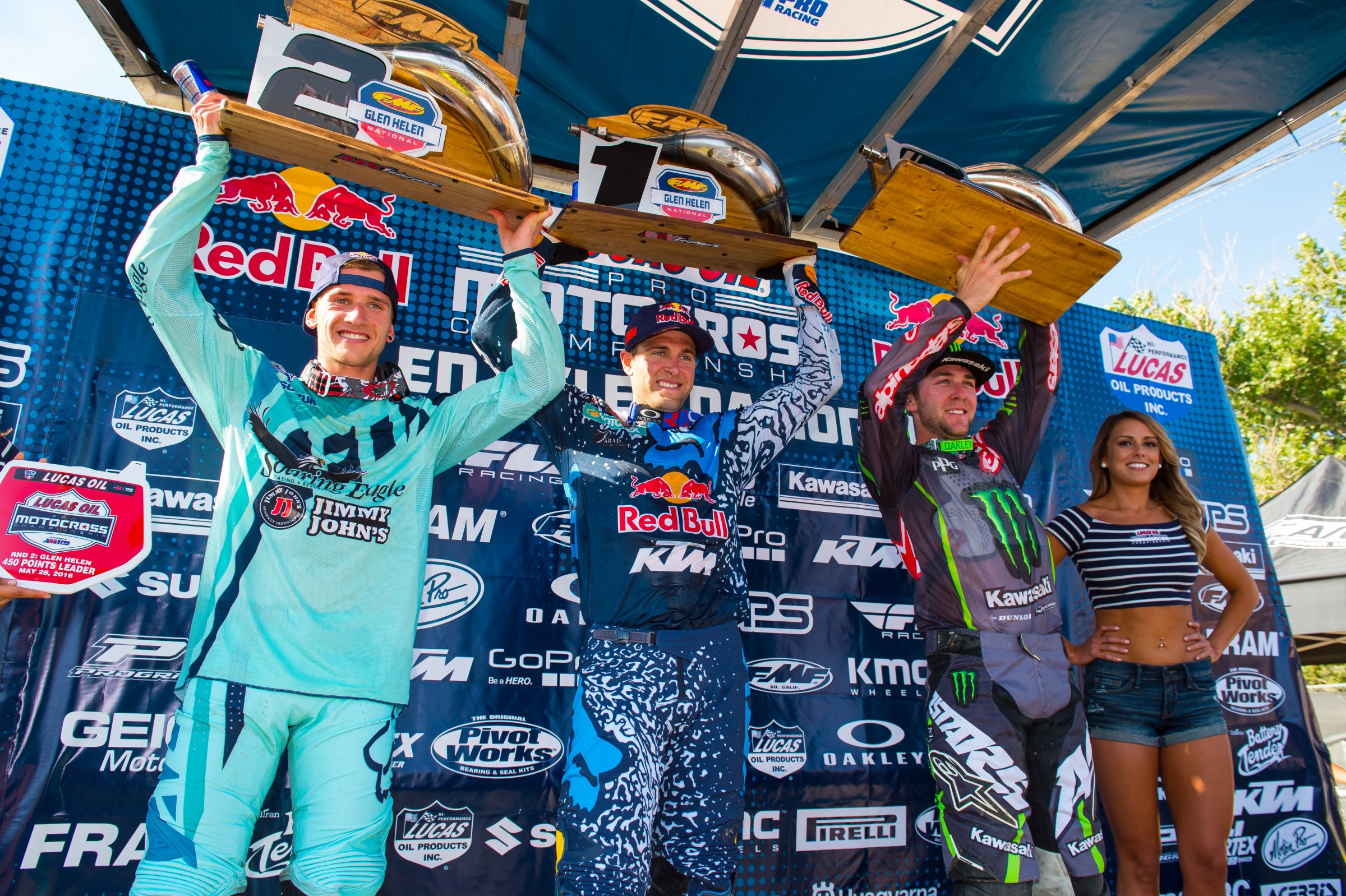 3. Ken Roczen has it dialed in right now. Is Ryan Dungey worried?
Thomas: I am sure Kenny has Ryan's full attention, but I don't necessarily think he is "worried." Looking back over the past few years, Ryan hasn't ever started all that well. In fact, he has never won Hangtown, period. He takes time to get going, much like that "Diesel" nickname he refuses to let stick. I doubt he expected Kenny to be this good this early, but as Ryan knows, this is a loooong championship, and after really not having much for Kenny thus far, he's still only two points back. I don't think he is worried, but I am sure he won't want Kenny's confidence to grow any more than it has. Ryan will be focused on bringing down that gap and bringing Kenny back down to earth along with it.
Matthes: Yep, it's over. Dungey's scared of Roczen and might even announce his retirement if Roczen beats him this weekend. That's what I heard, bro. No, but seriously ... he's Ryan Dungey! He's not worried. Heck, even if Kenny beats him for the title, he'll give the 94 one hell of a fight. I don't think Ryan Dungey is worried about much outside of why he was put in jeans for his Wheaties box photos. Other than that, he's good.
Weigandt: Jeez, how many years do we have to go through this? Yeah, Stew was in his head when he won the first four motos in 2012. Villopoto was in his head when he won the first four motos in 2013. Kenny was in his head when he went 1-1 at Hangtown in 2014. You know what happened in every one of those seasons? Ryan actually got better and faster as the year went on. He didn't win every one of those titles, but he never rolled over and died. Yet the next threat engages the "Oh man is Dungey freaked out?" talk again.
Remember last year? Eli Tomac was crushing him by even bigger margins, had an even bigger points lead, and Dungey was taking the threat seriously but didn't seem freaked out. Plus Aldon Baker seems to keep Dungey on a more level, ahem, level than ever. Dungey wants to do better, but he's not losing sleep right now.