Valentino Rossi: The Doctor Series
Monster Energy has rolled out episode 2 of the five-part series "Valentino Rossi: The Doctor Series." As we explained in this column last week, Mugello holds a special place for the Italian. In the second episode, the documentary takes a further look at what the track means to Rossi and they even have footage and commentary from the 2016 race. I've worked on documentary projects with that tight of a turnaround, and let me tell you—everyone from the videographers, to the writers to the editors deserve a pat on the back. It's tough to turn something around that quickly, and even tougher to make it good! This was good.
In this episode long-time Yamaha MotoGP mechanics Alex Briggs and Brent Stephens talk about working and being surrounded by Rossi-fever at the Gran Premio d'Italia. It also documents how and why a singular event across one weekend can mean so much to so many.
Early Racing

Alanis King at Lanesplitter has a great look at the early form of motorcycle racing that took place on velodromes. Racing on these wooden tracks was inherently dangerous. The speeds, combined with the track surface and no brakes on the motorcycles led to many deaths—riders and even fans included. Eventually newspapers began referring to the "motordomes" as "murderdomes." By 1924, the sport began to shift to dirt, where on a one-mile dirt oval in Toledo, OH, Jim Davis won the first national race sanctioned by the American Motorcyclist Association (AMA) in what is now known as flat track (or dirt track) racing. According to the article, "only four board tracks were left in the U.S. by 1931." More from Lanesplitter:
The discipline was popular, though—for about 20 years. Per Road & Track, there were about two dozen board tracks around the U.S. during its days of popularity. Just look at the attendance numbers at this Beverly Hills Speedway race in 1921, only 10 years after board tracks began their reign in American motorcycle racing —12,000 people showed up to watch Albert "Shrimp" Burns take the victory:
Burns died in a racing crash in Toledo, Ohio in later that year, according to theSmithsonian. Board tracks lived on for about 10 years after that, but faced a sharp decline at the start of the 1930s. The Smithsonian attributes the negative tone toward "murderdomes" in the papers, the attempts by manufacturers to slow down the motorcycles and the closing of some tracks by local governments to the demise of board-track racing. According to Road & Track, only four board tracks were left in the U.S. by 1931.
What's amazing is—video footage exists:
What Did Early Racers Get Paid?
Speaking of, Cycle News recently re-published a 2010 article by the great Larry Lawrence which took a deep dive into the pay motorcycle racing professionals received from the mid-1900s up to the advent of World War I. Lawrence references a 1913 article in Motorcycle Illustrated by Arthur Chapple, who laid out the pay of motorcycle racers from his era of board track racing. (Quick side note: Isn't it crazy that we know more about how much riders were paid in 1913 than we do in 2016?) Anyway, here is a piece of the article. Make sure to read the entire thing at Cyclenews.com.
According to Chapple, Class A riders normally signed a contract with race promoters to receive a guarantee of $50 per meet, and there were often three meets per week. That means from guarantee money alone a factory rider could make $150 per week, ten times the normal weekly pay of an average American. And the top riders could race nearly year round by going to California in the winter months. So just on guarantee money, riders made roughly what would be equivalent to $10,000 per week in today's money.
And that doesn't take into account the prize money a rider could win at an event. The average Class A race paid four places with the winner getting $50, second $30, third $20 and fourth-place $10. So if a rider got on a hot streak they could substantially increase their pay above the $50 guarantee per event.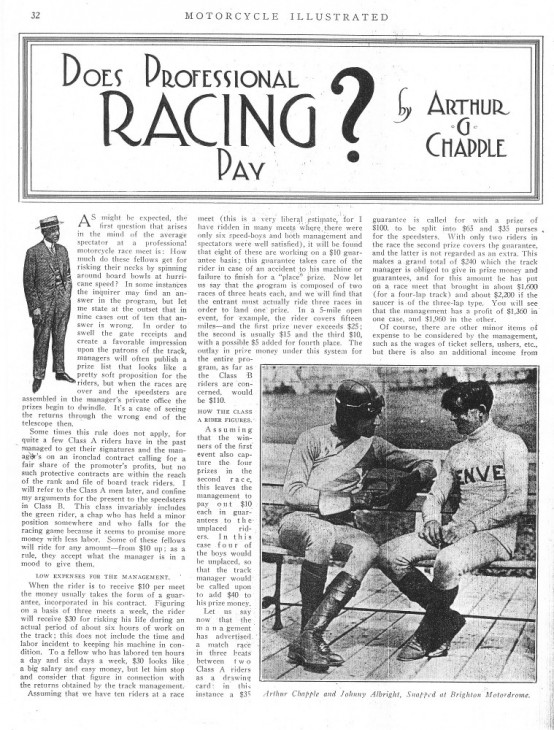 IndyCar Training

There's a common misconception that professional racecar drivers do little to no training away from the track. Before you jump on your high-horse and spout "Well, you're just driving a car in circles," rhetoric, remember, most outsiders believe that motocross is "Just twisting the throttle." Believe me, I had plenty of friends in college that felt this way. But I digress. Sports Illustrated ran a profile on IndyCar driver Scott Dixon, who also competes in Ironman events, about his training. Here is a sample of what he does.
Swimming for breathing capability: Maintaining at a moderate tempo with your heart rate while also holding your breath will typically help with simulating the breathing during the race. Flip-turns in the pool force you to hold your breath and raise your heart rate.
Running and cycling for braking: Running and cycling have helped me deal with the pressures that tend to get pretty high especially with today's cars and advancing with downforce. We get almost 1,500 pounds to the caliper. Imagine you're pushing 200 pounds on your lower body and you're doing it something like 15 times per lap.
Read the full article here.
This looks intense
You come at the spelling bee, you better come correct

New Harley

For the first time in 44 years (!!!) Harley-Davidson is rolling out a new flat track machine. Based off the Harley-Davidson Street 750, the XG750R liquid-cooled, fuel-injected bike has been handled by Vance & Hines and made its debut at last weekend's Springfield Mile. A prototype of the bike was raced by Davis Fisher at the inaugural Harley-Davidson Lone Star Mile at Circuit of the Americas back in April. He also raced the machine in the last two AMA events at Phoenix and Sacramento. The bike is currently for race-use only. Cycle World has more:
Davis Fisher explained to me that a flat-track twin is geared to accelerate off the corners, so when it reaches peak power, the next corner is still far in front of you. So your engine has to overrev its peak as you push into the corner. That's hurting the still-fast XRs—Chris Carr said when he was riding them they needed a fresh big-end roller assembly every national. Former H-D team manager, the late Dick O'Brien was concerned in 1982 when some were running their XRs to 9200 (they began life at 7600). Today the number is more like 10,000! Plain-bearing engines today do this easily and reliably, as the six-time Sacramento-winning, Howerton-framed Kawasaki twin of Bryan Smith testifies. Matt Hines told me the teams talk rear-wheel horsepower (RWHP), and say it now takes 95 or 100 of them to run up front.
Check out some photos courtesy of Harley.
Superbike Catches Fire
Last week during practice for the World Superbike Championship at Donington Park, Ducati's Chaz Davies' bike LITERALLY caught fire. According to Asphalt and Rubber it was an unknown mechanical issue that forced the bike to stop.
And more fire
Four riders were involved in a terrifying crash at the FIM CEV Repsol International Championship Moto 2 class on Sunday. According to Fox Sports "there are no reports of any major injuries, and the race was reportedly restarted with all riders except for Xavi Cardelus - whose bike was toast." This may be the worst crash I've ever seen!
IMPRESIONANTE accidente en el Fim CEV Repsol de Moto2. Esperamos noticias positivas sobre el estado de los pilotos pic.twitter.com/44QLLeaQYL

— Fran Calatayud #GR19 (@FranCalatayud19) May 29, 2016
Let's Watch Some Crashes from the 2015 Red Bull Hare Scramble
Ronnie Renner Does Some Cool Stuff
For real, how do I get Ronnie's job?