San Bernardino, CA
Glen Helen
Lucas Oil AMA Pro Motocross Championship
By Aaron Hansel and Jason Weigandt
Eli Tomac | Monster Energy Kawasaki | 3-3 for third overall in 450 class

Racer X: Two solid third place finishes today, but from our perspective it looked like you just had a battle all day long. Tell us how it went for you.
Eli Tomac: It was a battle. Going into practice, practice was good. Came out of there first in both. Right now I can lay it down early in the morning no problem. Having a little bit of trouble bringing all that speed to a moto. We still have something we've got to find. For one, it's starts. If everything's dialed in you can move your way to the front. Still building and learning and trying to get things figured out, especially when the track gets broken down and deteriorated and edgy and rutty. Going into the motos themselves, first moto I kind of had a gift from [Ken] Roczen for that third. Second moto I rode a lot better but I was just absolutely buried that time. I just kind of got to third and stayed there. We then made a couple little changes there and they were better, but it was a little too late probably.
In that second moto do you think, "If I do get a start next week or one of the future weeks"—do you feel like you're that much closer just based on what you learned here?
Yeah, I think so. I was in a comfier spot on the bike. I was making some ground on [Ryan] Dungey there really to the end. But, yeah, it was a little too late. They had a huge gap after the first two laps.
Last week you were talking about first moto that the front end was goofy. Second moto, back was kind of goofy. Is that something you're starting to get figured out?
Yeah, we're trying to. The biggest thing for me is finding a race setting. During practice it's comfortable and you can throw down for one lap. But not finding one you can ride for 35 minutes
You seem frustrated. You seem kind of down. During the week, are you feeling good on the bike? Is it just one of those things where it's really good all week but when you come in here and then you see it's getting away from you, or is just all week you're kind of struggling?
You always feel better at home. But it's not exactly perfect at home either. We're still trying to learn and get better. Right now we're just fighting for thirds instead of fighting for seconds and wins.
Talk about the bike a little bit. Do you think maybe that late start from the shoulder injury is that part of the reason why you're a little behind the eight ball at this point?
For supercross yes, for sure. Motocross, no.
What about looking forward to next weekend?
Colorado, you could say it's a love or hate for me. That was the end of Eli Tomac last year. But I've had some good success there, other than the crash last year. I enjoy it and it's a race we can drive to from our home town. –Jason Weigandt
Trey Canard | HRC Honda | 7-4 for fifth overall in 450MX
It was pretty good today. Good starts, which is huge for me. I haven't had that all year. It makes a big difference. First lap of the first moto though I threw it away, washed out and went back to somewhere in the top fifteen and made it back to seventh. I didn't feel ultra-comfortable but we made some changes between motos and I felt a lot better. But I just rode really flat in the second moto, I didn't have a lot of push. I was okay with it, I wanted to be on the podium, but this track was so dangerous I'm just happy to be out of here healthy.
What do you mean by dangerous?
It was, I mean, some of the obstacles were ridiculous. I don't know what these guys were thinking, honestly. That's my personal opinion and other people might feel differently. But I think it was pretty unacceptable.
What obstacles in specific are you talking about?
There was that big triple in the back and it claimed a couple people. It's not that we can't do it, we can do it easily actually. But for doing it in a group for thirty minutes, there's chuckholes, the margin for error is just too small. There's no escape. I'm all for big jumps, but you're doing almost 70 mph and there's no escape. It's not good. That whole up front section, I didn't think that was good either.
How does something like that triple you were talking about differ from say, LaRocco's Leap, or that big Fly 150 at Hangtown last week?
Here's the difference. With those jumps, all the way up to the run you're on the gas. You start at the bottom and you're building speed. With this triple, you start from one end [of the track] and you go to the other, and you're doing 65 or 70 mph. Your brain can't think that fast if you have to pull out if something needs to happen. With LaRocco's Leap, you have a lot of time if you need to abort. There's a big downside and it's fairly safe, where this, it's not good.
Going back to racing. Can you take us through that battle with Eli Tomac in the second moto?
I tried to hold him off, he was riding really good. This is definitely his type of track. I tried to hang, but once he got by me I felt I just needed to finish it out. –Aaron Hansel
Cole Seely | HRC Honda | 5-10 for seventh overall in 450MX
The day went pretty well, ended up 5-10. I had a little spill in the second moto, but the first moto was pretty good. Got a pretty good start, made some passes early into third and [Jason] Anderson and [Eli] Tomac got by me. But I feel like I was riding pretty good. Definitely some improvements from last weekend, especially going into the second moto. It's definitely hard; you never really get to test in these kinds of conditions at the test track. Made some changes to the engine, made some changes to suspension, and I think both were positive. Good day, and definitely taking some positives from it.
How was the track?
It was really brutal this year, especially the second moto. It had no flow, a really, really gnarly racetrack. I like it when the track gets rough, but it was borderline dangerous. I'd rather see some track maintenance or a better layout, but it is what it is. Mostly everyone got through healthy and I'm able to go on to the next round so that's good. Glen Helen is notorious for being one of the most brutal and grueling tracks on the circuit, so I guess you have to expect that when you come here.
Did you meet your expectations today?
I'm trying to build each weak and I'm working really hard between races. If that means I have to sacrifice a little energy on the weekend that's fine. I'm trying to be a better outdoor rider and get myself in better shape. Maybe this season I might struggle a little here and there, but I think in the long run, going into next season and years past that, it's going to make me a better rider, especially outdoors. Yeah, I met my expectations I think. I'm just trying to do my best out there. As long as I'm clicking off laps, flowing every moto, and getting decent starts and all that, I'm happy.
Did you get together with Jason Anderson out there?
Yeah, you know, it's just how he rides. We made amends after supercross and shook hands. It's not like it's going to end this season, we're going to be racing each other for a long time. We both kind of sat each other down and talked it out. We're on to more racing. I expect him to pass me like that now. He didn't hit me, he just dove inside. He was going a little faster so it is what it is. One day when I'm in a little better shape I'll be doing the same thing.
Typically Hangtown is very rough, but it wasn't as rough this year. So was it a shock coming here?
Yeah, but it was different this year. Both tracks were different. Hangtown, like you said, is typically a really gnarly track. They didn't rip it very deep because of the chance of rain, and that made it really choppy. Here it was kind of the same way. They didn't really rip it as deep so it didn't get that really deep rut flow. It was in some areas, but in a lot of other areas it was like a typical Thursday practice out here where it's curves, square edges, and really gnarly uphill parts. I think both rounds at these first two have been different from how they typically are. –Hansel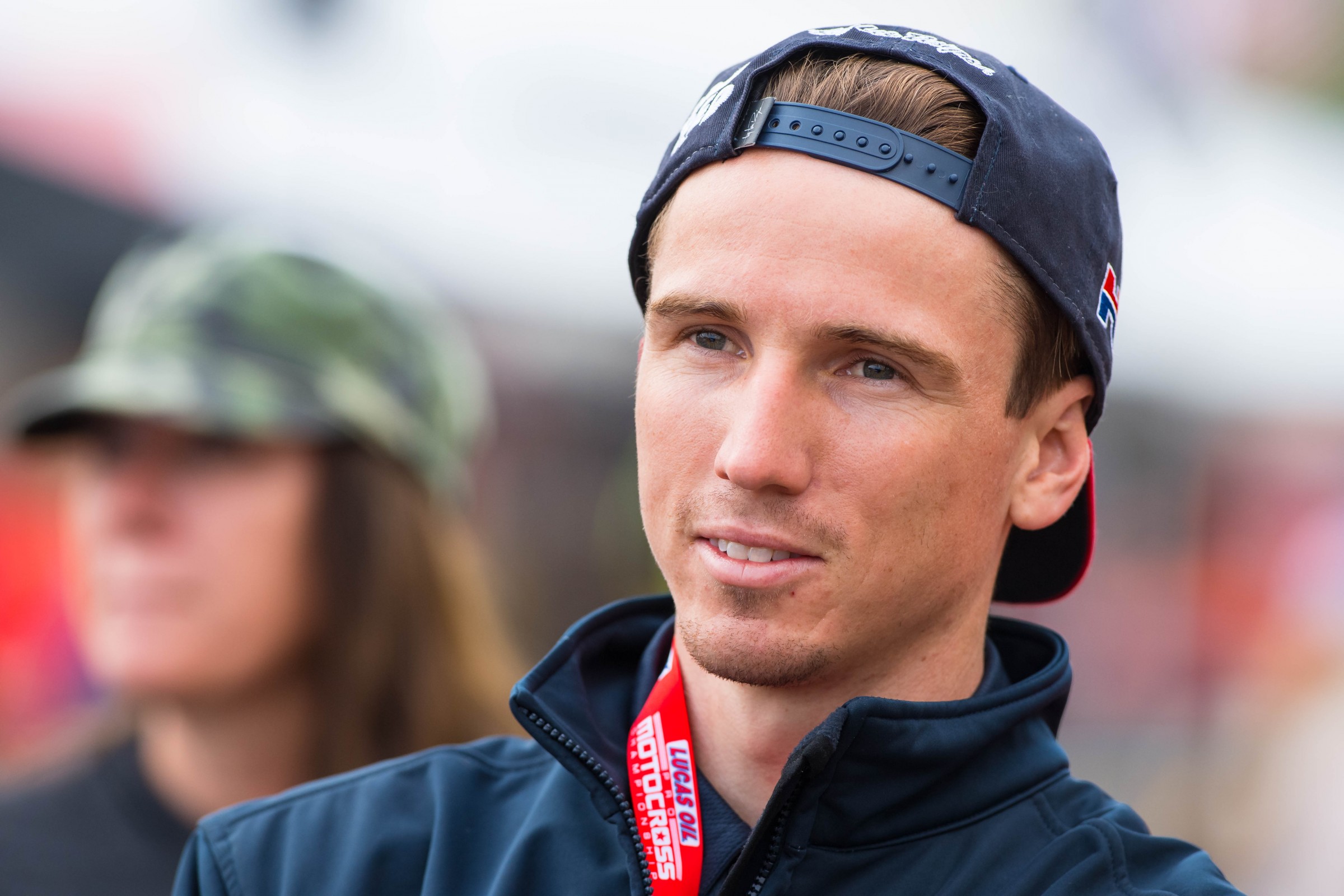 Justin Barcia | Autotrader/Monster Energy/JGR Yamaha | 37 (DNF)-8 for fourteenth overall in 450MX
I had a mechanical in the first moto, which sucked, but it happens. I think it was electrical or something. Second moto got a good start but got a little tight and was fighting the bike a little bit. I was pushing at the end and picked up a few spots, but all in all a frustrating day. Mechanicals happen, but the second moto, at the end I had good speed but in the beginning I needed better speed. I could have put myself in a better position. Going to go back east this weekend and do some more testing and try to get a little more comfortable on the bike. Right now we're out of the top five in speed. Hopefully we can bring it back up to the top five and podium area; that would be good. I definitely had a good push at the end of the second moto but it was just too late.
What did you think about today's track?
It wasn't a normal Glen Helen. It [the dirt] was a lot harder and some of the jumps were really big. For us, it's not really a separator when you're hitting a jump fourth gear wide open. It was weird. They tried their hardest obviously, and I didn't think it was as rough as it usually is. It was square-edged and hard, but it wasn't as, you know, Glen Helen choppy rough. It is what it is. I thought it was better on practice day before the changes they did out here now. But, there's always next year. –Hansel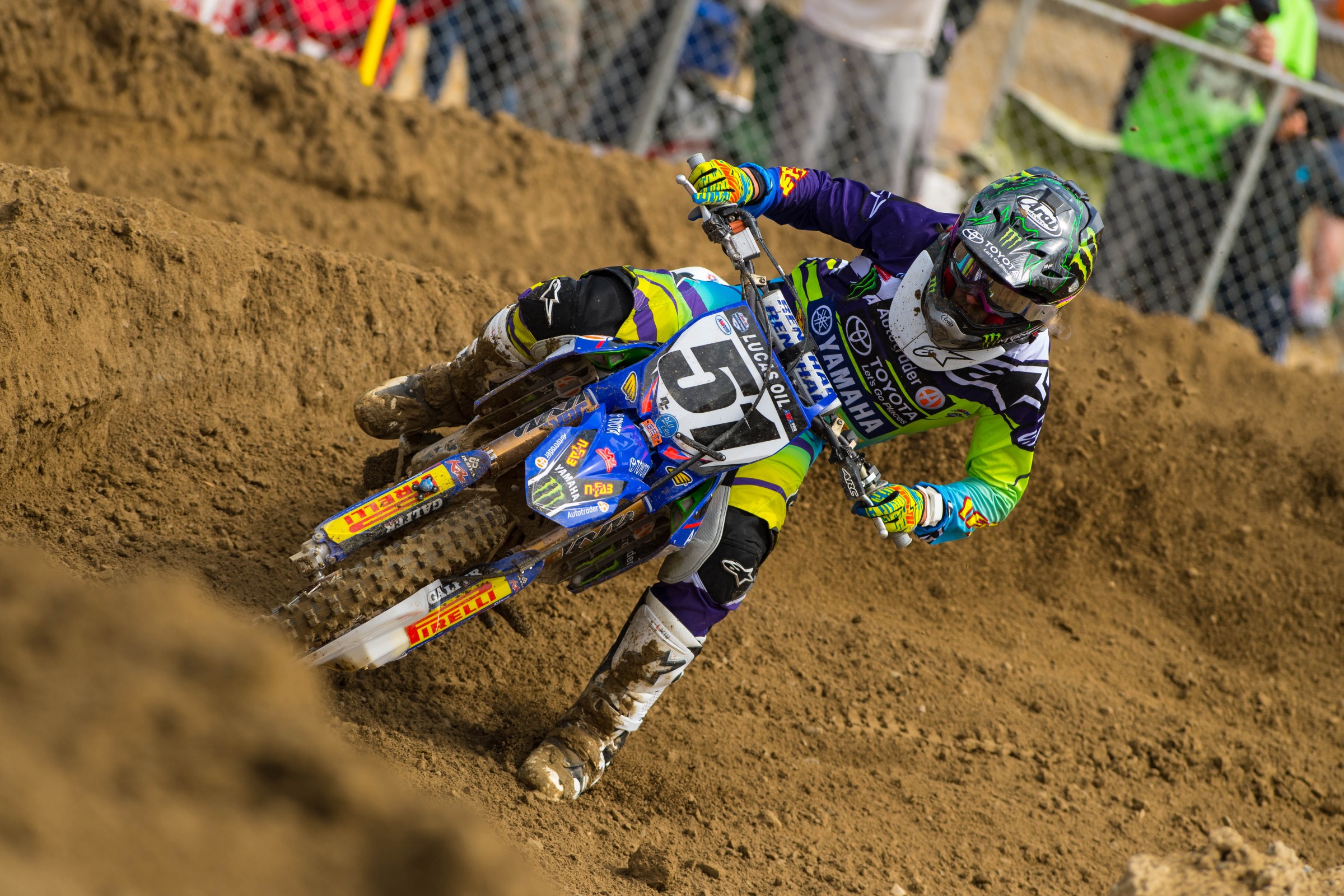 Mike LaRocco, GEICO Honda team manager
Racer X: Rough day for the team.
Mike LaRocco: Yeah, definitely one of those days that we wish we could start over. We lost Christian Craig the first moto. I believe he's going to end up having a fractured tib/fib. He actually came together with Jordon Smith who I think he's got a really large contusion on his back from when him and Craig came together. So he suffered finishing the first moto and then couldn't finish the second moto. So two in one there.
He [Smith] was riding good in the second moto.
Yeah, he got the start and he said he did what he could and that was about it. And then Tristan [Charboneau] was running about in that 12 to 15th pack in the second moto and he went down just before three laps to go and shouldered into the wall part of the rhythm lane. So he possibly fractured his collarbone. We'll have to wait and see how that turns out. [RJ] Hampshire at one point I believe did an off-track into the fence. So we just had a bad day.
And even Bogle had some rough goes.
Came in with some stitches and he found that he couldn't hang on between moto one and moto two and he didn't even ride the second moto. So all the way around we just had one of those days that we'd like to forget. – Weigandt