Heating Up: Russell Wins Fifth Straight at John Penton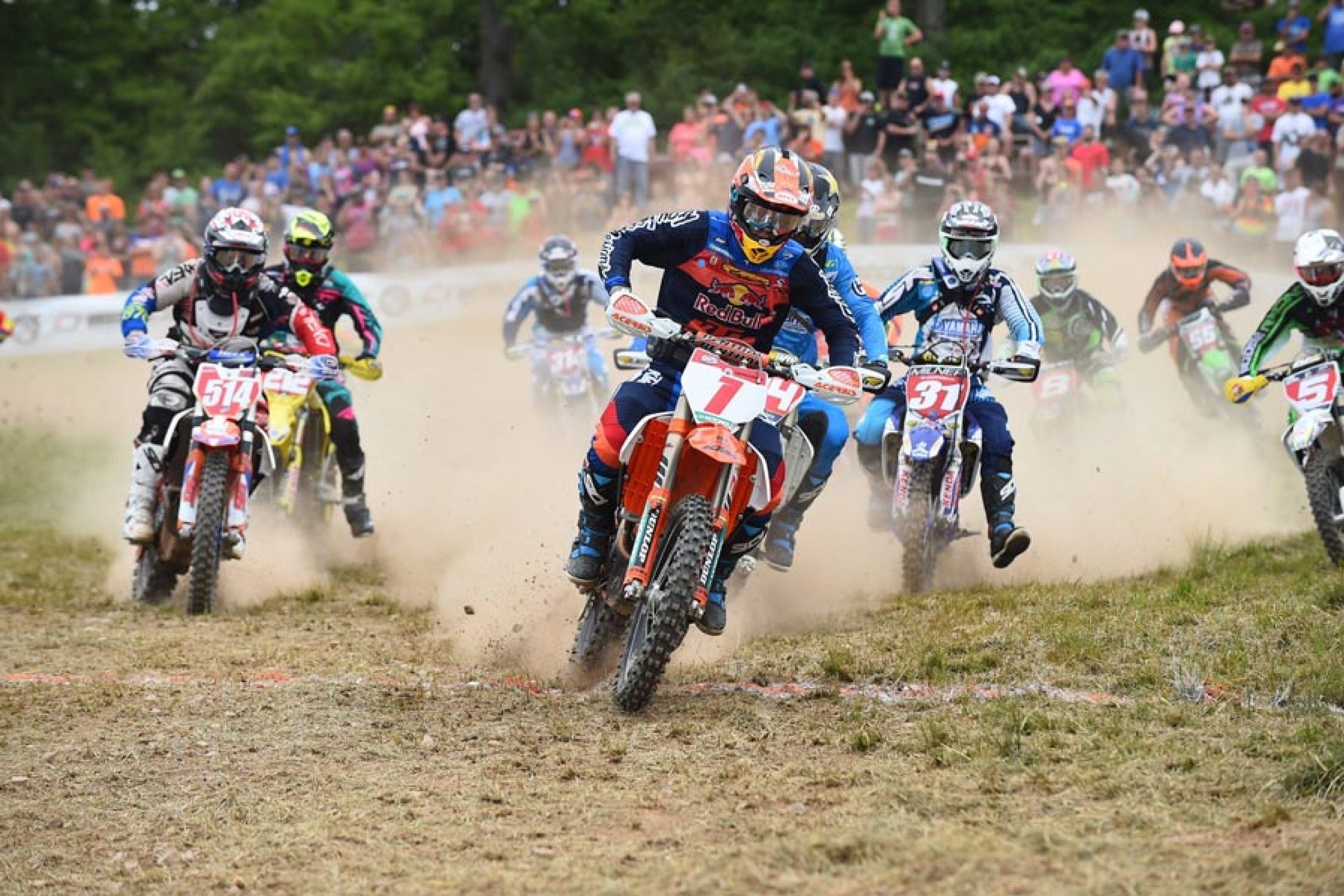 MORGANTOWN, W.Va - The seventh round of the 2016 AMSOIL Grand National Cross Country (GNCC) series presented by Maxxis, an AMA National Championship, took place today, May 29, with The 27th Annual Wiseco John Penton GNCC at the popular Sunday Creek Raceway in Millfield, Ohio. The world's fastest off-road racers were put to the test facing hot and humid race conditions, but at the end of the grueling three-hour race FMF/KTM Factory Racing's Kailub Russell would find himself in the middle of the box further extending his win streak to five-in-a-row.
Once the green flag waved to signify the start of the 1 p.m. Pro race, Russell would find himself in the lead grabbing the $250 All Balls Racing Holeshot Award and leading the way into the Ohio woods. Russell would maintain the lead as he checked in to timing and scoring for the first time, with Westfield Powersports KTM Presented by Moose Racing's Jordan Ashburn and Rockstar Energy Husqvarna Factory Racing/Bel-Ray's Josh Strang behind him in second and third.
After overshooting a corner and getting tangled up in the trees Russell handed over the lead on the second lap to Ashburn. His mishap also allowed Strang to take over the second place position.
However, it would not take long for the defending champion to recover and take back over the lead by the time the second lap concluded. Once Russell was back into the lead he slowly began to pull away, leaving a battle for second between Strang and Ashburn that would last through the second lap until Strang was able to clear the way and set his sights on Russell, who by that time had a fairly large gap on the rest of the field.
After getting a good jump off the start but getting knocked down in the second turn Rocky Mountain ATV*MC/KR4/FAR Racing Husqvarna's Thad Duvall was busy working his way up from fifth, and Duvall's hard work would pay off when he made the pass for third on the third lap.
"When I finally got back in the front Kailub and Josh already had a pretty good time gap," said Duvall. "I was running similar lap times to them, but just couldn't make it happen. I've actually never been on the podium here, and I consider this my hometown race so it was great to finish third in front of my family and friends."
After suffering from an illness the week prior to the race, Strang would slowly begin to fade once the two-lap card came out. Duvall would continue turning quick lap times and get within 20 seconds of Strang before coming together with a lapped rider allowing for Strang to maintain the second place position.
"I was a little under the weather today after being sick all week," said Strang. "I ran out of energy with two laps to go. It's disappointing, but it's all part of it and I'll be back and stronger in New York."
Russell would end up crossing the finish line two minutes in front of Strang who followed in second overall, and Duvall rounded out the overall podium in third.
"After I caught up from falling down and was back in the lead my main goal was to pull away and just ride steady for the remainder of the race," said Russell. "To get another win and extend my points lead is always my main goal and today was just a good day.
With a good amount of time between the top three racers, Obermeyer/MCS Racing Suzuki/Kenda/Fly Racing's Ricky Russell found himself riding a consistent race in fifth, but was able to capitalize on Ashburn's unfortunate mechanical issue and have his season best finish with fourth overall. Ashburn would fall back to finish ninth in his respective class and 29th overall. SRT/KTM/Kenda Tires' Steward Baylor took home fifth in XC1 Pro and ninth overall.
In the XC2 Pro Lites division, Coastal Racing/Husqvarna/MSR's Layne Michael earned the $100 Hot Cams XC2 Holeshot Award with a last minute acceleration. Michael would have a commanding lead over the class until the last lap when his teammate, Craig Delong, was able to catch up and make the pass. Delong would end up earning his first win of the season after multiple podium finishes. Michael settled into second, with KTM/FMF/RPM Racing's Mike Witkowski making his first podium appearance of the season in third. JCR Honda/Lucas Oil/Maxxis/FLY Racing's Trevor Bollinger would face a mechanical issue during the race but would recover to finish fourth and Beta USA/Fly Racing/Kenda Tires-backed Jesse Groemm rounded out the top five.
"Once I saw that Layne had a minute on us I just told myself this race wasn't starting out that great. Mike and I started chipping away, and before we knew it we had caught Layne," said Delong. "After coming so close to the win at Indiana it feels so good to finally get it. I almost need some time to let it sink in because I've been working all season for this day."
After putting forth an impressive ride and winning the 4-Stroke A Lites division, Triston Landrum earned himself the $125 American Kargo Top Amateur Award. Zach Nolan and Alex Teagarden rounded out the amateur overall podium after an all-out battle to the finish line.
At the conclusion of the 10 a.m. race it was FMF/KTM Factory Racing's Kacy Martinez standing on the top spot of the podium taking home the WXC victory and the overall win. N-Fab/AmPro Yamaha's Tayla Jones finished second overall, with Athens Sport Cycles/Bonzi Engines/MSR/Mika Metals/Forma's Hayden Vancuren taking home an impressive third overall and the 125 B/C division win, earning him the overall amateur award. FLY Racing/Maxxis/Seat Concepts/Yamaha's Becca Sheets would end up crossing the line third in the WXC class.
Kicking off the two-wheeled racing action today was the 8 a.m. youth race. The current points leader, Hunter Riemer, grabbed the holeshot and continued leading until the end of the race. This finish would mark Riemer's third win of the season. Benjamin Wright and Brody Johnson followed in second and third overall.
The 1 p.m. race was broadcast LIVE in its entirety on RacerTV.com and can be viewed as an archived video now by visiting the GNCC LIVE page online.
The 2016 AMSOIL Grand National Cross Country Series continues with round eight on June 11 and 12 with the Dunlop Tomahawk GNCC at the Seneca Highlands in Odessa, New York.
For more information on the series, visit the official website at www.gnccracing.com call (304) 284-0084. Join the conversation on the series Facebook page, follow us on Twitter and Instagram, and be sure to always hashtag #GNCCLIVE.
The Wiseco John Penton GNCC
Millfield, Ohio
Round 7 of 13
Saturday, May 29
XC1 Pro Event Results:
Kailub Russell (KTM)
Josh Strang (HSQ)
Thad Duvall (HSQ)
Ricky Russell (SUZ)
Steward Baylor Jr. (KTM)
Russell Bobbitt (KTM)
Cory Buttrick (KTM)
Grant Baylor (YAM)
Jordan Ashburn (KTM)
Chris Bach (HON)
*Overall National Championship Standings:
Kailub Russell (196)
Josh Strang (167)
Chris Bach (105)
Trevor Bollinger (89)
Jordan Ashburn (84)
Craig Delong (81)
Daniel Milner (80)
Steward Baylor Jr. (75)
Thad Duvall (74)
Ryan Sipes (66)
*Indicates that the Overall National Championship Standings will determine the 2016 National Champion.
XC2 Pro Lites Event Results:
Craig Delong (HSQ)
Layne Michael (HSQ)
Michael Witkowski (KTM)
Trevor Bollinger (HON)
Jesse Groemm (BET)
Benjamin Kelley (KTM)
Vance Francis (HON)
Zack Hayes (KTM)
Samuel Evans (YAM)
Mason Atherton (HSQ)
XC2 Pro Lites Series Standings:
Trevor Bollinger (171)
Craig Delong (159)
Layne Michael (120)
Jesse Groemm (117)
Bejamin Kelley (101)
Tegan Temple (88)
Samuel Evans (79)
Austin Lee (77)
Trevor Barrett (77)
Joshua Toth (74)