Glen Helen Pre-Entry List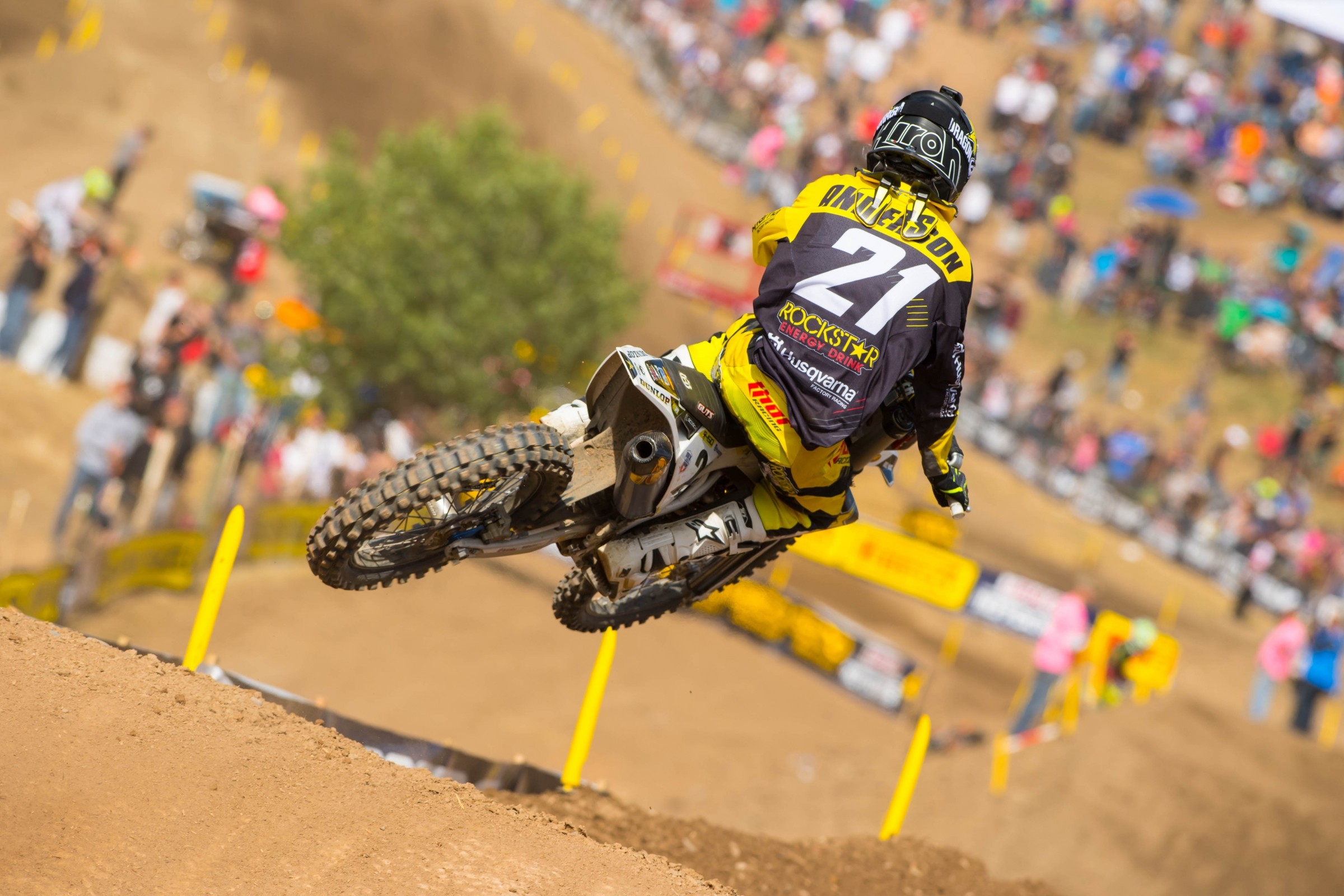 Glen Helen Raceway
San Bernardino

,

CA
Glen Helen
Lucas Oil AMA Pro Motocross Championship
The second round of the 2016 Lucas Oil Pro Motocross Championship kicks off this weekend in San Bernardino, CA, with the FMF Glen Helen National.
You can catch the first motos live on MAVTV starting at 4:00 pm ET. Second motos will also be live starting at 6:00 pm ET on NBC Sports Network. In addition to television coverage, ProMotocross.com will stream all 12 rounds of the Lucas Oil Pro Motocross Championship and provide exclusive coverage of practices and a Live Pre-Race Show "The Starting Gate" (all only available on digital) that provides behind the scenes access to the races.
All content will be streamed LIVE on ProMotocross.com and NBC Sports Live Extra (available at iTunes App Store and Android App Store). Fans across the country can watch the action unfold in all 24 motos of the championship as it happens through the convenience of a cell phone, tablet, laptop, computer, or streaming device (Apple TV, Roku).
Below is the pre-entry list for the opener.
450 Class
| | | | | | |
| --- | --- | --- | --- | --- | --- |
| Racing Nbr | First Name | Last Name | Hometown | Brand | Team Name |
| 1 | Ryan | Dungey | Waconia, MN | KTM | Red Bull | KTM |
| 3 | Eli | Tomac | Cortez, CO | Kawasaki | Monster Energy | Kawasaki |
| 4 | Blake | Baggett | Grand Terrace, CA | Suzuki | Yoshimura | Suzuki Factory Racing |
| 7 | James | Stewart | Haines City, FL | Suzuki | Yoshimura | Suzuki Factory Racing |
| 10 | Justin | Brayton | Fort Dodge, IA | KTM | BTO Sports | KTM | WPS |
| 11 | Kyle | Chisholm | Valrico, FL | Honda | Rocky Mountian ATV MC Honda |
| 14 | Cole | Seely | Newbury Park, CA | Honda | Honda HRC |
| 19 | Justin | Bogle | Cushing, OK | Honda | GEICO | Honda |
| 20 | Broc | Tickle | Holly, MI | Suzuki | RCH Racing |
| 21 | Jason | Anderson | Rio Rancho, NM | Husqvarna | Rockstar Energy | Husqvarna Factory Racing |
| 25 | Marvin | Musquin | France | KTM | Red Bull | KTM |
| 28 | Weston | Peick | Menifee, CA | Yamaha | Autotrader | Monster Energy | JGR | Yamaha |
| 29 | Andrew | Short | Colorado Springs, CO | KTM | BTO Sports | KTM | WPS |
| 33 | Josh | Grant | Riverside, CA | Kawasaki | Monster Energy | Kawasaki |
| 34 | Phillip | Nicoletti | Cohocton, NY | Yamaha | Autotrader | Monster Energy | JGR | Yamaha |
| 41 | Trey | Canard | Edmond, OK | Honda | Honda HRC |
| 43 | Fredrik | Noren | Sweden | Honda | Rocky Mountain ATV/MC |
| 47 | Tommy | Hahn | Belpre, KS | Yamaha | CycleTrader | Rock River | Yamaha |
| 51 | Justin | Barcia | Madison, FL | Yamaha | Autotrader | Monster Energy | JGR | Yamaha |
| 52 | Ben | LaMay | Wasilla, AK | Yamaha | Blue Buffalo | Slater Skins | Yamaha |
| 63 | Jesse | Wentland | Elk River, MN | Honda | RSR | Starr Cycle Honda |
| 76 | Scott | Champion | Temecula, CA | Yamaha | Pasha Racing | Yamaha |
| 81 | Jason | Brooks | Niantic, CT | Yamaha | 3D Racing |
| 87 | Austin | Politelli | Menifee, CA | Yamaha | Politelli racing |
| 88 | Ronnie | Stewart | Easton, PA | Suzuki | Team MicroBilt | PRBC |
| 94 | Ken | Roczen | Germany | Suzuki | RCH Racing |
| 95 | Dustin | Pipes | Madera, CA | Suzuki | Fly Racing Privateer Journey |
| 96 | Noah | McConahy | Spokane, WA | Husqvarna | George Gee Auto Company |
| 121 | Cody | Cooper | New Zealand | Honda | Crownkiwi Enterprises |
| 123 | Kevin | Rookstool | Medford, OR | Suzuki | Rookstool Racing |
| 167 | Benny | Bloss | Oak Grove, MO | KTM | BTO Sports | KTM | WPS |
| 204 | David | Gassin | Arnold, CA | Honda | |
| 229 | Edgar | Foedish III | Scottsdale, AZ | Kawasaki | ProTaper | AEO Powersports | Maxima Racing |
| 252 | Kevin | Weisbruch | Murrieta, CA | Kawasaki | Escondido Cycle Center | Factory Backing | Tresino's |
| 292 | Austin | Howell | Red Bluff, CA | Suzuki | Howell Racing |
| 314 | Alex | Ray | Atwood, TN | Honda | K1 Speed | BWR Engines | SSi Decals |
| 315 | Nicklas | Gustavsson | Sweden | Honda | Gary Jones Racing |
| 352 | Alex | Harvill | Ephrata, WA | Suzuki | Harvill Racing |
| 377 | Christophe | Pourcel | Dade City, FL | Husqvarna | Rockstar Energy | Husqvarna Factory Racing |
| 405 | Joe | LaFalce | Naples, FL | Kawasaki | |
| 428 | Tyler | Johnson | Cottonwood, AZ | Honda | Canyon Motocross | KP Ventures Well Drilling |
| 443 | Zach | Nazzise | Riverton, UT | Honda | Nazzise Racing | Monarch Honda | TNT Racing |
| 447 | Deven | Raper | Mesa, AZ | Kawasaki | RJC Racing |
| 455 | Justin | Ashburn | Cookeville, TN | Suzuki | TPJ | Fly Racing |
| 482 | Riley | Brough | Kaysville, UT | Honda | RMX |
| 501 | Scotty | Wennerstrom | Dallas, TX | Kawasaki | LDF Racing |
| 504 | Sean | Lipanovich | Guam | KTM | SLMX School |
| 507 | Nozomu | Yasuhara | Japan | Yamaha | |
| 509 | Alexander | Nagy | Richmond, IL | Suzuki | Nagy Racing |
| 529 | Broc | Loftus | La Pine, OR | Yamaha | TNT Racing |
| 551 | Jeremy | Byrne | Oak Hills, CA | KTM | |
| 575 | Dominic | DeSimone | Las Vegas, NV | Honda | Pasha Racing |
| 625 | Charles | Lefrancois | France | Suzuki | |
| 636 | Keith | Knight | Carmichael, CA | Yamaha | Haeseker Racing | Roseville Yamaha |
| 670 | Dylan | Schmoke | Alpine, CA | KTM | Schmoke Motorsports |
| 718 | Toshiki | Tomita | Japan | Honda | Rocky Mountain ATV/MC HONDA |
| 723 | Tyler | Enticknap | Lompoc, CA | Honda | Enticknap Racing |
| 743 | Nicolo | Gobbi | Italy | Kawasaki | Lainer |
| 805 | Carlen | Gardner | Paso Robles, CA | KTM | MX Athletics |
| 851 | Scott | Noble | Riverside, CA | Yamaha | MOF Racing |
| 909 | Jacob | Smith | Rescue, CA | Yamaha | Smith Racing |
| 917 | Drew | Thomas | Ione, CA | Yamaha | Roseville Yamaha | Haeseker Racing |
| 919 | Shawn | Rhinehart | Littlerock, CA | Suzuki | Pasha Racing | Simi Valley Cycle |
| 976 | Joshua | Greco | Hesperia, CA | Kawasaki | Greco Racing |
250 Class
| | | | | | |
| --- | --- | --- | --- | --- | --- |
| Racing Nbr | First Name | Last Name | Hometown | Brand | Team Name |
| 1 | Jeremy | Martin | Millville, MN | Yamaha | Yamalube |Star Racing | Yamaha |
| 13 | Jessy | Nelson | Paso Robles, CA | KTM | Troy Lee Designs | Red Bull | KTM |
| 16 | Zachary | Osborne | Abingdon, VA | Husqvarna | Rockstar Energy | Husqvarna Factory Racing |
| 17 | Cooper | Webb | Newport, NC | Yamaha | Yamalube |Star Racing | Yamaha |
| 23 | Aaron | Plessinger | Hamilton, OH | Yamaha | Yamalube |Star Racing | Yamaha |
| 26 | Alex | Martin | Millville, MN | Yamaha | Yamalube |Star Racing | Yamaha |
| 30 | Shane | McElrath | Canton, NC | KTM | Troy Lee Designs | Red Bull | KTM |
| 31 | RJ | Hampshire | Hudson, FL | Honda | GEICO | Honda |
| 35 | Chris | Alldredge | Powell Butte, OR | Kawasaki | Monster Energy | Pro Circuit | Kawasaki |
| 36 | Justin | Hill | Yoncalla, OR | KTM | Troy Lee Designs | Red Bull | KTM |
| 37 | Joseph | Savatgy | Thomasville, GA | Kawasaki | Monster Energy | Pro Circuit | Kawasaki |
| 38 | Christian | Craig | Corona, CA | Honda | GEICO | Honda |
| 39 | Jordon | Smith | Belmont, NC | Honda | GEICO | Honda |
| 40 | Kyle | Peters | Greensboro, NC | Honda | RIDE365.COM | Honda |
| 42 | Mitchell | Oldenburg | Alvord, TX | KTM | Troy Lee Designs | Red Bull | KTM |
| 44 | Adam | Cianciarulo | Port Orange, FL | Kawasaki | Monster Energy | Pro Circuit | Kawasaki |
| 45 | Kyle | Cunningham | Aledo, TX | Yamaha | MotorcycleSuperstore.com | Suzuki |
| 46 | Luke | Renzland | Hewitt, NJ | Yamaha | CycleTrader | Rock River | Yamaha |
| 48 | Anthony | Rodriguez | Venezuela | Kawasaki | Traders Racing | Kawasaki |
| 49 | Martin | Davalos | Ecuador | Husqvarna | Rockstar Energy | Husqvarna Factory Racing |
| 56 | Jackson | Richardson | Australia | Honda | XPR Motorsports |
| 61 | Gannon | Audette | Tallahassee, FL | Kawasaki | Traders Racing | Kawasaki |
| 66 | Arnaud | Tonus | Switzerland | Kawasaki | Monster Energy | Pro Circuit | Kawasaki |
| 69 | Colt | Nichols | Muskogee, OK | Yamaha | CycleTrader | Rock River | Yamaha |
| 84 | Jimmy | Albertson | Shawnee, OK | Suzuki | MotorcycleSuperstore.com | Suzuki |
| 91 | Brandon | Scharer | Los Angeles, CA | Yamaha | Strikt Yamaha |
| 92 | Ryan | Breece | Coeur d' Alene, ID | Yamaha | Blue Buffalo | Slater Skins | Yamaha |
| 97 | Tevin | Tapia | Bonney Lake, WA | Yamaha | TnTracing |
| 125 | Josh | Mosiman | Sebastopol, CA | Husqvarna | HD Supply Husqvarna |
| 128 | Alexander | Frye | Huntingtown, MD | KTM | Troy Lee Designs | Red Bull | KTM |
| 138 | Blake | Lilly | Wildomar, CA | KTM | Lilly Racing |
| 174 | Josh | Osby | Valparaiso, IN | Yamaha | MotorcycleSuperstore.com | Suzuki |
| 180 | Bryar | Perry | Cottonwood, CA | Yamaha | Transportation Services | 180Decals |
| 188 | Dillan | Epstein | Thousand Oaks, CA | Kawasaki | Nut Up Industries RBI Motorsports |
| 198 | Bryce | Shondeck | Colorado Springs, CO | Yamaha | Apex Sports, Inc. | Wheel Works | Maxima Oils |
| 203 | Zachary | Commans | Seal Beach, CA | KTM | |
| 212 | Chase | Marquier | Newcastle, OK | Honda | Ride365.com | Honda |
| 214 | Austin | Forkner | Richards, MO | Kawasaki | Monster Energy | Pro Circuit | Kawasaki |
| 239 | Robert | Wilson | Vacaville, CA | Yamaha | Monty's Automotive | Bell Helmets | Factory Connection |
| 289 | Mitchell | Harrison | Brighton, MI | Yamaha | Yamalube |Star Racing | Yamaha |
| 350 | Roland | Beck Jr | Auburn, NY | KTM | Beck and Boys Racing |
| 381 | Kinser | Endicott | Red Bluff, CA | Yamaha | Endicott Racing |
| 383 | Casey | Brennan | Albuquerque, NM | Yamaha | Brennan Racing |
| 388 | Brandan | Leith | Eagle Mountain, UT | Kawasaki | |
| 403 | Tristan | Charboneau | Tenino, WA | Honda | GEICO | Honda |
| 417 | Conner | Monks | Mesa, AZ | KTM | Monks Racing |
| 421 | Vann | Martin | Houston, TX | Honda | Honda of Houston |
| 424 | Tyler | Custer | Creston, CA | KTM | Custer Racing |
| 492 | Luke | Clout | Australia | Suzuki | MAD Racing | Yoshimura | Suzuki |
| 553 | Brent | Rouse | Torrance, CA | Honda | Patch Master Racing | Mid Cities Honda |
| 574 | Brian | Burns | San Clemente, CA | KTM | |
| 593 | Martin | Castelo | Cairo, GA | Honda | IBCorp Racing Team |
| 608 | David | Pulley Jr | Lake Elsinore, CA | Yamaha | DMP Motorsports |
| 639 | Donald | Solley III | Mascotte, FL | Suzuki | DSMXSchools.net |
| 655 | John | Pauk | Canada | Honda | Compression Generation Services |
| 660 | Stone | Edler | Destrehan, LA | Yamaha | Roost MX | Answer | Bell Helmets |
| 703 | Justin | Rando | East Lyme, CT | Yamaha | 3D Racing |
| 715 | Kele | Russell | Seabeck, WA | Yamaha | Alliance Steel | NoToil | Flo Motorsports |
| 726 | Gared | Steinke | Woodland, CA | Husqvarna | Cool it Thermotec |
| 767 | Mason | Wharton | Hockinson, WA | Kawasaki | Motosport Hillsboro |
| 768 | Cole | Shondeck | Colorado Springs, CO | Yamaha | TNT Racing |
| 820 | Dalton | Oxborrow | Lehi, UT | Kawasaki | Oxborrow Racing |
| 825 | Zachary | Peddie | Vista, CA | Yamaha | Driven MX |
| 892 | Garret | Ioppolo | Lincoln, CA | Yamaha | LuevanosRacing | Roseville Yamaha | Haesker Racing Engines |
| 922 | Taiki | Koga | Japan | Honda | N.R.T with TWMX |
| 987 | Matthew | Babbitt | Cayuga, NY | KTM | The Privateer Journey (TPJ) |