Rancho Cordova, CA
Hangtown
Lucas Oil AMA Pro Motocross Championship
Yeah! The outdoors are here! MOTOCROSS!!!! MOTOCROSS!!! MOTOCROSS!!!!
Anytime a new series starts, be it supercross or motocross, I'm pretty excited. By the end of whatever series I'm currently in, I get a tad bored with things (unless there's a title fight. Do I hear the word Chase?) and want to switch it up. There's nothing to shock the system like the sound of a 450cc motorcycle pinned and working through some rollers. We've got great stuff here: big old berms, Southwick is back, maybe some mud and some real cool parts of the country. #thisismoto
Glen Helen, Hangtown—the Lucas Oil Pro Motocross Championship has rotated the opener for the last few years and this year it was NorCal's turn aka Hangtown. It's a nice track for an opener, probably a good warm up for Glen Helen, which in my opinion is a gnarlier kick off to the brutal conditions the riders will be subjected to. I've said it time and time again—no track on the circuit since I've been going (1996) has changed as much as Hangtown.
What was once cement and pretty basic is now sort of loamy and has a nice layout. This year, however, the Dirt Diggers thought the rain was going to come (and it did for about ten minutes in the first 250MX moto) so they left the track pretty hardpack. It wasn't ripped up and watered like so many other national tracks. By Hangtown standards it was pretty smooth, fast and hard to make up time on. None of the riders I spoke to were that pumped on the track prep but they understood why it was done that way. I thought that the racing, especially in the 250's, wasn't as exciting as it could've been because the riders didn't make mistakes due to the track. They were pretty much tapped all the way around the place.
Kenny Roczen got on a roll near the end of supercross and credited recent bike changes to his improvement. All of us saw a set of production triple clamps on Kenny's RM-Z450 and simple reasoning tells us that they offer up more flex and a better feel for Roczen. Roczen himself told me that they changed a linkage ratio which made the bike better. Roczen never really mentioned the motor to me as to something he's changed and truthfully, I didn't think there would be some big change there because teams don't monkey with the motors all that much in these 450's once they find a set-up. Most teams I speak to like to put a lot of power into the motor and manage it with the electronics. However, it seems the RCH crew has found a lot more power in Roczen's bike along with those chassis adjustments it's showed. Roczen's been much better recently and has been able to challenge Dungey more frequently by getting some better starts. It's no secret the Yamahas and the KTMs (and Huskys) produce the most power in the 450 class and the rest of the guys are looking under every rock to find some ponies.
If you think about it, Roczen's on a radically different Suzuki RM-Z450 that he ended last year on. Different suspension company, different style of fork, linkage, clamps and the motor is way, way different. A lot of teams I've been on start their testing, be it SX or MX, with last year's race bike and work forwards from there but not the RCH guys. Because they changed so much for the 2016 SX bike, they couldn't even start with the 2015 outdoor set-up. Instead, the guys took a bone stock RM-Z450 and worked forward from there. That's, uhhh, unusual but it's clearly worked for Roczen.
Roczen's first lap in the first moto is something else. Go watch it. He comes from around tenth to first in a lap! He gets by Ryan Dungey rather smoothly then Cole Seely and absolutely crushes by pulling away. An amazing bit of riding from Roczen and in the second moto Dungey led and Roczen again made a beautiful move to the inside to get the champ.
Now here's what's impressive to me: Roczen knew he needed to sprint hard. Dungey knew Roczen needed to sprint hard. And Dungey couldn't stop him. The champ, second all-time in 450MX wins, knew what was going on, had the advantage of seeing Roczen's lines, braking points and all that and he was powerless to stop the 94. Both motos Dungey was able to hang with Kenny once the 94 stopped sprinting (sometimes he even went a bit faster) but it was the opening laps in both motos that he couldn't do anything about.
Great work by Roczen and his team for radically changing the motorcycle from last year to this year and for thinking outside the box when it comes to testing. There's no time of the year when a team works harder than the transition from supercross to motocross so plenty of golf claps all the way around.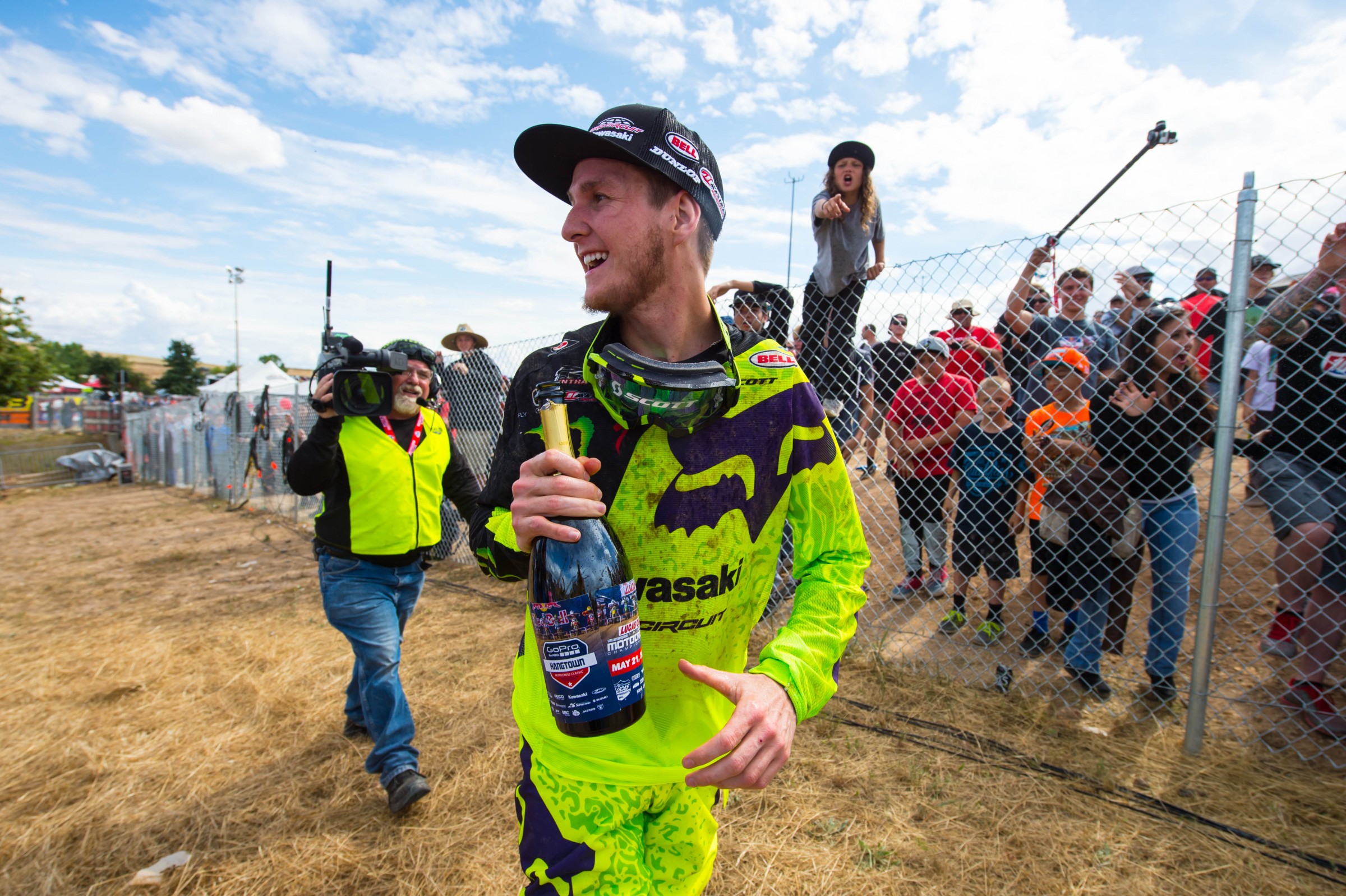 The fact that Joey Savatgy won Hangtown isn't that big of a shock. After all, we all figured he'd be in the title hunt. But qualify fastest, win the first moto rather easily and then move up and take moto two? Nope, didn't really see that coming. Joey was great and although it was his second career national win, it was the first moto he won. (He won Unadilla last year with 2-2 scores.)
I'll tell you what I was most impressed with and that was Savatgy's stamina. Obviously he was fast (qualified quickest, bro!) but he only had the eighth best time in moto two. This tells me that he could do all 16 laps fast. Looking at his times from that moto tells you exactly that. His fastest lap was a 2:04.1 on lap six and his slowest one (outside the last lap) was 2:05.5 so he only lost 1.4 from best laps to worst. Zach Osborne's difference was three seconds. Jessy Nelson's was six seconds. Alex Martin's was 2.1 and so on and so on. So you see Savatgy was not only fast as crap, he was also in better shape than anyone else.
Let's take a look at the results shall we?
250MX Results
1 37 Joseph Savatgy Thomasville, GA Kawasaki KX 250F 1 1- Something to think about is how far back Savatgy was in the first second moto start before the red flag. He didn't get a very good jump and who knows how it would've gone but he was definitely thankful for the flag. After one round he's got a remarkable 15 (!!) point lead on AMart.
2 26 Alex Martin Millville, MN Yamaha YZ 250F 8 2- Yeah, these are the actual real moto scores for Alex. For a while there I thought that the Ewok Warrior was actually going to win the moto as he ripped through some fast riders to get into the runner-up spot. Alex has started training with Gareth Swanepoel instead of piggybacking his brother's program with Johnny O'Mara and it's paid off big time for him. He struggled in supercross at the beginning of the year but started turning things around after the West Region break; although he crashed and didn't have much results to show for it. This was great.
3 17 Cooper Webb Newport, NC Yamaha YZ 250F 4 5- What wrist injury? Webb barely rode before this race and he's not practicing this week in hopes that his wrist gets better. It's impressive that's he's A) out there and B) doing this well. He's got a big money deal with Yamaha next year all set with two 250SX titles in his pocket. A lot of riders would take the summer off and be busy swiping right but not Webb, he's a racer. Nice work, son.
4 23 Aaron Plessinger Hamilton, OH Yamaha YZ 250F 9 3- Plessinger seemed to have these incredible bursts of speed for a few laps in both motos where you were blown away. It was like he found some kind of cheater line, then an official moved the Tuff Block back and he couldn't do use it anymore. Impressive!
5 1 Jeremy Martin Millville, MN Yamaha YZ 250F 3 9- JMart had an "ok" first round. He knows it's a long season so I don't imagine there's much panic with him. The first moto he worked on Webb for a long time before wearing him out. Second moto he was probably planning on using his fitness and pace to move forward again but he fell and that was it. Word is he was also under the weather a tad at the opener so that probably had something to do with it also.
6 13 Jessy Nelson Paso Robles, CA KTM 250 SX-F FE 7 6- We hadn't seen Jessy since Anaheim 1 so his return was a welcome one. He even led the second moto for a long time before fading back. It was a nice ride for Nelson on a track he usually does pretty well at. A good start since he was out for so long.
7 39 Jordon Smith Belmont, NC Honda CRF250R 2 16- Smith wasn't very happy with AMart for his pass and rightfully so. However, this was still a very nice race for Jordon and he's got to be full of confidence going forward. Great day and a real surprise for everyone.
8 214 Austin Forkner Richards, MO Kawasaki KX 250F 13 7- The kid was alright. Lots of hype for Forkner including an email from Kawasaki asking media guys to not talk to Austin until after the race to allow him to focus on his pro debut which was a bit weird but sure, whatever. Anyways, if he hadn't fallen in the first moto he would've had two top ten's at his first race and ain't nothing wrong with that. Look for Forkner to really do some damage in 2017 supercross. Like, he could win.
9 403 Tristan Charboneau Tenino, WA Honda CRF250R 6 14- Charboneau's (whose name I repeatedly misspelled on Twitter on Saturday) first moto was a massive surprise to pretty much everyone, including the GEICO guys who spent time before the race tempering expectations for the rookie. Nice work by him. Yeah the second moto didn't go so well, but that's a nice first one.
10 42 Mitchell Oldenburg Alvord, TX KTM 250 SX-F FE 11 10- We talked about that red flag in terms of helping Savatgy. Well, same deal for Oldenburg who had gone down in the first turn on the first start and then ripped a decent finish on the restart. As a mechanic I really hated red flags; it was panic time for everyone. I only went through a couple that I can think of; we didn't have to deal with 43 restarts like we did this year.
11 16 Zachary Osborne Abingdon, VA Husqvarna FC250 20 4- It wasn't easy to make up time on the fast smooth-ish track so I get Zach struggling to move up in the first moto after a stop for goggles but it was a bit strange to see him that far back and not really able to do much about it. Second moto he was very fast (fastest lap of the moto and fastest average lap as well, which he enjoyed pointing out to me via text when I was asking him what went wrong?). He charged the whole way to just outside the top three, which salvaged the day for him.
12 38 Christian Craig Plymouth, MN Honda CRF250R 15 8- Craig was dead last in the first moto after crashing in the opening laps. Like, seriously, dead, dead last. So his 15th was great. Second moto he came from 32nd to 8th, which was probably better. No one is going to know how hard Craig worked at Hangtown, they'll just see 12th and think he sucked. BUT DON'T WORRY CHRISTIAN I KNOW!!!!
13 44 Adam Cianciarulo Port Orange, FL Kawasaki KX 250F 12 11- Bad starts for Adam and he got tangled up with guys in the second moto. I don't want to start any panic here but have you seen how big he is now? Bad starts might be something that haunts him this summer. Keep an eye on this going forward.
14 69 Colt Nichols Muskogee, OK Yamaha YZ 250F 14 12- Nichols' first ever national and a pretty decent one at that. I've always heard about how fast this dude was from guys like Wey and Big Nasty—they were on the Nichols train from day one—but we're all seeing it this year.
15 31 RJ Hampshire Hudson, FL Honda CRF250R 5 38- Hampshire was sneaky good as he hounded the leaders in the first moto. He crashed in the second moto and had his arm sucked up into his bike.
16 128 Alex Frye Huntingtown, MD KTM 250 SX-F FE 10 17- Frye's first moto was an eye-opener just like a few of his supercross rides. He's just got to keep it together and that's what seems to be a problem for him. Still, if I'm being honest, I wouldn't have penciled him for more than one or two top ten's all year long and he's already got one.
17 36 Justin Hill Yoncalla, OR KTM 250 SX-F FE 21 13- I don't know, I thought he would be better…didn't you?
18 66 Arnaud Tonus Switzerland Kawasaki KX 250F 22 15- A few riders that had seen him before the year, and a few other media guys as well, had him listed as a sleeper. Unfortunately for Arnuad, he just went to sleep at Hangtown.
19 289 Mitchell Harrison Brighton, MI Yamaha YZ 250F 16 20- I swear I thought I saw Harrison ride slowly off the track in one moto as he no doubt had crashed. Guess not or maybe he's a super hero.
20 46 Luke Renzland Hewitt, NJ Yamaha YZ 250F 19 19- I asked Luke how his day was and he said "Good until the arm pump struck."
450MX Results
1 94 Ken Roczen Germany Suzuki RMZ 450 1 1- Kenny was as happy after Hangtown as I think I've ever seen him. Granted, I haven't been around for every win or birthday celebration or whatever, but he was very stoked about his win and why wouldn't he be? The only way I think he would've been more content was if he lit a smoke right after getting the checkers.
2 1 Ryan Dungey Waconia, MN KTM 450 SX-F FE 2 2- I know I spent 745 words talking about how great Roczen was at Hangtown but Dungey was clearly better than anyone not from Germany and I don't think he's worried at all. For some reason, Hangtown has his number and he'll be fine. If you're mad that me pumping up Roczen makes Dungey look bad, stop it. They'll be PLENTY of "OMG DUNGEY IS SO SO SO SO GOOD" columns coming.
3 3 Eli Tomac Cortez, CO Kawasaki KX 450F 4 4- Tomac getting third overall was not a surprise. We had broken down that Roczen, Dungey and ET would be top three in some order. However, getting caught and passed by Blake Baggett late in moto one for third was a surprise as was his inability to catch Anderson in moto two. Oh and his starts weren't good enough, but we've heard that before.
4 21 Jason Anderson Rio Rancho, NM Husqvarna FC450 6 3- Anderson was great in both motos but his starts hurt him. There were many times where he was the fastest man on the track not named Roczen or Dungey. He's a bit hyper out on the track at times; as he cannot, just cannot, stand to be behind anyone.
5 41 Trey Canard Edmond, OK Honda CRF450R 7 5- Canard crashed in both motos. Nothing big, but tip-overs that hurt him while he was much higher in the running order. That's the bad news. The good news is his starts, which were terrible in supercross most weeks, were great in the first moto and not too bad in the second.
6 14 Cole Seely Newbury Park, CA Honda CRF450R 5 10- Seely ran third until so, so late in the first moto when Tomac and Baggett zapped him. Had he managed to stay third I'm sure that might've been the biggest shocker of the day. Great ride for him. I'm not sure if he crashed or just a bad start in the second moto but he did manage to pass a lot of riders to get that tenth.
7 51 Justin Barcia Madison, FL Yamaha YZ 450F 10 6- An ok day for Barcia despite going backwards in both motos. His starts were pretty good which is a good sign moving forward. I'm interested to see if Bam Bam can flip the switch like he did last summer and get into the mix.
8 25 Marvin Musquin France KTM 450 SX-F FE 9 7- When Roger DeCoster quits the sport we the media need to pitch in and get him a cruise or something for giving the best interviews in the pits. Here's his reply when I asked him about Musquin's race: "I think he let himself get frustrated in the middle of the race and then start wondering about the bike or the wheels and looking around and everything. We checked everything and there was nothing wrong with anything. We talked about it. He knows what he needs to work on. He needs to work on himself. The 450 is a tough class and a lot of guys go fast." Basically Rog wasn't having any sort of complaining by Marv.
9 33 Joshua Grant Riverside, CA Kawasaki KX 450F 8 8- Nice ride for JG who's got to be looking at GH on the schedule this weekend and licking his chops.
10 34 Phillip Nicoletti Cohocton, NY Yamaha YZ 250F 11 9- Filthy Phil rode well at HT. He jumped off the track a couple of times but luckily for him there were no officials or photographers anywhere around. Phil's in good shape and can go the speed for two motos. Not a lot of flash with Filthy, just solid moto in and moto out. He's not going to cheat his team in the effort department.
11 4 Blake Baggett Grand Terrace, CA Suzuki RMZ 450 3 19- Baggett's always good at Hangtown but who had him passing Eli Tomac for third with two laps to go in the first moto? (Put your hand down, Tom Baggett.) Impressive ride for Blake and it's too bad he fell hard in the second moto and broke his collarbone.
12 19 Justin Bogle Cushing, OK Honda CRF450R 12 11- Bogle's good first moto start was maybe the worst thing that could happen to him. He was already feeling it after a crash in practice. Then, no easing into the outdoor series for Justin as he got shuffled back pretty quick. I predict a supercross-type of series for Justin where he perhaps struggles a bit in the beginning then slowly starts figuring it out and gets better.
13 29 Andrew Short Colorado Springs, CO KTM 450 SX-F 15 12- Hey, look who's back! Short wasn't that happy with his results but he was happy to be back racing. Been a tough year for the #29 but after this race he had a smile on his face. Take a listen to his interview with me afterwards and hear him tell a funny Bogle story.
14 377 Christophe Pourcel Dade City, FL Husqvarna FC450 17 15- Pourcel is still banged up from his supercross crashes according to the team PR. It definitely looked like something was wrong out there.
15 20 Broc Tickle Holly, MI Suzuki RMZ 450 14 18- No excuses from Tickle, his wrist was fine, his pre-season speed was good. He just didn't qualify well therefore he didn't get a good gate pick, then a bad start and it went south from there.
16 28 Weston Peick Menifee, CA Yamaha YZ 450F 39 13- Peick made the box in one moto here last year so you have to think this wasn't great. But he went down pretty hard in the first moto from what I hear. Second moto was pure salvage mode I'm sure.
17 43 Fredrik Noren Sweden Honda CRF450R 13 37- Fast Freddie was good in the second moto also as he ran just outside the top ten before a crash. Then he lost his header pipe or something to the crowd. I don't know, things got weird after the crash.
18 167 Benny Bloss Oak Grove, MO KTM 450 SX-F 21 14- Bbbbbbbbbb Benny, Benny…Benny had an ok Hangtown although he wasn't feeling 100 percent. I spoke to him about riding a 450 and shocking, he wants to stay up on the bigger bikes.
19 121 Cody Cooper New Zealand Honda CRF450R 19 16- Hey, look who's back! Cooper is riding the first two nationals with some help from former 500 World Champion Shayne King and it's nice to see Coop hasn't lost much speed from when here was here the first time.
20 10 Justin Brayton Fort Dodge, IA KTM 450 SX-F FE 18 17- Brayton's never that good at the opening California rounds so no one panic with this result. He'll get better here quickly.
Some other news and notes:
- The battle over air and spring forks continue over at the Star Yamaha team (2-3-4-5 in Hangtown, bro!) as Jeremy Martin and Cooper Webb are running spring forks and Alex Martin and Aaron Plessinger are on air forks. Sometimes these things are weird, right?
- You just never know when life will throw you over the bars, right? Another example of this was the news that Gord Downie, the lead singer of one of my favorite bands, The Tragically Hip, was diagnosed with an inoperable brain tumor. This Canadian band is well known, they've been a smash up north since the early '90s and my wife and I have seen them down here in small little clubs probably fifteen times or more. The band's live shows are something else thanks to Downie. The Hip are going out on a tour this summer, one last one for Gord I guess. Courage, my word, indeed Gordie.
Thanks for reading and welcome back motocross, we've missed you. Email me at matthes@racerxonline.com if you want to chat about this or anything else.