Hangtown Motocross Classic
Rancho Cordova

,

CA
Hangtown
Lucas Oil AMA Pro Motocross Championship
For the second consecutive Lucas Oil Pro Motocross Championship season, AutoTrader.com/Monster Energy/JGR Yamaha racer Justin Barcia comes off a very abbreviated, injury sabotaged supercross season. Forced to the sidelines with a thumb injury a mere two rounds into the 2016 stadium tour, Barcia missed nine straight races before returning to the fray at Round 12 at Santa Clara. Understandably excited to be back racing, it didn't go well for the native New Yorker as he struggled not only to find his rhythm, but any sort of race contending speed as well. Undaunted, Barcia, as he did basically 365 days ago, looked at the big picture, and in doing so, focused on the great wide open that is Prairie City, California and the curtain opening Hangtown National.
They've been coming to this race since 1969 and that's exactly where Justin Barcia was when we crossed paths with him on Friday evening. Just back from checking out the 2016 Tour of California bicycle race (which has been rolling through Northern California the past few days) and getting ready to jump into a rental car and head out to a local dealer signing, Barcia, the third place finisher in the 2015 450MX division, gave us a quick lowdown on his master plan come Saturday afternoon when the gate clanks into the ground and sets loose the 50th consecutive year of American Motocross.
Racer X: It's the night before battle and in less than 12 hours you'll literally be out on the track and competing in the 48th Annual Hangtown Motocross Classic. What are you up to?
Justin Barcia: I actually went to the road bike race today. They're having the Tour up here in Folsom earlier and I have a dealer signing in a little bit.
You were able to watch a stage of the 2016 Tour of California bicycle race?
Yeah, yeah. The sprint was today. It was huge. All the big, top guys were here. It was pretty cool to see.
I bet it was. Tomorrow is race day. How do you feel?
Oh man, it's awesome. I'm excited. It's a fresh start for me, you know? I'm not coming into the race injured like I was in supercross. It's nice to be ready to go. I had some bad luck the past two supercross seasons and I'll just look past that and I'm super-positive about going to the race tomorrow and I feel really, really good about it. I'm in shape and I'm healthy. I'm ready to race.
Since your 2016 Monster Energy Supercross season was quite abbreviated, were you and the team able to really focus on the outdoor bike and have it totally dialed-in for the new season?
Yeah, we did get a little extra time. We still focused on the supercross and did the best we could, but yeah, our bike is definitely dialed for outdoors. We need it to be good, for sure. I had a good season last year. It started off a little slow and got better and better as the season went on, but now our bike is dialed and for me, I'd like to start the season off on a high note and be in a good position for the whole season.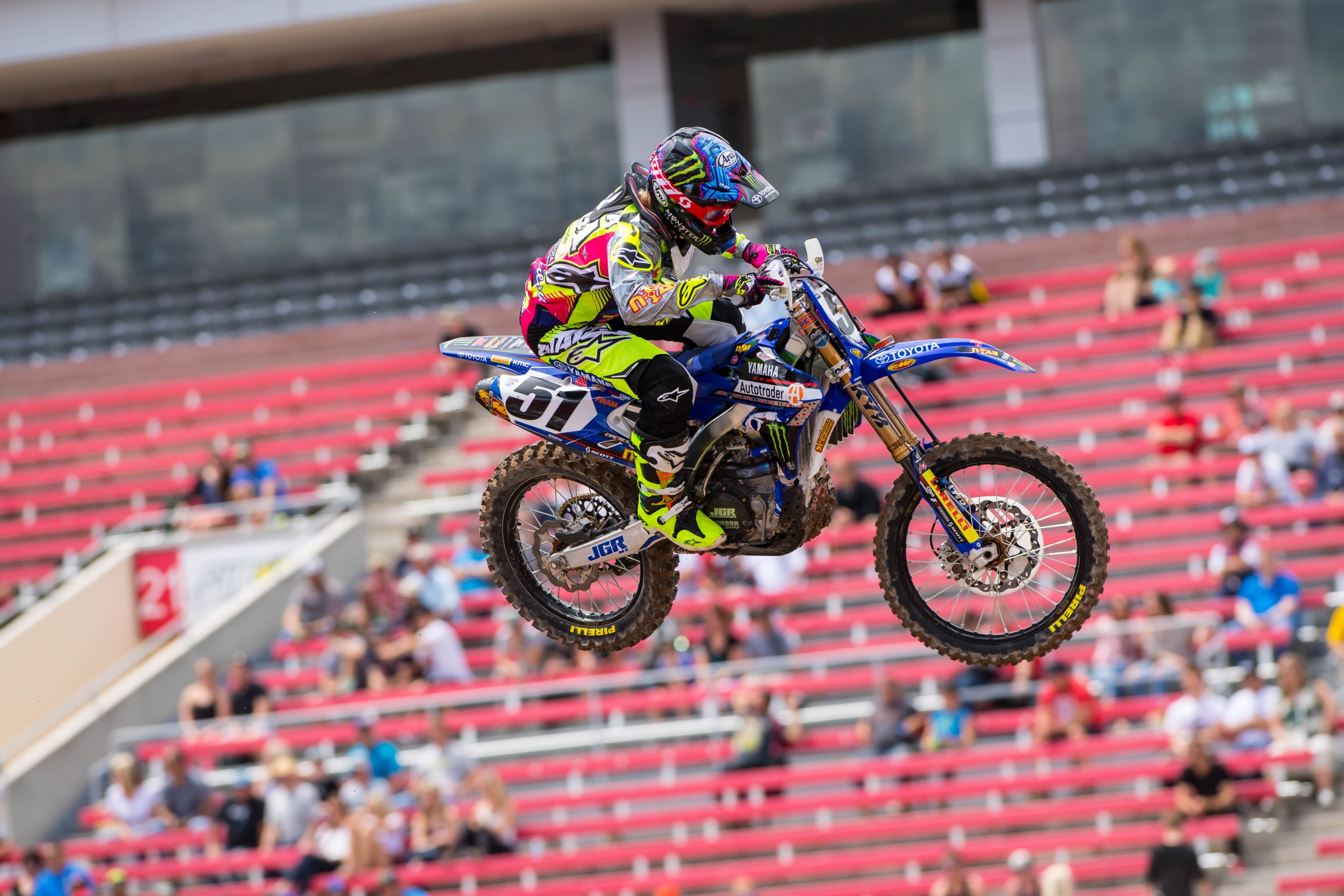 After coming back from the Ulnar Collateral Ligament injury, you raced in the last six supercross events. How did you feel in those races? We're you warming your way back into running at that fierce pace?
Yeah, it's super-tough. I've had to do it twice now. I had to do it last year and I had to do it this year. Yeah, it was tough. Mentally, I just wasn't all there for supercross. It was hard to go in there and I was struggling really bad and trying to get my bike dialed at the end of the season when everyone else is just taking off. It was good to come back and spend some time with the team and, of course, the fans and stuff. But it was a struggle, for sure, so it was tough. I'm definitely happy to look past that and be here for outdoors.
You were out at Prairie City to do press yesterday afternoon. What's your first-blush take on the Hangtown track?
Yeah, it was cool. We did get to ride the track. It was actually pretty rough from the amateurs. The first practice we had was a little weird just because the lines were different, but the second practice had a good flow to it and it was pretty bumpy so I'm excited to see how it will be tomorrow. And it looks like we might get a little rain also, so it will be interesting to see what happens.
A little rain and some mud actually helped ignite your outdoor season last year when you went out and won the sixth round of the series at Budds Creek.
(Laughs) Yeah, that's true. Last year at Budds Creek my season turned around a little bit and there was a little bit of mud there. Either way, I feel a lot more confident this year with my bike set-up. I also I feel more confident mentally and physically for outdoors. Rain or shine, I'm bringing my A game, for sure.
And you won two Nationals, four motos and hit the podium on five other occasions last outdoor season…
Yes and that's the thing, for sure. I know I'm able to win at the top level outdoors and, for me, I know I had a tough season in supercross and people said, "Oh, what the heck?!" or whatever, but I'm looking past it. I know for sure that the competition is going to be super tough. There are a lot of really good guys. The top 10 is super-strong. You have to be super-smart all year, you have to get good starts and you need to put yourself in a good position. I had a few bad races last year in outdoors, so I'm looking to eliminate those and to carry to strong points all year and to be in the fight all year. That's the goal—fighting for that championship all year long.
I spoke with a few of the 450 guys this week and all of them brought up how stiff the competition was going to be in the class. You have Dungey, Roczen, Tomac, Musquin, on and on. What do you think? Who is going to fight hard in this thing?
Honestly, right now it's a little bit hard to say. You always have those top guys. There is one guy in every factory team that is going to be good. It's going to be interesting to see what plays out throughout the year, but realistically, for me, I'm just worried about myself and what I have to do. I'm trying not to really worry about the other guys and I'm just going to see where I'm at. I know speed-wise, I'll have the speed and it's just about making the right decisions all year long.
A few racers mentioned to me that the first practice of the first National of the season gives them a real good idea of where they are going to be at. Do you agree with that at all?
For me, I don't ever worry too much about practice times. I think when the gate drops is when it matters for me. I'm a racer and that's when it really comes down to it. You definitely want to have some good speed going into the first practice, but track conditions, the first race on a bike you haven't raced yet are factors and all that plays into it. But you do have to set the tone pretty quickly.
For all intents and purposes, the initial phase of the 2015 outdoor season was utterly dominated by Eli Tomac. As we know, Tomac ended up injured and out for the year before Ryan Dungey and Ken Roczen picked it all up. Do you see someone coming out and being super-strong immediately?
I don't think anyone is going to run away with it right away this season. I think it's going to be a dog fight all year long. It's going to be a brutal, hot and vicious season, to say the least.
Come tomorrow after all is said and done, what'll make Justin Barcia walk out of the pit area with a smile on his face?
I think, for sure, to be on the podium in both motos would be awesome. Ideally, to go out of there in the top five would be great. If I get on the podium, so be it. But yeah, I definitely want to be up in the fight and just not make any mistakes, get good starts and put myself in a good position and I don't think we should have a problem.