Las Vegas, NV
Las Vegas
Monster Energy AMA Supercross Championship
It's over, baby! The 2016 Monster Energy Supercross Championship is nothing but a memory. To me, this series has been sort of routine. It went the way most of us thought it would…until this weekend, when the SX gods wanted all us to be left with a real memory of this series. Mission accomplished!
As I hope you guys know it rained like crazy in Vegas and we had a mudder. Now I've lived here for ten years, I know this type of rain— how fast it fell and how intense it was—wasn't anything new. But seeing as how it only happens about ten days a year and happened to fall on the day of the supercross was a bit weird. It started right when the 450's hit the track for their second practice and it came down hard. Like, hard enough to cancel the rest of the practices and create lakes where Tuff Blocks floated away. We might have been "ok" (this term is used loosely) but then we were hit with some more rain during the opening races and it completely destroyed the track. At that point, it needed to just keep raining because after the dirt started getting drier and stickier, things got nutty.
The track crew did their best, but with not much base dirt down, there wasn't much they could do as far as scraping mud off. The drainage was important and for that they made the track about as good as it could be. The first turn area was a lake (seriously, I think I saw Mookie fishing in it) but it was fixed up great.
I thought that when it was dry, the track was awesome. Moving the start back inside was a good move, we had a triple dragon-back section (like a double rainbow, only BETTER!), Monster Alley and a pretty tough section of whoops that had Chad Reed smiling on track walk. In fact I heard the always candid Reed say to a Dirt Wurx member, "It only took you guys 17 weeks but you've built the perfect whoops".
Once the rains came, the track sucked. So, yeah.
The decision to cut the laps back in the heats and mains was also fine with me and I think most people. It was tough sledding (well actually no one was sledding, everyone was riding) out there and with the Vegas track being long already, it was a needed move. Unless your name was Joey Savatgy, you were fine with the laps being cut down.
The format for the 250SX main event was new this year as it went old school with both 250SX East and West in one main event and points counted as one race. This was done all the time in the old days but probably hasn't been done in twenty years. I applauded this change when it was made and now that it's happened, I say let's do it some more! I'm sure there were some very nervous riders and managers but both points leaders had nice leads going in and things "looked" to be in control. It was also an extremely hard main event to get into. It was stacked, bro! One thing going forward that I heard from a few people (Tom Baggett being one of them) was for one coast to have a different colored number plate so you could tell the difference. I agree, that would be a good change.
Cooper Webb came into the race with an injured wrist (although he strangely denied this at the press conference) and it's not good. I think it'll hold him out of Lucas Oil Pro Motocross, but that's just my opinion. Time will tell with that one. One thing time has also told us is that he's now a two-time 250SX West Region champion! He had to get 12th if second place in the points Savatgy won and really, that wasn't going to happen because Webb's really good and this field is deep so Savatgy winning was far from a lock.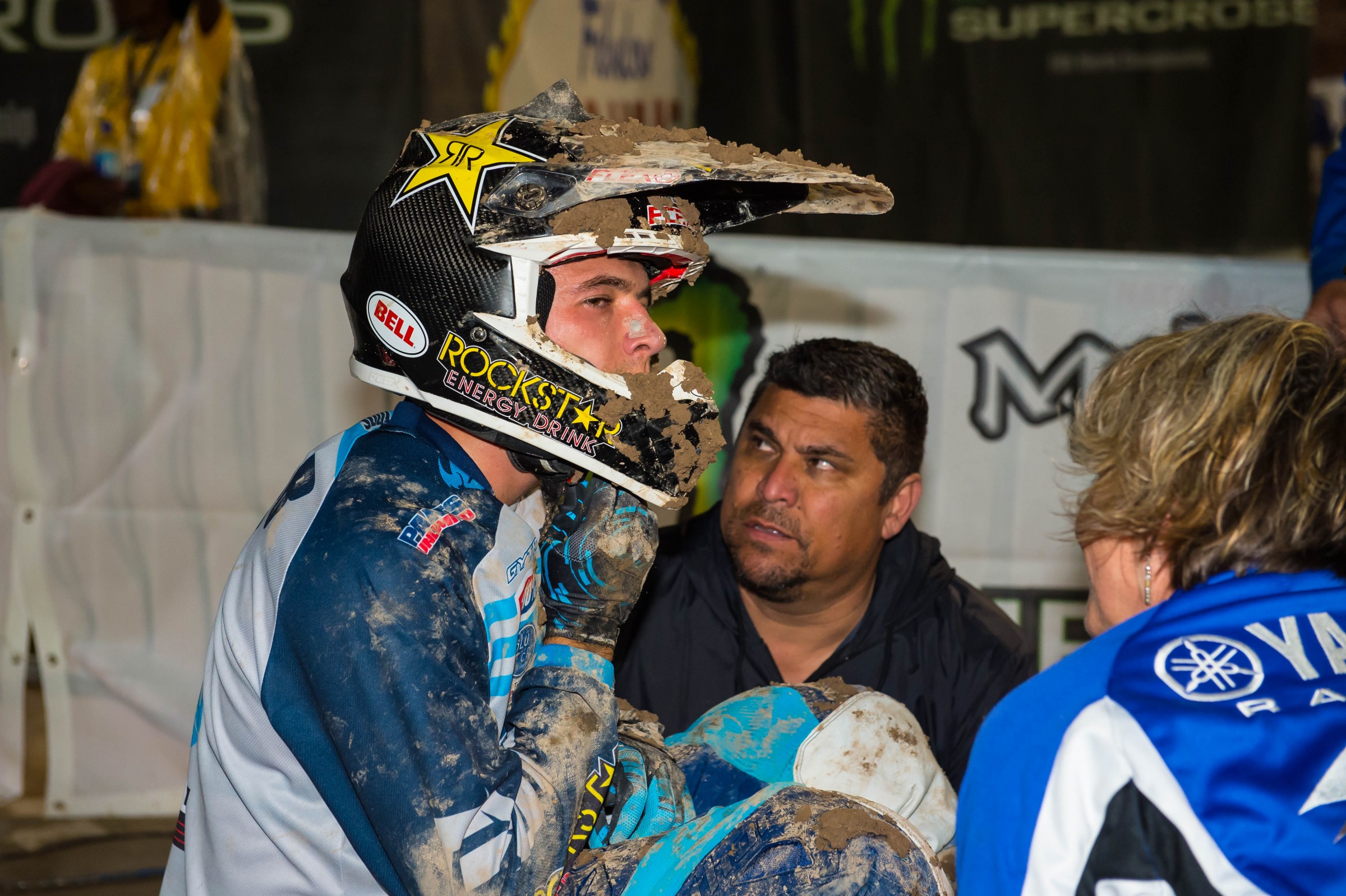 But that's exactly what happened! Savatgy was hella-fast when the track was dry in practice and he took off in the main like a green bullet. He had an almost 30-second lead at one point! See ya later! He was doing exactly what he had to do to have any chance at winning this 250SX West title. It was a great ride and I was impressed with his coming through in the clutch.
As we all know Webb fell on the first lap right on his bad wrist and toughed it out to win the title. He was 12th for the longest time and had a big gap so his title wasn't as perilous as it looks on paper. Mitchell Oldenburg was coming and only about four seconds back at the finish. But Chris Alldredge crashed on the last lap, which gave Webb 11th. He did just enough to win but in the end, it'll just be remembered that he won.
Really though, no slight to Savatgy or Zach Osborne or Christian Craig but Webb was the best rider in this series. He had a mechanical DNF that allowed everyone to get close, but to me Webb's got a chance to be a 450SX champion at some point. He's that good. Take away the mechanical (I know, I know) and he walks to this title.
In the East Region, somehow Malcolm Stewart went from barely having a points lead to crashing four times in St. Louis and folding under the pressure in Foxborough to having a nice gap in the title chase. Unlike Webb, Mookie wasn't riding hurt so he wasn't going to have any talk about holding on for this championship. Nope, he won his heat in the mud, got a great start in the main and rode flawlessly to clinch his first pro title. It was an awesome ride and kind of remarkable in that Mookie was able to mentally pull it together so well after admitting that he was mentally crumbling a couple weeks ago.
So now Stewart's onto the 450 class via his winning the title and pointing out. It's funny to talk to some people that manage the big teams. Some think he's going to be awesome rider and want to sign him, others are wondering why he'll soon go two-straight years without doing the outdoors and others want nothing to do with him because of assumed drama with his family. The opinions are all over the map on Mookie. Me, I think he's VERY highly skilled, I think he enjoys being in the spotlight more than James and I think he's trying to be more of his own man. We shall see where he ends up.
Let's take a look at the results shall we?
250SX Results
1 37 Joey Savatgy Thomasville, GA Kawasaki KX 250F- Very impressive ride by Joey to come through when the pressure was on. I'm sure he's going to think about all those races this year when he left a point or two on the table (#craigwhoopgate) and probably going to drive himself nuts. Want a sleeper in the 250MX title chase? Right here, bro.
2 16 Zach Osborne LAKE ELSINORE, CA Husqvarna FC250- Osborne had the 19th gate pick (crashed and had to ride the LCQ) so he was basically effed right from the start. But Wacko made it happen and charged all the way to second. He cut into Joey's lead big time and maybe would've caught him if it was a bit longer. That's his GP and off-road experience shining through.
3 50 Malcolm Stewart Haines City, FL Honda CRF 250- I don't think Mookie's going outdoor racing despite what some people are saying. I could be wrong and I don't agree with him not racing but the team is cool with it so who am I to argue? Look for GEICO to put Tristan Charboneau on the bike for Hangtown.
4 23 Aaron Plessinger Hamilton, OH Yamaha YZ250F- This kid was fast. He even had to stop in the mechanic's area! Seriously. We all know he's amazing in the slop but this was impressive. His last couple of weeks haven't been awesome—remember he was only one point back of Stewart with three races to go—but this ride was a nice way to end the year. He's a title favorite in 2017.
5 61 Gannon Audette Tallahassee, FL Kawasaki KX 250F- Audette's going to ride for Traders Kawasaki for the outdoors which sort of ruins my theory that Payton would call on him if they have an injury, and further down this list you'll see there could be one.
6 69 Colt Nichols Muskogee, OK Yamaha YZ250F- He led a lap and I thought he was going to go all the way for the win (remember, weird winners in Vegas) but alas, Colt fell. Still an impressive season and look at all the dudes he beat around him that have direct factory bikes and make way more money than him.
7 53 Tyler Bowers Corona, CA Kawasaki KX 250F- I talked to The Bear afterwards and he was fine with his race. Said he was looking forward to hopefully getting into some outdoor nationals at some point in the season.
8 38 Christian Craig Corona, CA Honda CRF 250- My picks to win this race if dry were Osborne or Craig. They both ride the hard pack well and had nothing to lose. Unfortunately it poured and Christian crashed early on in the main. Still, a very nice comeback year to racing for CC. I could watch this dude ride a bike for hours. I hope that doesn't sound super creepy.
9 46 Luke Renzland Hewitt, NJ Yamaha YZ250F- Being from Jersey, you would think that Luke would be a mud master. And he wasn't bad. Renzland's "sleeper" status that I gave him before the year was ruined when he crashed at the opener. Once back into the series, he was never out of the top ten but any hope for gains from last year were done once the injury hit.
10 49 Martin Davalos CLERMONT, FL Husqvarna FC250- I found it ironic that Marty, a man hell bent on capturing a 250SX regional series title for eleven years now, did at one point pass Webb and bump him to 13th, which would have cost him the title. Davalos was sort of, kind of, involved in a title chase! See ya in 2017 Martin, hopefully the anvil stays away.
11 1W Cooper Webb Newport, NC Yamaha YZ250F- I didn't like Webb saying at the press conference that he didn't have an injury. So we're all fine with lying? That's cool? I understand it's his right to privacy and all that, but pretty much everyone already knew about it. Why not just come out and be captain vague about it instead of just lying? Sometimes I feel like an old man shaking his fist at a cloud.
12 42 Mitchell Oldenburg Alvord, TX KTM 250 SX-F- I think the 250MX championship will be interesting between Mitch, Shane McElrath and Justin Hill. They're all pretty close when it comes to outdoors and I bet they battle quite a bit. Jessy Nelson should be a step ahead, but the other three dudes will probably piss each other off at some point.
13 35 Chris Alldredge Powell Butte, OR Kawasaki KX 250F- Chris was in ninth until he got the last lap flag when he crashed after the finish and had to be carted off. I hope he's ok. I had heard it was his hip, which could keep him out for a while.
14 201 Cedric Soubeyras Venasque, France Kawasaki KX 250F
15 6 Jeremy Martin Millville, MN Yamaha YZ250F- J Mart was FAST in the mud but unfortunately you have to be fast and stay up to actually, you know, do well. Jeremy had the fastest lap time of the race but his fall in the first turn was all she wrote.
16 31 Rj Hampshire Brooksville, FL Honda CRF 250
17 30 Shane McElrath Canton, NC KTM 250SX-F- The absolute worst thing to do is crash in the first turn in a mud race. Shane crashed in the first turn.
18 26 Alex Martin Millville, MN Yamaha YZ250F- The second worst thing to do in a mud race is crash on the first lap. Alex crashed on the first lap while in the top ten.
19 58 James Decotis Peabody, MA Honda CRF 250- Jimmy D is getting some arm pump surgery (like Osborne just did) and then going to hang all summer before he rides four nationals for GEICO Honda. But if you're asking me, they'll probably be an injury and he'll get in sooner and for more races. He's the Filthy Phil of GEICO!
20 92 Ryan Breece Athol, ID Yamaha YZ250F- Breece raced and won the Lites main event in Arenacross on Friday night and then made the main here as a full privateer in a massively stacked 250SX main event. Yeah, he got 20th, but just making this field was a massive accomplishment.
21 39 Jordon Smith Belmont, NC Honda CRF 250- This one personally hurt for me. Me and my fantasy team that is. "We" were looking for a strong ride from Smith to end the year. "We" didn't get it.
22 212 Chase Marquier Newcastle, OK Honda CRF 250
No one really cares all that much about the actual 450SX results from Vegas, right? I mean, c'mon, it was a massive mudder. So with that in mind, let's break down the series points in the class and offer up some thoughts.
450SX Points Standings
1 1 Ryan Dungey Clermont, FL 391- Just a walk in the park this year for Dungey in terms of repeating as champion. The question: Was it Ryan stepping up or the competition just not being on their game (Roczen's early season slump, Tomac's bike issues)? Doesn't matter to Ryan, he's got another number one plate and the million dollar bonus. How do you beat Dungey in a long series? I don't know, bro. I just don't know.
2 94 Ken Roczen Clermont, FL 331- Roczen came on in the latter half of the season, but by then it was too late. Still, at times, he showed that he can straight up beat Dungey. With him going to Honda next year I hope he's able to get the bike and everything else sorted ASAP for his sake or he's going to have a repeat of this year.
3 21 Jason Anderson Rio Rancho, NM 315- Very impressive. Two wins, seven podiums and a 115-point improvement in the points from his rookie season leaves you wondering if this dude could win it all next year. He cut back on the dumb moves from last year and that's saying something when you look at the ones he still did this year. I don't mind some of the passes that others were upset at— he's aggressive and he doesn't want to wait around. Although I'm blocked from his Instagram, I'd like to say that if I wasn't, I would "like" his 450SX season.
4 3 Eli Tomac Cortez, CO 290- Another podium in Vegas made it three in a row for the three and although he'll look at this first year on Kawasaki in 450SX as a bust he's still fourth in points, got a win and appears to be on the right track for 2017. DO NOT TOUCH THE BIKE anymore. Leave this supercross setting as is for the entire off-season and let's see this magic next year.
5 22 Chad Reed Dade City, FL 250- Well, let's get it straight from Chad himself on his season: "I think we had our ups and downs for sure. I think that when we were good we were good, and when we were off we were really off. For a 17 race series you can't do that. I haven't heard anything but it sounds like we're going to have a chase format next year and a little different schedule—here, there and everywhere. I think that will be a little more challenging on the body for everybody, a little bit more flying, things like that. So I'm excited. I think next year will be fun. See if these guys want to keep me around. I don't have a contract. I'd like to stay here, obviously, but I don't have a signed deal."
6 14 Cole Seely Sherman Oaks, CA 219- Seely won a race last year and was third in the points so no wins and a sixth might be looked at as a down year. But the field was stronger this season and he missed three races as well. Overall I'd grade Cole's 450SX season as a solid "B".
7 25 Marvin Musquin Corona, CA 214- Marv was good but his season was all over the map. A struggle at A1, so-so rides after that, then four straight podiums (should've probably won Atlanta), an injury and then in Vegas he crashed out. It's ok Marv, no one remembers the downs when it comes to riders, everyone remembers the ups. And your ups were up there.
8 10 Justin Brayton Mint Hill, NC 200- JB missed nine supercrosses last year, wasn't his usual self in the ones he did do and his first year back on a KTM wasn't great. This year he was much better, back to the "old" Brayton and proved that although he's one of the older guys out there now, he can still be more than competitive. Take away the flat tire in Detroit and he's right up there with his buddy Seely in the points.
9 41 Trey Canard Edmond, OK 196- If you had said that Canard would make it out for fourteen races but not get a podium all year, what kind of odds would you have gotten on that here in Vegas before the season? Because that's what happened. His starts were terrible most of the year, he crashed a few times, he was still fast but it's like his entire season was encapsulated at Anaheim 1 where he was balls-out fast, should have gotten on the box but didn't. Tough year for the #41 but still top ten is top ten, bro.
10 12 Jacob Weimer Wildomar, CA 128- Weimer's had some serious injuries last couple of years so this is a good rebound from that. He started the year as a privateer, got a factory bike, made every main and although his break out rides tailed off near the end of the year (perhaps no Pulpmx sticker luck?) he was still solid. Will it be enough for him to keep the factory bike? We'll have to see.
11 19 Justin Bogle Cushing, OK 127- Bogle got better and better as the season went on. His starts are great, he's got good skills on a bike so he can bust out technical stuff and for a rookie, this spot has to make him and his team happy. Remember also he was beat up at times coming into the season and crashed hard a couple of other times. I'm sure Justin, like most rookies, still needs to get used to a long 17 race series, but that'll come.
12 800 Mike Alessi Hilliard, FL 126- A good season for the 800 and better than I thought if I'm being honest. He would've tied for tenth in the points (lost on the tie breaker) if he hadn't been docked two spots for riding around the whoops and passing riders in Vegas. Mike made every main and was one of only five riders (Dungey, Anderson, Tomac, Brayton) to finish every main event this season. He's got to get better at whoops (still) but his starts are awesome (still).
13 28 Weston Peick Menifee, CA 125- A big drop off for Peick this year but the field didn't thin out as much with injury as 2015, he was suspended for the first two races, he crashed hard in Oakland and that bothered him for a while as well. Peick turned it around at the end of the season (not Vegas, he didn't qualify) with some top ten rides and I think that's fine for him.
14 18 David Millsaps Murrieta, CA 106- It's too bad Davi got hurt at Daytona. He had been a nice comeback story with some heat race wins and nice finishes. He showed a lot of people, myself included, that the lack of racing he's done the last few years hasn't really set him back. He's a really, really, really talented dirt bike racer in case you're wondering. He only rode eight races this year.
15 377 Christophe Pourcel San Antonio, FL 94- The 377's first ever attempt at 450SX kind of went the way we thought it would. Some flashes, some races where he looked like he didn't want to be there and some missed races as well. His 8.5 average points scored per race (that's 13th place) was probably just ok. I'm not one of those guys that look at his qualifying times and go "WHAT IF…???" because there's no "what if" at this point. CP is old enough where his stripes aren't going to change. Can he ride the shit out of a dirt bike for a lap? Yes. Can he be fit enough, consistent enough and try hard enough to be anything other than what he is? No.
16 55 Vince Friese Cape Girardeau, MO 92- I was high on Friese's chance to do well before the season started and was sure he would beat his teammate Alessi in the points. But Vince didn't show the speed he had in previous 450 appearances and really, the Peick "thing" at A1 probably destroyed any chance he had at excelling.
17 4 Blake Baggett Grand Terrace, CA 87- Baggett's rookie year last season was pretty good, he's never going to be a "SX guy" but he can be inside the top ten (7th last year) and then turn it on for outdoors. This year he was hurt coming into the year, missed seven races so we never really saw how Blake could do. There's ZERO coincidence that his two best finishes came in Vegas (mudder) and Indy (ruts, ruts and outdoor conditions).
18 33 Joshua Grant Wildomar, CA 79- Grant had no ride to start the year and picked up Wil Hahn's factory Kawi when he got hurt. He was ok and it's interesting that his best finish came on a Suzuki on a weirdo track (Daytona). Nice strategy by JG to actually make his debut on a track that suited him.
19 20 Broc Tickle Holly, MI 61- The Tick is generally pretty consistent out there even in terms of talking about he doesn't get hurt that much. Well, this year he did. Writing off his Vegas, which was great but a mudder, you see that he just did ok this year in limited races.
20 54 William Hahn Menifee, CA 56- Hahn's going to lose his spot over there on the green team and be forced to rebuild himself with a Cycle Trader or Tedder ride. Hey, it can be done…just look at Weimer or Grant.
Thanks for reading, email me at matthes@racerxonline.com if you want to chat about this or anything else. I'm stoked for the outdoors, it should be an interesting time under the sun.