Las Vegas, NV
Las Vegas
Monster Energy AMA Supercross Championship
Heading into the final round of Monster Energy Supercross for 2016, we ran through plenty of points scenarios and Las Vegas clichés, combining it all to build the Dave Coombs Sr. East/West Shootout into a true all bets are off/wildcard/longshot scenario. We did not, though, expect it to actually get as crazy as it actually did. In perhaps the longest shot of all, the skies opened over the desert and huge rain turned the Sam Boyd Stadium track into a swamp. Malcolm Stewart and Cooper Webb, who were trying to wrap the 250SX East and West Championships, respectively, both had reason to be very nervous as they awaited their fate. It turns out that GEICO Honda's Stewart, who was trying to lock in his first major championship, and readily admitted that the championship pressure was starting to eat at him over the last few weeks, had the least trouble, snaring a third-place start in the main and running well in the mud, ultimately holding off his 250SX East counterpart Aaron Plessinger to take third and bring home the title. Webb had it much harder.
For starters, Webb finally confirmed he was riding with a broken scaphoid (navicular) in his wrist. He suffered the injury while testing after his victory in Santa Clara three weeks ago, and had not actually ridden until press day in Las Vegas on Friday. He looked okay early in Saturday practice, then the rain and mud complicated things, with Webb admitting to us that he "Didn't ride good." Then the main event started in the worst possible fashion when Webb crashed in the section of the track outside the stadium and landed right on his tender wrist. He was last, he was in pain, he was in trouble.
Worse yet for Webb, his title rival Joey Savatgy got the start and rolled away out front. The Monster Energy/Pro Circuit Kawasaki rider Savatgy had a brief challenge from Colt Nichols, who had come from the LCQ on his CycleTrader.com/Rock River Yamaha to even take the lead at one point. Savatgy wrestled it back, locking in maximum points. Webb got to work, climbing to 11th and hovering there for most of the race. A 12th would get the job done via a tie-breaker, and Webb just tried to hang on.
"Yeah, I didn't ride good," Webb said. "Landed right on my wrist when I crashed. Basically did exactly what I wasn't supposed to do!" Webb's Yamalube/Star Racing Yamaha team did a good job with his pit board, and Webb says he saw where he was every lap and knew he would be okay if he held on—he also felt he could have gotten Martin Davalos, who was right in front of him, if he needed to score another point. Also, Savatgy's team kept him posted on Webb's status throughout, too. In the end, and in pain, Webb held on to eleventh to take the title by one point over Savatgy. When we talked to him just before he started taking championship photos on the podium with his team, it really looked like the wrist was hurting. Webb dug down deep for this one.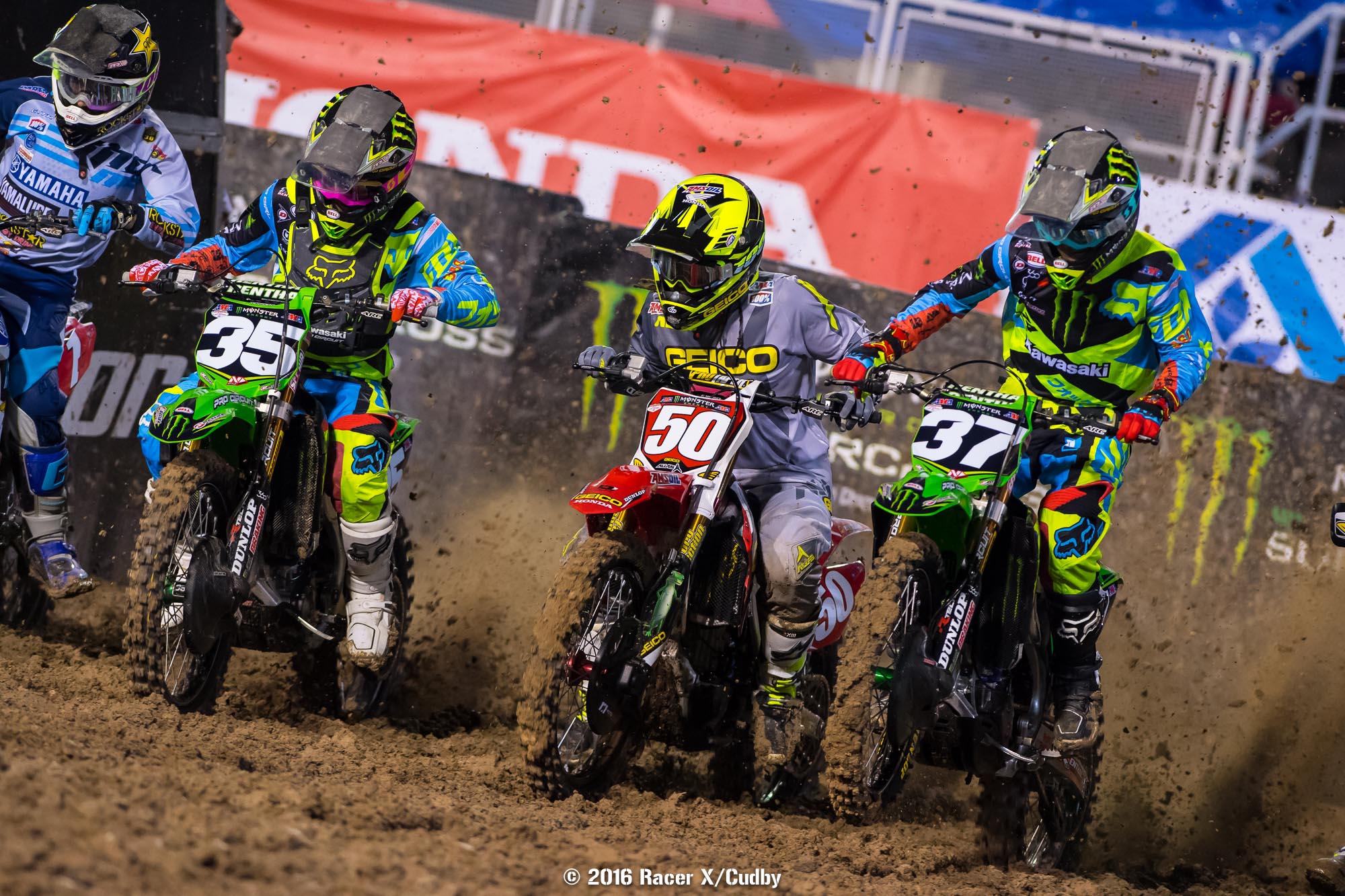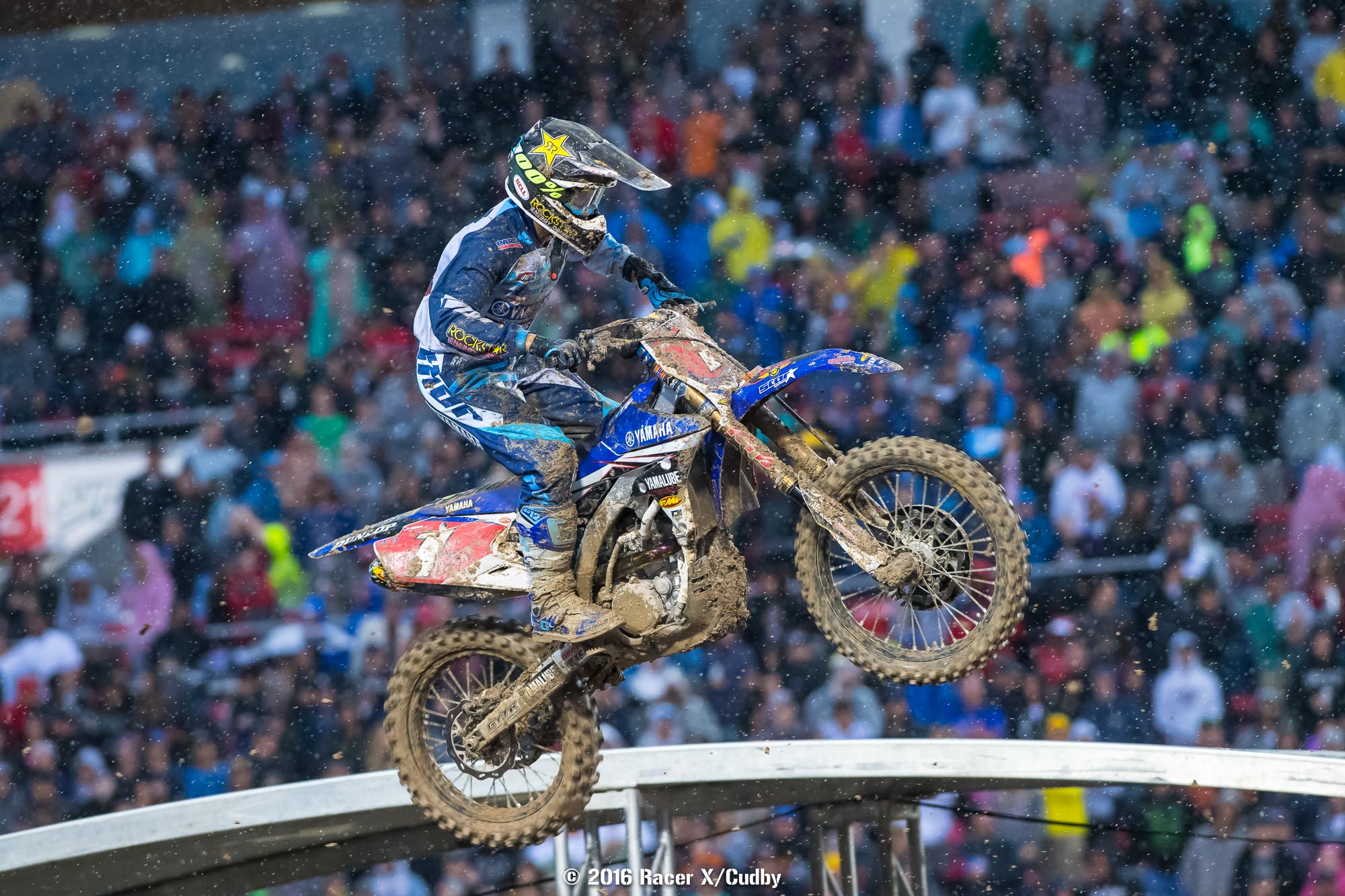 Savatgy took the Shootout win, which is a nice bit to add to the resume, but comes up a point short of a championship. Even leading, he said he wasn't sure what was going on because his pit boards were only giving him Webb's position, instead of the gap to the riders behind him. Plus, the track was flat nasty. "It was a good race [but] it's setting in now [that I didn't win the championship] and it's a little disappointing," said Savatgy. "We ended the year on a good note and we did what we had to do [tonight]. Cooper [Webb] came in here and did what he had to do as well, and hats off to him. It's just good to end the year in this way."
Eventually Nichols bobbled out of a podium position and Rockstar Energy Husqvarna's Zach Osborne pulled through for second. Stewart held Plessinger at bay for third. Plessinger had started way back but absolutely ripped through the mud to make a ton of passes on the slimy, one-lined track. "If Plessinger had gotten a good start he would have won!" said Stewart.
Stewart's title makes he and his brother James the first sibling combination to ever claim supercross championships. He also said this title is 50 percent his brother's because James helped talk him through the nerves that took hold over the last few weeks. "That was crazy right there, what a race," exclaimed Stewart. "Everything I've gone through with myself and James [Stewart] this year, it's been an up and down season for both of us. I feel like I owe half of this [championship] to him. I'm just speechless right now. All I know is I have this number one plate right now and I want to cry."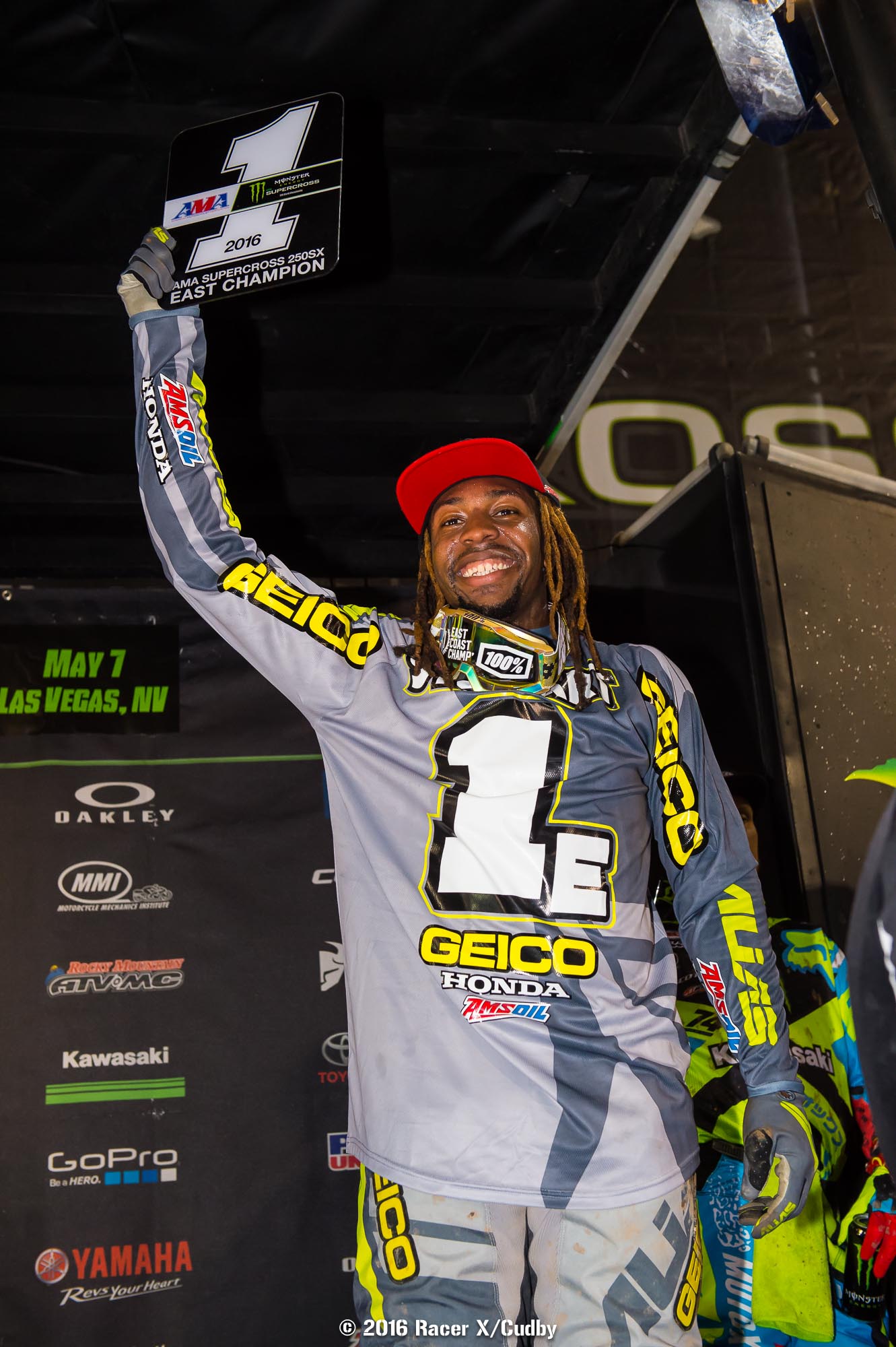 Webb now has back-to-back 250SX West Championships. Oddly, the status of both he and Stewart is unknown for the upcoming Lucas Oil Pro Motocross Championship. Webb has his wrist issue to deal with, and broken naviculars rarely respond well to a summer of motocross. We'll see how that goes. Stewart was originally signed by the GEICO Honda team on a supercross-only deal, and he did not race outdoors last year after having to go to the hospital with dehydration and kidney issues during the 2014 season. We've heard rumors in both directions to Stewart's intentions outdoors, and he was most likely putting all of his thoughts on this supercross championship first before making a decision on the nationals. Further along, this championship forces Stewart into the 450 class next year, and he's a free agent. Webb is also pushed to the 450s, and he has already signed with Yamaha to be Chad Reed's teammate on the big bike next year.
There was a 450 race also. With the championship already wrapped up, Ryan Dungey wanted to go out a winner on his Red Bull KTM, but Ken Roczen wanted to end the season with three-straight victories on his Soaring Eagle/Jimmy John's RCH Suzuki. Even in the mud, they went at it! Dungey grabbed the holeshot, completing a season of some of the most consistently strong starts we've ever seen. Roczen was soon into second and after him, and a few laps in Dungey bobbled and Roczen closed to his fender. Even on a damp night, a good crowd showed up and they cheered the two hard as they battled. Finally Roczen found an opening and made a move to take the lead, but then he bobbled big time by casing a jump and bouncing off of his bike. Dungey was right behind and had nowhere to go, and he ended up crashing with him! Dungey's bike kept running, though, and he got away. Roczen wasn't so lucky, as he pulled into the mechanic's area and called it a night. We saw him a few minutes after the main event and he told us, well, "I hit my balls really hard and the bike was so bent up there was just no point in trying to stay out there." Expect more battles between these two in Lucas Oil Pro Motocross.
Dungey was happy to get this win, which makes for a career-high nine-race win season, because he's been working hard on his mud game. "When it rains down at the Baker's Factory in Florida we go out there," he said. "I haven't been the best mud rider in the past so we've been trying to work on that." Also logging mud motos with Dungey in Florida is Rockstar Energy Husqvarna's Jason Anderson, who inherited second when Roczen went down. Anderson even made a brief run at Dungey, but came up short. He told us he was just happy to get out of the race safely and ready for the Nationals. Similarly, Eli Tomac logged third on his Monster Energy Kawasaki. That's three-straight podiums for Eli, who keeps getting stronger each week.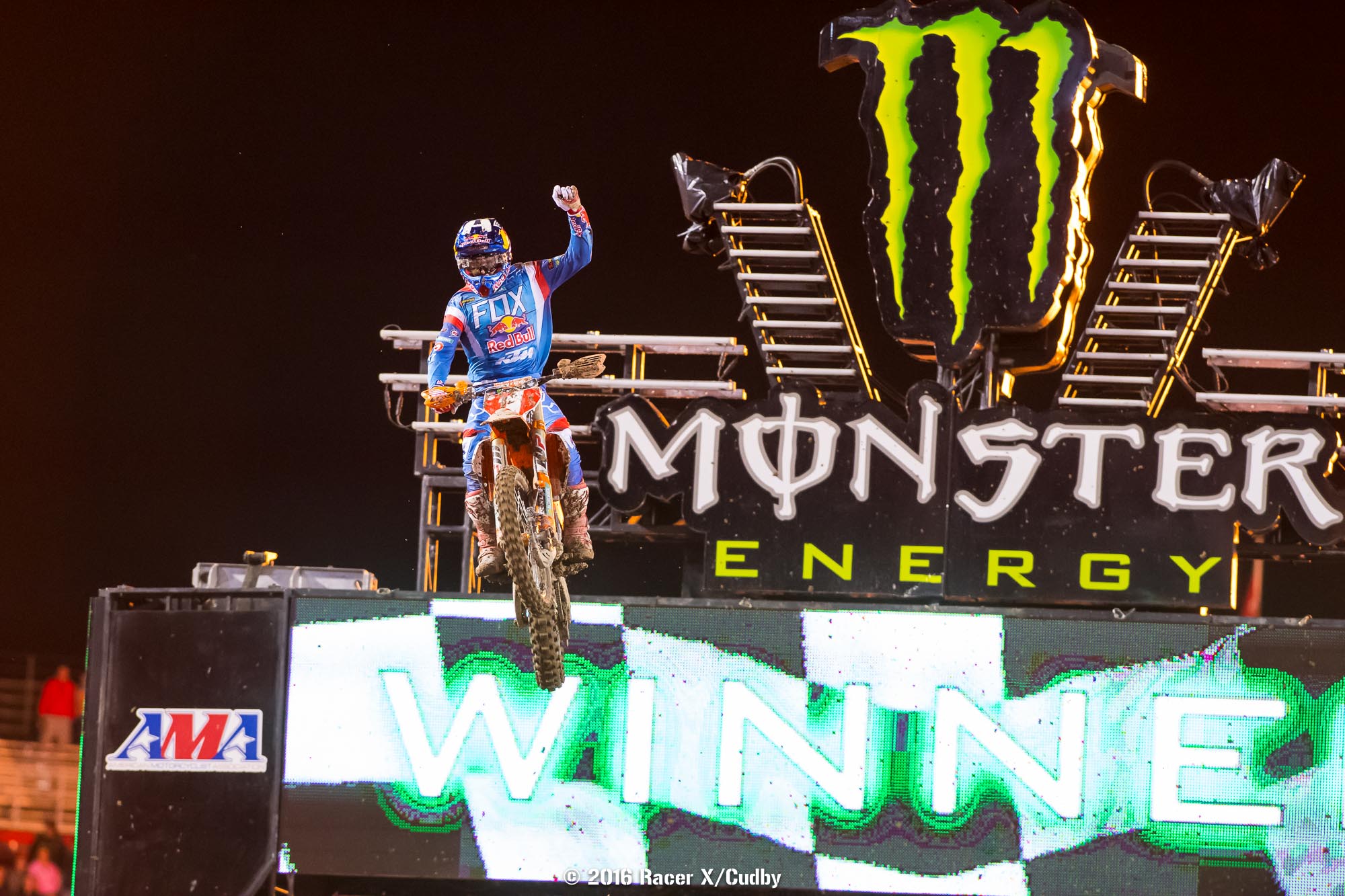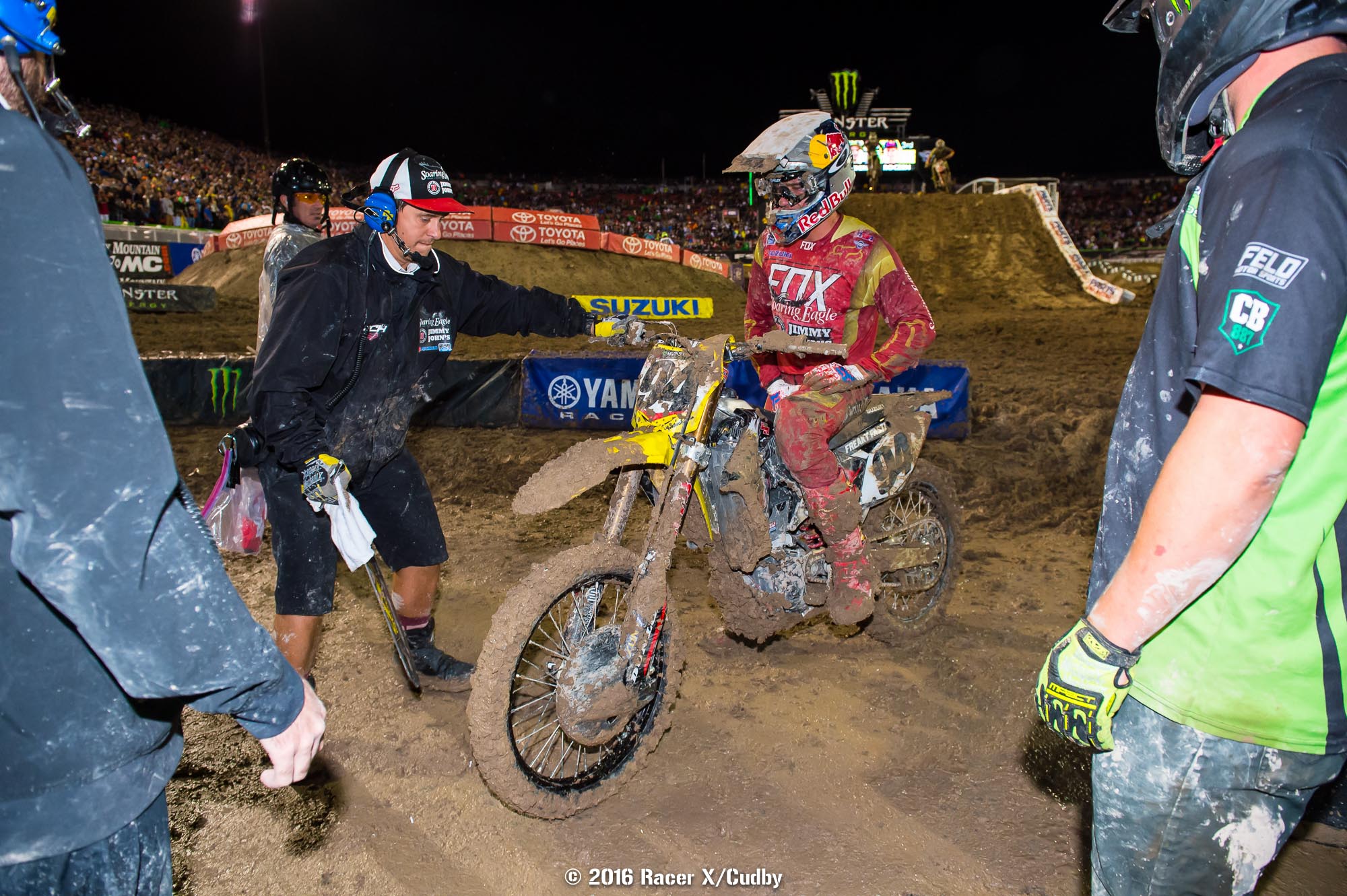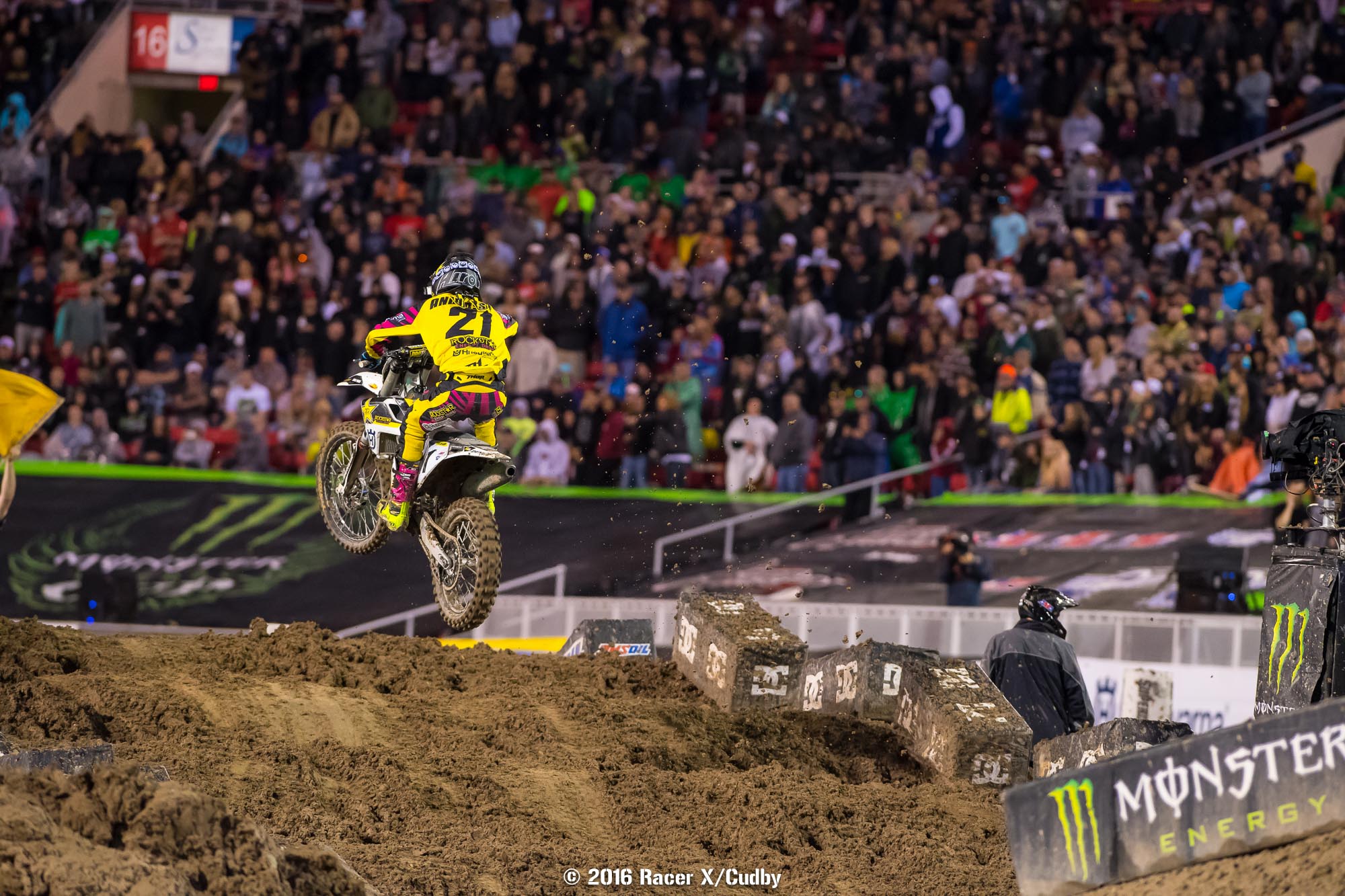 Few riders are looking toward the outdoors as happily as Blake Baggett, who has had a rough, injury-plagued season on his Yoshimura Suzuki. Baggett came alive in the nasty conditions, though, just like he did in the huge ruts in Indianapolis last month. He started about twentieth and crawled all the way up to fourth. Late in the race, though, the cagey veteran Chad Reed got Baggett in his sights and set him up for a battle. They dueled all the way down to the last lap, and Reed got the better of Baggett to secure fourth.
"He might be a lot older than me, but he's still fast and he still knows how to get it done," said Baggett. "The veteran got me!" Baggett said he tripled to try to get away from Reed on the last lap, but that just left the inside of a corner open, and Reed grabbed the inside on his Monster Energy/360Fly Yamaha and took the line away. Reed collected fourth, Baggett fifth.
Broc Tickle had a strong race with sixth, his best since returning from a broken wrist a month ago. Tickle is usually strong in tough, rutted conditions.
Justin Brayton survived a trip to the LCQ on his BTOSports.com/WPS KTM and collected seventh.
Marvin Musquin was vying for a podium early in the race until he crashed and pulled into the mechanics' area, ending his race.
Weston Peick failed to qualify for the main event on his Monster Energy/Autotrader/Toyota Yamaha after a crash in his semi, and another early in the Last Chance Qualifier. Peick was tenth in points coming into the race, but Jake Weimer grabbed the spot by finishing 12th. He edged Justin Bogle for the spot by one point.
Bogle was really fast, though, winning his first career 450SX heat race earlier, then battling with Dungey up front off the start. But Bogle bumped into someone and it bent his clutch lever down, so he couldn't set up for the second turn properly and he ended up off the track. Like Baggett, he got on the gas with a big charge from behind, and eventually climbed up into the top ten, before Josh Grant put a huge block pass on him and knocked him down. Bogle finished 14th.
Trey Canard slipped and slid his way around for eighth. Also, Davi Millsaps was back in action after missing nine weeks of riding with broken ribs and a collapsed lung, he was fast in his heat race and practice, and running near the top five in the main event before a crash dropped him way back. He called it a night after that.