Levi's Stadium
Santa Clara

,

CA
Santa Clara
Monster Energy AMA Supercross Championship
Australian Hayden Mellross had gotten off to a great start in the Santa Clara main event. He was running in the top five and then made a costly error. He cased his rear wheel on the face of a landing and that threw his body weight off heading into a bowl corner. Mellross couldn't get to his brakes in time, and he went flying through the air and came down stomach first on an iron fence by the start gate.
"The first thing I said to myself was 'Get me a doctor'," Mellross said. "I wasn't in pain, but I was a bit in shock."
Mellross knew that the hard hit wasn't to be taken lightly because he's seen some of his friends have internal injuries. He knew he needed to take every precaution possible. He decided to not get back on the bike despite feeling well enough.
Had the Australian rider not hit the rail he feels that the crash could have been a lot worse and he also credits his under protector for saving his stomach and back.
"What if the 450 guys would have been on the line at that time? I probably would have dropped in on [Ryan] Dungey or something like that." Mellross joked. "Could you imagine that? Dungey gets taken out of the championship because I were to land on him? That would be bad then!"
On Tuesday following the Santa Clara Supercross, we set up an interview with Mellross to get an update on him following the crash. He agreed, but as the day went on he started feeling worse. He canceled the interview after going to the doctor that afternoon.
Anytime a rider takes a hit that hard to the stomach you've got to worry about internal injuries. Mellross said that everyone on his team and around him were worried about that the most. After being attended to by the Asterisk crew at the track (who Mellross said took great care of him) he went back to the doctor to get a few more scans throughout last week and a hairline fracture was found in his L3 vertebra. It's been an ongoing injury that he originally hurt before the supercross season began.
"I was certain that something was wrong," Mellross said. "We had so many scans done that it's crazy how much radiation I've put in my body."
That sounds bad, but overall the 51FIFTY Yamaha rider has been having a great time in his debut supercross season. Recently he saw a list of riders to make every main this season and that put everything in perspective for him.
"My name was in there with eleven other guys and they were all factory riders. For me to be in my first year of supercross and to be in that category is pretty cool," he said. "I know I can do a lot better, but this year it's been a good learning experience."
All in all, Santa Clara wasn't that bad for Mellross, even with that huge crash. He continued his streak of not missing a main event and his parents flew from Australia to surprise him at the race.
"I'm hoping when they come over next time that I can actually do some racing for them," Mellross joked.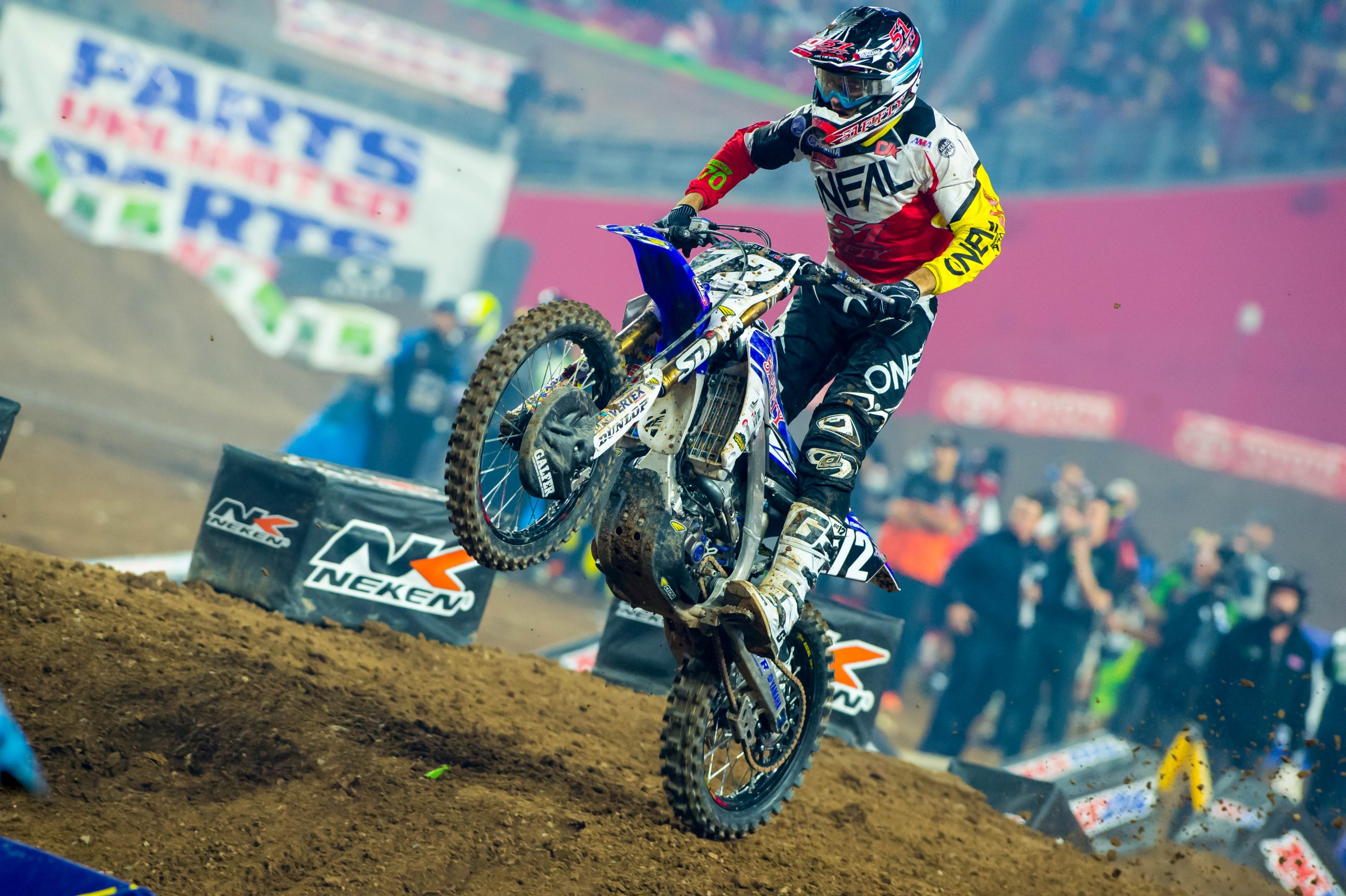 This setback delayed Mellross' plan that would see him ride a 450 in Indianapolis and St. Louis. He was going to race these two rounds in preparation of the upcoming Lucas Oil Pro Motocross Championship. Mellross still plans to ride a 450 outdoors, but doesn't know how many rounds he will be able to go to just yet. He plans on keeping 51FIFTY as his sponsor through the summer, but things won't be set in stone for another month.
"My coach Tim Ferry thinks that I'm better at riding a 450 and I'm a bit more comfortable on it. I just need to condition myself a little more for it," Mellross said.
With Las Vegas still up in the air as far as racing is concerned, Mellross is also using his downtime to figure out a ride for the Australian Supercross Championship that starts at the end of September. In the past two years Mellross has only spent about two weeks in his home country.
Despite all of the racing, Mellross still finds time for himself and his other favorite sport—golf. He claims he's not very good, but he told us that he is getting better. His dream is to play on the Walt Disney World courses that he hears are incredible. They are only a short drive away from his home in Florida too!
"I just go and play just to reset myself," Mellross said. "It's my happy place."