Toronto, ON
Toronto
Monster Energy AMA Supercross Championship
Justin Brayton was all alone this weekend, but he had help from afar. The BTOSports.com-KTM-WPS team is supposed to house three riders, but Andrew Short and Davi Millsaps have gone out with injuries in successive weeks, leaving Brayton as the lone soldier. No one from Brayton's usual crew was in Toronto—his wife Paige and daughter Parker stayed home, and his riding coach Nathan Ramsey is busy with KTM's Orange Brigade amateur riders down in Texas. Brayton still got advice, though, from none other than six-time NASCAR Sprint Cup Champion Jimmie Johnson.
"Jimmie Johnson has become a good friend of mine," says Brayton, who lives near NASCAR country in North Carolina. "He loves moto and has really become kind of a mentor, gives me some advice on life and racing strategies and all kinds of stuff. What better guy could you hear that stuff from than six-time champ? Just a great guy. Leads by example. Not just that he's a champion but he's just an awesome the guy. The way he treats his daughters and his wife and everything, he's all family. So it's cool. When he says something, obviously I'm all ears."
Brayton ended up in a cycling group in North Carolina that also contained Johnson, who has become a leader in NASCAR fitness by competing in triathlons and organizing mountain bike rides during downtime at the car tracks. On Saturday night, Brayton had some fresh texts from Johnson, who sent pictures of mountain biking in the desert of Phoenix, Arizona, where NASCAR was racing for the weekend.
"He's solid on the bicycle," explains Brayton. "He trains probably more hours than I do during the week! He's constantly training. I really feel like he's kind of changed NASCAR. When they're done practicing they'll go on some group rides from the track. The guy's super fit. It's cool to see that."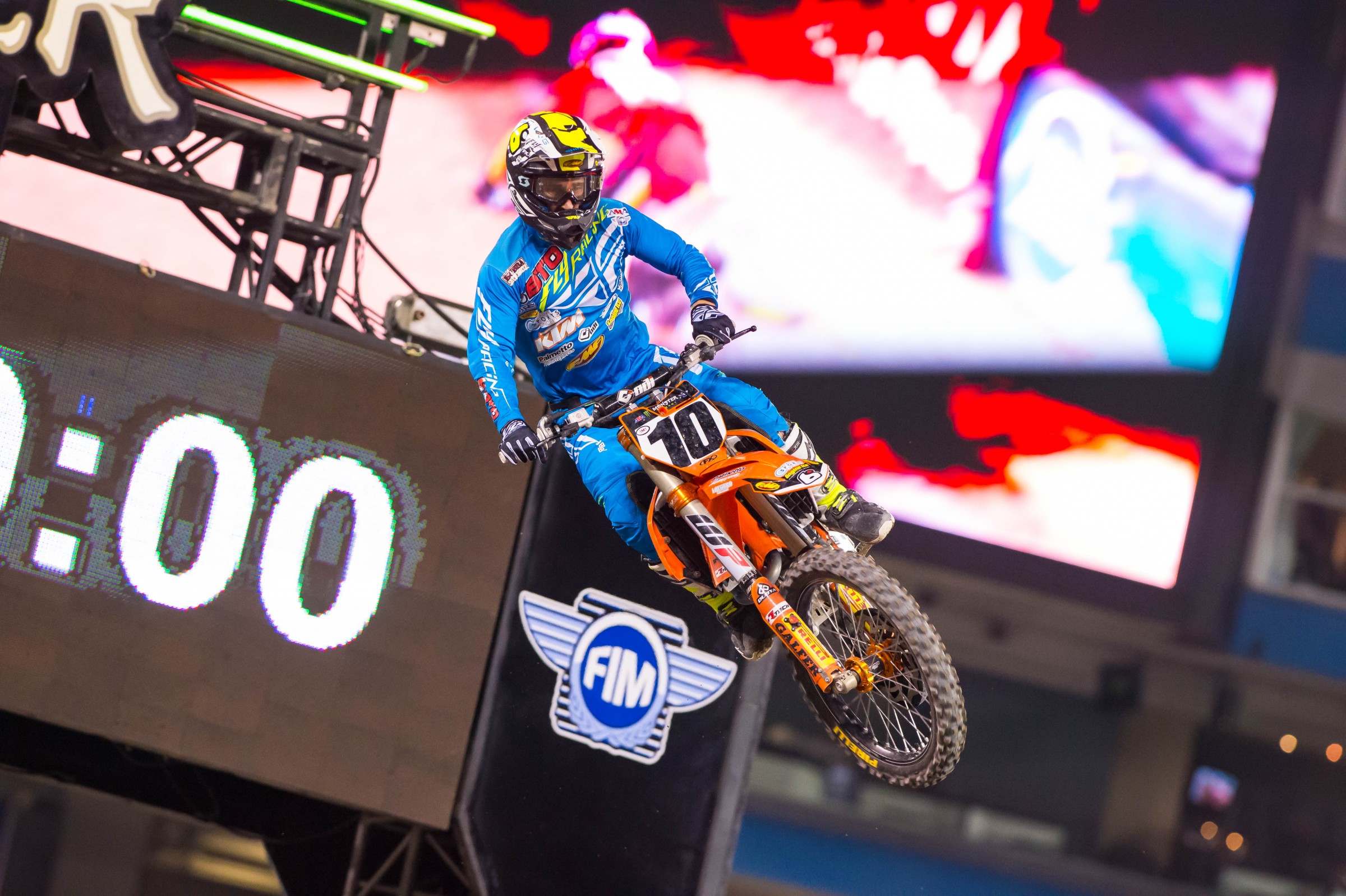 After a tough 2015 season, Brayton is back near the front. Last year he scored just 66 points over the entire season, this year he already has 125. He's been in the top ten in every race except one (an eleventh in Arlington). This is more like the 2014 season, when Brayton was opening eyes with JGR Yamaha, nearly winning the Phoenix Supercross and constantly, as Brayton kept saying, "racing with the guys I'm supposed to be racing with." Who are those guys? He wants to go wheel to wheel with the leaders.
"My whole 2014 season, the goal was in every main event to be in the fight, to be in the battle, which means with the guys you need to be racing. Back then it was RV and Dungey and guys like that. Now it's Dungey still, Musquin's making himself known up front, obviously Roczen. Just being right there with those guys is what I'm shooting for and I believe I'm closer than I've ever been."
He was indeed in that fight in Toronto, finishing sixth. In the latter laps, Brayton was hustling to hold Trey Canard at bay, and they both caught a struggling Eli Tomac. Brayton got close enough to show Tomac a wheel, finishing .6 seconds behind.
"Yeah, it was solid," he says. "The first five laps I really wish I could have back, just from the pure fact of I changed my line in the whoops. I was going left, I went middle. I was searching, and pretty much all day I was going right and it was good for me, and for some reason I went away from it. I don't know why.
"I love having her at the track. I love having her at the races. It's motivating for me to work hard and succeed." - Brayton on his daughter
"I lost touch with [Cole] Seely a little bit and then once I started going right I started to kind of maybe inch up on him or at least stay the same," he continued. "Then I caught Eli and almost got him on the last lap. It was a pretty good sixth. Canard was all over me for the last seven or eight laps, right around there. So it was good to keep him at bay. I think it was pretty good, just the first five I was a little bit bummed."
With his health and confidence rebuilt, now Brayton searches for the small things. The first few laps are an issue. In Atlanta he won a heat race and then started right behind Chad Reed in the main. He had a chance for a big night, but Reed skipped away in the first few laps and went on to podium. Brayton took too long to find his groove, and later his teammate Millsaps sailed past to relegate Brayton to fifth, with Brayton talking about getting side cramps. The opening laps bothered him more, though.
"It's [the first few laps] kind of been my Achilles heel for a while now, but you just keep working on it," he says. "The more I put myself in that position obviously the better you get. I don't know… Looking back I'm like, I don't know why I switched that line in the whoops. I needed to stay there right with Cole and then I feel like I would have went by Eli just like he did, and been there with him at the end."
It's interesting to watch Seely and Brayton get close at times, because they have been friends since well before they raced each other in the 450 division. Seely's current wrench, Rich Simmons, used to work for Brayton. Seely and Brayton also share humble beginnings, as neither was a standout amateur prodigy, but clawed their way up to factory rides.
"Yeah, we joke with each other all the time," says Brayton. "If I'm faster than him in practice he's like, "Hey, there was some vet rider ahead of me in practice." His birthday was a couple days ago so I was joking with him about how old he was. He's 26 now. We always just go back and forth on all that stuff. What's funny, his birthday is March 10th, which I'm number 10 obviously. My birthday's March 14th, he's number 14. We actually just figured that out this morning on track walk. He's just a good buddy of mine. It's fun to get up there and mix it up with him."
Seely is yet another who has added his name to the weekly podium mix. But while he was moving in last year, Brayton was going through a miserable season, perhaps his worst.
"Two-thousand fifteen was honestly just a scrap," he says. "I broke my back two weeks before the season. I broke my hand a month and a half before the season. I broke my shoulder two weeks into the season. It was just one thing after another, from switching teams to a new bike to really new everything. It was tough.
"I moved the whole family to California then. My daughter was super young. There was just so much stacking on me, stuff that fans and even media and people don't see behind the scenes," he says. "This year I feel like I'm where I belong. Super comfortable, bike is the best it's ever been. But you know how it goes, you always want more. For a fact I feel like I belong right with Tomac and Canard and battling with those guys, with Cole. I really want to get on the podium. That's truly my goal. I feel like tonight, when I'm battling with Cole, Eli, and Trey, that could be for a podium spot on any given weekend. I've been up there, I've won a heat race. My practice times have been good. It's really been a building year to get my confidence back, and it's back. I just need to make it happen now."
At 30, and with free agency approaching as his two-year deal expires, Brayton will be on the market with a massive amount of talent. Seems nearly all of the pro pits signed two-year deals in 2014. Brayton is riding well, but he wants more.
"[After a year like 2015] There's always a little bit of doubt. There are so many fast guys in the class and every year there's more guys coming in. [So you're wondering] Man, can I still do it?" he explains. "I feel like I have the speed. I put in tons of work this off-season with Ramsey and my mechanic Brent and my wife and just everybody. I truly feel like I still can do it."
Brayton has always been known as a worker, and it helps to have the extra motivation of those around him. Jimmie Johnson helps, Ramsey and the BTO team help, but he's got an extra little chip on his shoulder—literally.
"I put out a tweet this week about my daughter being at the track. Some people say, "Once you have kids it's kind of done, and you start riding scared and stuff." It's the complete opposite for me, it really is. I love having her at the track. I love having her at the races. It's motivating for me to work hard and succeed. I want to get a picture with her on my shoulders on the podium. I want to do it. It's going to happen."