Strang Tops Russell For Second Straight GNCC Win
MORGANTOWN, W.Va - The 2016 AMSOIL Grand National Cross Country Series (GNCC) presented by Maxxis, an AMA National Championship, continued in Sparta, Georgia for the inaugural Maxxis Cannonball GNCC. The forecasted rain was nowhere in sight creating a great day for racing, where Rockstar Energy Husqvarna Factory Racing/Bel-Ray's Josh Strang came out with the overall win.
It did not take long for FMF/KTM Factory Racing's Kailub Russell to make his way to the front as he grabbed the $125 All Balls Racing XC1 Pro Holeshot Award with Obermeyer/MCS Suzuki's Chris Douglas right behind him. Russell continued to lead the pack through the first lap before feeling the pressure from Strang.
The battle for first continued on the second lap as Russell and Strang swapped the lead, before Russell was able to pull a 15 second lead, which he held for majority of the race. Once the two-lap card came out Strang started slowly gaining on Russell where he was able to catch up to him by the time the white flag was thrown. Just after the pro pit, Russell stopped for a drink where he made a small bobble, Strang was able capitalize on the mistake where he took the lead and claimed the inaugural win.
"On the third lap I got caught up in a vine and that put me back a little," said Strang. "I had to ride pretty hard to catch back up and I was able to make the pass and put a little gap on him after Russell stalled in the pits. It was a fun race and it's good to get another win."
Russell was unable to make the podium presentation due to being attended to by the medical crew where he suffered from dehydration.
Rocky Mountain ATV*MC/KR4/FAR Racing Husqvarna's Thad Duvall was running in the third place position until he ran out of gas on the fourth lap. Duvall would end up finishing the race eighth in XC1 Pro and 10th overall.
After Thad dropped from podium contention, the third place position was opened where FMF/KTM Factory Racing Russell Bobbitt and SRT/KTM/Kenda Tires' Steward Baylor would battle on the last lap. The biggest surprise of the day was Baylor taking the final podium position. It has been four years since his last appearance and this finish marks his first XC1 Pro podium.
"I've had my fair share of injuries and it's nice to finally show my competitors that I can run with them," said Baylor. "I wasn't the fastest guy on the track, but I felt strong and consistent and that paid off and got me on the podium."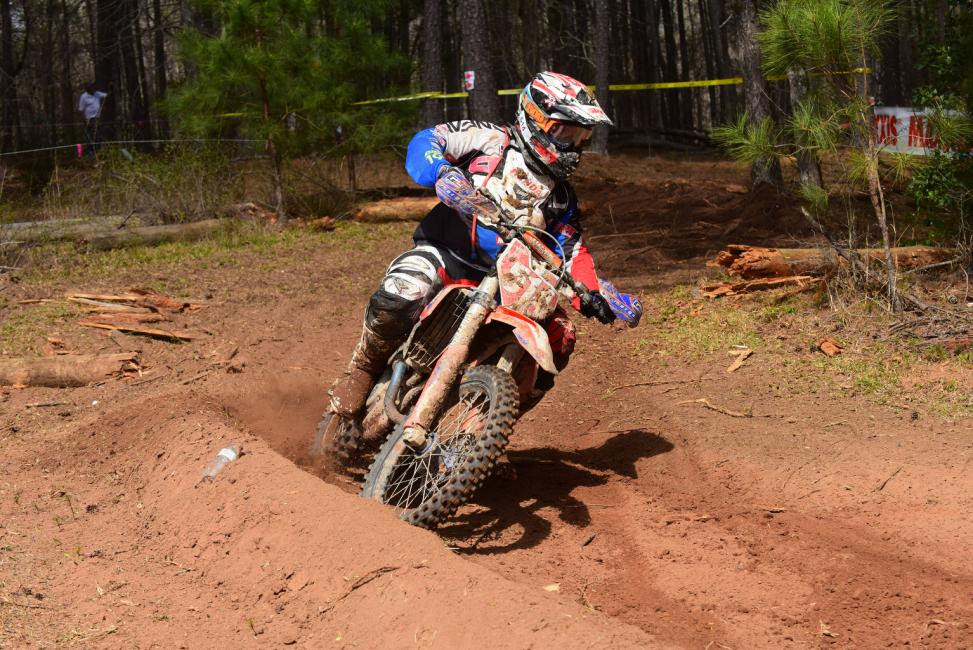 Georgia native Bobbitt placed fourth, and Lojak Cycle Sales/JTR OffRoad's Jason Thomas had a standout performance with a fifth place overall. After suffering from a bad start, Coastal Racing/Rockstar/Husqvarna's Ryan Sipes worked his way back up to seventh overall and N-Fab/AmPro Yamaha's Daniel Milner finished ninth overall.
In the XC2 Pro Lites division JCR Honda/Lucas Oil/Maxxis/FLY Racing's Trevor Bollinger had an impressive ride finishing third overall on adjusted time ahead of many of the XC1 Pro riders. Bollinger lead the rest of the XC2 Pro Lites class by almost two minutes. Beta USA/FLY Racing/Kenda Tires-backed Jesse Groemm made his first podium appearance of the season second in class, and Coastal Racing/Husqvarna's Layne Michael rounded out the top three.
"Last year I wasn't sure if I could race this season, but luckily JCR Honda picked me up and Johnny had faith in me," said Bollinger. "I've worked really hard this winter and it feels good to be able to get my team on the overall podium."
Triangle Cycles/APE Garphics/Boyesen's Chris Venditti in a hard fought performance to capture the $125 American Kargo Top Amateur Award with 22nd overall and a big victory in the 250 A class.
The 8 a.m. Youth Race started the day with an intense battle for the overall podium, in the end the podium consisted of competitors from both the Super Mini Sr. (14-15) and Super Mini Jr. (12-13) divisions. Maryland's Randall Ervin claimed the center spot on the box with Zack Davidson and Silas Powers rounding out the podium in second and third.
FMF/KTM Factory Racing's Kacy Martinez continued her dominance claiming both the overall and WXC win in the 10 a.m. race. She was followed by FLY Racing/Maxxis/Seat Concepts/Yamaha's Becca Sheets, and Super Senior A (45+) competitor Vance Earl. Rocky Mountain ATV*MC/KR4/FAR Racing Husqvarna's Sarah Baldwin finished just off the overall podium, but took home third in the WXC division.
The 1 p.m. Pro race was broadcast LIVE in its entirety via Racer TV. To view the archived footage please click HERE.
For more information on the series, visit the official website at www.gnccracing.com or call (304) 284-0084. Join the conversation on the series Facebook page, follow us on Twitter and Instagram, and be sure to always hashtag #GNCCLIVE.
Maxxis Cannonball GNCC
Sparta, Georgia
Round 2 of 13
XC1 Pro Overall
1.
Josh Strang
Hus
2.
Kailub Russell
KTM
3.
Steward Baylor Jr.
KTM
4.
Russell Bobbitt
KTM
5.
Jason Thomas
Yam
6.
Ryan Sipes
Hus
7.
Daniel Milner
Yam
8.
Thad Duvall
Hus
9.
Ricky Russell
Suz
10.
Grant Baylor
Yam
11.
Chris Bach
Hon
12.
Cory Buttrick
KTM
13.
Philippe Chaine
KTM
14.
Christopher Douglas
Suz
15.
Jordan Ashburn
KTM
XC2 Pro Lites Overall
1.
Trevor Bollinger
Hon
2.
Jesse Groemm
Beta
3.
Layne Michael
Hus
4.
Tegan Temple
Beta
5.
Craig Delong
Hus
6.
Ben Kelley
KTM
7.
Evan Smith
KTM
8.
Trevor Barrett
Hus
9.
Austin Lee
Yam
10.
Zack Hayes
KTM
11.
Samuel Evans
Yam
12.
Kyle McDonal
Beta
13.
Mason Atherton
Hus
14.
Ryan Lojak
Yam
15.
Mark Heresco Jr.
KTM
WXC Overall
1.
Kacy Martinez
KTM
2.
Becca Sheets
Yam
3.
Sarah Baldwin
Hus
4.
Brooke Cosner
Yam
5.
Ashley Copeland
KTM
Overall National Championship Standings
1.
Josh Strang
60pts
Hus
2.
Kailub Russell
46pts
KTM
3.
Daniel Milner
37pts
Yam
4.
Trevor Bollinger
33pts
Hon
5.
Ryan Sipes
30pts
Hus
6.
Steward Baylor Jr.
29pts
KTM
7.
Chris Bach
25pts
Hon
8.
Grant Baylor
24pts
Yam
9.
Jesse Groemm
20pts
Beta
10.
Ricky Russell
20pts
Suz
11.
Russell Bobbitt
16pts
KTM
12.
Tegan Temple
15pts
Beta
13.
Jason Thomas
15pts
Yam
14.
Tyler Medaglia
14pts
Hus
15.
Craig Delong
13pts
Hus
XC2 Pro Lites Series Standings
1.
Trevor Bollinger
60pts
Hon
2.
Tegan Temple
43pts
Beta
3.
Jesse Groemm
43pts
Beta
4.
Craig Delong
37pts
Hus
5.
Ben Kelley
29pts
KTM
6.
Zack Hayes
27pts
KTM
7.
Trevor Barrett
24pts
Hus
8.
Layne Michael
22pts
Hus
9.
Samuel Evans
20pts
Yam
10.
Austin Lee
19pts
Yam
11.
Mark Heresco Jr.
19pts
KTM
12.
Ryan Lojak
15pts
Yam
13.
Joshua Toth
15pts
KTM
14.
Kyle McDonal
15pts
Beta
15.
Evan Smith
14pts
KTM
WXC Series Standings
1.
Kacy Martinez
40pts
KTM
2.
Becca Sheets
38pts
Yam
3.
Brooke Cosner
35pts
Yam
4.
Allie Spurgeon
31pts
KTM
5.
Felicia Robichaud
27pts
Yam