Georgia Dome
Atlanta

,

GA
Atlanta
Monster Energy AMA Supercross Championship
2014 Martin Davalos Is Back
In his first season with Rockstar Energy Husqvarna, it was apparent that Martin Davalos was struggling with an illness or injury. He wasn't near the same rider we saw the year prior. Toward the end of the season, it was unveiled he had Epstein-Barr. "I've gone through hell, man. I know I have a lot of people that doubt me. It's been tough," he told us after the race. Like many in the East Region, we weren't sure which Davalos would show up in Atlanta. Well, it appears we may have a better version of the 2014 Davalos, after a flawless 15-lap main event.
Malcolm Stewart Is Lucky and Unlucky Getting Second

Mookie was clearly fast enough to win—setting the fast time in practice, winning his heat easily, and cutting into Davalos' lead in the main. He's also very, very lucky he didn't toss away a second and his championship hopes with what he called a "bonehead" move. He clipped the downed bike of Shane McElrath and crashed while running second. "Of course obviously I'm going to be mad and upset because I kind of felt like I kind of gave that race away, but you can't win them all," he told us after the race. "So hopefully just take it from here on out and learn my lesson to dodge some riders as much as possible and just ride my own race." A second is a lot better than his twenty-second at the West Region opener last year—but if McElrath's bike hit the wrong spot on Malcolm's Honda, he could have been twenty-second again.
Tyler Bowers' Off-Season Injuries Took Their Toll
"Last night was well... About as embarrassing as it gets! First off I would like to apologize for my performance," Tyler Bowers wrote on Instagram after an eighth place performance. Back surgery and Epstein-Barr took their toll on Bowers this off-season, as he explained in-depth below. Bowers went on to say in his Instagram post that arm pump was also a factor on Saturday. "I rode tight all day. With every muscle in my body engaged like I was trying to pull the handlebars off, the arm pump really kicked my butt! I'm disappointed, but I'm healthy and it could be a much worse start to the season!"
The Jury is Still Out on Shane McElrath's Health
According to the team, McElrath wasn't expected to be cleared to begin riding until March 1 following off-season wrist surgery. His wrist healed faster than expected, which moved his time frame forward allowing him to race this weekend. But, we still don't know how his wrist will hold up after fifteen laps, as he crashed in the first turn (and again later). With a rough Daytona track coming up, we'll find out quickly.
Justin Hill Bounced Back

But there's some good news for TLD. A fifth doesn't look amazing on paper, but Hill was twenty-first (!!!) after the first lap. And he almost caught Jeremy Martin for fourth!!! After a rough first season with KTM, he needed this strong start.
RJ Hampshire's Head Is Healthy; Another Body Part Is Not
The good news is Hampshire is even healthy enough to race following his head injury at Red Bull Straight Rhythm. The bad news: he crashed on Tuesday of last week and reinjured an unspecified previous injury. We asked Hampshire if this injury will heal quickly, and he seemed to think it would. "Yeah, I see it being pretty fast healing. Then we'll be ready for next weekend, that's all that matters. We'll do what it takes this week and be ready."

Jeremy Martin Needs Better Starts

His lap times weren't far off from the leaders, and he got stronger late in the race (of course) setting his fastest time on lap 9, but he was never a factor for the win after rounding the first lap in eleventh. He may find some comfort in Daytona this weekend, where most consider him the favorite on the more outdoor-sy type track.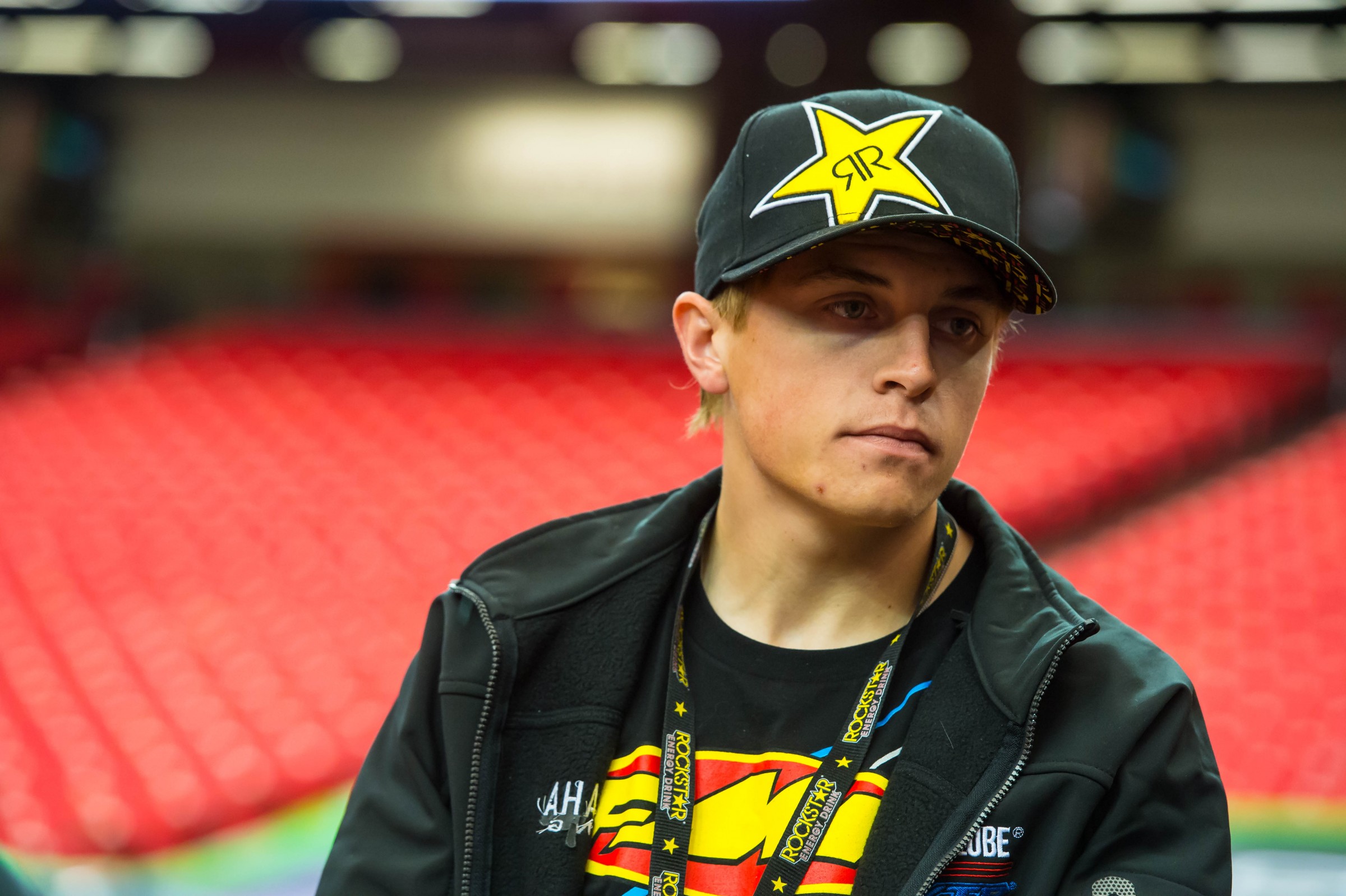 Believe The Hype on Aaron Plessinger
If you somehow thought his first season was a fluke, think again. The 2015 double Rookie of the Year (SX and MX) came from ninth (after lap 1) to find the podium.
Darryn Durham Is Having Fun…. And Racing Well
Since his first, and only, 250 supercross win in New Orleans in 2012, Durham has competed in just three supercross main events (none in 2013; two in 2014; one in 2015). He's back with his own effort this year and looked really good in his first race since the West Region opener last year. A seventh and leaving healthy is all you can ask for after such a long layoff.
Recommended Reading
Matt Bisceliga's Off-Season Injuries Took Their Toll
As with Bowers, McElrath and Arnaud Tonus, Matt Bisceglia was limited this off-season due to injuries. Just a few weeks ago, he wasn't even expected to race. "Over everything I am beyond happy to have been able to race last night," he wrote on Instagram after the race. "It has been such an insane rough road since thanksgiving with injuries and illness with not too much time to prepare. Can't wait to dig deep throughout the week ahead to get to where I belong!"
Arnaud Tonus Is Lucky To Be Racing Daytona
This could have been really bad…
Jimmy Albertson Is hurt, but still top ten
This is worth watching to see what Albertson has been through this off-season….
The Horizon Award Winner Did Well
Benny Bloss had to go through the LCQ to get there, but a thirteenth isn't too shabby.

Alexander Frye Is Better Than You Thought He'd Be
After a rough debut in Lucas Oil Pro Motocross, the rookie wasn't on anyone's radar entering this season. A ninth should change that.
Dakota Alix Has A Fast Machine
A holeshot on a privateer bike ain't bad….
No one is sure who is going to win this championship
And that's a good thing.