Arlington, TX
Arlington (Dallas)
Monster Energy AMA Supercross Championship
Red Bull KTM's Marvin Musquin has been hard to categorize this year. In about half of the races, he's been merely okay. In the other half, he's been very fast. But even in the races where he's been fast, early mistakes have cost him greatly. Arlington tuned into one of those nights, as Musquin was on the gas in qualifying, but then went down early in his heat and the main. The speed was legit, though, as he went from twenty-second to sixth. Last week he didn't go down off the start and only got seventh!
We also asked Marvin about the unique line riders were using during timed qualifying, where they would hug the inside in the last turn and get to the base of the finish line jump, where the transponder feed is located, a little quicker than the riders using the outside. You couldn't jump the finish line jump from the inside, but that doesn't matter in qualifying—because rolling the finish only slowed up their next lap. In qualifying, you only need one good one!
Marvin had fun with the track and fun with what he called "the cheater line." He was all smiles after the race.
Racer X: Man, what could have been. The way you were riding it could have been really good. You were on it all day.
Marvin Musquin: Yeah. It's so easy to say, if I were to get a start, or not go down, stuff like that. It was a tough day but it was to me my best day. First practice right away I felt pretty good. We made some changes on the shock this week. We tried it today. First qualifying I got first. I was like, "Man, that's awesome!" And then second qualifying I got second. Ryan [Dungey] got me by a really little, not even a tenth of a second. So it was awesome. And then heat race, I needed a good start. That start was so short and the track was really technical. I was mid-pack. I got up to maybe fourth and fifth. Everybody was so aggressive and [Trey] Canard took me down. He went inside of me under the tunnel and took the line and then he hit me and I went down. So it was a bummer not to qualify right away. To get top four in the heat, I got used to it. I was a little bit mad, obviously, because the gate pick was so important tonight. I went to the semi and got second. Even second place in the semi you ended up tenth or twelfth gate pick for the main. I chose to go inside. It was really tight inside and I didn't get a good jump. I was mid-pack and in the first turn [Eli] Tomac was inside of me. He just hit my handlebar and then I went down. Dead last, I was so bummed. Obviously very first lap when I was dead last I was like, it's going to be tough to get a top ten or to just come back. That track is so tight. Everybody's riding pretty good tonight. I ended up having some good lines and I was happy the way I was going through the whoops and ended up sixth. With more intensity on the last five laps I would say I could have caught Tomac. So to me it was a good race the way it went. But that's not what I want. But the way it went it was good.
Why were you on tonight? Do you feel you're getting better? Was the track just good for you? Were you just having a good night?
It's a little bit of all of that. I feel better. We worked on the bike. I work hard during the week. And this track was awesome, to me. That dirt was really nice. Obviously it got slick in some spots, really slick, but the dirt was good. I really liked that. Since last year we have new dirt here in Dallas, so it's really cool. So I really enjoyed the day even though racing was a little tough. At the end of the day, the practice went good and I had fun on my bike so at the end I'm pretty happy even though I think about that crash, for sure.
Let's talk about practice. Everyone was cutting inside in the last turn to get to the finish line and get to the transponder. That wasn't going to be a racing line, you couldn't even jump the finish.
We did that last week in San Diego!
The same setup?
Kind of! Like jumping and cutting the turn and kind of almost rolling the finish line. Sometimes last weekend I was able to do the finish line from the inside. But this weekend that turn was so open that you lose a lot of time going outside, so you just go really tight inside and roll the finish line. It was maybe like .4 faster. So that's what I did. First qualifying I got first. I know a lot of people talked about it.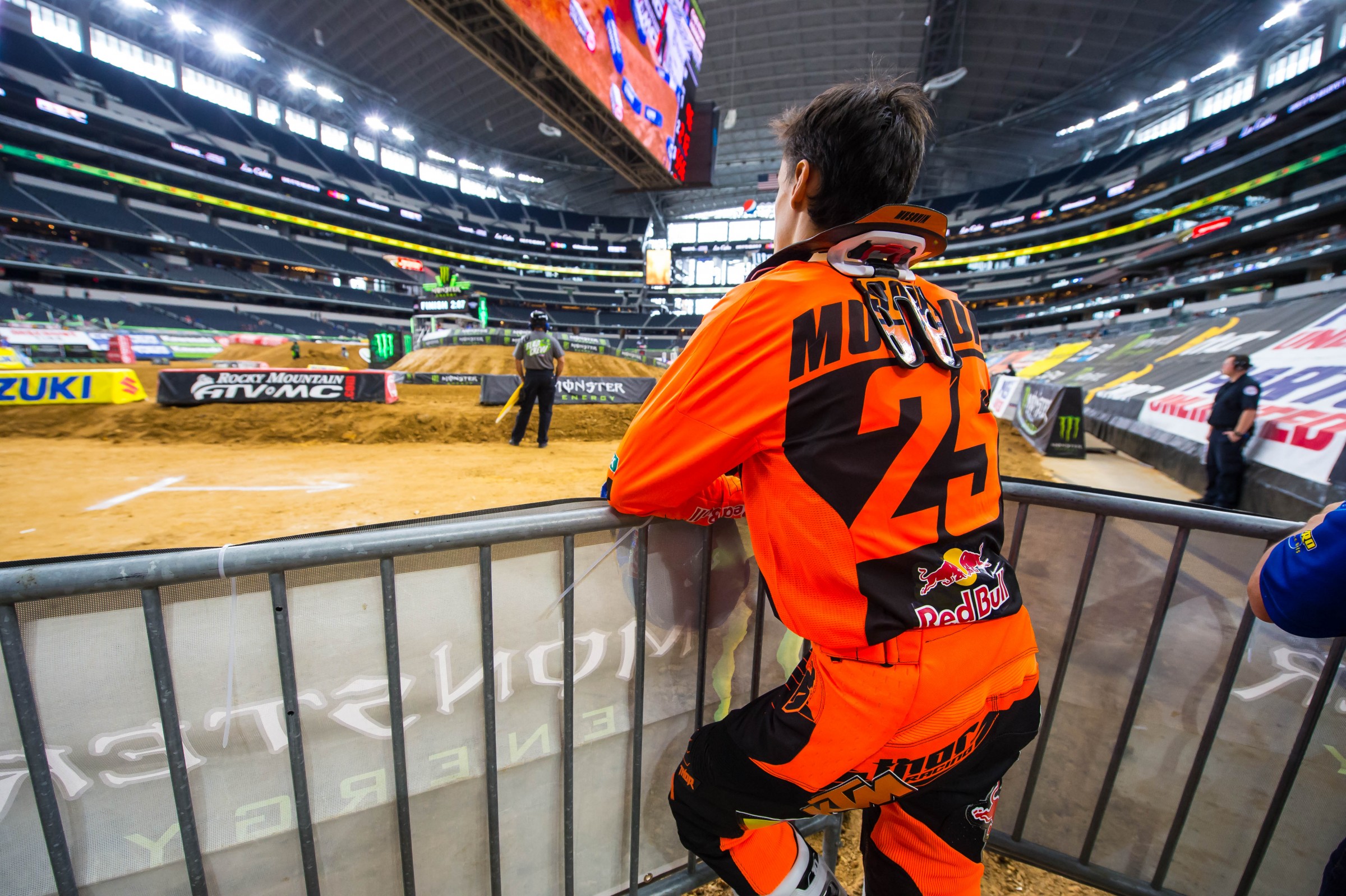 A lot of guys did it.
I saw Tomac, I saw Seely, I saw Roczen, but not Dungey. So at the end I'm like, maybe I got him because I did that. And then second practice I was in a good lap and I'm like, "I'm going outside. I'm not taking the cheater line!"
You didn't want to do it?
No. And then, boom I went first. Second qualifying, I'm not using it, and then I went top of the board. I was like, Yes! And then Dungey got me at the end.
So in the second timed one you didn't use it?
Nope. So I was happy about it but Dungey still got me.
You should have cheated!
I know, right? In the end, I should have done it. But it was something special, something that you kind of want to do it because you gain time, but at the end, you're not going to do that during racing. So I did it both ways, so I'm happy.