PETCO Park
San Diego

,

CA
San Diego 2
Monster Energy AMA Supercross Championship
Red Bull KTM's Ryan Dungey has not only transformed into a winning machine—with four wins in the first six Monster Energy Supercross races of the year—but he's become quite the talker, too. His guard is down and he spits out info as soon as anyone asks. Enjoy this revealing conversation about bike setup, heart rates, data and more.
Racer X: Twenty-two podiums in a row, a 26 point lead, four wins, amazing start, Ryan. How do you feel?
Ryan Dungey: I feel good. Today, the track, I will admit, it was very tough. I think for all of us it was. The base was super hard and slick, and then not to mention when the bumps formed they were really stiff too. I think all of us it really brought out the worst in the bikes and we had to adjust a little bit. We had to adjust a little bit, kind of chased it here—didn't chase it, but tried this and that all day and then for the main event we made a nice little change that really helped out. I was able to get off to a good start and I think tonight that was key. This track's really hard to pass, and it was nice to just be out front and run my lines. Like last week, we didn't get off to a good start and look how that was. So this track would have been even harder to get by the guys.
How much did you work on your starts this week?
A good bit. Tried just a little bit of technique, a little bit clutch and throttle, just delivery to the rear wheel and depending on the condition. I won't say we over-worked it but we just worked on it and kept that in mind for today, especially these conditions. This track was super tight. Just had to try to keep things open and flowing. But the bike felt good; was getting a lot of good rolling. Dunlop has a new tire this year for us that I think it would have been a little harder last year to do that but we're getting more traction and a little bit more feel in the rear especially too. So they did a good job.
Marvin I think got a little jump on you but coming around that first turn…
Yeah, Marvin [Musquin] was on the inside and where he was I was actually going to go, but I was like, man, I don't want to pinch myself off. It kind of worked out good. Marvin rolled that inside but he had a lot of momentum and I came underneath him. Thankfully nobody was there and I could get under him. He kind of went wide and I kind of tucked under him and there was the line. So just to get that start was very critical tonight. The track was very long but also very tight and slow. It was very hard to get on the inside of somebody because the race pace was slower. Phoenix was easier to make a pass because it was faster, it was more broad, but this weekend not so much. It was very tight in the back. But long lap times and a long race, too. Cole [Seely] was behind me and he wasn't letting off at all. So I really just tried to keep that intensity and keep that lap times in the low 58's if I could, and just keep driving.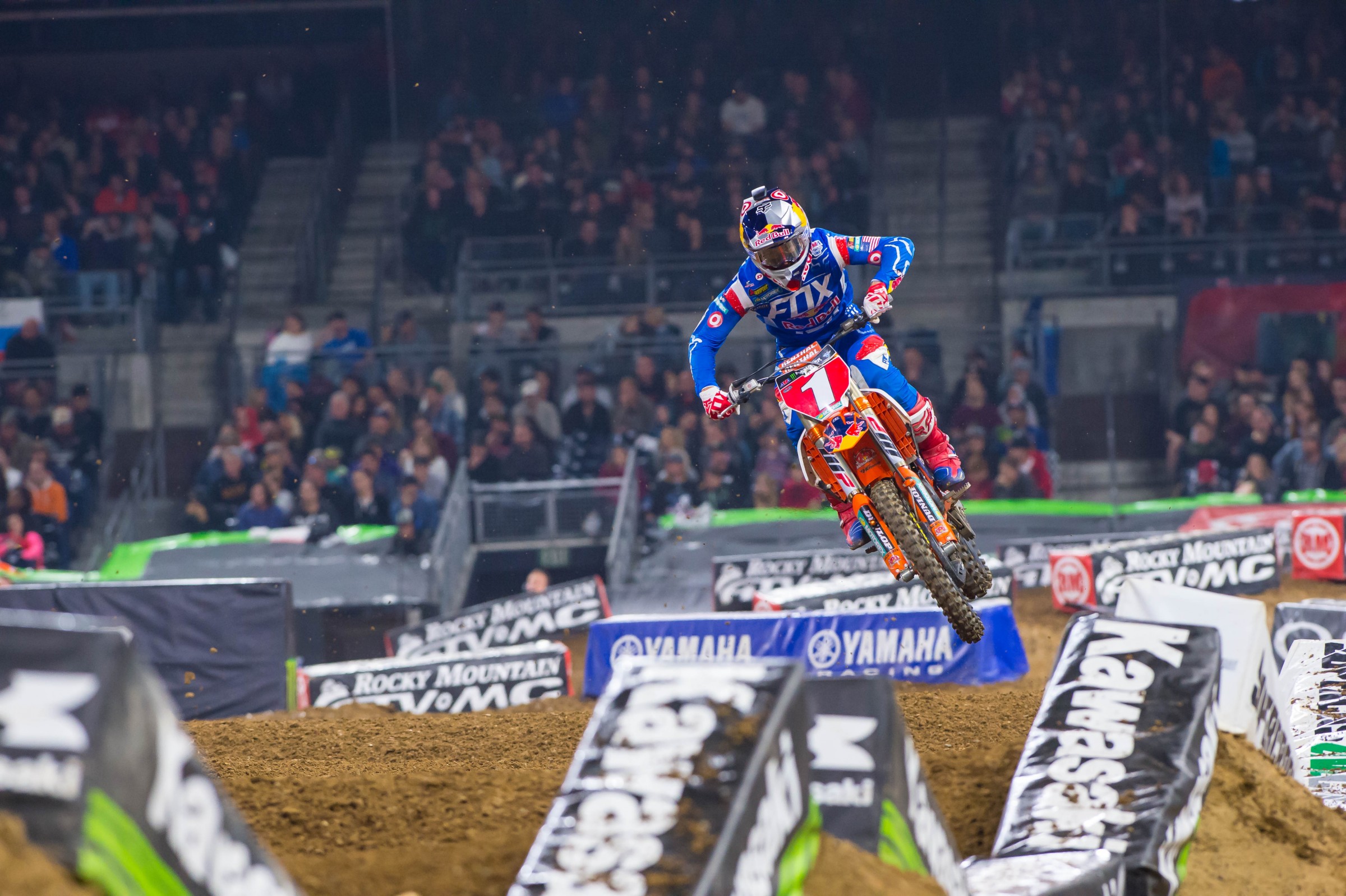 Talk about the relationship you, Roger and Ian. That core has been there for a long time and you guys seem to all speak the same language.
In the beginning, obviously the challenge, we all know what that was when we came over [to KTM]. More Roger [DeCoster] and Ian [Harrison], they were the first people to believe. But they started building a foundation there, obviously with the support of Red Bull and KTM. They've been very, I feel, hands-on for sure, just trying to create new… everybody here on the team really jives together good. Everybody's been together for a while. We know how we work. When we're telling people about things it makes more sense to each other because we have that bond and that closeness and that connection. We've worked together so long we're able to understand each other a little better. But I can't take the credit. Those guys over there in Austria, between coming up with this bike last year and then now and everybody here at KTM working hard to keep improving and keep finding that next edge, that next level, because that's ultimately what racing is…if somebody gets better, we've got to keep ahead of that curve. I think they're doing a good job of that. Meanwhile myself, I'm trying to just really apply myself on the track good and get a good feel and maybe direction when we're testing and stuff like that. Gosh, it don't always work like that and it ain't easy by any means, but we'll keep working hard. We can't ever let up. You're only as good as your last race.
You look comfortable though, just clicking off laps out there.
Yeah, trying. I think this track definitely brought out the worst for all of us on our bikes. Your rear tire wasn't driving. You're more getting spin, so it wasn't loading the bike like it normally would. So that was tricky and I think a lot of us felt that same negative effects on the bike. So we had to make a couple adjustments for a couple practices, and then we did something in the heat. And then in the main we felt like we had a direction. They made a change that really helped me out. But I was able to hit my lines, apply myself on the track where I wanted. I just tried to execute as best as I could, just like we do at home. There was a lot of areas it's just like, you had to be so careful in the front and the rear because you'd either lose the front because it was bumpy coming in, or you'd lose the rear. It was just kind of crazy. You can imagine being such a slippery base, it's not pulling the suspension in. So you just kind of get that chatter.
You and the top group weren't doing this triple into the sand. The guys behind you were. Was that because it was too risky to gain a little bit? Or was it faster to do it the way you were doing it?
We timed it out in practice and it was like a tenth slower, only because you have to land and then you have to slow down to get back, to where if you kind of double I could keep the roll going through the whole thing. To me, that was just more comfortable. If it was a little faster I don't know if I would have done it either. I did try it in the heat race. It was just a hard landing.
I think the heart rates would be cool but I think even better would be the speeds. I think people would be really surprised how fast we are going into the whoops, through the whoops.
Was it something you might have used if you needed it for a pass to get by the guy going into the sand?
No. [Laughs] That would have been all sketchy! You can't even see the inside bale where you're landing next to. It's kind of blind, so it's a little tricky.
The next few races, being in domes, I think you kind of lose the Lit Pro data. [Note: LitPro is a data device mounted on a Dungey's helmet, it can use GPS to track speed, time and other info.] Is that a disadvantage or do you use other tools to try and make up for that?
We do have other tools. LitPro has been a big advantage for us just here in these open stadiums. But it sounds like they're working for the future with Feld and to try and hopefully do some good things and maybe there will be a lot more with that. Not just lap times, sections, and overall times and everything like that but maybe heart rates and all kinds of information that they can live stream straight to television and give the fans things. I don't know. Don't take my word on that. But they're working on some really good things. I think the people who are watching the broadcast will take more of a liking to them, maybe a little more interest in what's going on. The thing with our sport, we have our helmets on all the time. Nobody sees that suffering and the high heart rates, so it will give them an idea of the physical endurance that it takes to do what we do. I think it's good for all of us.
What's the max heart rate for you out there?
That's confidential! No, just kidding. It varies from a tacky track to a slippery track, but we're anywhere from 165 to probably 185. But everybody's heart rate is different. Somebody could be at 200 and I could be at 170 and it doesn't mean that he's out of shape; it's just the way his heart beats. That's his engine. That's how it runs. All of us are different.
So of those stats, what would you like to see come over? What do you think would be interesting?
I think the one thing aside from all the heart rates—I think the heart rates would be cool but I think even better would be the speeds. I think people would be really surprised how fast we are going into the whoops, through the whoops. We're reaching up to 50 to 60 mile an hour on the track. You probably wouldn't really think that, unless we were in Vegas on that start straight, but even this track coming through here, I think that would give somebody a little bit more of a reality. Kind of like, wow, that's hauling butt, and those are some obstacles. So we'll see.
Acceleration G's would be good, like the triple on the far-side.
That's the thing too, they'll have the G of the bike, the G of the body, the G's we pull. So that's all putting things into reality and in perspective.
Is there any significance to leaving California with the win? Does this mark any segment at all in the series?
I think it's nice. It's a long season and there's a lot of racing whether we're on the west or the east, but it's been a good West Coast. We're going to put another good week here before we head back to Dallas. Dallas is East Coast but it's not the tackiest track so it's kind of hard. But I think to build on that is great, and to leave with a win is great, too. Leaving any race with a win is awesome.
But you don't have segments of the series? Like these are the hard pack tracks of California. Obviously Dallas is more like this, but then you're like, okay, now we're in rut section. Different strategy?
Yeah, there's different bike setups then. That's all things that the guys go over. If we need to change something, we need to change something. But these hard pack tracks you usually have a softer setting, so you might not need to change much going over there. It depends how soft the tracks are. But those are all things that the week leading up to it, you try to be ahead of the game. It's softer dirt, a little bit more traction. Some of them are really soft, and those are tricky. Like we saw at Indianapolis and New Jersey. I think it's something to look forward to for sure.
You were pulling Cole at the end there. Where do you think he really excelled tonight?
Cole around the whole track was good. I never really felt like I was really gapping him too much. I don't know if he made a mistake and I got away or if he got into some lappers and gained a couple seconds. I think he was exceptional in the whoops, if I had to pick a place.
Do you feel like you struggled anywhere tonight in particular?
No, it was just tough. The whole track was challenging.