San Diego, CA
San Diego 2
Monster Energy AMA Supercross Championship
Back to San Diego we go. The 2016 schedule of Monster Energy Supercross has us making two stops at Petco Park and I, for one, love it. San Diego is one of America's greatest cities. Ideal weather year round, beautiful beaches with mountainous backdrops, a great downtown scene and yes, supercross, all make San Diego a winter time hotspot.
Much ado was made of last year's move from Qualcomm Stadium over to downtown's Petco Park and for many the move wasn't an improvement. With the downtown location, the pits aren't ideal and parking can prove troublesome. I understand all of that and can't really refute it. But for the good of supercross, I think it's a positive change. The downtown setting attracts more corporate attention and will be more likely noticed by the casual observer. The stadium is nicer and newer, creating a better viewing experience for fans and sponsors alike. The area is vibrant and has a much more festive atmosphere for supercross than Qualcomm's location. Reaching new audiences and creating "new money" for the industry as a whole is important for growth. Changing venues and offering an upgraded experience trumps easy freeway access and tail-gating.
The track this week is made up of turns, jumps and bumps. Shocking, right? That's why you come to Staging Area, folks, for the hard-hitting analysis. Seriously, though, there are some unique aspects of this track. First things first, and that's the first turn. It's a right hander again and we all know how much I love right-hand first turns. Even better, it's a 90-degree turn, which basically ensures riders that blow through the first turn will sail into the run-off area at best and into a Toyota Tundra at worst. I just don't think these right hand turns are a good idea. Riders are unable to use the rear brake and that ups the odds for mishaps. Not everyone agrees but I just think we should avoid it. There is no upside to a right hand first turn, but as a rider who has been blown off the track many times in my day, I can tell you all about the downsides.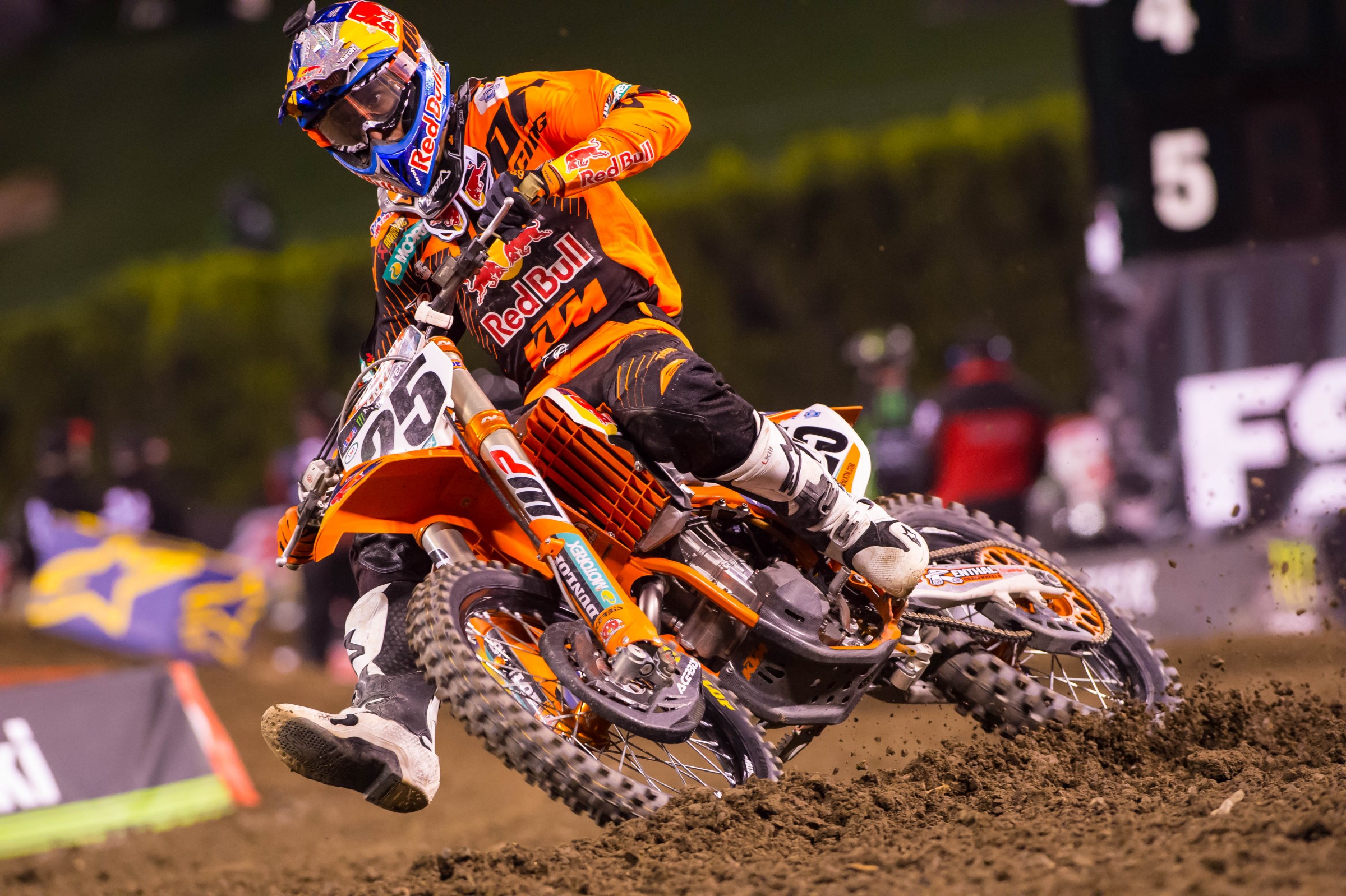 We are back on a baseball diamond this week. That means there will be many short straightaways with quick, back and forth rhythm sections. There are two whoop sections and, as we have seen, it is impossible to predict the level of difficulty that Dirt Wurx chooses to employ. We have seen incredibly tough whoops at A2 and Glendale, but the Oakland whoops were easy. What San Diego brings is anyone's guess. The sand section is always cool to watch, but for the riders, there is no reason to fret.
As far as passing goes, I only see two good opportunities. The two turns that follow the two whoop sections are 180's. This allows riders a chance to make a run in the whoops and set up a block pass or to cut underneath exiting the berm. I give kudos to Dirt Wurx for being conscious of this variable and its implementation. Had they put ninety degree turns after the whoops, the rider in front would just stay to the inside and basically block anyone making a pass attempt, leaving nowhere for the rider behind to go. Overall, though, I see this track as being very tough to pass on. That means one thing: starts will be critical.
Who's Hot:
Ken Roczen nabbed his first win of the season and looked great doing it. His fitness looked to be on par for all 20 laps and he showed Dungey that he isn't going down without a fight. It was a statement weekend for Roczen.
Ryan Dungey didn't win Glendale but he was still great. He came from eleventh to second, leaving no doubt that he can overcome adversity. He made decisive passes and waited for no one. He is still in firm command of this series.
Eli Tomac jumped onto the podium and for a while looked to be a threat to win. He faltered a bit in the waning laps but it was far better than his Oakland main event. He will win by the time we leave Daytona. Stamp that.
Christian Craig did it! Yes, he had some help from Cooper Webb but that's out of his control. He rode solidly for 15 laps and could have succumbed to Cooper's pressure many times. He didn't. Great job from the second-generation supercross star.
Who's Not:
It feels weird to put Cooper Webb here but after winning three races in a row, he has lost the last two. His riding is still superb but things haven't gone as smoothly as they did a few short weeks ago. He is still my pick to win this title but he has a few things to clean up along the way.
Chad Reed has had two off weekends in a row. Entering San Diego, he needs to recapture that elite magic he has shown multiple times this season already. San Diego is usually good to the 22 so let's hope he can rise to the occasion. If we know anything, we know he loves to shut people up. This weekend is another chance to do just that.
Cole Seely came out of the gate firing at A1 and damn near won the race. He hasn't been bad by any means but he hasn't shown that level since then, either. Cole is one of those riders if he is "feeling it" and gets the start, he will just run away with the race and leave everyone else wondering where he went. It will happen this season, just a matter of when.
Bold Predictions:
Ryan Dungey makes it 2 for 2 in San Diego.
David Pingree boycotts Petco Park, setting up his own nostalgic tailgate at Qualcomm Stadium. His afternoon plans are foiled, however, when the archaic stadium collapses into pile of rubble.
Andrew Short holeshots the main event and moments later there is a statewide request for the National Guard to calm down the greater Spokane area.
Cooper Webb wins and re-establishes his sole possession of the red plate.
While laying under their motorcycle on the outside of the first turn, someone asks the age old question, "Why did we make the first turn a right hander?"
HRC Honda asks Ken Roczen to be its Valentine.
My Picks
250
Cooper Webb
Joey Savatgy
Christian Craig
450
Ryan Dungey
Ken Roczen
Chad Reed