O.co Coliseum
Oakland

,

CA
Oakland
Monster Energy AMA Supercross Championship
Cooper Webb's win streak in Monster Energy Supercross 250SX West Region ended when his bike quit while leading, but if any team and rider deserved a break like that, it was Joey Savatgy and his Monster Energy/Pro Circuit Kawasaki team. Savatgy has spent plenty of time injured, and is just happy to finally be entering a supercross season at full strength. The mighty Pro Circuit team has had it even worse. The team had not won a supercross since 2014, a season where the team was posting 1-2-3 podiums sweeps in 250SX East Region, only to see all three riders go down with injuries.
This one has been a long time coming, and Savatgy even had to deal with some bad luck himself in this very race. We found him in a very happy Pro Circuit pit after the race.
Racer X: First supercross win!
Joey Savatgy: Yeah, it was good, man. We were fast again today, like we've been at the rest of the rounds. I feel like we've had the speed all year to be there. First round was a little unfortunate and then we ended up second at the next round. Then last weekend I felt like we had the speed to win again. A little bit of mistake by me, I went down in the whoops. With as many guys as there is right now you're not winning when you're on the ground. So that was a little bit of an unfortunate deal for me. Good again today in practice. I felt tight in the heat race but put myself in a good position to win. For the main event, got a good start. Once I saw who was in front of me I didn't want to let him off easy and let him skate off into la-la land and just cruise it in for the win. So it was good. I had a little bit of a shifter issue there after I landed on the Tuff Blocks. From there I was stuck in first gear almost the whole race.
Was it really first gear?
It was first and second. Second on the straightaways and then when I'd go around a right-hander my foot would hit the shifter and knock it down to first. It was stressful at the time, but made due with it. Figured out that I'm [be] better off just running it on the rev limiter [in first] where I can't shift. Overall the day, there's not a lot to say. We wanted to have the red plate. Felt good. We didn't let him get away. It wasn't like he had a 15-second lead and his bike broke. He was right there in sight, real close to me. So I think on the day it was a big improvement. Felt good, the bike worked great. The big thing is I put myself in a good position to win and I never let him get away. Put pressure on him.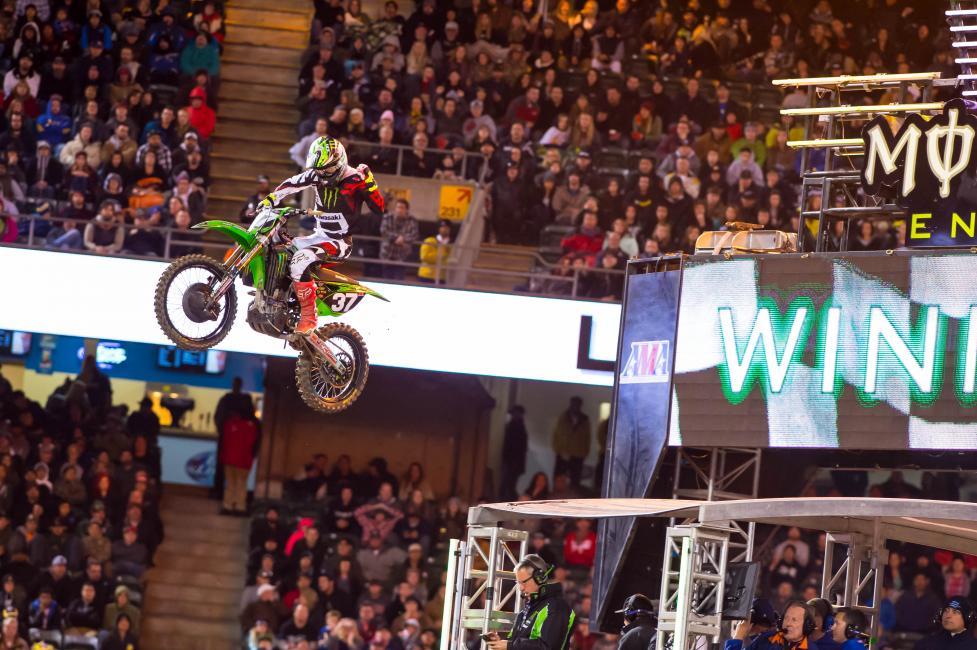 How were you shifting? I know when the shifter gets like that it is kind of hard to make the jumps.
I can only shift on pretty much the mechanics area straightaway. You know dudes who break their femurs, how they like hump the bars [move their entire lower body] when they go to shift? I was having to try to pop my foot in there to shift. Sometimes I could get it and sometimes I couldn't. Then the next turn, right-hander, I'd go to put my foot on the foot peg and I'd knock it down to first gear. Then I'd be on the rev limiter the next rhythm section, trying to shift in the air. It was, I don't think a lot of first gear, I think a lot of second, but there was definitely some first gear in there as well. It wasn't ideal. I need to stay away from the Tuff Blocks. I've been hitting the Tuff Blocks a lot lately. That one almost came back to bite me tonight but it didn't and I'm happy.

You weren't pulling the Dungey air shifter?
No, I wasn't about to put my hand anywhere near the sprocket! I felt like I could make due with what we had. The areas where I would lose time I'd have to try to go a little bit faster in the other areas where I felt like I could still make up time. Like I said, we won and it was a good night. The man up above had a plan for me and stuck with it. He knew this was coming. So, I'm happy and pumped for Mitch [Payton, team owner]. It's been a long time for Mitch. Too long, to be honest. We've had the speed for a little while and a lot of that's just me not putting it together. I'm glad to finally get the ball rolling and go back to the farm this week, work with Ricky [Carmichael] and keep the ball rolling. Come into next weekend in Phoenix high on confidence and do the same thing we've been doing. Be fast in practice and put myself in a good position for the main event.
When I saw you on the podium in San Diego, that was about as unhappy a guy as I've seen on the podium in quite a while.
Yeah, and people kind of took that the wrong way. I wasn't unhappy with a second place finish; I was just unhappy with how I got second. It was good to be on the box and to get points. Points are valuable, as you can see tonight. Things can change in the blink of an eye. I was more frustrated with me because I felt like we had the speed that night too. I got pushed around a little bit. A couple dudes parked me. Cooper [Webb] was one of those guys that was able to sneak by me and work his way to the front. So, that was frustrating because the guy who won passed me. I don't like being passed by anybody, let alone the guy who passes me and goes on to win race and he's got the red plate and he's going undefeated. That was the most frustrating thing. I was more disappointed in me, not the result.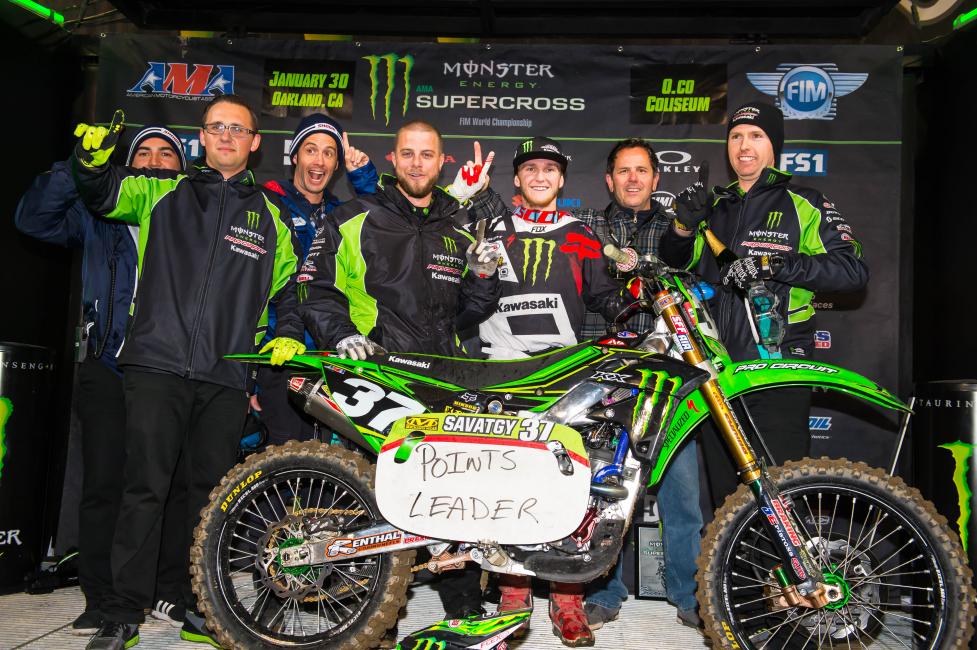 You seemed happy when you won tonight, but then they told you that you had the points lead and you almost seemed like you went to another level of happiness. Did you even think about that? Did you even realize the points situation?
No. Someone told me, "Hey, we think you have the points lead," but I didn't really think about it. I didn't know who finished where. I didn't even know [Colt] Nichols got second. So I was thinking, I knew I was behind [Zach] Osborne in points and I knew [Christian] Craig was close. There was a lot of math. I really didn't even think about it. Then when I looked up and saw the points and saw that we had the points lead, it adds a little bit of sweetness to the win. It makes it that much better. We've got the red plate next weekend. It's something that I've wanted my whole life. It's going to be something that I'm going to fight every day for. Next weekend it's not going to come easy. There's a lot of hungry guys. I'm sure Cooper's going to be hungry for retaliation. Christian's going good and Zach's going good. There's a lot of guys that can win, but I feel like as long as I put myself in a good position to win, we should be there battling for a win.