Legit: Forkner Sweeps NC Arenacross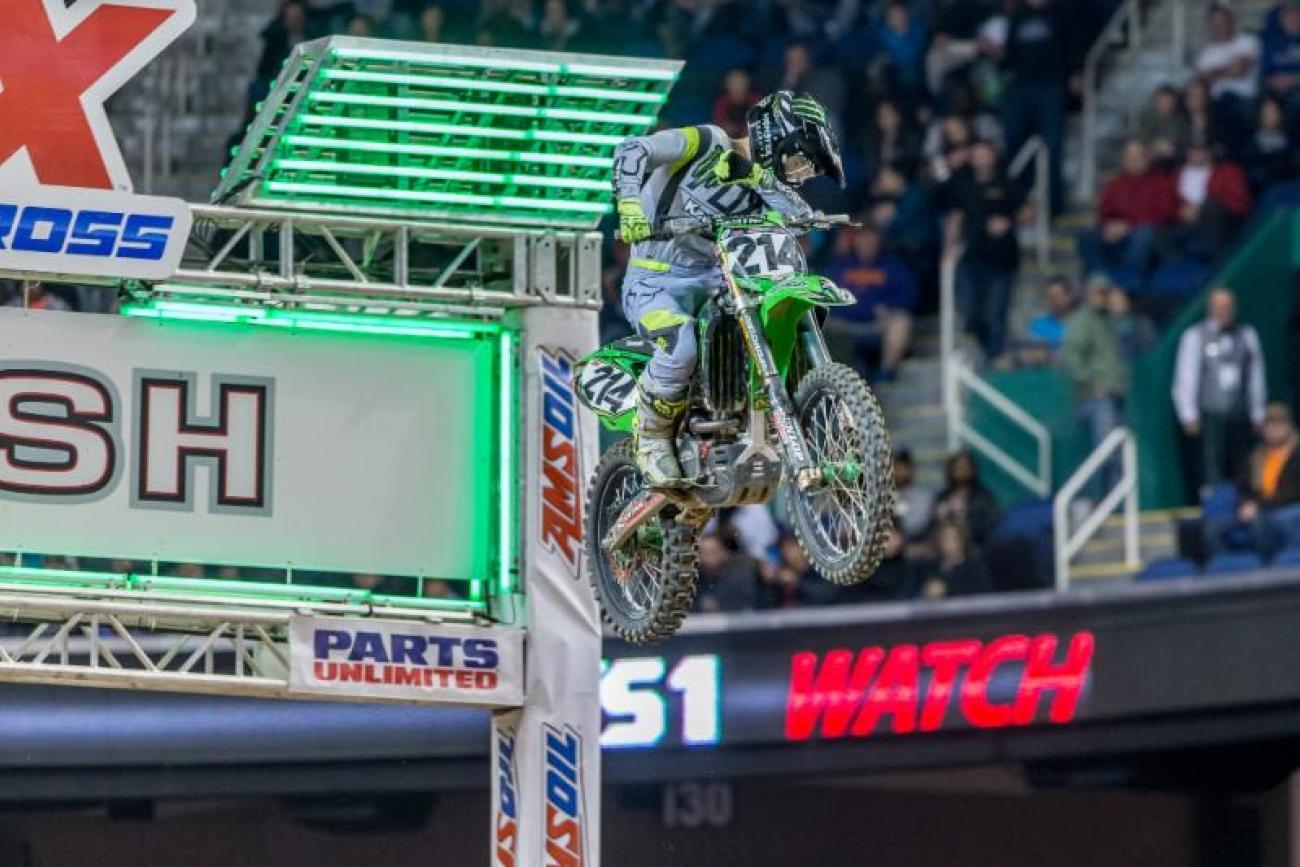 Future Monster Energy/Pro Circuit Kawasaki rider Austin Forkner is racing AMSOIL Arenacross to earn his Ricky Carmichael Road to Supercross points for Monster Energy Supercross next year. Well, the kid just showed he's a fast learner, as in just his second weekend ever in AX, he topped the field in both races in the Arenacross Clas in Greensboro, NC.
Forkner will officially join the factory Pro Circuit unit at the Hangtown National opener of Lucas Oil Pro Motocross.
The official PR from Feld Motorsports is below.
GREENSBORO, N.C. (January 30, 2016) - When AMSOIL Arenacross last raced inside the Greensboro Coliseum two seasons ago, it saw a new star emerge as Jacob Hayes earned his first career overall victory. When the championship returned to the storied venue on Saturday night for the fourth round of the 2016 season it happened again. In just his second AMSOIL Arenacross start, Monster Energy/Pro Circuit/Kawasaki's Austin Forkner swept both Arenacross Class Main Events to capture his first career professional win and become the second Ricky Carmichael's Road to Supercross rider in history to claim victory in the premier division. In the Eastern Regional Arenacross Lites Class, A&Y Racing Honda's Daniel Herrlein extended his points lead and became the first repeat winner in the division this season.
In the first 15-lap Arenacross Class Main Event, Team Babbitt's/Monster Energy/AMSOIL Kawasaki's Gavin Faith raced to the holeshot with Forkner and Rockstar Energy Drink Husqvarna Factory Racing presented by FMC and OTSFF rider Kyle Regal in tow. Entering points leader Chris Blose put his Team Babbitt's/Monster Energy/AMSOIL Kawasaki in fourth, just ahead of his Team Babbitt's teammate Hayes. Faith and Forkner cemented themselves in the top two, but Regal and Blose battled for third, with Blose getting the upper hand on Lap 2.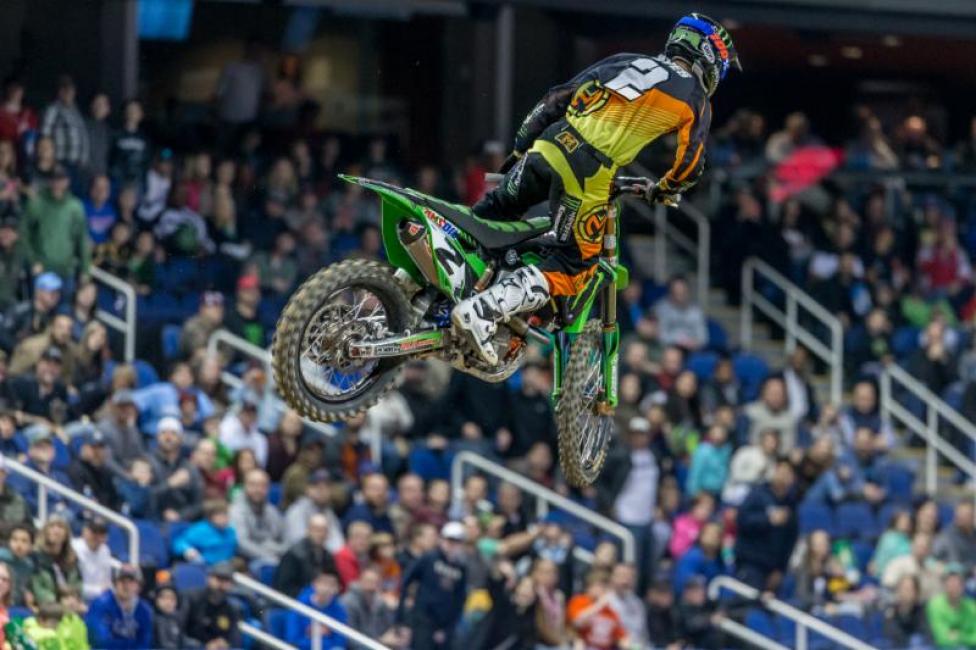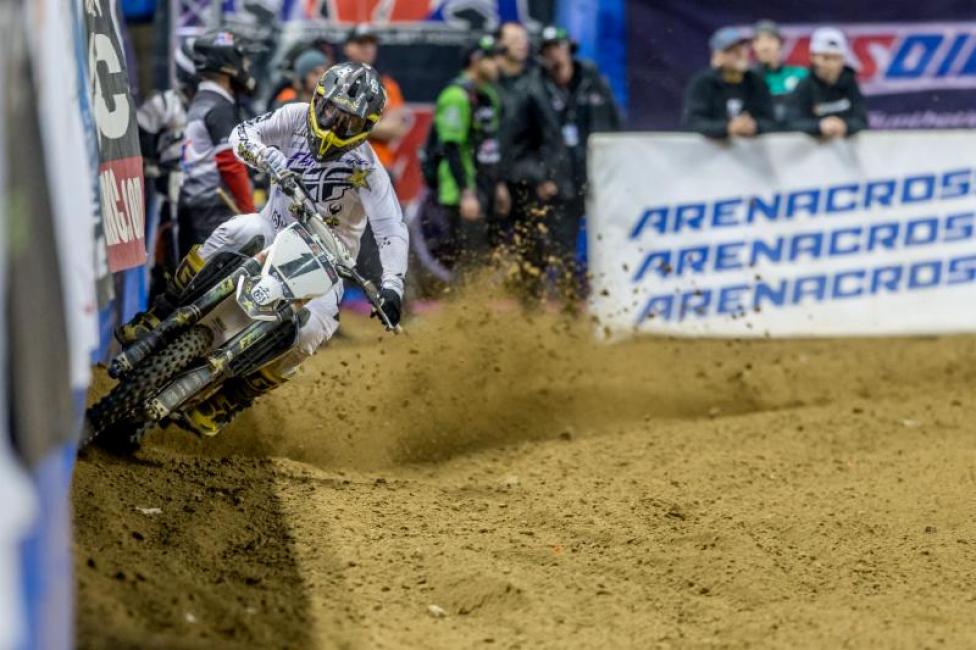 Things appeared to be settling in until Faith crashed out of the lead on Lap 5, eventually remounting in sixth. That handed the lead to Forkner, ahead of Blose and Regal. On the ensuing lap the standings got shuffled again when Blose went down while running second. The points leader's misfortune created an opportunity for Hayes to pass Regal and jump from fourth to second. Blose reentered the race in 14th. Out front, Forkner was keeping a hard-charging Hayes at bay. Hayes kept the rookie within striking distance but was unable to mount a serious charge. Forkner took the checkered flag just over a second ahead of Hayes, with TiLUBE/Tuf Racing Honda's Jace Owen third, Regal fourth and Faith rebounding to finish fifth. Blose battled his way back to 11th.
Thanks to his first ever Main Event win, Forkner was tasked with selecting one of three cases to determine the inversion for the second Main Event. He chose the case with the number eight, meaning half of the 16-rider field would be inverted.
Despite having the eighth gate pick heading into the second Main Event, Forkner was once again able to put his Pro Circuit Kawasaki back out front, grabbing the holeshot ahead of Regal and Owen. Faith and Rockstar Energy Drink Husqvarna Factory Racing's Kyle Bitterman rounded out the top five off the start, with Hayes and Blose tucking into eighth and ninth, respectively.
Regal put the heat on Forkner early and stayed within less than a second of the lead for the first half of the Main Event, but Forkner gradually started pulling away late. Owen and Faith enjoyed an intense battle for third, with Faith eventually working his way by on Lap 12. That opened the door for Woodstock/TZR KTM's Travis Sewell to close in on Owen for fourth, making the pass on the final lap. Forkner cruised to the win nearly three seconds ahead of Regal, leading all 15 laps. Faith was third, with Sewell fourth and Owen fifth. Hayes followed in sixth, with Blose seventh.
Forkner became the second rider to post a 1-1 sweep this season, solidifying his position as one of the sport's most promising young stars, and ended the four-race winning steak Team Babbitt's had to start the year. Forkner also became just the second Road to Supercross rider to win an Arenacross Class overall, the first since Aaron Plessinger did it in Baltimore during the 2014 season. Regal, the defending AMSOIL Arenacross Champion, earned his best result of the season in second (4-2), while Faith rounded out the overall podium in third (5-3). Owen was fourth (3-5) and Hayes was fifth (2-6) in his hometown race.
In the RMATV/MC Head 2 Head Challenge earlier in the evening, Blose defeated his teammate Faith in the final to earn an additional championship bonus point. That helped Blose finish ninth overall (11-7) and marked the first time this season he failed to finish on the overall podium.
With Blose's season-low finish to date, Hayes took over the Arenacross Class points lead. He has a four-point advantage over Blose, with Faith just one additional point back in third.
Arenacross Class Results - Main Event 1
Austin Forkner, Richards, Mo., Kawasaki
Jacob Hayes, Liberty, N.C., Kawasaki
Jace Owen, Matoon, Ill., Honda
Kyle Regal, Lake Elsinore, Calif., Husqvarna
Gavin Faith, Duncombe, Iowa, Kawasaki
Kyle Bitterman, West Pelzer, S.C., Husqvarna
Ben Lamay, Forney, Texas, Honda
Isaac Teasdale, Robbinsville, N.C., KTM
Cody VanBuskirk, Harvard, Ill., KTM
Joey Crown, Metamora, Mich., Kawasaki
Arenacross Class Results - Main Event 2
Austin Forkner, Richards, Mo., Kawasaki
Kyle Regal, Lake Elsinore, Calif., Husqvarna
Gavin Faith, Duncombe, Iowa, Kawasaki
Travis Sewell, Westville, Ind., KTM
Jace Owen, Matoon, Ill., Honda
Jacob Hayes, Liberty, N.C., Kawasaki
Chris Blose, Phoenix, Kawasaki
Ben Lamay, Forney, Texas, Honda
Kyle Bitterman, West Pelzer, S.C., Husqvarna
Jacob Williamson, Swartz Creek, Mich., Kawasaki
Arenacross Class Overall Results (Main Event Results)
Austin Forkner, Richards, Mo., Kawasaki (1-1)
Kyle Regal, Lake Elsinore, Calif., Husqvarna (4-2)
Gavin Faith, Duncombe, Iowa, Kawasaki (5-3)
Jace Owen, Matoon, Ill., Honda (3-5)
Jacob Hayes, Liberty, N.C., Kawasaki (2-6)
Ben Lamay, Forney, Texas, Honda (7-8)
Kyle Bitterman, West Pelzer, S.C., Husqvarna (6-9)
Travis Sewell, Westville, Ind., KTM (13-4)
Chris Blose, Phoenix, Kawasaki (11-7)
Cody VanBuskirk, Harvard, Ill., KTM (9-12)
RMATV/MC Head 2 Head Challenge Results (bonus points)
Chris Blose, Phoenix, Kawasaki (2 points)
Gavin Faith, Duncombe, Iowa, Kawasaki (1 point)
Ben Lamay, Forney, Texas, Honda (1 point)
Jace Owen, Matoon, Ill., Honda (1 point)
Jacob Hayes, Liberty, N.C., Kawasaki (1 point)
Kyle Regal, Lake Elsinore, Calif., Husqvarna (1 point)
Travis Sewell, Westville, Ind., KTM (1 point)
Austin Forkner, Richards, Mo., Kawasaki (1 point)
Eastern Regional Arenacross Lites Class Results
Daniel Herrlein, Bethesda, Ohio, Honda
Cody VanBuskirk, Harvard, Ill., KTM
Justin Cooper, Cold Spring Harbor, N.Y., Yamaha
Ben Nelko, Aliquippa, Pa., KTM
Ramyller Alves, Coconut Creek, Fla., Yamaha
Stone Edler, Destrehan, La., Yamaha
DJ MacFarlane, Pinellas Park, Fla., Yamaha
Jared Lesher, Ball Ground, Ga., KTM
Steve Roman, Apollo, Pa., Suzuki
Dylan Walker, Lancaster, Ohio, Honda
Arenacross Class Championship Standings
Jacob Hayes, Liberty, N.C., Kawasaki - 137 (4 Main Event Wins)
Chris Blose, Phoenix, Kawasaki - 133 (1 Main Event Win)
Gavin Faith, Duncombe, Iowa, Kawasaki - 132
Travis Sewell, Westville, Ind., KTM - 120 (3 Main Event Wins)
Kyle Regal, Lake Elsinore, Calif., Husqvarna - 110
Ben Lamay, Forney, Texas, Honda - 85
Gared Steinke, Woodland, Calif., Husqvarna - 78
Daniel Herrlein, Bethesda, Ohio, Honda - 66
Jace Owen, Matoon, Ill., Honda - 65
Jacob Williamson, Swartz Creek, Mich., Kawasaki - 63
Eastern Regional Arenacross Lites Class Standings
Daniel Herrlein, Bethesda, Ohio, Honda - 75 (2 Main Event Wins)
Jacob Williamson, Swartz Creek, Mich., Kawasaki - 45 (1 Main Event Win)
Steve Roman, Apollo, Pa., Suzuki - 43
Dylan Walker, Lancaster, Ohio, Honda - 41
Lane Staley, Chillicothe, Ohio, KTM - 39
Tyler McSwain, Shelby, N.C., Yamaha - 35
Justin Cooper, Cold Spring Harbor, N.Y., Yamaha - 30
Henry Miller, Rochester, Minn., Honda - 24
Brandon Hartranft, Brick, N.J., Yamaha - 18
Austin Stroupe, Lincolnton, N.C., Kawasaki - 16 (1 Main Event Win)
Keith Tucker, Fuquay Varina, N.C., Yamaha - 16 (1 Main Event Win)