Oakland, CA
Oakland
Monster Energy AMA Supercross Championship
After finishing off some last minute testing and attending to a few media matters at the Suzuki test track up in the hills of Corona, California, Jake Weimer quietly reviewed a few pressing topics centered upon his new role as a member of the RCH/Soaring Eagle/Jimmy John's/Suzuki Factory Racing team. A member of Team Tedder/Monster Energy Kawasaki up to the conclusion of the 20-lap main event last Saturday night in Angel Stadium, the 28 year-old showed up for his new RCH gig that very next morning, and the team began dialing in the works Suzuki RM-Z450 that he'll compete upon this Saturday at the O.com Coliseum in Oakland, California.
A veteran, championship-winning replacement for recently injured RCH rider Broc Tickle, Weimer got the spot as something of a reward for the impressive speed and top ten results he has displayed in recent weeks. Coming off a seven-year run with Kawasaki, many of those years blemished by crashes and injuries—last year's frightening crash with Trey Canard in Detroit among the foremost—perhaps this fortuitous opportunity may signal a stroke of good fortune that can be beneficial to both himself and the RCH team.
Racer X: Well, another chapter in the decade-long career of Jake Wiemer, huh?
Jake Weimer: Yep, this is definitely a really big change for me. It just seems like it is good timing for all of it. Having to do rough years—and last year with the injury—and not really knowing if I was going to race or not and getting ready and coming into the first few rounds and having some decent rides. I was feeling like I'm in a better spot than I have been in for a few years and then this came along. It seems like there are definitely some positives coming right now.
The last few years have seemingly been an endless series of crashes and injuries for you.
Yeah, I was on a rough stretch there for a while and it was just kind of stupid crashes and stuff that was just nagging. Yeah, it was a rough few years.
Did you consider calling time on your career at any point?
Yeah, of course. You just get to a point where it seems like you're trying and putting in the time and it's just not going the way you feel it should go and then you throw injuries in there, of course. I definitely considered calling it and just washing my hands and being done. That was on my mind but I'm glad I didn't. I still feel like I have some fight in me and still enjoy racing. I'm glad I'm out there doing it still.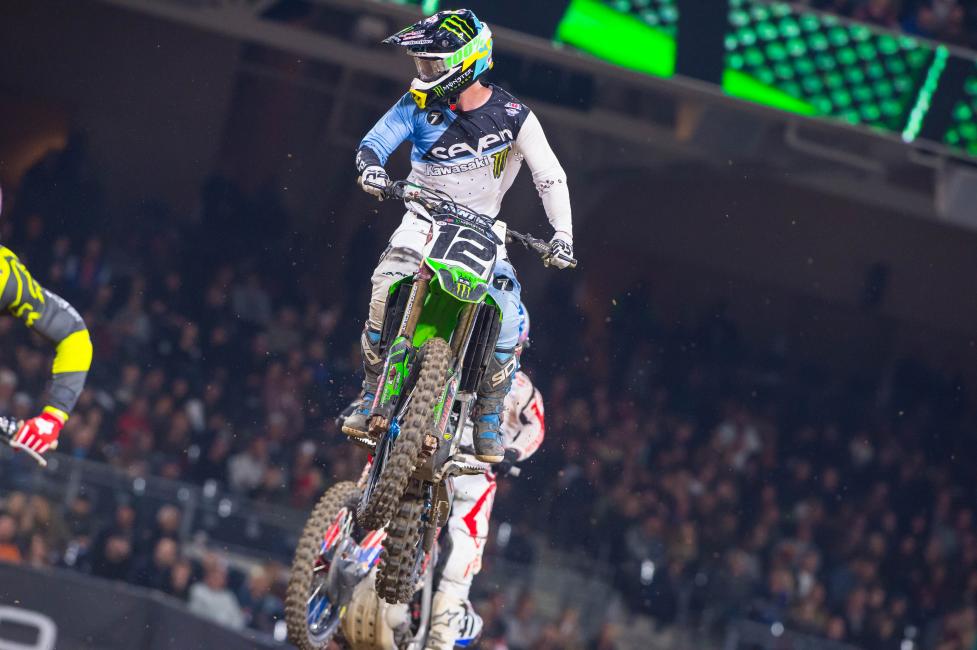 After you decided to race again in 2016, did you have to look far and wide for available work?
I just stayed with them [Team Tedder] and just tried to make that program better than what I had it the year before. I felt like we did that, for sure. But, yeah, I didn't really do a whole lot of looking around.
You ran real well at the first three rounds of Monster Energy Supercross. Did you feel like you were competitive with Team Tedder?
I think it's a good, solid team and they have a good group of guys over there and the team is really fun and enjoyable, but at the end of the day, it's a privateer team and they don't have access to the factory equipment and parts. There is a difference and that stuff matters. We worked hard and did what we could with what we had available and we got some pretty decent results at the first few rounds.
I saw you a few times just before the season started and you looked good and healthy and I had a feeling you might get off to a good start. And you did. Thoughts?
Yeah, for sure. The first round was just difficult because I didn't race for almost ten months. I'd never really dealt with that before. Last weekend, I felt, was a bit of struggle for me, but I feel like I've been able to take positives from all three rounds and I feel like I'm still building and getting better. I think things are moving in the right direction.
With all the understandable hype over just how competitive the entire 450 class has been thus far, to be a part of a privateer effort and in the top ten is saying quite a bit. What sort of feedback have you been getting from the industry as well as the fans?
It's been really positive. A lot of support from the fans and sponsors. It's been pretty cool, honestly, to see that people are pretty excited and interested in what I have going on. I mean, I'm happy. Coming into the season I didn't know. That was the worst injury I've ever dealt with and that's the longest I've ever been off. The off-season was kind of difficult for me to train the way I felt I needed to. I still feel like there's room for improvement there for me. Coming into this year, honestly, I had no idea. I didn't know if it was going to be a complete mess or if I was going to be okay. I'm happy with the way it started. Of course there are always things to work on, but yeah, I'm happy with the way things are progressing.
Between both practice crashes and racing incidents, guys are already getting hurt. When you see these racers, many of whom are racing for very good teams, get sidelined, what do you think when roster spots start to present themselves?
I've been asked that question by a couple different people and I said, "I'll cross that bridge when I get there." I'm focused on me and I'm doing the best with what I have right now and I'm not going to worry about if someone gets hurt or what am I going to do if this situation comes about. I just said, "I'll cross that bridge when and if it comes." And that's what I did.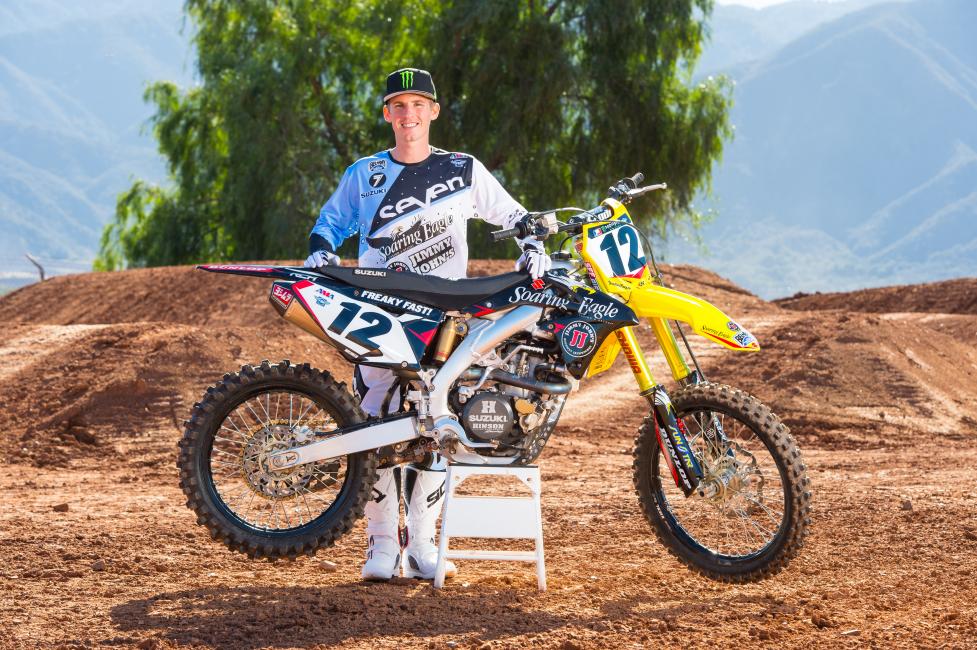 Just how did you end up on the RCH team?
Broc got hurt, which is a bummer. I mean no one likes to see that. So they asked me if I was interested. I said, "Yeah, it depends on the stipulations I'll face. If it's for four races, I don't think I can do it. I just can't make that big of a switch for four races. I need a commitment through all of supercross." They said, "Okay, we can do that." From that point we just started working out the details and by Friday before Anaheim II, I knew that was happening.
How was Matt Tedder, owner of the Team Tedder/Monster Energy Kawasaki team, when you approached him about switching race teams? How was that conversation?
It was tough. That's always a hard situation and it was pretty tough at first. Obviously, he was bummed and it took him a minute to get through that. It was tough, but after everything kind of settled down I think we kind of got on the same page and kind of ironed things out. I think he understands and he said he wished me the best. And him as a racer—he's raced his whole life—I don't think anyone would pass up on a factory ride.
Did you ride the bike before the decision?
I told them [RCH] that I would do it and then I talked to all of my sponsors and handled all that. I raced Saturday and then we came to the Suzuki track on Sunday, so that was the first day I rode it.
What did you think? Did you get a quick first impression?
Yeah, I was pumped. It was cool. It's always kind of weird showing up on a Sunday when we normally don't ride. I'd never ridden the Suzuki track. I hadn't ridden another brand of bike in seven years. It was all kind of a little bit nerve racking, but within fifteen minutes I felt good. I felt like, "This is awesome." I can tell you that I'm definitely comfortable and I feel like I'm really, really gelling with the machine and the team. I feel like I can better myself. I'm not going to sit here and say, "At Oakland I can go from being an eighth or tenth place guy to a fifth place guy." But that is the goal. I mean, I haven't had a ton of time on the bike, but in the time I have had on it, I like it. I'm really happy.
How is Ken Roczen with you being his teammate?
It's cool. I've known Ken and kind of been friendly and buddies with him even before he came to America. I'd randomly chat with him. I've known him for a long time and we've always been cool. Yeah, we've ridden together and done a bunch of starts together. It's no big deal. He knows what's going on. It's business as normal, I guess.
Does this feel like a full-on factory team to you?
Yes. They definitely have some personnel here that I really believe in and that I've worked with in the past. For me, that also made it an easy decision for me. I believe in a lot of their staff.
You're a former 250SX champion, a Motocross of Nations champion and you've won a significant number of races. Can you still win? Can you still get podium finishes?
I'm not going to sit here right now and say I can win because I have some work to do to do that. But I definitely believe that I have a lot more than what I've showed the last couple years. If I didn't think it was possible for me to be better, than I probably would have chosen to hang it up. But I believe that I have more to give and this is an opportunity that I feel like I need to take advantage of. Things are going well for me and I've really enjoyed getting on this bike so we'll see.
What will make you happy walking out of the pit area at the Oakland Coliseum on Saturday night?
My best finish is an eighth. I'll try and better that. That's the goal. The whole thing for me this year was to not set goals that were too big. I wanted to set small goals that I could obtain and try to build some momentum off of. The goal right now is to better my eighth place.