Angel Stadium
Anaheim

,

CA
Anaheim 2 (A2)
Monster Energy AMA Supercross Championship
By Jason Weigandt and Kyle Scott
You could say it took Christian Craig three weeks to get on the podium, or you could say it took much longer. On September 5, 2013, Christian Craig posted this on his Instagram account:
Since my last wrist injury in May I've been contemplating whether or not this is worth it. Motocross is all I've known, all I've wanted to do since I was a kid. But what you don't know until you've grown up a little bit is how hard it is on your body and mind. Your body can break over and over and you can keep trying to go out there and win but your mind is something that can't be fixed with a surgery. Since I've done a lot of sitting at home the past few months I've started to look at life after motocross. There are VERY few guys who can retire off what they've done in the motocross world and all the rest of us have to plan the rest of our lives. I have two options, I can stick this motocross thing out and worry about getting injured or I can get a head start on the rest of my life. I know option one sounds like a lot more fun but after the countless doctors appointments, therapy, and surgeries, that's not the best answer for me. It's hard to say goodbye to something I've always known but at some point I'm going to have to like everyone will. The industry is tough and it isn't all glamorous like some people may think. At the end of the day I just want to have fun riding my dirt bike and at times it's hard to do that with all the politics involved. Now ill be able to throw whips and do how ever many laps I want and most importantly, will have fun doing it. I'm excited to see what comes next for me in life and am looking forward to the future. Thanks to everyone who has supported me through the years and also the ones who have never doubted me.
With that, his professional racing career was over.
But when Craig said he was excited to see what would come next in life, well, he had no idea. He got married, moved to Minnesota where his wife Paige is from, and they had a son named Jagger. He also got a real job swinging hammers…and started to really, really like riding his motorcycle again.
Then came a revelation, which he revealed in his podium interview on Fox Sports 1 on Saturday night:
"I definitely do this for my son. He's the reason I came back to racing. When he was born, I looked at him and said, 'I don't want him to grow up knowing his dad gave up on his dream.' I'm back and I'm showing him that his dad can do it."
This is definitely a family story. Craig's dad, Michael, was a pro back in the 1980s and 1990s, a factory Yamaha rider and winner of the 1994 Tampa Supercross. Michael Craig was incredibly fast and talented, he could have done amazing things, but he struggled to put all the pieces together consistently. Christian ended up having the same issue, partially because he broke his back as soon as he was turning pro. After that he could never quite find the right place, mentally, and it appeared all of his obvious talent, style and speed would never end up generating a podium finish.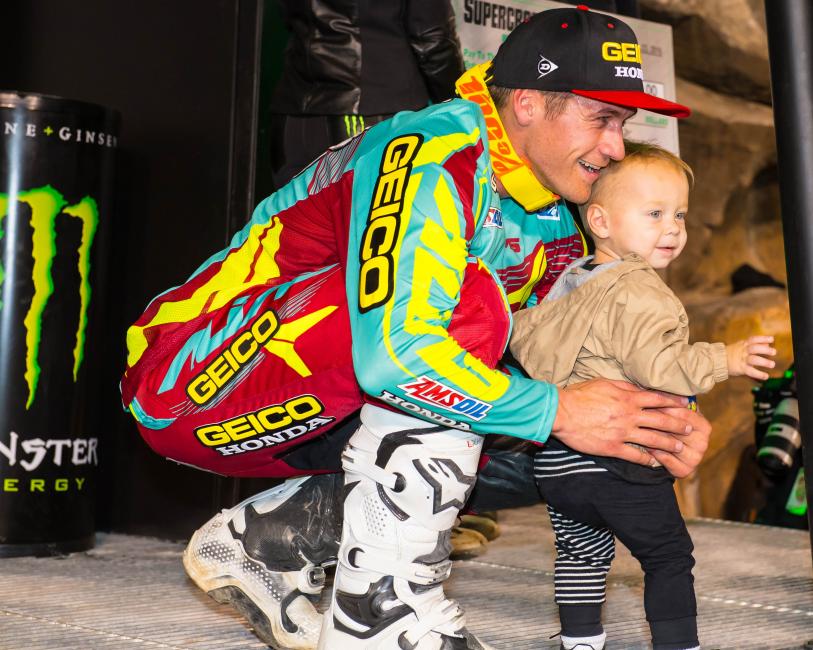 Now he's back and he's finally made the box, after a scintillating battle with Cooper Webb for the lead. Our Kyle Scott found him in the GEICO Honda pits after the race, and Christian was more than glad to talk about his long-awaited first trip to the podium.
Racer X: You had a good night. Got a heat race win, charging all day. That was a great battle with you and Cooper.
Christian Craig: It was good. Got to the front quick, passed Joey [Savatgy] in the whoops and led my first couple laps. I think I led ten and then Cooper and then started catching me. Then went back and forth there for a couple laps. I wasn't going to let him pass me so easy. I knew he was faster. I tried to just stay out front as long as possible. He ended up getting me with five to go. Then from there on out I was tight and [Zach] Osborne ended up passing me with two to go or three. Pretty much just rode around, but first ever podium, can't complain.
You must be stoked on that.
For sure. It's something to build off of, especially after the first couple weeks. Last week was a fourth but I knew I could ride on the podium and to get there was awesome.
So you guys were going back and forth and you stood each other up a little bit. Do you feel like that was pretty respectful racing?
Yeah, he put me high a couple times and I put him a couple times. I think I hit his bike one time, but it was with my back wheel. It wasn't on purpose. And then I squared him up and passed him back. He ended up pushing me out by the Tuff Blocks. We went back and forth. I shook his hand at the end of the race and he gave me a nod. We've never really been friends but we're all chasing that number 1 and he's killing it right now. I've got respect for him and we've got to stop that win streak.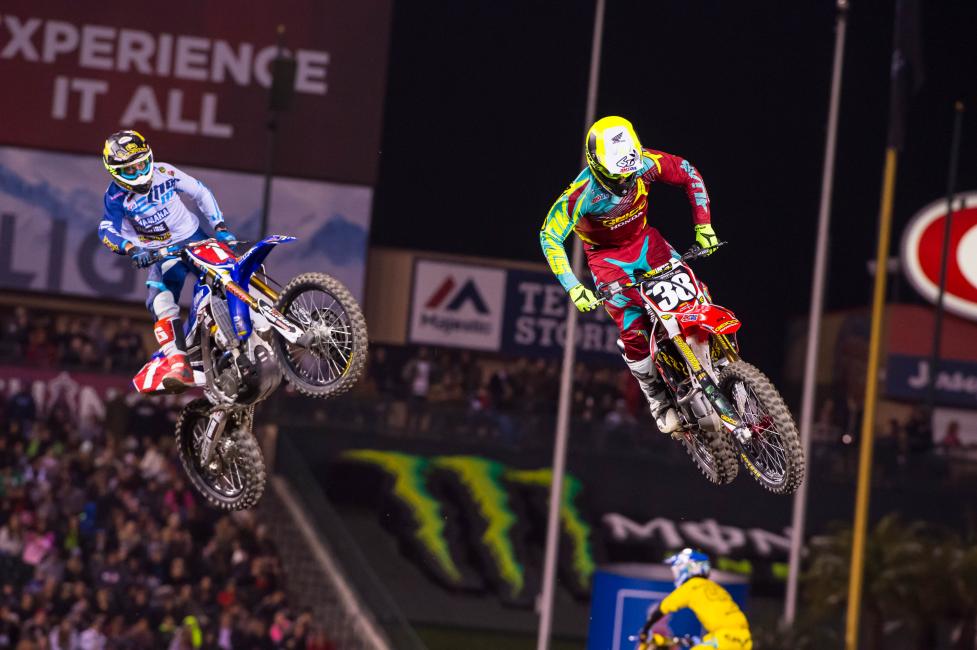 So he put you a little wide going in to half of the start straight and then you weren't able to hit your rhythm.
That was kind of the end right there. That was the end of my flowing, kind of. I had a good flow going into the lead. After that I was making mistakes and that's how Osborne ended up getting me. It's something to learn. We got to go back and try to build on those last five laps and come back in Oakland.
I noticed when you guys were standing each other up that's what really let Osborne catch you guys.
We were playing cat and mouse. I saw Zach was catching us, but what do you do about it? He was riding good also. Props to Zach and Cooper. They're both on it. I'm happy to be there in third.
Toward the end of the night I was seeing everybody almost had to jump through those whoops. They were getting pretty gnarly.
Zach was, and I was blitzing until lap 15. Then I'm not going to take a risk here. I had a good gap on whoever was in fourth. I'm like, "I'm rolling these." I rolled every single one. They were chewed up and I rolled through it. Those whoops were awesome all night except for the main. They just got really beat up and it showed. Some people crashed. But that was my strongpoint tonight. That's where I either pulled someone or caught someone. Hopefully we get some more whoops like that soon.
Do you feel like the whoops are you strong suit?
So far, yeah. San Diego had a big set and that's where I passed a lot of people also. Same thing here with these two sets. One coming out of the corner but they were still pretty big. They were both tough and it showed because that's where I'd either pull or catch someone.
Are you going to work on anything specific going into next week?
I've got to work on a little bit more intensity. I put in the laps but not like the speed we were running tonight. That was my first time feeing that speed so now I know what I need to work on and that's intensity. Cooper has that so I got to chase that down.
Do you feel like your fitness is there too or were you getting a little tired at the end?
My breathing was the only thing that kind of threw me off. I didn't have good breathing points all day. I'm strong, though. I'm confident in my fitness. It wasn't my body at all, it was just my lungs. So just got to get more comfy out there and I think that'll all click.