Angel Stadium
Anaheim

,

CA
Anaheim 2 (A2)
Monster Energy AMA Supercross Championship
By Steve Matthes and Kyle Scott
Here we go again! Chad Reed scored another podium, he's second in the points, he's blowing minds for the umpteenth time by running with the kids, now at age 33. If Reed wins at any point this season, he'll be the oldest supercross winner ever. And he's close.
He also wanted to win Anaheim, becoming the first rider ever with nine wins at Angel Stadium. While he didn't quite get there, when the press cornered him for some questions after the race, Reed was candid and informative with his information as usual, and he thinks he can keep getting better.
Racer X: Good race, second place, you were going triple-triple in one rhythm and I think that helped you a lot. Then those guys were reeling you in late!
Chad Reed: I made like three mistakes in back-to-back laps. Truthfully I don't even know what I did, that's what's worse! [Laughs] One lap I kind of jumped a little wide and got into the bales and then the next lap I kind of changed my line to stay away from the bales and it kind of clipped me or it hit the rear brake or something. It was a little weird. And then those guys were right up on me and I had to kind of be protective. But I knew that once I got to the whoops I'd pull a little gap. I could feel it. And then if I got that triple-triple in I would pull away, too. Just felt like I had pieces but just not the complete package, similar to last week. So I was a little… Last week you're happy. This week I want more. I'm not going to lie. But I'm happy. It's a long series. Seconds are good at this point. But the guy I think that we're going to race for the championship is winning races, so it makes it tough. He's getting good starts so you can't let him get away. I thought the both of us didn't ride great at the beginning. I know the track was tough, and seeing what I saw at the beginning, I know I wasn't the only one having some struggles.
You've always been known as a guy who is good in the whoops, and these were some big whoops. After twenty laps of it, how are you? Would you have made them even bigger?
I want to stay that [tonight] I didn't feel awesome, but the whoops kept me in it. And I like that. They were tough. I made a couple little bobbles in them, but I was pretty solid. I'm surprised they didn't cut them down, lots of guys were making mistakes and there were crashes. They were a little sharp and pointy to me, I prefer them to be more rounded, but you can't be picky. They were more challenging than year's past and that's a good step forward.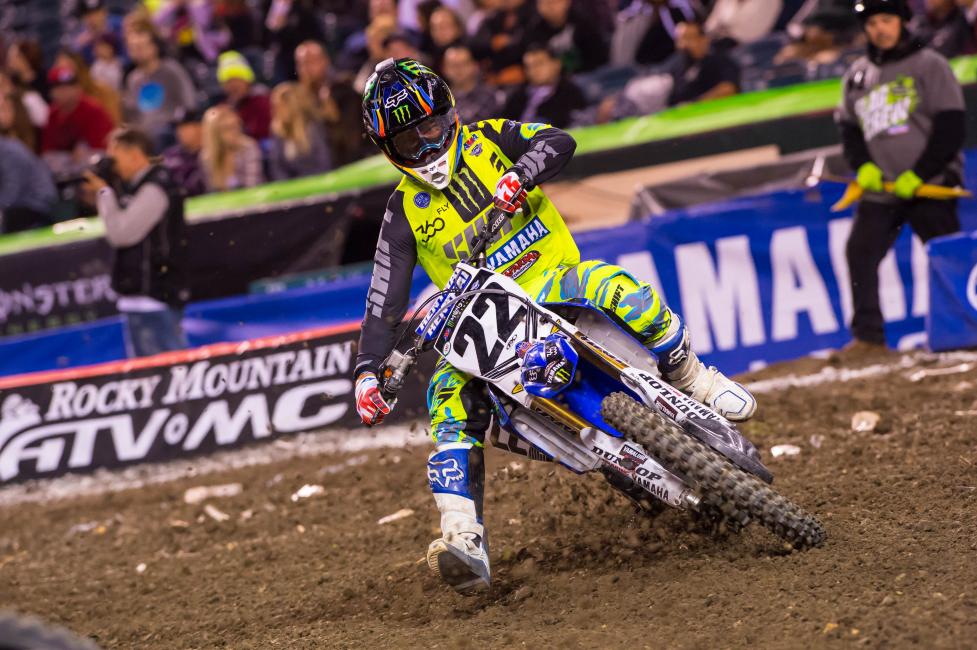 That three-three you were doing in the main, did you do that in the heat?
I had press day here and I didn't do it, but looking at it I thought I could do it. I saw [Weston] Peick do it in the semi so I knew it was doable. Truthfully I struggled in that section. I was struggling with the triple in, and I saw Dunge [Ryan Dungey] struggling and he started cutting down hard. When Eli [Tomac] was there, I would have to look to my left, because he could have cleaned me out really hard. I was almost coming backwards on the track. I kind of made sure I was safe there [in the corner]. The triple-triple was kind of easy.
That swingarm brace, you had it last week, we saw the JGR guys had it this week.
They have it too?
Yeah.
That's funny. Yeah, we had it last week; it's actually something [Romain] Febvre ran all last year. It's something we tried prior to San Diego. Seems like it helps a little, helps with the drive in the whoops. You know, these bikes, comparing production to factory, they put out a lot of horsepower, and things start moving around. Pretty much every factory bike I've ever ridden has had some kind of brace on it, but this was different than any brace I've had before. So I came in not knowing what it would do. It's funny that the JGR guys are following us.
I had a good gap and then made mistakes two laps in a row and those guys just ate me up.
What's the key to getting through those whoops? They looked nasty.
They were nasty. Really pointy. Bike wanted to move around so you had to be inch perfect. More than anything I was just trying to get in. Just send her in and get the RPMs real low and not let the bike kind of move around. Any time that I got in not as good as I needed to, you open the throttle to try to move and then that's when it starts spinning and it wants to go side to side. So I knew what I needed to do but for the most part I think I executed, but wasn't perfect.
Last week you said that you learned from watching Dungey where you needed to work on the turns. What did you learn from this race?
Racing's racing. You've got to be in it to win it, always. I think the good guys know how to get to the front in the main even when they hand out 25 points. And that's what Ryan's doing really well. He's obviously solid in the whoops and great in the turns. I wasn't close enough to get a bird's-eye view, but definitely trading lap times with him. It wasn't like he walked away from me. He kind of just inched away, inched away. So I know where I'm giving it up, because I feel it. I don't need to see it at this point. All day I felt it. We're not far off. Truthfully I think it's a lot me, having a couple of seasons of not [being] up front and not running this pace. Coming to an event where you want to be the king of the event and stand alone on nine wins. I put a lot of pressure on myself. I think this year I have a lot of pressure. It was always nice to get on the podium last week but my feeling was as everyone was wanting to high-five, like that was going to be a once a year thing, I want to be here week in and week out. So for me there was a lot of pressure on myself to perform this weekend. The goal is to be on the podium every weekend and I want the win.
The feeling's there, it's just something is missing. I feel like I need to be a little better. The bike's great, to be honest with you. I think when I ride and do the things that I'm supposed to do it gives me all I want. So I think having a couple of rough seasons and not being there consistently, I feel that it's on me at this point. I just need to know that this is where I belong and go get it.
Two good starts in a row, confidence has to be high. How do you feel going into Oakland?
I feel great. Weather forecast looks wet, so who knows. You never know what's going to happen in the mud. Two solid races. Last week Dunge was really strong and again tonight. I felt that without my own mistakes I was really kind of like an easy, solid second. I gave up time in there at the end but those were just my mistakes. Nothing more than that. It wasn't fitness, it wasn't anything. It was just me making little mistakes. I'm excited to keep pushing the envelope and see what we can do.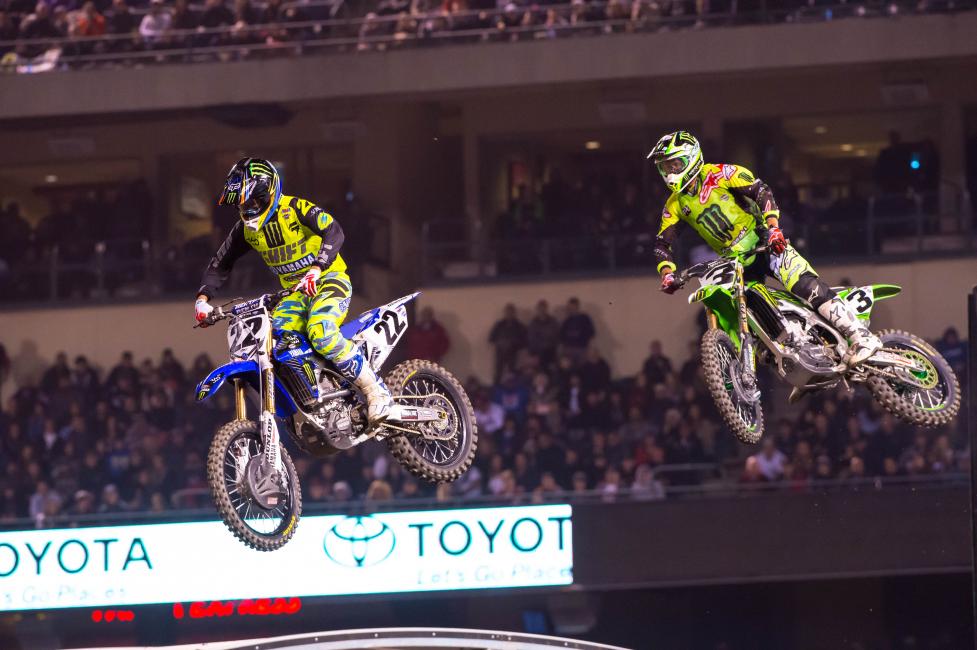 Just those last few laps, can you talk about that? That was pretty intense right there.
Yeah, intense, but more than anything just trying to protect the line. I had a good gap and then made mistakes two laps in a row and those guys just ate me up. I was a little disappointed in myself on that side of it, but I was able to still hold them at bay. Just protect the line and keep pushing. I wasn't freaking out but there was a push there. I had to not make any more of those mistakes.
I saw Cooper Webb came and gave you a high five first thing he did after the race. Can you tell me a little bit about your relationship?
Man, I remember the kid coming to my house and doing a photo shoot when he was probably like 11 years old. I've been watching him a long time. Obviously being Yamaha teammates and seeing him around the test track racing and hanging out in Australia, we've kind of grown to like each other I think. Just a lot of respect for him. He's riding really well. I've been doing motos during the week with him. He was basically just kind of giving me a little heads up on his feelings for the track and for the whoops and kind of took his word for it and went for it.
What did he say about the whoops?
Just he felt that the left side was key. I felt that the left side always favored me today, so to hear him say that kind of made me feel better about it. It wasn't like I had to go, "Oh, now I got to go change my line." So that was it. Then he actually got kicked out of there by the AMA!