The start of the 2016 Monster Energy Supercross Championship is a month away! Yes! The questions are starting to build and the answers aren't far away. Here are a few things we're thinking about that might seem like mere details at first, but could make a huge impact once the season is underway.
Trey's Starts: In so many ways 2015 was a legitimate bounce back year for Trey Canard. After a superb rookie season in 2011, where he won three races, he missed just about all of 2012 with a devastating back injury. He returned to 100 percent and had some strong rides, but no supercross wins during 2013 and 2014. Trey himself said he was getting worried that he'd never get that winning feeling back, until one day at Unadilla when he showed up with KYB suspension on his Honda. Mark that one down as an all-time "bike making a huge difference in the results" because Trey went to another level, winning a bunch of motos down the stretch, nearly snagging the Monster Million at the Monster Energy Cup, and then winning two races early in 450SX last year. Trey was second in the Monster Energy Supercross standings last year until he went out with an injury in Detroit—he got caught behind Jake Weimer in a qualifier and they landed in a heap. The crash ended Weimer's season, while Trey broke his arm and missed several months.
The injury makes it look like a bad year on paper. In reality, it was good. Trey recaptured the speed to win races, and there's nothing bigger than that in this sport. In San Diego, he went toe-to-toe with Ken Roczen for twenty laps and came out on top. That's the kind of stuff he was searching for in 2013 and '14.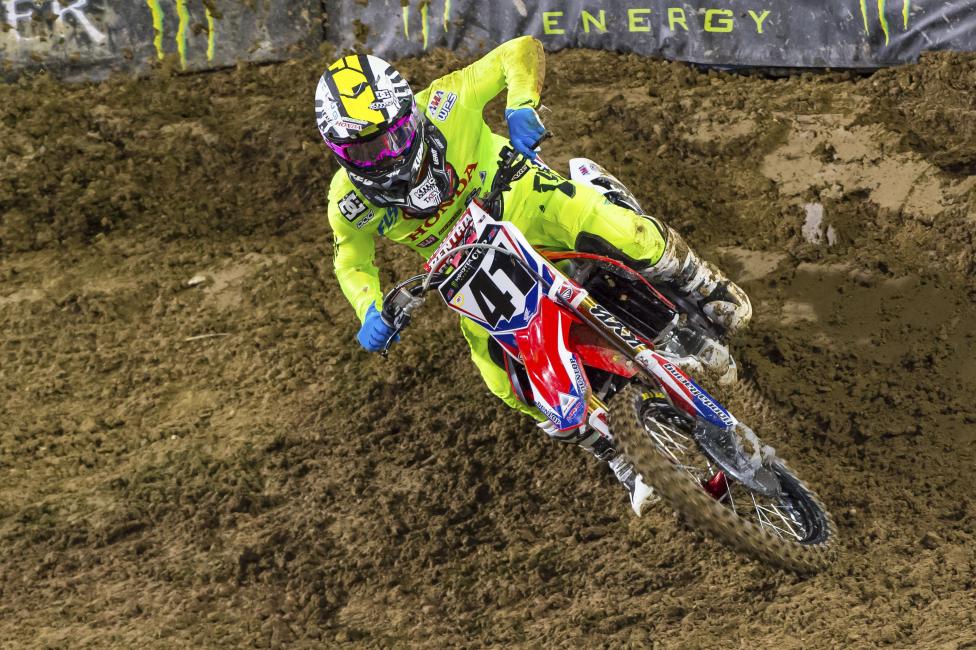 With Trey, there will always be talk of injuries, but the Detroit incident was a freak deal. The bigger issue in 2015 was his starts. Trey has always been a solid starter, but something went wrong last year—both in heats and mains, the starts were no bueno. That left him trying to catch Dungey too often, and losing points. Also, bad starts put you in the danger zone of having to take chances to make passes, and of course, getting caught in other people's carnage.
From whatever you can take from off-season events, it at least appeared at the Monster Energy Cup that Trey has his early 2015 speed back. He'll be great if he can ride like he did twelve months ago—but much, much better if he can figure out his starts.
Sophomore means more: On paper, it's the easiest math equation ever. If a rider does well as a full-time 450 rookie, surely he'll be better in year two with more experience. Somehow it rarely works out that way. We ran the numbers on the last fourteen rookies to win 450SX races, a list which stretches back to 1990, when Damon Bradshaw, Larry Ward and Jeff "Chicken" Matiasevich won. All three had fewer wins the next year. That's been the trend.
Of those fourteen rookie winners in the last 25 years, only three actually improved their win total in year two, and they're all future Hall of Famers: James Stewart, Chad Reed and Ryan Villopoto. Every other rookie winner only matched or downgraded the first-year win total. (For the latest, see Ken Roczen winning twice in 2014…and twice again in 2015.)
Cole Seely became the fifteenth rookie winner on this list. Can he buck the trend and win two or more races and exceed his 2015 win total? Jason Anderson and Blake Baggett didn't win races as rookies, but they rode well. It seems logical to expect an improvement, but somehow the SX Gods don't seem to work that way—be it injuries, pressure from expectations, etc. Dean Wilson missed most of the season with injury. Can he rebound in year two? We'll see how these guys do.
White Nights: Speaking of Anderson, he'll be armed with the new 2016 Husqvarna FC450. Now, the Husky people won't tell you this is the same platform as the new KTMs, but they should. Have you seen how well the new KTM's have performed? Ryan Dungey was on one last year (under the guise of a 2015 "Factory Edition" model, which really just meant a 2016 in 2015) and did real damage. Andrew Short also killed the starts. Marvin Musquin was lightning fast on the 250 version of this bike. When Anderson hopped on one at Monster Energy Cup, he went from so-so starter to literal holeshot machine, which won him a Toyota Tundra. Everyone who has switched to the new bike has said great things. Ignore the stats listed above and think of Anderson doing serious work on his new ride.
Peick's Peak: We've made ourselves seem witty using by the phrase "Peick's Peak" for three years now, because he keeps setting new career highs, and then keeps climbing. Peick grabbed his first two career podiums in 2015, which almost makes you forget that a broken foot jacked up his year. Peick was thisclose to fending off none other than Ryan Dungey for a podium in Phoenix when he cased a jump and broke that foot. From there he was playing catch up. Give him another shot from the get-go and it's hard to really put a ceiling on his results. Plus, he's got another year with a factory bike, and legit training and coaching—the same stuff that powered this upward trajectory. The only fear is that success has now gotten to Weston's head, and he's no longer the rabid pit bull he was as a privateer. We doubt that's the case.