New Yamaha
Harley-Davidson has long been the king of flat track. The Wisconsin-based brand and its XR-750 have won 668 total races in AMA Pro Flat Track racing as of 2014. (Honda is second with 152.) For decades, Harley has been the golden standard. Recently, behind Flint, Michigan's Bryan Smith, Kawasaki and its 650 have become a challenger. Smith won X Games gold this year when Harley-backed Jared Mees' sprocket came off with three turns to go. Smith, who nearly won the AMA Grand National Championship in 2014, is 7 points back of Mees with one round to go this year.
So flat track is currently dominated by two brands—Harley-Davidson and Kawasaki. Yamaha appears to be trying to change that. At the AIMExpo last week in Orlando, Florida, Yamaha unveiled its new flat track bike, the DT-07. Keith McCarty said the following in a Yamaha press release:
"When the FZ-07 was first introduced, we knew that the bike's 'Crossplane Concept' parallel-twin engine had outstanding low- to mid-range torque, which is ideal for flat track racing. Babe Demay's FZ-07 flat track creation has already shown huge potential this season, with Dominic Colindres winning his heat race and also finishing fourth at the most recent AMA Pro Flat Track event. Here in Cypress, we've been doing some exploration of our own, and the DT-07 Concept is the result. The FZ-07 is a great bike and also a great platform for customization. We wanted to see what we could do with the bike as a flat tracker, and we're very pleased with the results."
McCarty also said this to CycleWorld.com:
"Yamaha's history started in dirt track with Kenny Roberts, and we were quite successful in all those years. Since that time, we haven't really had an engine configuration than could compete in that class against the present models. Then the FZ-07 came out with its offset twin and crossplane crankshaft, and we all know that dirt track is all about traction and control. You have a specified tire, so you need to put all that power to the ground. That firing order, as in roadracing, definitely lends itself to good traction. It lets the tire recover a bit."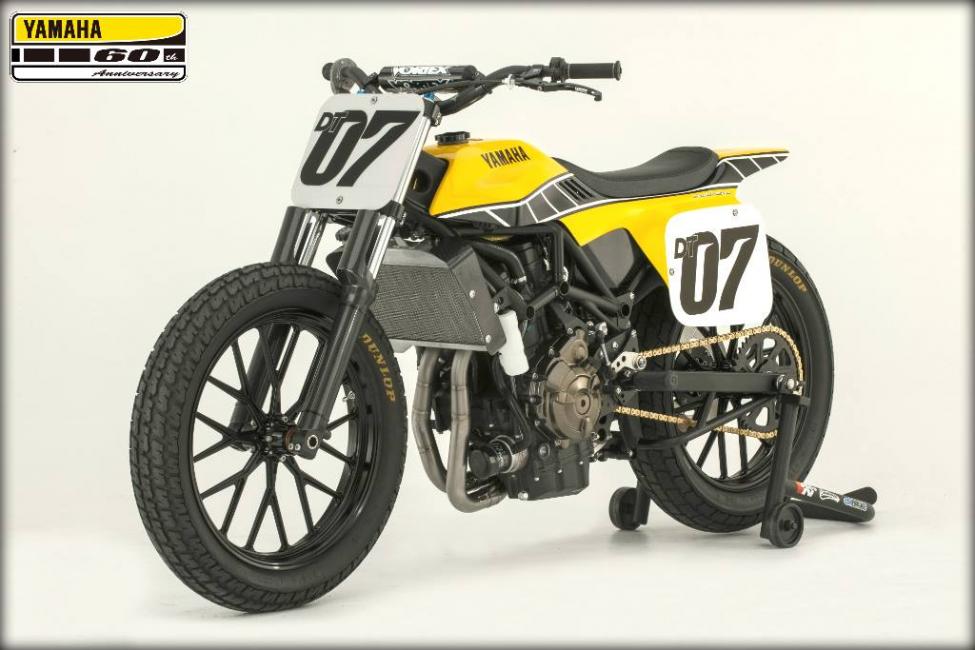 MotoGP Features a Seagull Collision
If you somehow missed the Australian MotoGP at the beautiful Phillip Island race track last Sunday, please, stop what you're doing and find it somewhere. It was the best race I've seen in my entire life—and that includes supercross and motocross. Marc Marquez, Jorge Lorenzo, Valentino Rossi, and Andrea Iannone passed each other fifth-three times (this is not an exaggeration—the folks at Lane Splitter actually counted) in one of the wildest MotoGP races ever. You just knew the race was going to be good when Factory Ducati's Iannone nailed a seagull. The seagull might have been hurt, but it gifted us a great race in its memory.
Will Ducati Be Sold?
Is Ducati, which was bought by Volkswagen Auto Group in 2012 for $1 billion, about to be sold for the fifth time in twenty years? Likely, says Michael Uhlarik of Canadamotoguide.com. Volkswagen is currently inflamed in a scandal surrounding Dieselgate (off topic: why does every scandal have to be gate? Deflategate. Watergate. Gategate. Okay, I made the last one up) and may be in selling mode, because "analysts in the financial industry are placing the total cost of Dieselgate around the $35 billion mark." The story even comes up with a potential suitor for the brand. Are we going to see DuCan-Am?
It is my belief that Ducati will be spun off and sold, either in whole or in part, over the coming year. The interesting question is, who would buy it? Looking at the past five to ten years of exotic motorcycle brand history, we see that the suitors tend to be private equity firms and large industrial concerns with an eye to get into the upmarket lifestyle brand market. The former tend to be short term thinkers, looking to flip a failing company after a few years after turning it around, as Investindustrial did.
But this seems unlikely in this case. Today's Ducati is not the wreck that it was when TPG unloaded it in 2005. Ducati is solid, with serious potential even if the profit margins need work. Assuming the same $1 billion sales price of 2012 sticks (I expect it would be significantly higher, unless there is a dark underbelly of debt that is invisible to the public), there are not many firms in the business that could raise that kind of capital, and have enough left over to build on it.
Canada's own Bombardier Recreational Products (BRP), makers of Spyder and Skidoo, (and also the ATV brand Can-Am) were once very keen to acquire a motorcycle brand. The company reportedly went after Aprilia before Piaggio scooped them up, and with expanded offerings on-road and well established European engine operations out of Rotax in Austria, an argument could be made for rational acquisition. BRP's market capitalization (total value) is sufficient for a take-over, and with the long term decline of snow and off-road markets, it could make a lot of sense. Could this happen? Given the history of the Bombardier family of businesses for making bold acquisitions (Learjet, Canadair, Rotax, Johnson/Evinrude, etc.) it is certainly within the realm of possibility.
Check out the entire article, it's worth the read.
Jack Miller Burn
Twenty-year-old rookie Jack Miller hasn't had the greatest first season in MotoGP. Currently eighteenth in points, Miller's best finish this season has been an eleventh at Circuit de Barcelona-Catalunya. At his home GP this past weekend, Miller was searching for his first top-ten, something pit reporter Neil Hodgson thought may have been a bit "optimistic" prior to qualifying. Miller's response is fantastic:
Australian Flat Track Event Looks Awesome
According to their Vimeo description, Dust Hustle is "a flat track fun day open to all the weird, wonderful, and woefully unsuitable motorcycles that could possibly be ridden on the dirt." The event is hosted by Australian motorbike shop Ellaspede and is all kinds of wonderful judging by the video below. This is a bucket-list-type race.
Lewis Hamilton is Getting his Own Motorcycle
Having your own shoe line like LeBron and Kobe and Jordan (among many others) is cool and all, but having your own motorcycle is like a billion times cooler. Per Ashpaltandrubber.com, F1 mega-star Lewis Hamilton and Italian motorcycle maker MV Agusta are teaming up for the Lewis Hamilton Dragster RR. From the report:
It turns out that Lewis Hamilton is a bit of a fan of the machines from MV Agusta—it also helps that AMG has a 20% interest in the Italian brand, and Hamiliton is the team's star F1 driver, at least when teammate Nico Rosberg isn't around—so, in true MV Agusta fashion, a special limited edition machine must be produced, right?
This machine looks like a beast.
Winter is Coming, But This Makes It All Okay
For most of the country, it's about time to jam your dirt bike back in the garage for the next few months, dust off the cobwebs on the snowboard or snowmobile, and hit the mountains. The change from fall to winter is never easy. It's actually quite depressing. Don't worry, though—this video is surely to cheer you up. Travis Rice, of Art of Flight fame, and Dan Adams hit the B.C. backcountry on Polaris snowmobiles with Brain Farm and it's all kinds of cool. If this doesn't get you pumped for winter, you have no chance of surviving the next few months.
Horse vs Human
We've seen what happens with a horse races a human in a sprint. Back in 2010, British sprinter Jamie Baulch took on a horse in a 100 metre sprint and got smoked. You can watch it below:
But what about horse versus human in a marathon? NPR investigates:
Rampage Is Beast Again
The tenth annual Red Bull Rampage event took place last weekend in Virgin, Utah. If you don't know what Rampage is, it's basically the craziest downhill mountain bike race ever! During qualifying, Nicholi Rogatkin had one of the scariest crashes I've seen at the event. According to Red Bull, Rogatkin was okay following the crash and "as medical personnel attended to him, he stood, wiped himself off, and put his helmet back on." Beast!
If that didn't stoke your fire, watch Kurt Sorge's winning run:
TP Is a Bad Dude

Excuse me if this is old, but I honestly don't care. Anytime I stumbled upon a dude doing a double backflip superman I must share. Pastrana, you sir, are a legend.
Danny Way Goes Big

At 41 years old, Danny Way is still going huge. Recently, at an event sponsored by DC Shoes and Thrasher Magazine, Way broke his own personal record of 23.5 feet, which he set in June 2003, for "highest air on a skateboard (quarterpipe)" when he flew an incredible 25.5 feet. The jump also set the Guinness World Record.
"The day I set the new record I had an issue with not getting enough speed so the following week I added more roll in to the ramp to go bigger not feeling content with my accomplishment at 25.5 ft," wrote Way. "Unfortunately on my return visit I broke my ankle so I have been hurt dwelling on this since, the ramp is still awaiting my return and this voice is my head is going to drive me insane until I'm physically ready for a rematch."
You can watch the making of Way's feat on October 25 on ABC from 3 to 4 p.m. ET. Also, check out ESPN for a cool gallery of the jump.
Slip 'n Slide
Hands down, this is the best Slip 'N Slide man has ever created. Some kids in France decided to build this by attaching a raft to a rope that's attached to a pulley that is attached to a front-wheel drive car, which provides the best thing I've ever seen.
Golf at PetCo
PetCo Park, home to MLB's San Diego Padres and rounds two and five of Monster Energy Supercross in 2016, is a beautiful stadium located in downtown San Diego. It's also soon to be home to a nine-hole golf course. From the San Diego Union-Tribune:
The Padres and Carlsbad-based Callaway Golf said on Thursday they are creating a nine-hole "Links at Petco Park" within the confines of the stadium and will open it up to the public on Nov. 6-8.
Tee times went on sale today at noon (padres.com/thelinks) and start at $100 for twosomes and $200 for foursomes. The cost includes parking, snacks and beverages on the course, and limited edition hats. Upgraded packages ($200 and $400 respectively) include a Padres-branded Callaway club and tickets to a 2016 Padres game.
Check out the layout below, it looks awesome.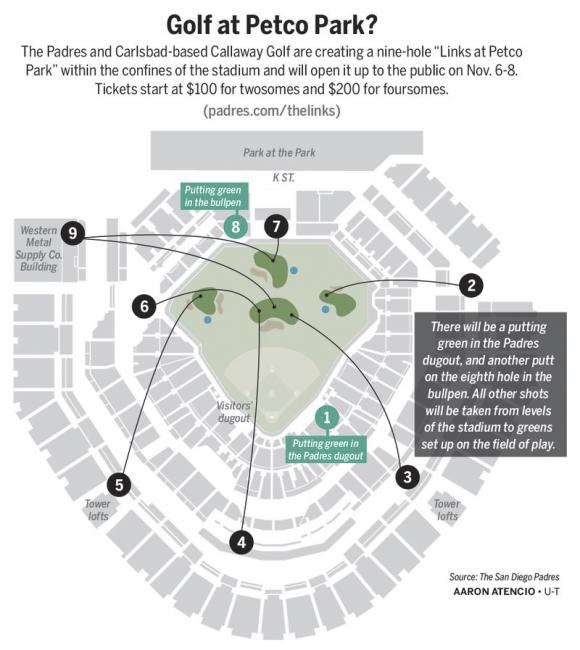 Rally Car Gets Close to Fans
I would probably take a few steps back.
Fiesta Goes Back to the Future
Back to the Future II, part of the massively popular movie trilogy, sent Marty McFly to the future. That future date? October 21, 2015. Ford recently got in on the fun, by introducing the "Flux Capacitor" in the new Fiesta. Check out the release below; it's pretty funny:
- Makes time travel possible (if time travel were possible, but it's not… yet)
- Stylish enclosure
- Use it to acquire fashion-forward styles from the future (such as self-tying shoes), witness major historical events in real time, or simply check up on next week's weather
- Powered by 1.21 gigawatts
- Warning: Avoid your past self at all costs, as this may cause a rift in the space-time continuum
- Warning: It is dangerous to use sports almanacs from previous years with the intent to unfairly profit from gambling activities of any kind
- Warning: Please time-travel with care, keeping in mind that different historical epochs will present unique challenges based on the cultural and technological limitations of the era
- Available October 21, 2015
- This upgrade is not actually available