Las Vegas, NV
Monster Energy Cup
Monster Energy Cup
By Jason Weigandt, Jimmy Albertson, and Steve Matthes
1. Does this mean Bubba is ... BAAAAAACK!!!!???
Jason Weigandt: Not at all. He won, yeah, but he was far from 100 percent ready like he'll need to be to win series races in 2016, so we'll have to wait and see if he can get to that level. He won this because of his pure instinct to go crazy balls in whoops when no one else would.
Impressive, but for James, that's like a 40-some-year-old NBA sharp shooter coming off the bench and nailing three-pointers from the corner. It's just what he does and what he'll be able to do for a long, long time. No way we can tell if he has his complete game back together yet. I think it was a good first toe in the water for him, though.
Jimmy Albertson: Well, considering all of us picked Bubba to win last week, I'd say he was never doubted. There's a big difference between leaving and being suspended. When you leave racing it's because the fire isn't there anymore. I think Bubba is going to be very eager to prove that he is still the fastest man on two wheels—in the dirt, anyway. It was great to see him back!
Steve Matthes: Well, it means he's back. Because, well, he was back! After a year off due to a suspension, Stewart comes back at an event that he should excel at—and he did. I don't care how much time he takes off; he's that good. I wasn't sure he was going to win this event, but I had an idea he was going to do well. He did suffer his first ever loss in one of the runs to Ryan Dungey, so maybe he was a bit rusty? All I know is that he was doing something out there that very few, if any, riders did (dragon's-back jump-over), and he was fast as balls in the whoops. So, yeah, he's back. I have no idea if that translates to twenty-lap supercross main events though.
2. Dunge beat Stew in their first run. Is this a big deal, little deal, or no deal at all?
Weigandt: No deal. I think it's almost an insult to Dungey to praise him for getting that one win, because it makes it sound like he's not fast. Dungey's overall speed is underrated. Yeah, you don't see highlight films of "Dungey scrubs," but there's no way in hell he's a contender for SX wins without scrub skills. That's just a requirement in 2015. Dungey's consistency leads us down a slippery slope, where you start to say, "You know Dungey: he's not the fastest...." But then you find yourself almost saying he's not fast, and then you're way off the mark. Yes, some riders sometimes go faster than Dungey, but at most, it's what, three guys? And that's only sometimes. That means Dungey is at worst the fourth fastest guy on the track, and that's usually on his worst day. That's not slow. That's not, not fast. You can name a lot of riders on factory bikes who would kill for Dungey's speed. So I wasn't totally shocked to see him match Stewart in a straight line. In fact, I thought he would win the round.
Albertson: Ryan was the most impressive rider at Straight Rhythm, in my mind. He has impressed me more this year than any other, and that's a lot taking into consideration that he won both 450 championships his rookie season. Minus the whoops, Ryan had this whole event. When Ryan got hooked up with Aldon Baker, I thought to myself, Ryan Dungey is plenty fit, and that's not his weakness. Boy was I wrong. His intensity is through the roof right now! Keep up the good work, Dunge.
Matthes: This is not a big deal—unless Dungey wants it to be. The RBSR is a 3-D IMAX of climbing Everest compared to the people who actually climb Everest. In short, it's not exactly what the guys will be doing for seventeen weeks starting this January. So, to me, it means nothing.
Dungey's a bad-ass, he's the favorite to defend his title this year, and if he wants to use the fact he beat James in October at the SR as a sign that he's got JS7 covered, then great, more power to him. Riders are weird, bro.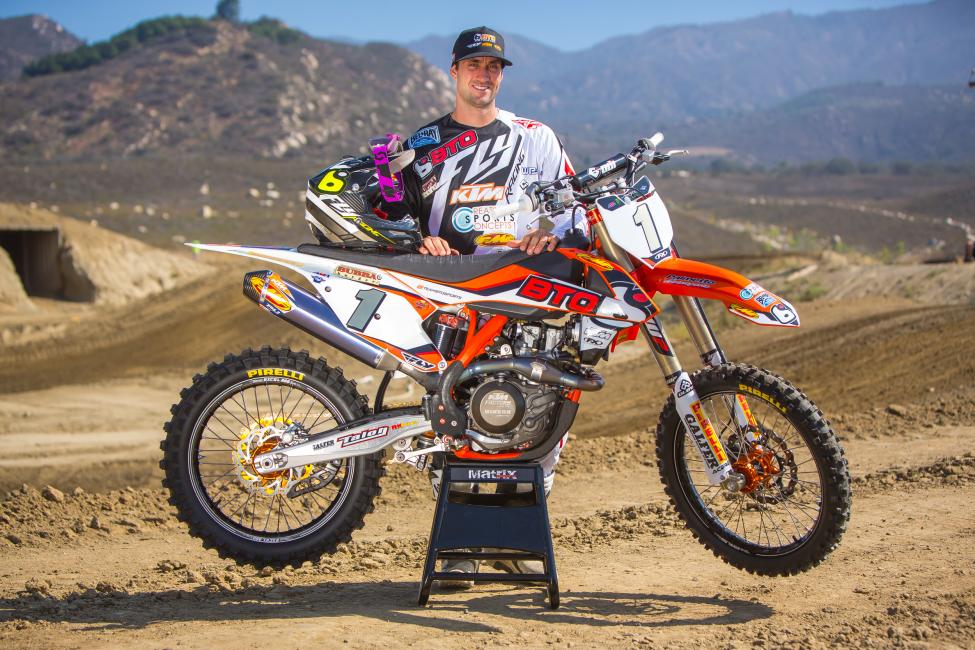 3. Monster Energy Cup—what's going to happen?
Weigandt: Oh, man, these off-season ones are so hard to predict. Half the dudes are going for it, fired up with much to prove, and half are hanging around mid-pack just avoiding the controversy that would come by not showing up. Does anyone remember Dungey at the MEC last year? He went an invisible 8-5-3 for fourth overall—not at all an indicator of what he would bring when the real season began. Meanwhile, Justin Hill was killing it on a 450!
So, you have to get inside these guy's heads to know what they'll bring. Certainly, Davi Millsaps is again riding with his back against the wall, but I think he's just had too much time (even more than before!) away to just win immediately. Justin Barcia has been riding a ton, but I need to see him kill a supercross-style event before I know if we can count on it. I think this could be a good one for Ken Roczen, who is capable of winning even when he's not treating an event like life or death. He's got a good mix of fun and serious, and maybe a slight chip on his shoulder for how the rest of 2015 went. So that's my pick.
Albertson: I think Dungey wins. Obviously, Roczen and Stewart will be fast, but we have many more players this weekend then last! Barcia, Canard, Millsaps, and Chad Reed are just to name a few off the top of my head! I know I'll be glued to the TV for a few hours watching Ralph Sheehan call Davi Millsaps "Ryan Dungey" with that #1 plate on that Orange KTM.
Matthes: I think Stew wins. I'm not as confident in this as I was a couple of weeks ago, but I think James makes a triumphant return to supercross and takes the win with three consistent moto scores. I think his toughest comp (Alessi Weekly tribute) will be Dungey, and I wouldn't be surprised if he won at all. It's Stew by a nose!