Michael Holigan is a Texas-based real-estate man who happens to love motocross racing. In 2004, he landed in the motocross world by forming his own team—Holigan Racing—and putting the whole thing on TV. In the process, he built a reputation for attracting sponsors and support through an alternative viewpoint on the value and execution of sponsorship.
While the team was a solid effort with names such as David Vuillemin on board, Holigan's TV show The Reality of Speed was the center point of the racing effort. The show came long before Bubba's World and focused on the triumphs, struggles, and drama of running a top-level racing program in America. Holigan ran the programs (both the team and the show) from 2004 through 2006. At the end of 2006, sponsorship and factory support grew tighter with the contraction of the broader economy, and Holigan pulled the plug on his team.
But his love for the sport is as strong as ever, and he has kept a few fingers in the game. We rang him up to find out what the former team owner, real-estate investor, and television producer is doing with himself.
Racer X: Michael Holigan, how are you? It's been a long time since we've seen you in the paddock!
Michael Holigan: I'm doing really well. I've been really focused for the past few years on the real-estate business and taking advantage of what has been a rising market in home building. We have basically been identifying larger tracks of land, purchasing them, and then taking the parcels through the planning and zoning and permitting process. We then put in streets and utilities—but at that point we sell the projects to some of the larger homebuilders, guys like Pulte. The other thing I'm doing with them is acting as an off-balance sheet lender. So we find land that can be developed down the road, and we buy it and hold it with the agreement that we will sell it at a certain point. So for a bigger company, it's not held on their balance sheets. For example, right now we are buying $25 million worth of building lots on the Potomac River, just south of Washington D.C. I will be what's known as an off-balance sheet lender. I will own this land with an agreement that the bigger company buys it from me after a certain period, when they are ready to build on it.
How did you get started in the home-building business?
Well, I started out racing motocross. But then I went to college and got away from it. But it was my dad—he worked for the phone company, but started building mobile-home parks in the west Texas oil fields. After one year of doing that part time, he quit his job and went full on. Then, when I got out of college, I started working with him full time. Back in the 1990s, we did about eight thousand homes, but starting around 2000, we transitioned over to doing land development. Putting aside this real-estate talk, I'm still involved in racing, and through a company I am part owner of Merge Racing.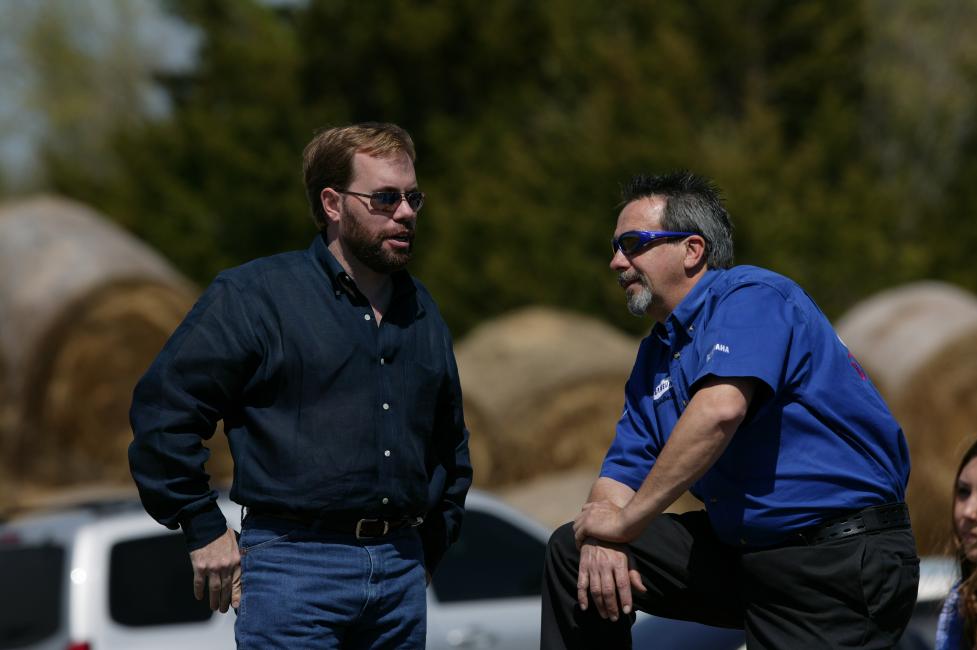 Yes, Merge Racing. You guys were doing carburetor stuff, right? How has that gone since the transition to fuel injection?
We are doing okay. We had to change our focus a bit, but we're still at it. But let me give you some history on how it came about. When the team stopped in 2006, Jim Lewis wanted to form a company that built aftermarket carb and suspension parts. That manifested into a complete engine and suspension shop. We did bikes for Hart and Huntington, Kyle Regal, and Jimmy Albertson. That's been going well, but we're going to recapitalize the company in January and really try to refocus on growing our product offerings. We also have the Merge Compound in Oklahoma, which is pretty cool and includes a circle track, outdoor, and supercross tracks, all in one location.
You guys have your own testing facility? That's very cool!
Yeah. It is really neat. On any day you can find all sorts of riders who come out to test and train. Just a few weeks ago, Team Honda and Trey [Canard] were there doing some work. The facility is about an hour north of Dallas, right across from the WinStar Casino.
So what does 2016 bring for you guys?
Well, for one thing, we are helping out Jimmy Albertson again next year. He has a good little program that he's pulled together, and we are helping him with the bike. Jimmy is based only a few hours north of us, so that makes it easy for both of us. But, honestly, I have been more focused on the real-estate world, and Jim has been running Merge, but I'm hoping to spend more time at the races next year.
So, the big question: do you want to come back with a full-on team effort again, with multiple riders?
Yes, for sure. Right now real estate and land development is really good, so I am doing well with that, so why not go and lose some money racing [laughs]? Kidding aside, people and potential sponsors are much more open to the idea of racing again.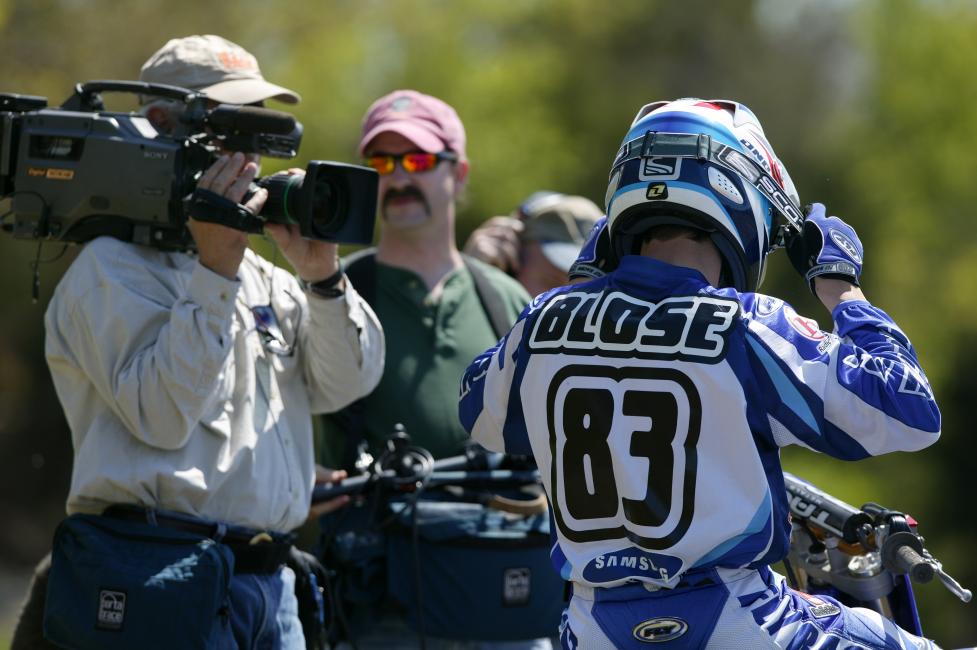 What is the price tag to come back with a decent effort?
Two million is what we need as a base to go racing for one full season.
Tell me a little about your viewpoints on securing sponsorship, and your approach to that?
I think I see it as a little different, as I have been a sponsor myself. Back in the early 2000s, I spent over $11 million to sponsor a NASCAR team. We really used that as much as we could. Over the couple of years we were involved, we took over four thousand homebuilders and employees to the races, and just did everything we could to leverage our spending. You have to look at exactly what the sponsor is getting out of this deal. I had over fifteen years in television, so I see marketing very differently. Who were they? I don't look at it as "sponsor my race team, please." I look at it as "here is why you should spend your money with me."
When you say you have fifteen years in television production, what do you mean? I thought you were a real-estate guy.
Well, I am. But I have used the TV to help us on the building side. So, going way back, we were doing this infomercial for real estate in 1993. It was terrible, and it was just one thirty-minute episode. It started running on TV, and people would come up to me and tell me how much they enjoyed it. It was semi-informative, but still was just one thirty-minute show. From that infomercial, we actually sold a ton of homes! I would laugh and say, "It's a commercial!" but people were really into it.
That got me thinking. A lot of home improvement shows, they were all about expensive renovations and stuff most people can't afford. So we started a show called Your New House, which was the very opposite of This Old House. We then shot thirteen local episodes and bought thirteen slots on local TV. It was a big success, and we actually made some money on the show. The following year, I decided to take it national. After a period of time, the show became a profitable venture, and it was unbelievable marketing for our building business. We ran that show for eleven years, 1994 through 2004. It was syndicated on 150 local stations. For maybe five or six years, I had fifty hours on the Discovery Channel. A funny side story—our biggest fan was Marlon Brando. He would get up at one or two in the afternoon, just when my show was on. He started calling me and talking about building. I spent hours talking with him. He wanted to build houses in all sorts of crazy places!
That's cool, and I assume the same idea transferred over to the racing team?
Yeah, pretty much. Running a race team is not for the faint of heart. I think Chad Reed learned that this year. It is like a hand of poker—if you double up, it can go well, but when it goes bad, it goes real bad, real fast.
Each team, factory or privateer, always has some drama going on. Some are better structured than others, but the drama is always there. How did you deal within your program?
It's funny. One year at Vegas, I was walking around the stadium. Two of the guys from one of the factory teams came up to me and said, "We watch your show. Your show was perfect. We laugh and laugh watching it—it's all so true." But when you run a team, everyone under the tent has their own plan. It is just like any other business—some employees are super-loyal and some are on their own scripts. Once you throw in some big egos, it gets harder. You end up with a group of guys. Some are educated, some are not; some think they are smart, but they are not. But you have to master the art of moving each of the team members' goals to match yours—and when you get that, that's when it can work really well.
Tell me about your personal life?
Well, I live in Dallas and am married to my second wife. She is from Venezuela. We have a total of five kids, and we all ride—for fun.
What were some of the highlights of your racing program?
I think the first one was our first season. We were at Anaheim, and here comes Marty Moates with a bag full of FMF T-shirts for everyone. Right there, meeting one of my heroes was surreal. Then, another time—maybe it was 2005—I was doing an interview with Jim Holley during the afternoon. We had three riders in the West series [of supercross], and we were watching the timing and scoring as we were talking. All of a sudden, our guys were running first, second, and fourth. That was a highlight, for sure. And then, I think, at Anaheim 1 our first year, we had some success right out of the gate with some decent results. But our best team finish was in 2005. We were the top Honda team. We had Troy Adams and Steve Boniface finishing fourth and sixth. That was the best. But you know, just being around the team was awesome; we had a lot of different personalities and drama. It was fun.