The French absolutely dominated the proceedings on Saturday for the 69th annual Motocross of Nations. We'll have detailed on-site reports from Adam Wheeler and Steve Matthes later tonight, as well as photos from GP photo ace Ray Archer. For up-to-the-date info, though, see below. And we'll see you again tomorrow morning!
Open Qualifier race
Cooper Webb grabbed the holeshot on his Yamaha and pulled a quick early lead over Australia's Dean Ferris, but MXGP World Champion Romain Febvre was soon up to second. The Webb/Febvre rematch from last weekend at Glen Helen was a strange one. First, Febvre caught Webb from about three seconds back with ease, then made a quick pass when Webb bobbled and gave up the inside.
But then Webb got fired up and passed him right back! Febvre made a few mistakes and lost ground, then caught back up only to bobble again. Webb, for the moment, looked to be in control, but Febvre found his groove again and caught back up for a third time. Webb then nearly hit a lapped rider, and Febvre motored on by. With the win, France swept all three qualifying races. Wow.
"My start was good but the first lap I was not in a rhythm and I lost some places," said Febvre. "After I catched Webb, we played a little bit, we passed each other. [The win] It maybe looks good but I didn't feel comfortable, so we have some work to do. But if we put in this type of a ride tomorrow we will be perfect."
Webb held on for second, giving Team USA 3-2-2 results for second best overall in qualifying. It was good, but the French team is on another level from everyone else right now. In fact, as Jeff Emig pointed out on the MXGP-TV broadcast, French riders topped every practice session and qualifying race save for MXGP practice, where Paulin was just one thousandth of a second behind Belgium's de Dycker. Beyond that, they were aces in every session and every race, and the home fans are going crazy. Viva le France? We'll see tomorrow!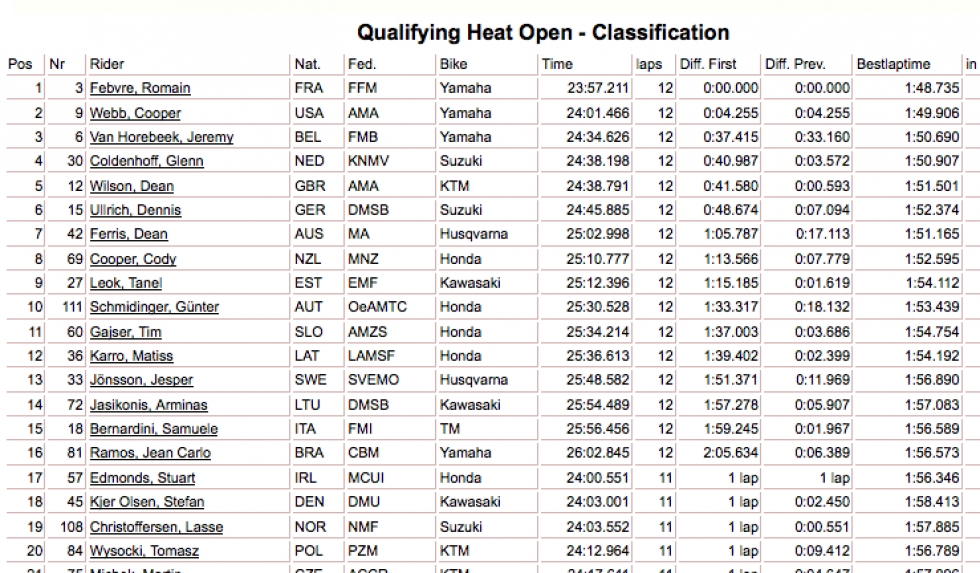 MX2 Qualifier RacE
Marvin Musquin has a checkered history at this event. In past year's he's had highs, like winning an MX2 overall, and lows, including bike problems and straight-up sub-par results. The last few years, France didn't even select him for the team.
Something has changed this time, because he was on fire in practice and carried it through to the MX2 qualifying race, where he holeshot and left everyone behind. Team USA's Jeremy Martin was quickly to second but couldn't quite match Musquin's pace. They finished far clear of third place Jeremy Seewer, of Switzerland.
For France, it can't go much better, as they've already clinched the first gate pick for tomorrow with Paulin and Musquin's 1-1. And Romain Febvre hasn't even lined up yet!
"We have a strong team on paper, everyone is saying we're the best but you have to do it on the track," said Musquin. "But that crowd, nothing beats that crowd, it's hard to even describe! It's only a qualification race but it's always good to win motos. Track is really tricky, so many ruts and breaking bumps, some of it is soft, some of it is hard. And a word to my brother [who broke his neck last month]. I ride my best for him, I know he is watching."
The Yanks are holding a 3-2 after the first two races with Barcia and Martin, but that's fine. A year ago Martin crashed in this qualifier and broke his foot. In 2012, Barcia crashed into a fence in his qualifier and was DQed from the race. All the Americans want to go is get through this one without drama.
On the other end, horrible news for the Brits. Max Anstie was third early, right behind Musquin and Martin, but his bike cut out on a downhill jump and he got landed on. We hear Max is headed to the hospital, we hope he's okay.
With Shaun Simpson having a late problem in his qualifier and finishing 11th in MXGP, Dean Wilson needs to log a strong result here to get the Brits into tomorrow's A final. But if Anstie can't go, the team won't be able to contend. Get well soon, Max!
MXGP Qualifier Race
This morning, each MXoN class will do battle in a twenty-minute and two lap qualifier race, which will determine gate picks for tomorrow's race.
But for these qualifying races, gate picks are selected at random. Team USA drew the lowly 26th spot. The first race came in the MXGP class, and Justin Barcia nailed his jump off the line but was quickly swallowed up on the outside, while the ageless Ben Townley jet-boated away with the early lead. Yes, Ben Townley! And Townley's speed was legit, he hung onto the lead for half the race, with Belgium's Ken de Dycker and France's Gautier Paulin third. Paulin found his groove halfway through and displaced the big Belgian, then went after Townley. The home fans were going nuts!
Townley made it easy on Paulin by picking a bad line in lappers, and Paulin went into the lead and took off for a popular win.
"Lap after lap I was feeling more comfortable," he said on MXGP-TV. "The crowd was unbelievable, wow when I took the lead it was great. The track is tricky because the ruts are long, if you're in one you're in one for a long time."
Barcia was just inside the top ten early but plowed forward, getting to fifth and catching a Shaun Simpson/de Dycker battle for third and fourth. Barcia passed them both to get the spot, a solid overall result. Germany's Max Nagl also put in a good charge, he fell early but recovered for fourth.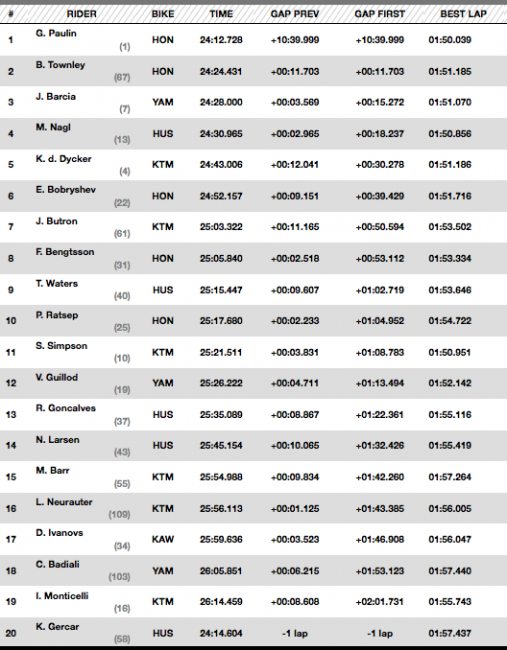 Free practice
France certainly looked strong in the practice sessions this AM. Here are the times.