Ernee, France
Motocross of Nations
Motocross of Nations
We all know a nation-versus-nation event can cause people to lose their mind, but what about when someone from the other nation is right over there—as in, your spouse, sitting on the couch, watching the race with you?
With Team USA and Team Great Britain both fielding strong teams, we rang up husband and wife Jimmy and Georgia Albertson to see how this will go. Jimmy, an American, has raced the 'Nations before on Team Puerto Rico, and Georgia, of England, has worked it before as the TV pit reporter. They know the race, they know each other, and they know why their country is going to win this weekend!
Jason Weigandt/Racer X: Okay, let's start here: Jimmy, why is Team USA going to win this weekend?
Jimmy Albertson: Because Ryan Dungey's not on the team! No, no—I'm just joking! I kid, I kid. I'm actually bummed out Ryan Dungey's not on the team because I think it'd be a good track for him. But, anyway, I think America is going to win because Justin Barcia and Cooper Webb are going to be really good in that 450 class. You look at how Webb stacked up against [Romain] Febvre at Glen Helen, and Febvre, right now he's on a whole other level than anybody else in Europe. Webb worked [Gautier] Paulin hard at Glen Helen. And obviously it's Glen Helen, so you never know for sure, but [Marvin] Musquin didn't have a very good run at Glen Helen, either. I felt like Jeremy Martin there, toward the end of the Nationals, was kind of clear-cut, speed-wise, on Marvin. And Barcia, the big thing with Barcia is I think that he went over there and he rode Lommel in 2012, and he was the only American that was impressive at all. Then he had a great run the next year in Germany. So I think it's a strong team. I was kidding—it would have been awesome to have Dungey, but with him or without him I feel like we got the best team this year.
"I [think] Great Britain has three strong riders, but I do think America has a super-strong team."
Jason: Georgia, why can the Brits win?
Georgia Albertson: It's been kind of tough for me. Each year I live here I feel more American than I've ever felt, but then, when it comes to the Motocross of Nations, I've got to root for my GB guys! I think consistency is huge in the Motocross of Nations. You need three good results. You can drop one score, but you need consistency. It would be awesome if it was a sand track with Max Anstie and Shaun Simpson, but obviously it's not. But it's a track that they've ridden before. Shaun, right now, is riding absolutely awesome, and it looks like he's going to be okay after Glen Helen; he crashed there, but he's a tough guy. He always just goes for it no matter what! I think Dean [Wilson] has come back pretty strong. Glen Helen probably wasn't the best for him, but like I said, three consistent results are what you need. Shaun Simpson, Max Anstie have both shown huge, huge improvement from previous years, both winning overalls. And I think those three guys can put in three good results, and that's what it's about in the Motocross of Nations.
Jason: When you guys are watching this on Sunday, what happens? Are there going to be fights? And…what if it's close?
Jimmy: No, there won't be any troubles because I don't feel like the American's have to worry about Great Britain [laughs]! But no, Great Britain's a great team. Obviously Dean Wilson had a really good run at the last round there at the GPs—bad starts, but he was fast. I think that he's coming on strong. I think Anstie is a good sand rider, and a decent hard-pack rider as well. He did really good at Czech Republic before he crashed and got hurt. But I think Shaun, definitely, his strong suit is softer dirt and rougher tracks.
Georgia: Uh, Jimmy, did you see him at Unadilla?
Jimmy: Yeah, that's softer and it's rough.
Georgia: It's not sand though! It's rough, but it's rocky like Ernée is!
Jimmy: No, Ernée is like concrete. It's like rocks on top of concrete!
Georgia: Oh, I'm going to throw rocks in your face when the race is on! I'm going to be up early Sunday; I'm going to paint my face and wear some Union Jack. I know, it's not England—it's Great Britain—but I'm putting it out there. Dean Wilson—oh, my God, have you seen his helmet? What's that guy with the blue face? Braveheart—Mel Gibson, William Wallace. I love it, Dean.
Jimmy: I think Dean was always embarrassed about being Scottish because he sounded like an American/Canadian with his accent, and then when he found out American girls would find it more attractive if he had an accent from Great Britain, then he's Scottish again, mate.
Georgia: I think they do have a strong team. I [think] Great Britain has three strong riders, but I do think America has a super-strong team. And France. I think France, Great Britain, and America—not in that order—but those will be on the podium this weekend I believe.
Jimmy: Sunday's going to be fun.
Jason: You guys know this event pretty well. Georgia, you've worked at it. Jimmy, you've actually ridden it for Puerto Rico. How different is it actually than any other race? We're all bench-racing based on what we've seen at regular races this year. But I guess I'll start with you first, Jimmy. How different is it riding compared to any other race that we see?
Georgia: Listen, Jimmy can wait. The Motocross of Nations has so much going on. Stuff is constantly going on. It's really busy and crazy, and it's obviously a lot more pressure, too. The Europeans obviously have a huge benefit of being at these tracks, being around the same people. Americans, that's the one thing that's tough for them. Compared to a GP, it's the same everything pretty much, except it's also the Motocross of Nations. It's just something different. It's an absolute nut job there. The fans are insane. Take RedBud and times it by ten, and you might get the Motocross of Nations.
Jimmy: Yeah. Motocross of Nations is crazy. But one of the things I was talking about the track a little bit—that track is so hard-packed. If they get some rain in it, if they can get moisture to the dirt and churn it up, it can get a little thick, but what I think is going to be super crucial is starts. And there's one thing we know about Justin Barcia: he rips starts. If Justin gets out front, I don't really see how anybody can get past him. Let's face it—there's a good chance he's going to be quicker than everybody too. So if he gets out front, he checks out. Game over—America won.
Jason: Okay, I'm going to keep harping on this. Just as a rider, how different is this race? Being on a team instead of racing for yourself, having to race different size bikes, you have to select which dude's going to get the good gate, you're racing against guys you don't know. How different is the experience as a rider than any other race?
Georgia: I think Cooper Webb is our specialty. All of that stuff could be a big deal, but these guys, they don't care. They don't care about who's around them. They're doing them; they're doing it for America. They're confident enough people that I don't think it's going to throw any of them off. Some of the stuff could be hard, but I don't think it's going to phase Justin or Cooper being in a different country at all. They still have their mechanics, they still have their teams, and you know how those guys are—they just don't care about the competition; they're pretty strong mentally. I was kind of excited watching the GP when Cooper Webb and Evgeny Bobryshev were together. I thought that was going to be a really good fight; a Russian and Cooper Webb together would have been cool.
Jason: Yes, maybe a real fight!
Jimmy: Oh, yeah, the Russian Bear against Cooper! You can see how these guys are—they're pretty confident. I don't think they're going to be bothered by a lot of that stuff, as long as they can get the track down right.
Jason: Hey, so what are the chances; sometimes it happens here—some dude just has a horrible day, or some dude is just on it. Like last year, Paulin was just out of his mind. So Georgia, you've been to this race before. There's always a chance of that.
Georgia: Yeah. Let's go back a few years to when Germany won. Marcus Schiffer was the weaker guy on the team compared to [Ken] Roczen and [Max] Nagl, let's say, yet he had a strong day for him, and he took them to the win. So literally anything could happen at Motocross of Nations. But I don't see with either GB or America that that's going to be an issue. But I don't think there's going to be anything crazy like that; these are really consistent riders.
Jason: Jimmy, if the British team wins, what happens? Do you go in the bathroom and just lock the door? How do escape from this? There's going to be so much crap talk it's going to be ridiculous.
Georgia: We need to make a bet right now, and, Jason, you can decide on this bet live as we are talking. Figure out what the bet should be.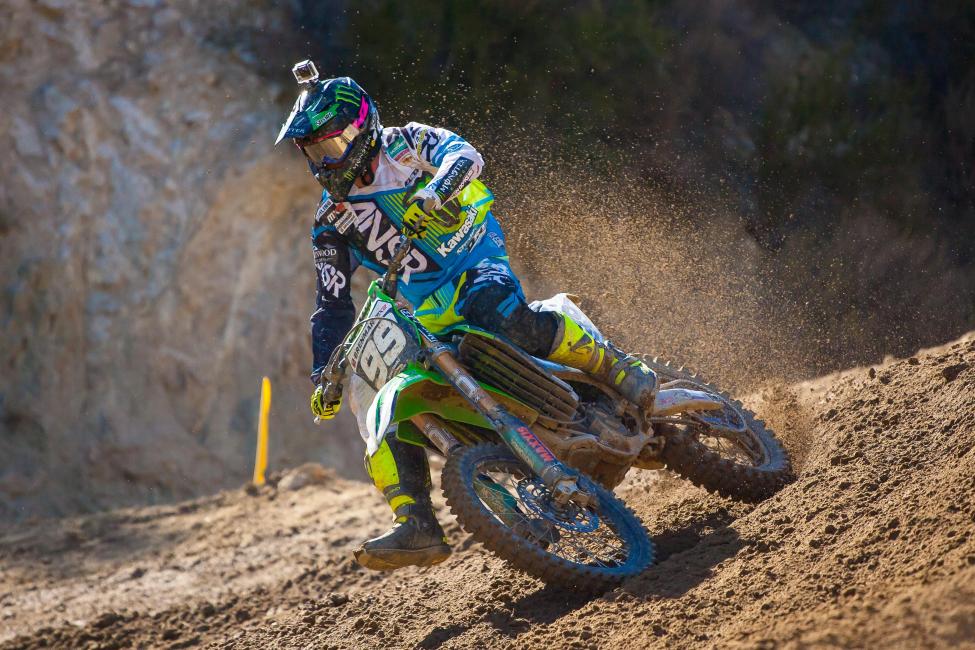 Jason: I think the best way to do it is—and I know both of you aren't afraid to get your hands dirty or whatever—but he has to do some of your chores and you have to do some of his. It's domestic chores versus bike maintenance, or motos, or training, or something like that. The loser has to switch it up.
Jimmy: No. Whoever wins, they have to get a small tattoo right below their waistline on their butt of either the Great Britain flag or the American flag.
Jason: Whoa, you're going to that level?!
Georgia: Are we going to this level?!
Jimmy: That's the thing—it's not fair for Georgia because America's going to win. So you really can't go to that level.
Georgia: Oh, we can go to that level, Jimmy!
Jimmy: Georgia just wants the tattoo.
Georgia: But seeing this, oh, my, Max, Dean, Shaun, you need to do good!
Jason: Wow, there's a tattoo riding on this? C'mon, just pick a damn domestic chore.
Jimmy: What do you think about a massive American flag tramp stamp for Georgia?
Georgia: No, that's not happening.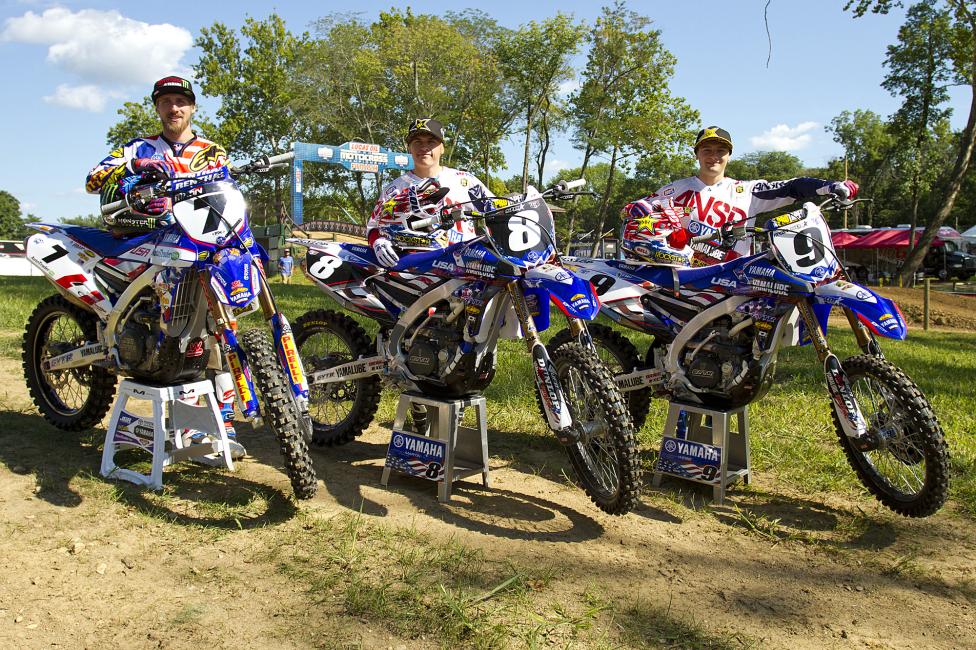 Jason: I don't know, Georgia, maybe regardless of the des Nations result, this tattoo is something you wanted anyway.
Jimmy: Maybe with some barbed wire and tribal deal around it.
Jason: Is there any chore around the house, Jimmy, that you would hate to do?
Jimmy: Nothing. Other than like laundry or cleaning or vacuuming or dusting or cooking or cleaning the dishes—those are really the only things I don't like doing.
Jason: That's pretty much all of it!
Georgia: Let's not forget weed-whacking or doing pretty much anything. He likes to clean the garage and that's it.
Jason: Sounds like a pretty good list.
Georgia: He told me it was just like the ultimate man cooking scenario. I like to marinate the chicken. I do all the sides. I do everything. I put the chicken on the barbecue and I ask him to flip it when I'm doing something else, and then he says that he cooked dinner. He flips the chicken once, and it's like, "No, I cooked the other night."
Jason: Okay, let's settle it. Jimmy, if the Brits win, Georgia, you're going to have to get a week off and Jimmy does everything.
Georgia: Oh, yes!
Jimmy: Do I have to wear a maid costume too when I'm cleaning and cooking?
Jason: Maybe even a French maid costume. I don't know what happens if they win.
Jimmy: If France wins, maybe.
"Some of the stuff could be hard, but I don't think it's going to phase Justin or Cooper being in a different country at all. They still have their mechanics, they still have their teams, and you know how those guys are—they just don't care about the competition; they're pretty strong mentally."
Georgia: We'll put this bet in concrete and update the fans on Instagram 100 percent. [@GeorgiaAlbertson @JimmyAlbertson]
Jimmy: Hey, is this race on TV live, or do we have to watch on the Internet?
Jason: Internet only for live.
Georgia: Oh, great. Well, with our horrible Internet, we'll have to do it somewhere else.
Jimmy: Oh, great. Yeah, we'll be all body painted and going into a Starbucks at 6 a.m. I'll bring in the sixty-inch TV and be like, "Yeah, is there a place we can put this?" Maybe a little Bailey's in the coffee.
Jason: Ah, Bailey's! Irish! Georgia wins!
Jimmy: Oh, whatever then—Coors Light. I'm going to pour a Coors Light into my Starbucks. USA, USA!