Yamaha Factory Racing Yamalube's Romain Febvre (that's Feb-vra) had already clinched this year's FIM MXGP title in dominant fashion, but the USGP at Glen Helen served up a different challenge, since American riders on hand were much more familiar with the track than the Frenchman. He was strong, though, and went on to capture his eighth victory of the season via 1-2 scores, outdueling Cooper Webb in a fantastic first moto, and coming up just short of Josh Grant in moto two due to a tip-over, but edging Grant's 3-1 in the overall.
This weekend, Romain will be back on home turf in France for the Motocross of Nations, and he'll enter with a ton of momentum. Our Steve Matthes caught up to him after the day at Glen Helen was done.
Racer X: Great day today. First, let's talk about the second moto; you were closing in on Josh Grant. What happened there?
Romain Febvre: Yeah, I crashed at the top. I was going too fast into the ruts and the front slid. I lost a few seconds. I knew there were three or two laps to go, and I knew he was quite far. With two laps to go I tried to push again; it was not enough. I knew I had the overall so I could not manage to come back, so I just took it easy the last lap. I'm disappointed in the second moto, but it's racing.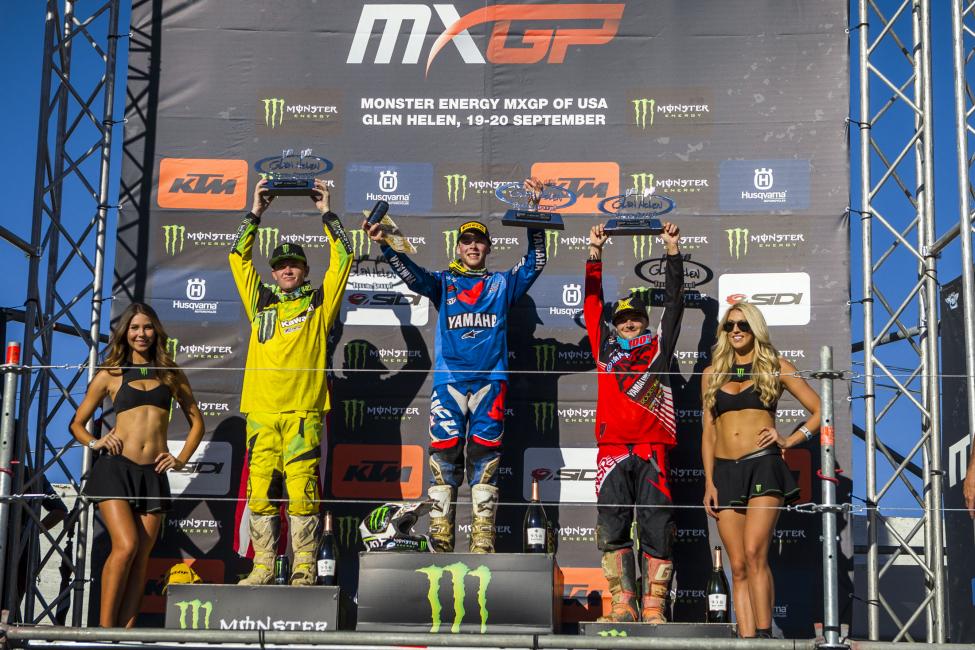 First moto was great. You and Cooper Webb going at it pretty hard—two Yamahas. It seemed like you were like, "Hey, I'm in great shape. I've got thirty minutes in me; let's see how you guys do this." Your lap times were pretty consistent.
Yeah, yeah, that was really good. Everybody was fit the first moto. To win was a big deal for me. I knew I had the speed; I could see it on the track. I came back pretty strong and had a good battle with Cooper—it was nice. We passed each other a few times, and then I passed him on the outside of the downhill.
We're gonna see that in Motocross of Nations next week.
Yeah, for sure. It's on my ground! It would be good for sure. That track looks a little bit like this, just a little bit smaller and harder [pack]. I hope we're going to do well there.
"The goal is to win everything you're on the gate and not to finish fifth."
I should know this, but did you race this track before in MX2 (during previous USGPs)?
No, never. I came here before in 2011 in Florida for the Mini Os, but California, never.
What did you think?
It's really good. The track is really fast. I really like it. The preparation is well. We came on Thursday, they watered it, and they ripped it everywhere. Nothing compared to Europe, and that's pretty good. When I was looking on TV at the national, yeah, it was the same preparation as now. I hope next year they will do the preparation different in Europe, try for [making] better lines. Yeah, it's been a good week.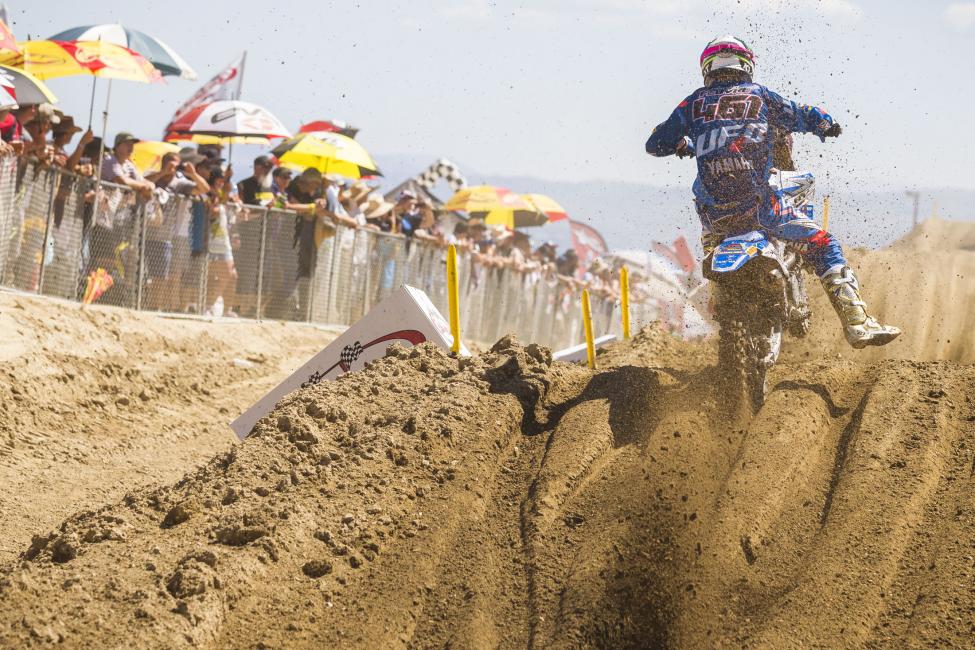 You already had the world championship clinched—you had a terrific season. So when you came here, was there a little on your shoulders? Like some Americans might have thought, Oh, it will be 1-2-3 Americans. Maybe some people thought that. Did you kind of have a chip on your shoulder like, "Hey I want to show you guys?"
Not that much. You know, even if I have the title, I just want to win every race I compete in. The goal is to win everything you're on the gate and not to finish fifth. I did my best to win in front of the USA. In MX2, they were really fast. I think in the first moto three Americans were at the front, so that showed they have the speed for sure. On the 450, for sure, I was really happy to win.
Next week is going to be insane for sure. There are going to be so many French people; it's going to be nuts.
Yeah, sure! Even in the France for the GP, it's always amazing, the French crowd. So for the 'Nations to come there and [to have] the title already, it will be great.