Counting down the days to the 2015 Monster Energy FIM Motocross of Nations in France, we're looking back at each of the twenty-two winning versions of Team USA. (Have you noticed that we never won the MXdN with the same line-up twice?) Today we reach what is arguably the second peak of the American era, 1996.
All good things must come to an end. That's the way Team USA should have felt following a stunning loss at the 1994 FIM Motocross des Nations in a little Swiss town called Roggenburg. Instead, there were genuine tears, as the team of Mike LaRocco, Mike Kiedrowski, and Jeff Emig became the first American line-up to lose at the MXdN since 1981. If there was a bright side, it was only that their primary rivals, the vaunted Belgians, did not win. Instead, that honor went to the British trio of Paul Malin, Rob Herring, and Kurt Nicoll.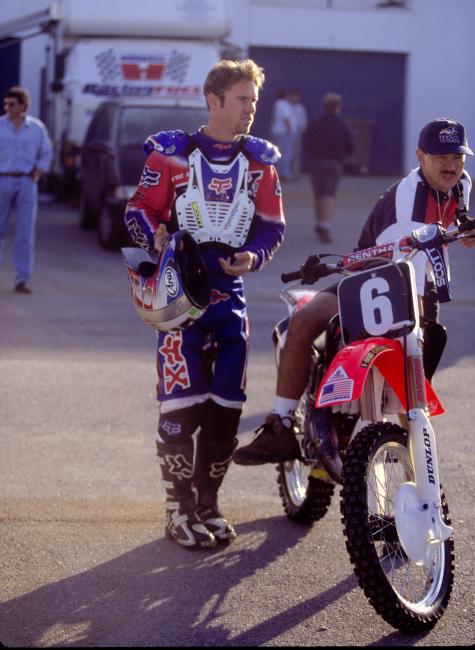 After the 1994 loss, Team USA returned to "get the trophy back" in Sverepec, Slovakia, with Jeff Emig again leading the way, and newcomers Steve Lamson and Ryan Hughes. This time the Belgians would finally upend them.
Missing from each of those squads was the man perceived as the weak link in 1993, Jeremy McGrath. He vowed to return to Team USA service when he basically improved his outdoor skills, even while dominating supercross to the tune of two more titles in 1994 and '95. It was in the latter year that he showed how serious he was about motocross, dominating the 1995 AMA 250cc Motocross Championship. By September '96, after a fourth straight AMA Supercross Championship, Jeremy let Roger DeCoster, now back as Team USA manager after taking over the Suzuki squad, know that was ready to return to the Motocross des Nations.
Coincidentally, the '96 Motocross des Nations was poised to run on an "artificial" track, built on the infield of the Jerez road-racing circuit in Spain. After years of basically outlawing doubles and triples in the GPs, the restrictions had been rescinded somewhat, and the track built for Jerez was much more technical than the previous years in Slovakia and Switzerland. In fact, it was perfect for McGrath and his Team USA partners Jeff Emig (500) and Steve Lamson (125).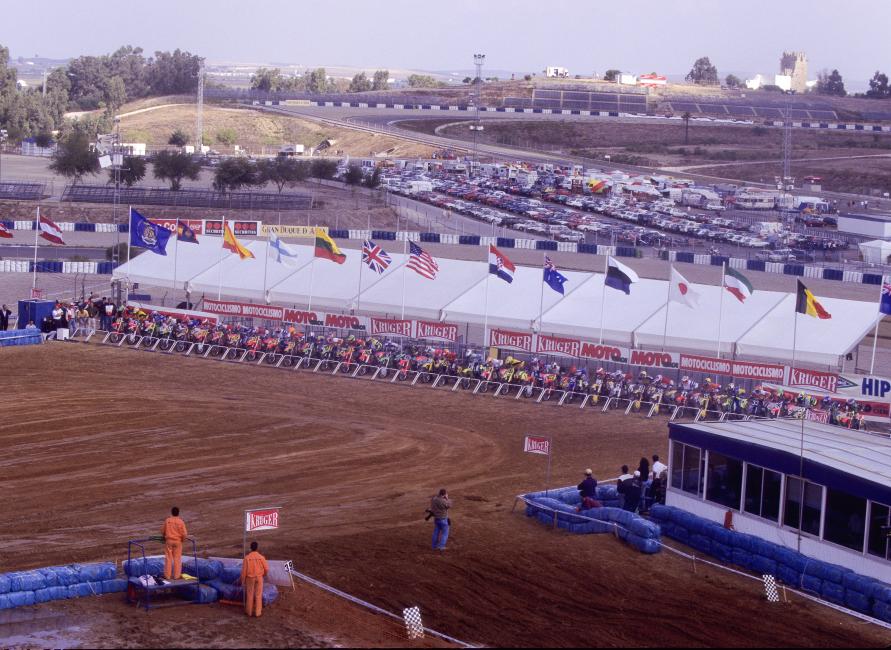 First, some background. The original Team USA line-up had Lamson on the 125, McGrath on the 250, and Ryan Hughes on the 500, which caused some controversy because many thought Emig, the 250cc National Champion, should have been the first man asked. He was a loyal member of Team USA, though not nearly the superstar that McGrath was at this point—Jeremy won fourteen of fifteen SX races in 1996, including thirteen in a row. But then Hughes broke his leg in a crash at the last national of the year at Steel City, and Emig immediately stepped up and took his place, even though he had never raced a 500 in his life.
From the moment the teams showed up at Jerez, there were loud grumblings from some of the teams that the track was practically "outdoor supercross," and they weren't far off. In fact, one downhill triple was even more drastic than anything you might see in a real supercross, but the Americans tackled it with ease. In the first open practice, Lamson, now a two-time AMA 125cc National Champion, was doing heel-clickers off it! After years of seeming to build tracks meant to hold back the Americans, the track in Jerez was the exact opposite—it was built for them to dominate, and that's exactly what they did.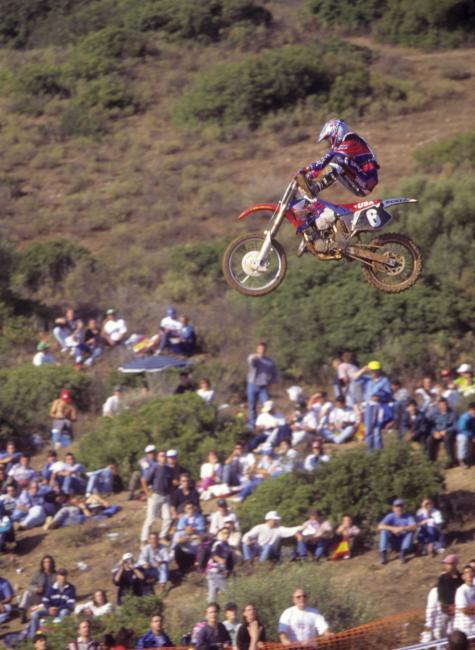 Earlier in the series, we discussed the 1986 version of Team USA—David Bailey, Rick Johnson, and Johnny O'Mara—and how the team was the pinnacle of American dominance in the ways they destroyed the competition in Maggiora, Italy. Well, a case could be made for the 1996 team being equally dominant—maybe even more so.
First there was Lamson, who absolutely shredded not only the 125cc field, but all of the 500cc riders as well, which is something that even O'Mara did not do. In fact, in the history of the MXdN, Lamson is the only rider to ever win a moto outright on a 125cc motorcycle, and it wouldn't be until 2006 that a 250F rider won a moto outright (Italy's Tony Cairoli at Matterly Basin in England). Lamson even beat Emig, the '96 AMA 250cc Motocross Champion, in the first moto, as did runner-up 125cc rider Sebastien Tortelli of France.
That said, Emig deserves some support here. He took the role of 500cc rider even after being initially snubbed, and he basically used the same old KX500 that Mike Kiedrowski raced at Schwanenstadt in '93, LaRocco at Roggenburg in '94, and Hughes at Sverepec in '95. The AMA 500cc Nationals had ended after '93, and there was no more development being done by Kawasaki or anyone to the bike, so the team just kept pulling the big green bike out of mothballs for the MXdN! The only time Emig ever raced an Open bike was on this day in Spain, and he won both 500cc motos, hands down.
"I can't tell you how good it feels to come back and win this thing," Emig said afterward. "This race has been really important to me, even back when I was a little kid. To be considered for the team—to actually be a part of the team—is really important to me. I'm just glad we didn't let the American fans down."
The Spanish track was similar to what O'Mara had raced in '86, according to O'Mara himself, who was on hand to watch the race. "This is a cool course for the 125, the way it's so choppy going into corners," said the O'Show, by this point working with a kid named Ricky Carmichael who had just recently turned pro. "Maggiora was like this that day ['86], with the same elevation changes too, where a 125 can go much harder into the corners than a big bike. When I was watching I was thinking about that race too, how I was faster than [500cc rider David] Thorpe because the track let me be. Same [here] with Lamson and Tortelli—they were riding so fast together and Emig was just riding safely, and he lets those guys go on and do their thing."
O'Mara summed up Lamson's ride this way: "Steve beat the world champ plus one!" referring to 500cc World Champion Shayne King, as well as Emig.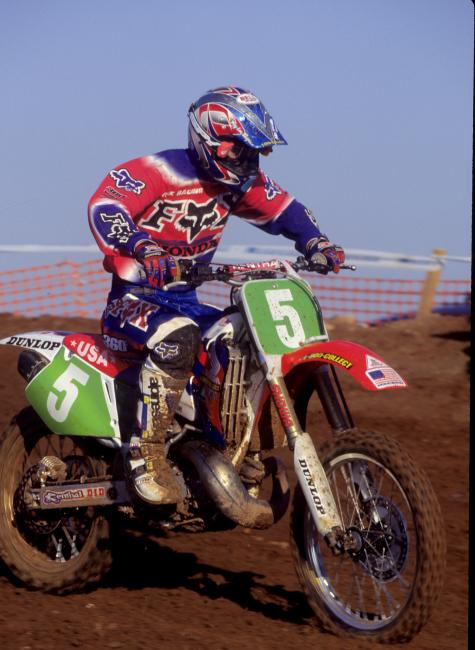 "This is probably the best day of my life as far as racing goes," Lamson said after beating not only '95 125cc class winner Tortelli, just 17 years old at this point, but also Belgium's Stefan Everts, who rode the 125 to help his team. "I've thought about losing last year's race many times, and I really wanted to win today bad. It was always in the back of my mind. Now I guess I can let it go and think about today instead."
Today, Lamson is team manager for Yamalube/Star Racing Yamaha, which will fill out two of the three spots on this year's Team USA with Jeremy Martin and Cooper Webb. No doubt Lammy has some experience to draw on for next weekend.
As for McGrath, he was simply electric in Spain, playing to the crowds with big whips and nac-nacs, and then showing stunning speed on the hills and in the corners. Only Belgium's Marnicq Bervoets kept him close, Bervoets being in that group of fastest GP riders never to win a world title along with Kurt Nicoll, Sylvain Geboers, Pit Beirer, and, more recently, Clement Desalle.
Brush up your Spanish right here with a nearly ninety-minutes-long highlights show: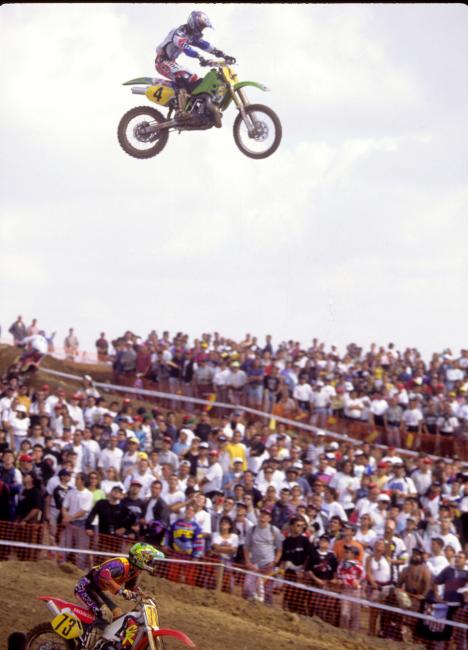 "Mission accomplished," McGrath said after leading the demolition crew both times out. "I feel like we came over here and proved to everyone that we're still the best. They talked a lot of bullshit after we lost the last couple of years, and I feel like it was time for us to step back up. We won all six motos, basically, so there shouldn't be too much arguing over who's the best for a little while."
Unfortunately, "a little while" amounted to just one calendar year, as Team USA had a terrible day in Nismes, Belgium, the following year (Emig's sixth and final year on Team USA), and then even worse days in '98 (the muddy Foxhills race in England) and '99 (Brazil). It would take until 2000 for the Americans to get back on top again, and by this time they were led by that "little kid" that O'Mara had started training….
More on that tomorrow.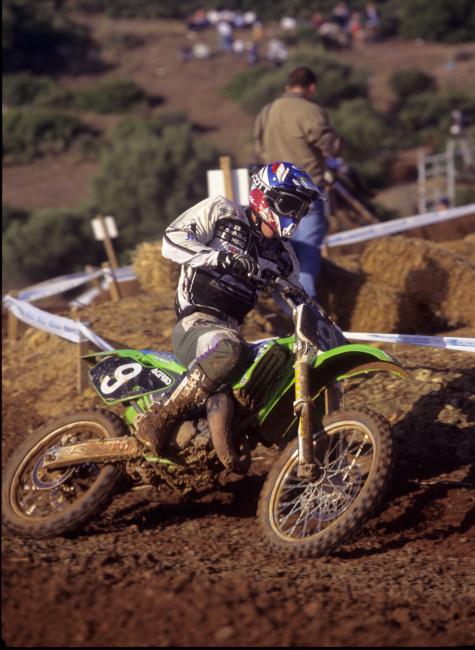 For more about the twenty-two winning teams, click here.