The Monster Energy Team USA Countdown to the 2015 FIM Motocross of Nations in France has now reached 1993 and one of the most exciting wins in Team USA history. Today, we look to the very end of the longest winning streak in motocross history.
Thirteen is an unlucky number. That's what was going through a lot of people's minds as Team USA lined up on September 12, 1993, for what would be a thirteenth consecutive win in the annual FIM Motocross des Nations. For a dozen years, the Americans won in all sorts of ways, from blowouts to nail-biters, good luck for them and bad luck for others. Even in 1992, as we explained yesterday, when the "B team" had to be called upon, they managed to snatch victory from the jaws of defeat. They just seemed invincible, whether they were running at the front or battling through the pack.
This time, the setting was Schwanenstadt, Austria, a grass-covered, old world motocross circuit carved out in the foothills of the Alps. Roy Janson was once again the Team USA Manager, having taken over the role from Roger DeCoster the previous year. He would have Jeff Emig returning on the 125, and Mike Kiedrowski riding the 500. For the 250 class, they chose the man who had blown everyone away by dominating the 1993 AMA Supercross Series—Team Honda's Jeremy McGrath.
It seemed like a no-brainer to bring Jeremy McGrath into Team USA. But at the time McGrath may have already established himself as the best supercross rider in the world, but he had never raced a 250 outdoors, and he had only won two 125 nationals to that point in his career. This was well before he focused enough on outdoors to become the 1995 AMA 250 Motocross Champion, and it was a genuine risk because McGrath would race in Austria with a big fat target on the back of his Sinisalo jersey. Said veteran British rider Kurt Nicoll, "Jeremy came with huge fanfare. We had never really seen him to that point. He was the new face of American motocross, and he was going to be the face for the next ten years, but we certainly didn't know it at the time. It all certainly motivated all of us to race as hard as we could. He was the new king, so we wanted to beat him on our tracks."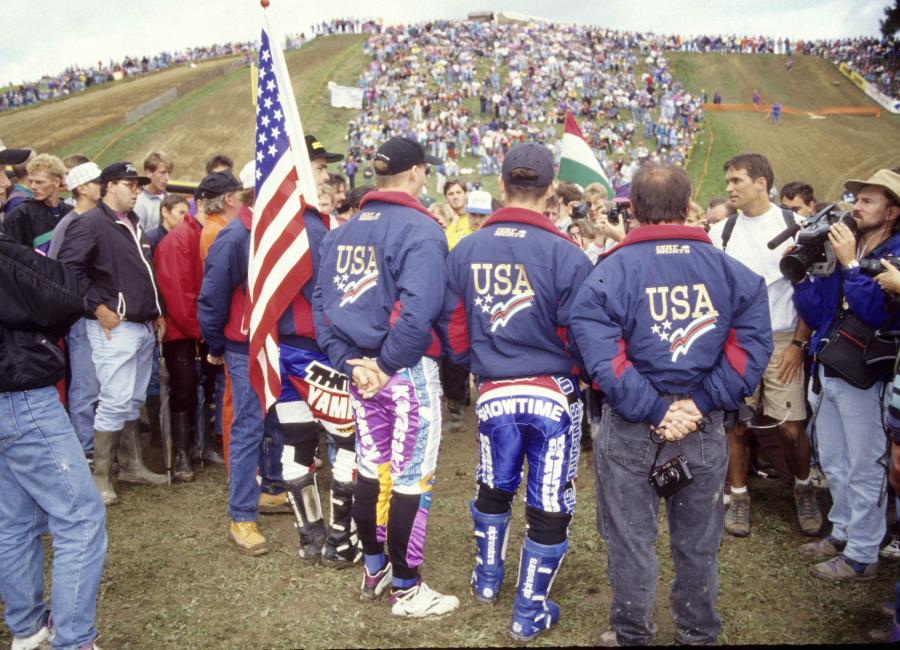 Before the race even started there was controversy. With twenty-nine teams entered, Team USA drew #27 to go to the starting, which was set at an angle so that the far outside gates were actually closer to the first turn than the inside ones. Team USA Manager Janson argued vociferously that it was an unfair disadvantage, and after much back and forth—Janson even threatened that Team USA would boycott opening ceremonies as well as the podium presentation in protest—the FIM officials finally lifted the whole gate up and moved it to make it more even.
Ironically, even after the reconfiguration of the gate, the man on the far outside, Swedish rider Jorgen Nilsson, still pulled the holeshot in the first 500/125 moto! Kiedrowski, starting on the first row for the Americans, got a bad jump, and then got caught in traffic.
"They held the gate so such a long time that it made me lose my concentration," said Kiedrowski. "I tried to start really smooth and then get everyone when I shifted from second to third, but they all came over on me. I was pretty far back going out of the first turn." Kiedrowski's bad start affected Emig too—he was lined up behind him on the 125—but the Yamaha YZ125 rider felt that he would be able to come through the pack no matter.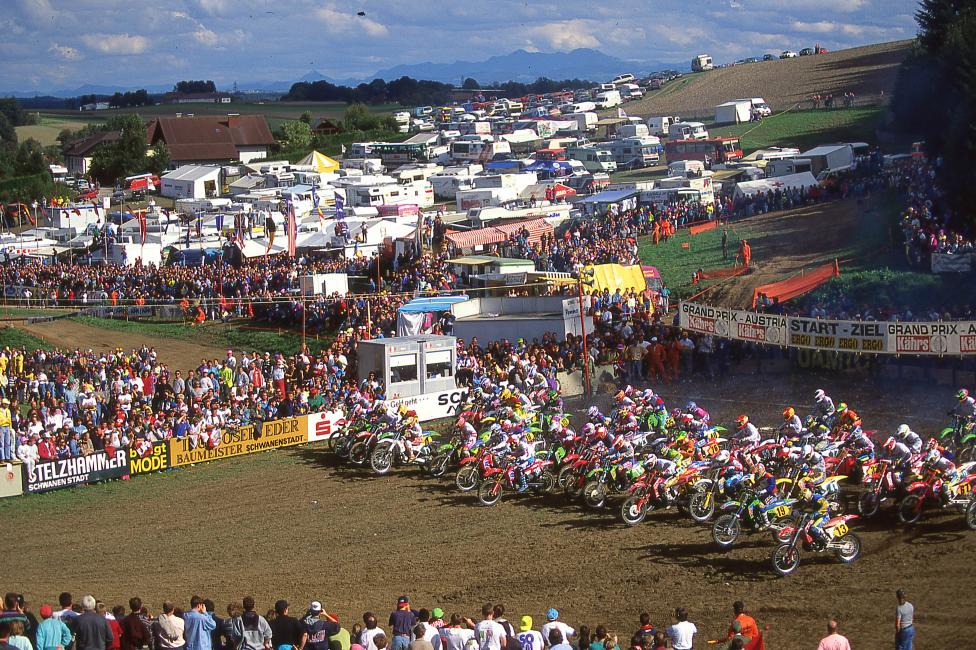 "It didn't matter to me because I felt like I was going to come through the pack anyway," said Emig, who actually lost the 125 National Championship that summer to Honda's Doug Henry. "I was very confident."
One rider that Emig did not get along with very well as French rider Yves DeMaria. Emig ended up getting slammed by the Suzuki RM125 rider at one point—"he completely smashed me, but that's what you expected at that event"—but it just motivated him to ride harder. After starting well out of the top thirty, Emig climbed all the way up to ninth, second-best 125, right behind Italy's 125 entrant, Andrea Bartolini.
As for Kiedrowski, his patient, methodical approach worked well in the middle stages of the race. After slipping back slightly and even losing a couple of early spots, the 1993 AMA 250cc National Champion started showing the world how good he was on a 500 (Kiedrowski had won the AMA 500cc National title the previous year). With ten minutes to go, he had reached fourth, and then began picking the rest of the frontrunners off, one at a time: Austria's Sigi Bauer, Belgium's Marnicq Bervoets, and finally Sweden's Nilsson.
"We won that battle, now we'll have to win the war," said Kiedrowski after the moto.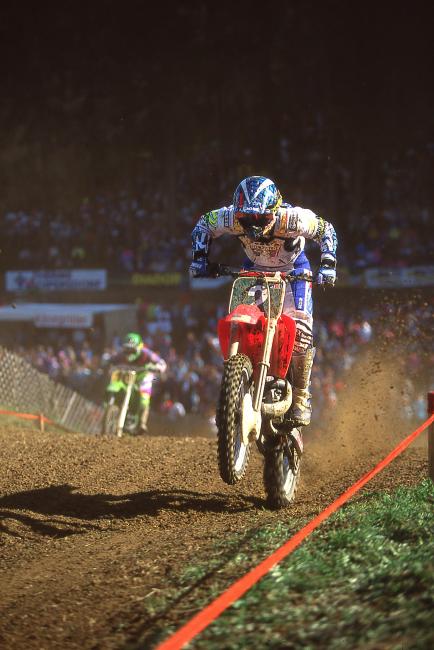 Attention now turned to McGrath, who admitted to being nervous. "I felt like a trap was being laid for me!" he joked when reviewing the race more than twenty years later for the Racer X Illustrated feature "Lucky No. 13" (December 2014). "I was so nervous before that first moto. I really wasn't that good at outdoors, but then you mix in the excitement of the crowd…. I'd never seen anything like that in my life."
"It wasn't like Team USA versus Belgium or Italy; it was always Team USA versus the rest of the world," added Emig. "And even more so that year because we had twelve straight wins going in."
McGrath started out well enough in the second moto, but the racetrack—fast, with few obstacles, and a very tricky surface—was unlike anything he had ridden before. In the middle of the moto, he got with Nicoll, and they passed each other back and forth. McGrath would later say it was obvious that Nicoll had a particular focus on beating him.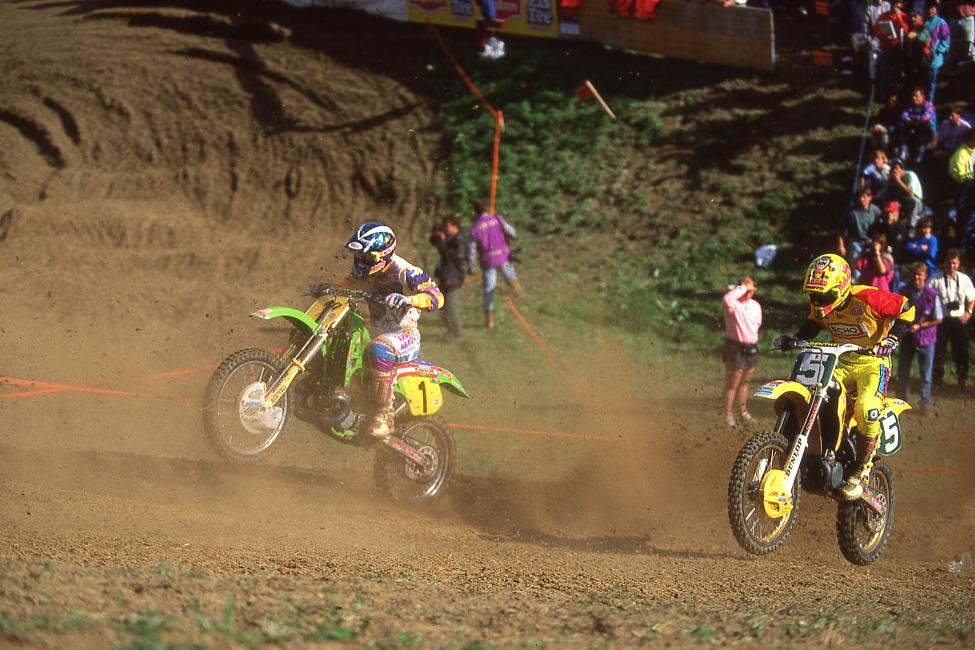 "He was not taking no for an answer!" recalled McGrath. "He was like, 'Screw this kid!' He was going to do everything he could to beat me, and he did. I had him but he passed me. I was like, 'Man, this old dude just beat me!' Kurt put up a fight like I wasn't used to. You could see he had some extra motivation."
Responded Nicoll, now friends with McGrath, "My best memory from that race is not winning the last moto outright, but probably just passing Jeremy in our first race. To this day, every time I see Jeremy, we always talk about it because he remembers it as much as I do. It pissed him off that some old English guy beat him! I had a lot of motivation to show Jeremy that when he came to Europe and raced us on our own tracks, that it was not going to be all sunshine and sweetness for him."
The actual winner of the moto was Stefan Everts, riding a 250 for Belgium, followed by Italy's Alex "Crazy Horse" Puzar, with Nicoll third. Fortunately, Emig once again held up his end of the deal as well, and Team USA was sitting well after four of six scores were registered. But this time the top five scores would count, which meant the third moto would decide everything between the U.S. and Italy, Sweden, and Belgium. But then the Americans got one of those lucky breaks: Team Italia did not get to the parc ferme (staging area) before the cut-off point, and the gate shut on Puzar's Yamaha. Because he was late to the gate, Italy would not be allowed to start the final moto!
That break was practically forgotten after McGrath got tangled up in the first turn and was almost dead last in the final 500/250 moto. Kiedrowski was also having problems, uncharacteristically falling off his #1 Kawasaki on three different occasions! Suddenly, things were looking bleak for Team USA and a thirteenth straight Motocross des Nations victory. McGrath was not making progress in the back, and Team USA members in the signaling area started letting Kiedrowski know that it was all on him—especially since the Belgians—Everts and Marnicq Bervoets—were both in the top five.
"I knew it was time to win it or lose it, so I got my head back together, started riding smooth and smart, and just did it," said Kiedrowski after the race. With that he once again started picking off riders, and with ten minutes to go he still needed to pass three more on what was now a choppy and even slicker track. Kiedrowski did what he had to do, and he would make a pass on the Austrian Bauer with two laps to go. That carried him to seventh overall but second 500 rider. Team USA had won again.
"That was the most nerve-wracking race I've ever ridden in my life!" said McGrath right after the moto, in which he finished seventeenth. "That was more pressure than I ever felt back home. I mean, I took the supercross championship with flowers compared to this race."
Team Belgium finished second overall, for the fourth year in a row, and there was a feeling that this might have been their best shot yet to stop the American juggernaut. "I guess that's racing," said Everts afterward. "It's a shame for me and my teammates. I felt good and comfortable all weekend and I felt we had a good chance to win. Everything seemed to be going well for our team, but again it just did not work out for us."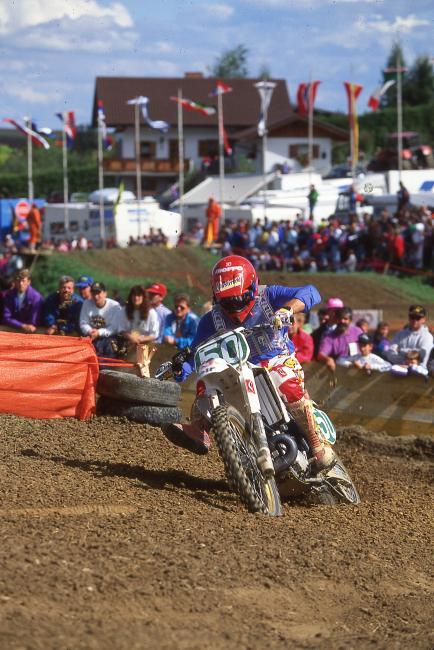 "This is not an easy race," said Emig in the aftermath. "Mike had trouble, Jeremy had trouble, we all had trouble. There is so much pressure on us to win that we can't let our guard down for even one second. Every team is gunning for us, especially the Belgian team. Everyone says they're getting faster, and they are, but they still didn't win."
The Belgians would not win the next year, either. But then again, neither did the Americans. Finally. More on that tomorrow.