We are counting down the days to the 2015 Monster Energy FIM Motocross of Nations with a countdown of the twenty-two winning teams that make up the remarkable history of Team USA. Today, we reach 1984 in our Monster Energy Team USA Countdown.
Once again, Team USA showed up in Europe for the Motocross des Nations with four very fast men, all of whom would eventually end up in the AMA Motorcycle Hall of Fame: David Bailey, Jeff Ward, Johnny O'Mara, and a newcomer named Rick Johnson. (A fifth would join them for the following week's Trophee des Nations, but more on that later).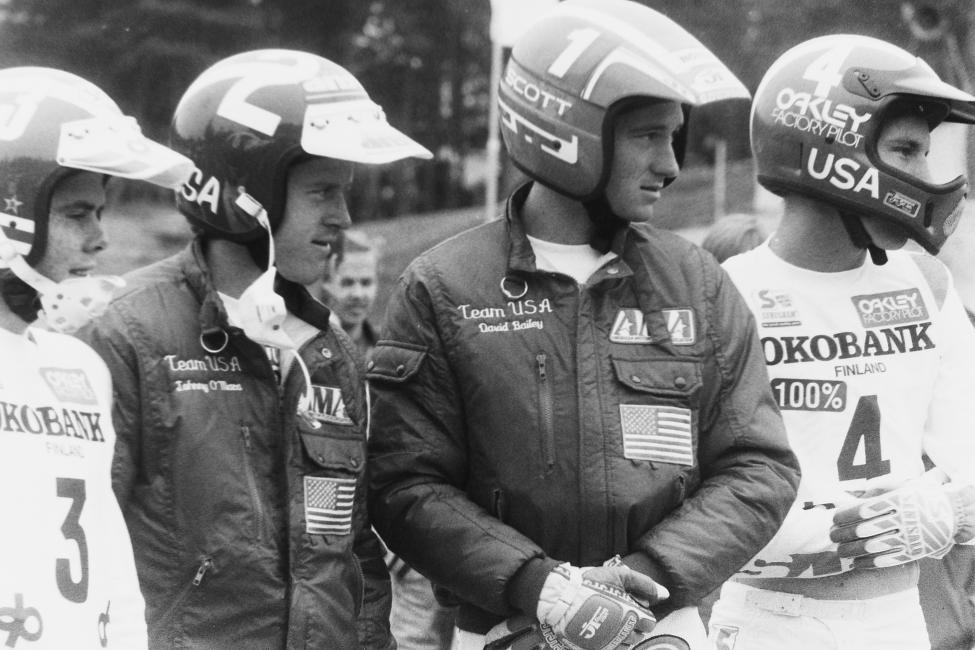 The race was set for the sandy Ruskeasanta circuit called Vataan Moottorikerho in Finland, and although the Americans had won in the sand before, the track in Finland presented new challenges when the weather turned nasty too.
The fastest man was not an American, but rather the elegant 500cc World Champion Andre Malherbe, who went 1-2 for Team Belgium. All four Americans would struggle to some degree, as only Bailey was considered a "500cc" rider. Johnson rode the 250 Nationals for Yamaha, which had pretty much stopped developing their Open bike by this point. Ward and O'Mara battled all summer long for the 125cc National Championship, and their only 500cc experience to this point was in the Motocross des Nations.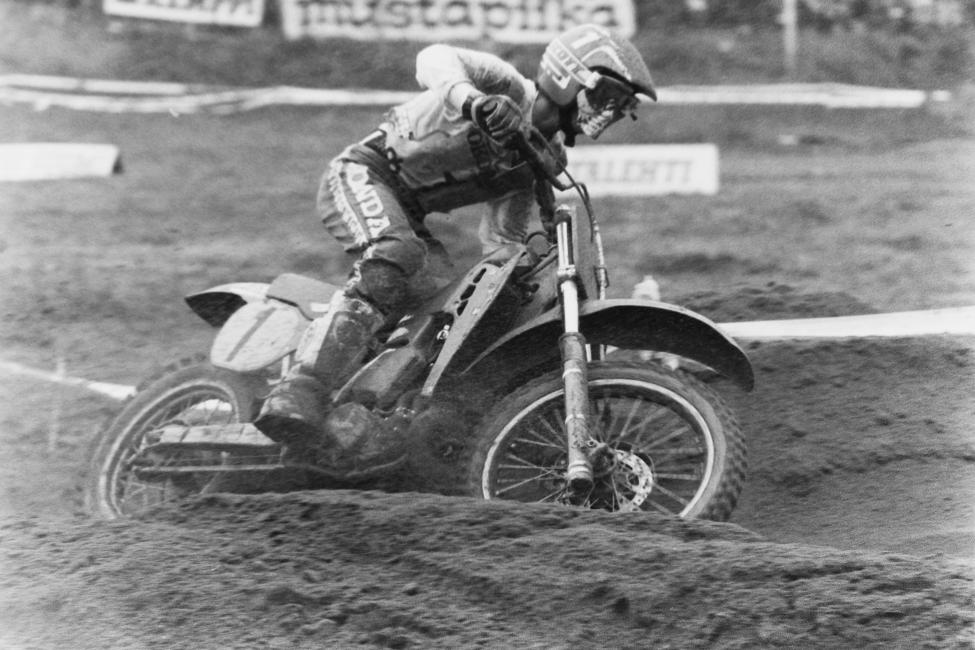 Yet at the start of the double-row, forty-eight-rider moto, the Americans were all at the front. O'Mara led Ward, with Bailey around seventh and RJ tenth. Not four laps later, Johnson's YZ490's engine seized, meaning Team USA would have to throw his score out (the format counted the six best scores out of eight). Malherbe, meanwhile, was moving forward, and by the halfway mark he had passed both O'Mara and Ward for the lead. Malherbe's win, followed by 250cc World Champion Georges Jobe in third, had the Belgian team practically even with Team USA, as Ward was second, O'Mara fourth, and Bailey right behind him. But Belgium also had some bad luck, as Andrew Vromans' suffered a big crash and was circulating the track slowly.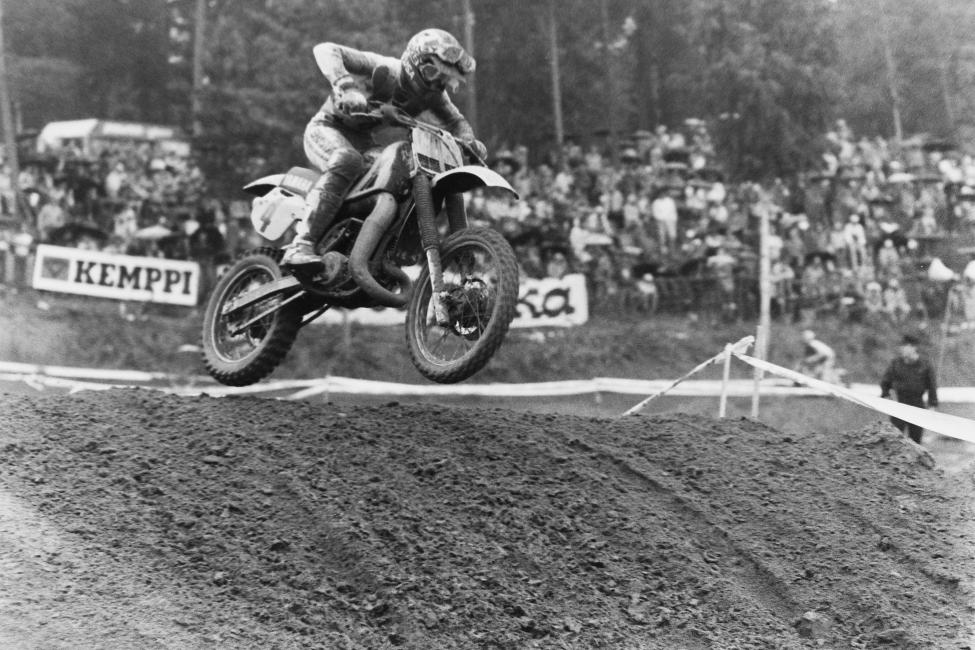 "I got out of shape on lap two or three, I must have twisted by wrist," explained Bailey to Cycle News reporter Gary Van Voorhis. "It didn't hurt until I finished the moto. It seems alright to grip the throttle, but when I twist it there's pain."
Hakan Carlqvist, from next-door neighbor Sweden, had been caught in a first-turn pileup. In the second moto, it would be Ward and Bailey who were victims of a first-turn crash, along with about one-third of the field! Carlqvist, who had climbed all the way up to sixth in his first race, just disappeared with the second-moto win, leading Malherbe by some fifty seconds. Jobe was third, and another Belgian—Jo Martens—was fourth, but he was riding for Luxembourg, not his home country. (Same goes for Jaak Van Velthoven.)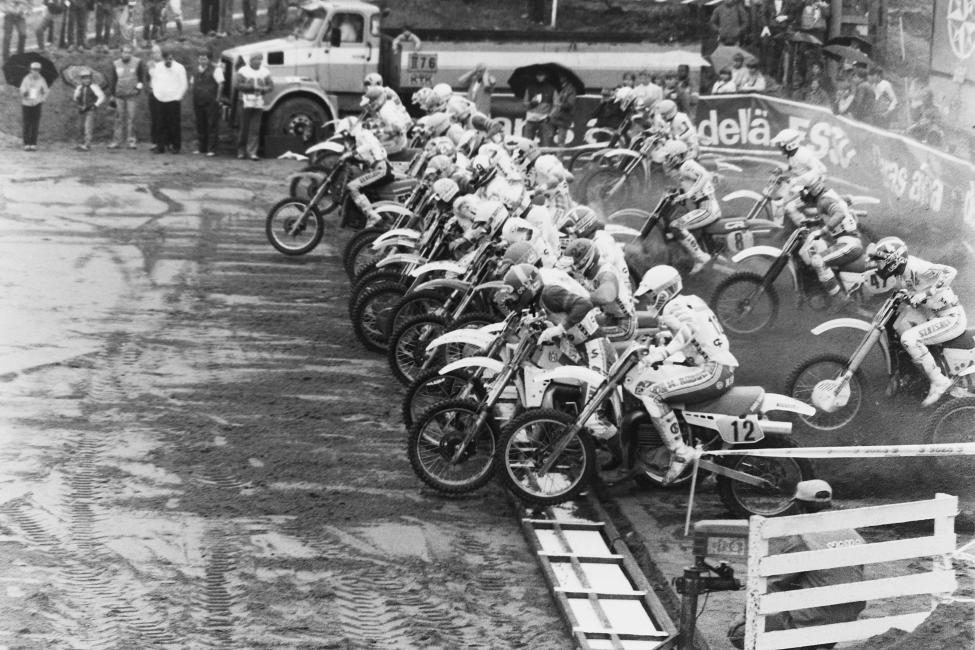 With two guys down in turn one, it was up to Johnson and O'Mara to make something happen. The rain was coming down hard, but the two Californians knew how to ride in the mud. Unfortunately, O'Mara was suffering from some kind of food poisoning, and his stomach cramps saw him fall back from second to eighth. The bigger problem was Belgium, which had all four official riders in the top twenty. They would have had the win at that point, but their weak link again proved to be Andre Vromans, now riding a Honda. He was having problems with the front forks, and the bike was rendered useless by the halfway mark. That meant that it was pretty much down to where the fourth Belgian, Jean-Claude Laquaye, finished in the moto. Bailey was told by his pit board that he had to make some more passes late in the moto, and the Little Professor turn it up a notch and finished fifteenth, ensuring Team USA of a fourth-straight Motocross des Nations win. Here's some video of the race, including a really funny failed start to get it all going.
"Our team had a bit of luck today," said Team USA manager Roger DeCoster. "If Eric Geboers had not missed the race with a broken leg, things might have been tough."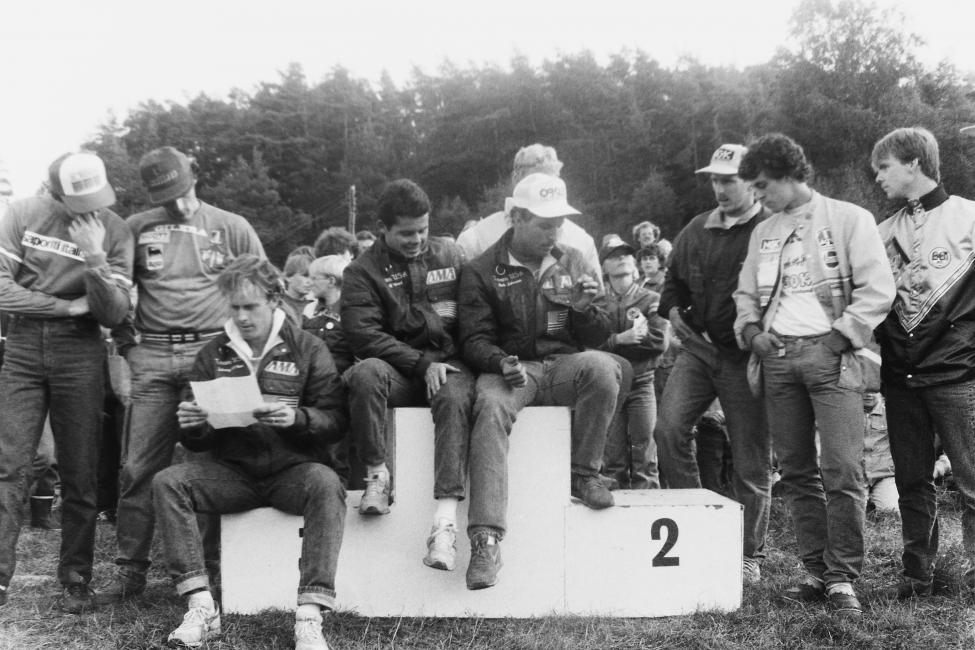 "The hardest part is over. On to the 250s!" exclaimed O'Mara after the race. "I had problems with stomach cramps and I nearly bailed off big-time at least twice. I'm glad it's over."
Indeed, it was on to the 250s, but not for Bailey. The wrist he tweaked was much worse than originally thought. As it turned out, his rival Broc Glover happened to be in Europe for an international supercross race, so one day DeCoster made the call to get Glover in the race for the 250cc Trophee des Nations in Varberg, Sweden. In a cool bit of camaraderie that we rarely see today, Glover's Yamaha YZ250 would be worked on by Honda's Cliff White, normally Bailey's mechanic!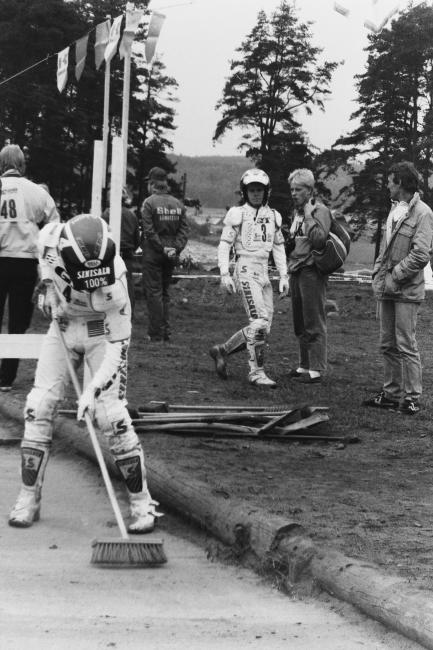 Glover, already a multi-time AMA Motocross Champion, would acquit himself well in Finland, going 2-2 in a solid substitute outing. But he and the rest of the world were absolutely stunned by the 1-1 efforts of Kawasaki's Jeff Ward, who was perfectly in tune with the track and his Rick Asch-tuned KX250. Ward won the first moto over Glover by some twenty seconds, with O'Mara third for a 1-2-3 Team USA effort, the first time the Americans ever swept a podium in the MX or Trophee des Nations.
"It helps to be out front," said Ward, who led from the start. "I rode a conservative race. I charged to open a gap on second and then kept up an even pace. It was a safe, attack-style of riding."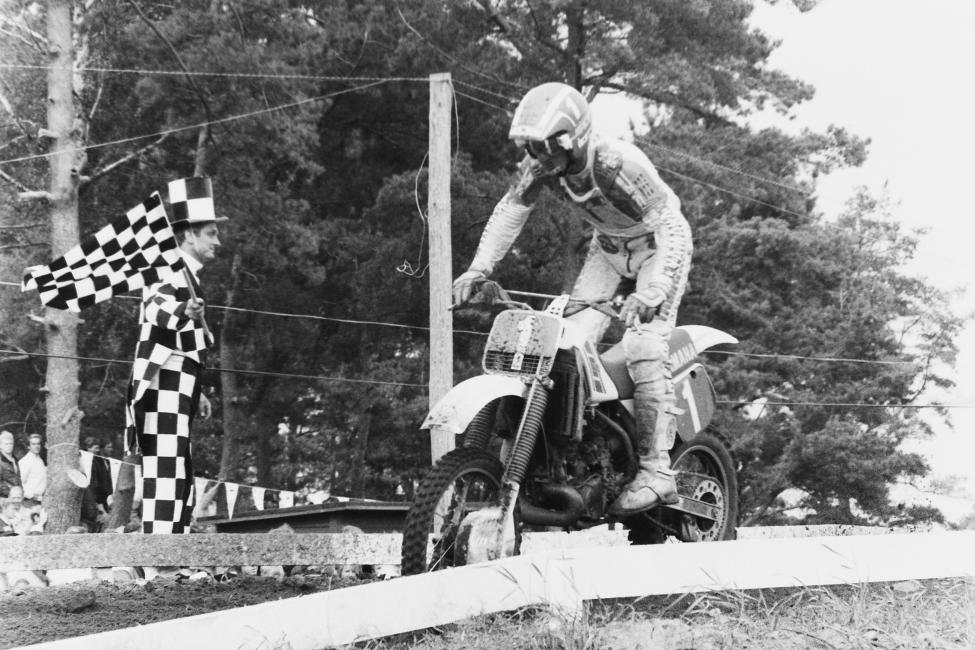 Johnson finished seventh and seemed quite disappointed, according to Cycle News, but then his mechanic Cliff Lett found that he had a crack in the cylinder wall.
Glover holeshot the second moto with Ward seventh and O'Mara and Johnson in the top fifteen. Belgium's very thin hopes for winning disappeared when Malherbe had a problem with his bike and went down a lap. But then when the leader Glover and teammate Ward came around, he jumped in with them and proceeded to duel with the two American front runners, much to the delight of the Swedish crowd. But then his bike started acting up again and Malherbe pulled out for good.
All that was really left was for Ward to move past Glover, the best substitute the team could have asked for, and earn his 1-1 sweep.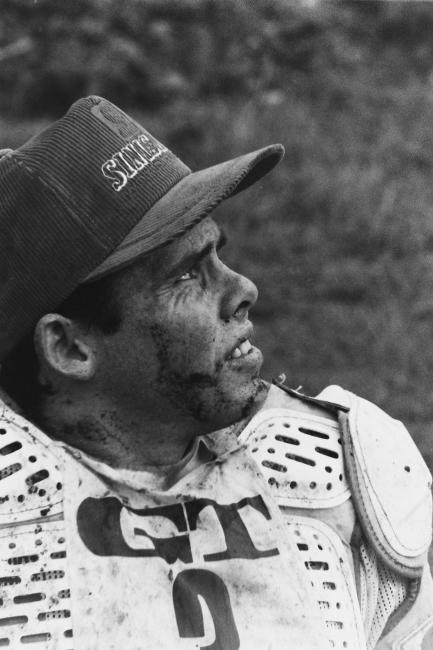 "I just did what I had to do so we would win," said Ward, who matched one-half of Danny "Magoo" Chandler's epic 1982 sweep of all four motos. "I really didn't have any problems at all, but toward the end it felt like the front tire was going soft or something." It turned that his knobbies were shredding from rocks buried in the sand.
"I have to say this is the high point of the season for me," said Ward's mechanic-for-the-day Rick Asch. "I'm not Jeff's regular mechanic, but Mike McAndrews' wife is having a baby and he didn't come."
O'Mara finished eighth, with Johnson going ninth, and Team USA won by a score of 16 to 61 for the hometown Swedes. The Americans had now swept the Motocross and Trophee des Nations for four straight years. This would also be the last year, as the FIM would soon disband the Trophee race, introduce a whole new format in 1985, cut each team down to three riders, with a 125cc rider, a 250cc rider, and a 500cc rider. That would lead to ever more domination in the years to come, though 1985 would be a real nail-biter, as you will find out tomorrow.