Two-Strokes
Ahhh, two-strokes, message boards favorite love affair. Whether you spend your time riding in the woods of West Virginia or the tracks out in broCal, nothing brings the motocross community together like a good ole-fashioned two-stroke vs four-stroke debate. It's always so refreshing to see people debate back and forth without getting heated. Now, the debate has carried over to MotoGP, as Cycle World asked eight MotoGP riders their thoughts on bringing back the 500cc two-stroke engines. A few responses.
Valentino Rossi: "It would be really curious. But I guess that even if the 500 two-stroke bikes would be back, they would never be like the machines I rode. Electronics changes the character of the bikes. Anyway, I would really love to ride a 500cc two-stroke bike again!"
Jorge Lorenzo: "No. I like the four-stroke bikes and the technological development of the last decade has gone in this direction. The bikes have improved a lot, not only in terms of performance but also as far as safety is concerned, so I prefer to stick with what we have. The old 500cc were dangerous and difficult to manage. I have never had the chance to ride a 500cc machine, but I remember how it was to ride the 250cc. You needed to be so delicate with the gas to avoid a crash."
Read more from the MotoGP guys here. And make sure to head to Vital and discuss.
Coaches vs the Media
This week in coaches versus the media, Idaho football coach Paul Petrino got a tad (aka really) heated over a slight (really, it wasn't bad) criticism over his passing offense. A reporter for the Moscow-Pullman Daily News, called the passing offense "a work in progress." Okay, not all that bad, right? Wrong. Petrino flew off the handle.
Petrino wasn't just sarcastic; he was very much upset. He went on to immediately ban the media from today's practice, yelling, "If all you're going to write is negative (expletive) then none of you need to be here!"
I dismissed it as a lack of awareness, perhaps not realizing that while we were in fact on the football field, neither I nor the Tribune writer were his players, and we don't respond to being spoken to that way.
But moments later, Petrino walked up to me and the Tribune reporter just outside the practice field and began to scream in my face, loudly informing us how many deep balls the team completed Wednesday. He then went on to chide us for our inaccurate criticisms of quarterback Matt Linehan and our lack of football knowledge, walking away saying, "You don't even know what the (expletive) you're talking about! Do your (expletive) job!"
Chill, it's just a game. And you coach for Idaho. Not exactly like you're vying for national championships. Check out more here.
Bears….
Give us a break; technically it's the off-season.
[h/t: The Big Lead]
Skateboarding Bulldogs
Wednesday was notorious dog hater Jason Weigandt's favorite day—National Dog Day, of course. To celebrate, Vice Sports ran a cool story on skateboarding bulldogs. It's wonderful—for everyone except Weege. From Vice Sports.
What's equally clear is that, like anything else, practice makes perfect for skating bulldogs. Once a straight-ahead skater like early Tillman, Biuf has quickly added variety to his skill set. "He maneuvers like a total professional," Cronin says. "He goes around obstacles, makes 90 degree turns, and even does U-turns when necessary."
Cronin is effusive in her love for Biuf, and the website cheekily notes that "it is physically impossible not to smile when seeing a dog on a skateboard." Reached for comment by VICE Sports, Physics confirmed this. It's that joy that has stuck with Patrick Clemens, a self-described "crazy dog person" even as his skateboarding meatball, Beefy, has semi-retired and fulfilled the New Yorker's destiny of hanging it up and heading to South Beach.
Read more here.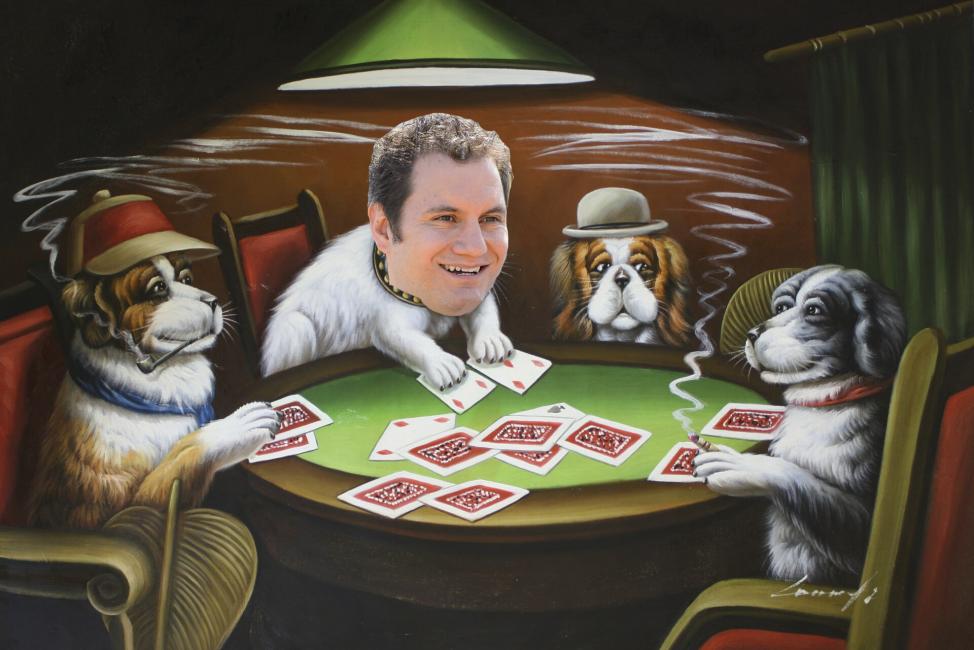 BMX Video Is Off the Rails
Red Bull released a rad video of BMX star Drew Bezanson this week, which you can check out below. As with almost anything Red Bull does, it's absolutely insane. What struck me was this quote from the Canadian rider: "My goal on this project was to ride stuff that would really scare me, to push my personal limits on a bike, and to ride stuff I would never get the opportunity to ride unless it was built."
GolfBoard
For some reason unbeknownst to me, a lot of professional motocross athletes enjoy playing golf in their time off. I have no idea why, seeing as the two sports are polar opposites, but they do. (Maybe I just answered my own question.) Well, this may be the new way us moto heads need to get around the course. Surfing legend Laird Hamilton and his buddy have created the GolfBoard, which uses body weight to push or pull the board's trajectory in the direction you want to go—akin to windsurfing, or so says Esquire. Anyway, it looks pretty awesome. From Esquire:
But the experience of actually golfing with the board transcended the basics of holding a thumb to the throttle and shifting your weight left and right. After hitting each shot, we'd hop on and head straight for the middle of the course's lush, atypically hilly fairways, leaning into every undulation and gearing ourselves up to shred our way down the more precipitous declines. Wind ripped over us as we traversed the suddenly playground-like terrain at a whopping 12 miles per hour, the GolfBoard's top speed. We arrived at our balls refreshed and with clear heads, which is the key to what might be the GolfBoard's most pleasant perk.
Check out more of the story here.
[h/t: Esquire]
Like a Boss, Part II
Side note: Doesn't this guy kind of look like Darryn Durham? Would it really surprise you if it actually were Darryn?
[h/t: Bleacher Report]
Big Bucks
They don't call him Floyd "Money" Mayweather for nothing. The boxer, who made close to $230 million off his recent fight with Manny Pacquiao, according to ESPN, recently dropped 4.8 million large on a car. A CAR!!! Damn. Apparently only two of the models were made, which kind of (no, it really doesn't) explains it.
[h/t: For the Win]
Don't Use MJ's Likeness
Speaking of ridiculously wealthy athletes, His Airness was recently awarded $8.9 million after a supermarket chain used his likeness in an ad to sell steaks, according to ESPN. The ad, which ran in a commemorative edition of Sports Illustrated, was only redeemed by two people. That's quite the sucker punch. Jordan said the suit was not about money: "The case was not about the money, as I plan to donate the proceeds to charity. It was about honesty and integrity. I hope this case sends a clear message, both here in the United States and around the world, that I will continue to be vigilant about protecting my name and identity." The interesting part that came out in trial is how much money the greatest basketball player of all-time still makes in endorsements. From ESPN:
During the trial, Jordan's legal team disclosed for the first time some of his endorsement income, including $480 million that was paid to him by Nike from 2000 to 2012. Jordan also revealed he turned down an $80 million offer to endorse headphones.
Turned down $80 million!!! Read more from ESPN.
Tweet Tweet
Last week we told you about Robbie Maddison and other action sports athletes trying to figure out ways to make money off social media.
As sites like YouTube, Instagram, Twitter, Facebook, etc., continue to become the platform on which videos like Maddison's are released and marketed, it puts the athletes themselves at a crossroads: How do I make money off social media? Furthermore, who controls what I post?
You know who is not having trouble making money off social? LeBron James and his 23.2 million Twitter followers. According to ESPN, James charges around $139,474 for each tweet. When you look at it, that's not a ton of money, as it would cost you triple that (or more) to reach that many television viewers. More from ESPN:
Lawrence's company figures out how much a particular tweet, Facebook or Instagram post is worth by determining a celebrity's true reach, activity, and quality and overall level of engagement of their audience of followers.
Rounding out the top five athletes whose single tweet would provide a company's product or service the most value are Kevin Durant ($66,553), Kobe Bryant ($42,389), Floyd Mayweather ($34,924) and Dwight Howard ($34,290).
Despite the big numbers, Lawrence said most companies pay athletes between $1,000 and $2,500 for a single tweet. The most his company has sold a one-off tweet for was for $20,000 during last year's NFL playoffs when a New England Patriots player, who he said he can't disclose, took the bounty.
The entire article is worth reading.
Bro….
Why you got to do Usain Bolt like that?
Cliff Diving
Laso Schaller is a crazy person. Seriously. The high diver recently made history by dropping nearly 193 feet off a cliff into water. He reaches up to 74 mph on the jump, which looks absolutely terrifying.
1980s Camera
There something nostalgic about the way videos looked in the 1980s. Grainy, and with that awesome time stamp, it was just cool. Now you can get the look without carrying around a giant 1980s camera. A company has created an app called VHS Camcorder to make your videos look like it came from the eighties.
The app, called VHS Camcorder, gives you a choice of three shitty framerates and allows you to further degrade the image by shaking your phone or swiping your finger across the screen. You can also add that classic datestamp in the corner of the frame so it looks just like a submission from America's Funniest Home Videos. And Rarevision has managed to degrade the sound your phone records, too, for maximum authenticity.
More at Motherboard.
Moto (Yeah, we still cover it)
While we tend to focus on things outside the sport of motocross in this column, I felt we need to give a tip of the hat to Jake Klingensmith of the Creative Works, Suzuki's PR agency. Throughout the season, Jake, with his own personal camera, did some great work with the behind-the-scenes videos for the Yoshimura Suzuki team. It really let you in on what a day in the life of a rider is like. Check out their latest one from Ironman.